With the Internet abuzz over James Franco's new collection of poetry, "Directing Herbert White," published earlier this week, we got to thinking: has this happened before? Have celebs been penning their experiences in Moleskine notebooks between red carpet premieres and rehab all along? Below, we've collected some of our favorite prose from Hollywood's finest, which all answer this question with a resounding yes, yes they have.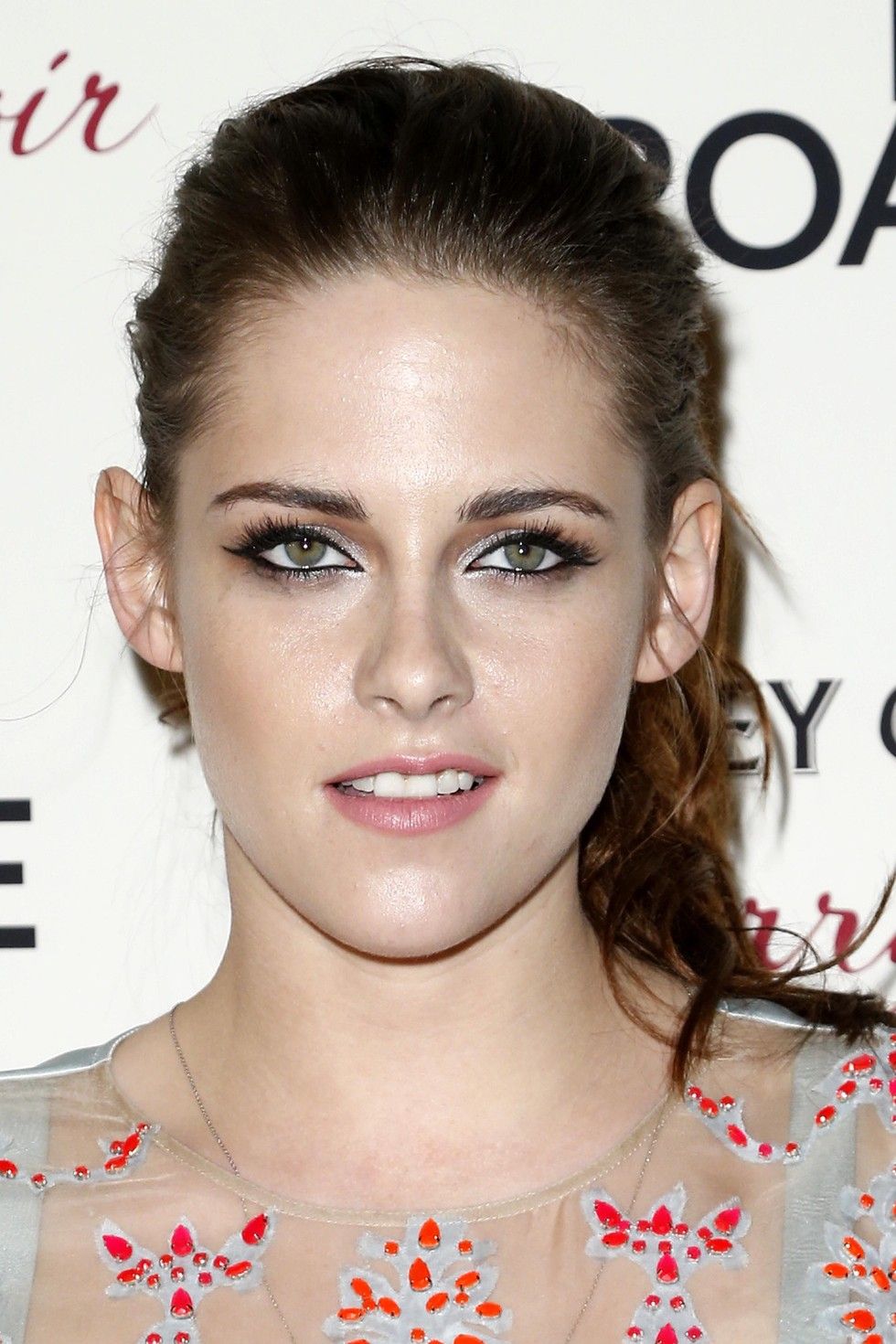 (Photo by Jimi Celeste/
PatrickMcMullan.com
)
Kristen Stewart
Not only can Kristen Stewart grimace and silently face-judge her way through a movie, but she can also write really weird poetry. In an interview with
Marie Claire
for her March 2014 cover, she read one of her poems, "My Heart Is A Wiffle Ball/Freedom Pole," aloud and gave them permission to publish the verses in the issue. After numerous readings, we can honestly say we have no idea what this is about -- and what does "strafe" even mean?
Excerpt from "My Heart Is A Wiffle Ball/Freedom Pole," by Kristen Stewart

"I reared digital moonlight/

You read its clock, scrawled neon across that black/
Kismetly...ubiquitously crest fallen/
Thrown down to strafe your foothills/
...I'll suck the bones pretty.
Your nature perforated the abrasive organ pumps/
Spray painted everything known to man/
Stream rushed through and all out into/
Something Whilst the crackling stare down sun snuck/
Through our windows boarded up/
He hit your flint face and it sparked." [
via
]
Suzanne Somers
In her book of collected poems, "Touch Me," published in 1980, the
Three's Company
and
Step by Step
actress writes about exactly what you think she would be writing about: that time she wore her green sweater, wanting to be touched (and likewise, to do some touching), and how she'll probably have an affair with the house boy -- but only probably. In this poem, "Beautiful Girls," Somers tells us just how hard being the most attractive person at the party is -- it's a sentiment we don't all relate to, mainly because she tells us so.
"
Beautiful Girls" by Suzanne Somers
"There are rules
    For beautiful girls to abide by:
You must notice other women
    Or you're a snob
And you must let their men alone
    Because every worthwhile man
        Belongs to someone.
So men stand back
    In deference to their wives
And women stand back
    To watch their husbands
And only bores step forward
    To tell interminable tales
    And get so close
    And so enthusiastic
That little spitballs fleck your nose.
And even the single guys
    Who look special and exciting
    Stand back and give way to the bores
Figuring that a girl as beautiful as you are
    Certainly wouldn't have any free time.
But you do-lots of it-
    Because there are rules-lots of rules-
For beautiful girls." [
via
]
"
I.D. Blues
"
by Charlie Sheen
"'Excuse me, aren't you...?'
'Hey, you look just like...'
'Oh my God, that's...'
'Sorry to interrupt your dinner, but aren't you...'
'Look, I never do this, but, my wife thinks you're...'
'My friend is so convinced that you're...'
'I'm so embarrassed, but, aren't you...?'
'I know you must be tired of this, but...'
'WAIT!!'
All eyes held in stare, all mouths locked open in shock, as he pulled the latex Charlie Sheen mask from his head, revealing the rotted skull of President Lincoln." [
via
]
Excerpt from "Musings From The Bed Of Pamela
,"
by Pamela Anderson
"The youth...The wild that rose up from the ashes. The adults...Living and dead that fought for our rights...Artists...Sweet artists...Hold on...Crazy, the world goes on...And goes..." [
via
]
Excerpt from "Directing Herbert White," by James Franco
"I died at age 23, ten years before your age now
James, you're the Jesus age." [
via
]
Excerpt from
Butterflies
, by Rosie O'Donnell
"...mish and i ate with r new neighbors
bob and rita
sincere silly saintly seniors
who make me yearn for parents
ones who kiss me goodnight
with a twinkle in their eye
that says i love u
without having to..." [
via
]
Excerpt from "Remembrance Of Who I Am," by Britney Spears
"...The guilt you fed me
Made me weak.
The voodoo you did
I couldn't speak.
You're awakening
The phone is ringing.
Resurrection of my soul
The fear I'm bringing.
What will you say
And what will you do?
She's not the same person that you're used to.
You trick me one, twice, now it's three.
Look who's smiling now
Damn, it's good to be me!" [
via
]
Imagine there's no heaven.
I don't know if you're loving somebody. To be a poet and not know the trade, to be a lover and repel all women. Twin ironies by which great saints are made, the agonising pincer-jaws of heaven.
If you can walk with crowds and keep your virtue, walk with kings but not lose the common touch, if neither foes nor loving friends can hurt you, If all men count with you, but none too much;
yours is the earth and everything that's in it and what's more, you'll be a man.
It's only words, and words are all I have, to take your breath away." [
via
]
Excerpt from "Laurel Gene" by Amber Tamblyn
"...When I vacuum I think of Ingmar Bergman
fucking me from behind. I open
like the palms of Julius Caesar to a crowd.
Men used to rearrange their months to fit my seasons.
 I suck a finger then the caldron in his tip.
He films my apron sticking to the sweat.
Makes this bad heart a pulse from the sky.
I am a distant explosion of myself again. A star." [
via
]
"Tell me what you want?
You've got it all.
Things are real in a handshake.
Rest my bones these days in a different way.
Cherish the change; it may not stay.
 I remember your dress,
Like dreams when you wake with a sudden start.
You're beside me in the dark,
Wrapped in my arms.
Love is being entranced in a glance,
To muster up courage when you're flustered,
To stumble on the words you prepare.
Don't worry about the money that went down the drain
Because the best things in life are free." [
via
]
"You Fill Me With Your Love," By Leonard Nimoy
"You fill me
With your love
You fill me
With your caring
You fill me
With your thoughts
You fill me
With your sharing" [
via
]
"P.O.W." by Alicia Keys, Def Poetry Performance

[
via
]
Ashanti
Our favorite Ja Rule collaborator, Ashanti, published a book of poems called "Foolish/Unfoolish: Reflections on Love" in the early 2000s, complete with a close-up cover of her laying in bed and all. The poem "Three-Way" is probably our favorite, simply because it features a three-way call to find out if her boyfriend's been cheating and has the word "conversatin." This is millennium-era gold.
Excerpt from "Three-Way" by Ashanti
"...I gave you a call
to see exactly what you'd say
You said, 'Girl you know I'm not lyin!'
Good, lets call her on three-way
Now stay on the line
We've gotta end this today
When she picks up the phone
Talk like nothings wrong
Now I've got you on three-way." [
via
]
(Photo by Leandro Justen/
PatrickMcMullan.com
)
Ally Sheedy
Ally Sheedy has been making art since even before she enthusiastically scratched dandruff out of her hair and onto a drawing. While in rehab for an addiction to sleeping pills, she wrote a book of poems, "Yesterday I Saw The Sun," which is surprisingly not bad. In her poem, "New Jersey," Sheedy seems to be stuck in a dream -- at least there 's a jet-ski.
Excerpt from "New Jersey," by Ally Sheedy
"Silver Lake
float away my dreams
slicing through your waters
in a conscious jet-ski stream
rolling toward your ocean
on the swells of movie themes
my mind has come apart
finding liberation in extremes" [
via
]