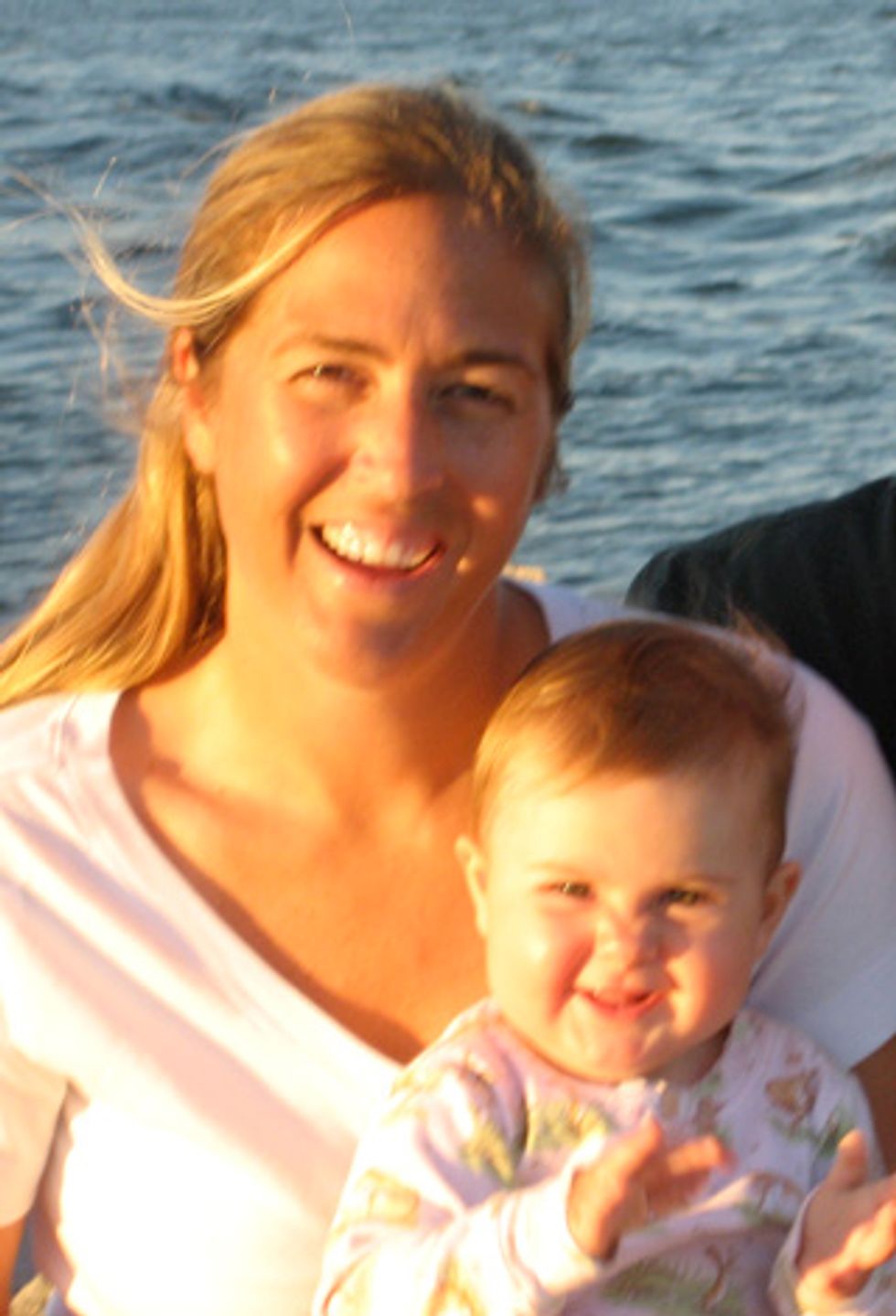 Holly Doran is one of the fashion world's most stylish behind-the-scenes entities. This proud new mother is seen everywhere by those in the know enough to recognize her -- whether at the Metropolitan Museum of Art where she is one of the lead organizers of the world renowned Costume Institute Gala, or in the front rows of the shows deciding what Vogue will decide is "now" next. Recently, Doran developed Posh Squeaks, a high-end online baby boutique. I am honored that Holly could take the time to speak to me during her busiest week of the year!!
Fabian Basabe: OK, Holly, in five sentences or less... tell me everything. And then I have more questions!
Holly Doran: So Posh Squeaks is an online baby boutique featuring luxury items for newborns and new moms. I came up with the idea when I was pregnant with Finley and couldn't find a website that carried classic, high-end, quality baby clothes. Frustrated, I decided to open a place of my own. I reached out to fellow fashion moms like Plum Sykes, Marina Rust, Emilia Fanjul, and Meredith Melling to see what brands they loved. What was their most coveted gift and what gifts they find completely useless? With their feedback, a lot of research and months of editing the line, I put together a well-chosen collection of little luxuries, essentials and gifts to make babies and new moms DROOL. "

FB: Fashion Week is for big boys and girls... is there a secret underground mini runway where the nannies bring the little ones to play dress-up while mommies are making their rounds at the shows?
HD: There definitely is!! Appleseeds in Chelsea is the place to see and be seen for the under six set. This members-only indoor playground is like a SoHo House for little ones and memberships are going fast. They have a 2,500 square foot playground and classes, including yoga, cooking, art, music and even science!! Every few hours they do a "toy sweep" and sterilize everything in sight, so if you are a germaphobe mom (like me), you can rest easy. Annual membership is available through Posh Squeaks and is absolutely the MOST thoughtful gift for a downtown mom.
FB: you work/live in the devil's lair...what have you learned that you would like to pass on to the younger generation about fashion?
HD: This sounds very very cliché, but... BE YOURSELF. It is so easy to get caught up in all the baloney when you are new on the scene. Those who do just look silly. Stay focused. Stay real. Stay true to yourself and you will find respect and success.
FB: Who are your favorite baby clothing designers?
HD: Baby CZ, Caramel Baby of London, Marie Chantal, Bella Bliss, Amber Hagen Cashmere, and Gordonsbury Layette. Pixie Lily makes the MOST beautiful pima cotton layette, which every new baby deserves. We just picked up a line of new diaper bags by Not Rational which have been flying off the shelves. This is the "it" bag in Hollywood and is coming to New York for fall.
FB: What is a baby fashion no-no?
HD:Baby jeans and novelty onesies.
FB: What celebrity couple has the cutest baby in your opinion? And how would you dress him/her?
HD: This is hard because there are SO many cuties! Coco Arquette, the Beckham boys, the Sheen girls, Reese's kids... delicious! Suri is the most well-dressed and Kingston has the best style. If I had to pick, I guess it would be the Jolie-Pitt children. I would love to wrap them up in some soft cashmere for a change. They always seem dressed to hit a Pearl Jam concert.

FB: Who should have their baby taken away by child services for their ridiculous fashion, or because their mommy has lost her mind?
HD: Hah! Lynne Spears -- where is this woman?! Lynne, go to California, get your daughter and get her home. Clearly this girl needs a hug from mom (then detox, then rehab, then a makeover, then some parenting classes...).
FB: How do you handle your personal life, motherhood, your new online business and being a Vogue girl... and still find time to participate in this interview?
HD My husband always says… "If you want something done, give it to a busy person. Well... I'm a very busy girl."
FB: Yes you are! And a whole lot of fun!