I don't wear dresses... I wear pants! And I don't wear girls pants, but if I did they would be Alice+Olivia!
Alice+Olivia designer Stacey Bendet is a dear friend of mine... and one of the first designers I ever modeled for -- granted I had to take my shirt off and get molested on the runway by two hot models at Jet East back in the day! She has come a long way and her stuff is everywhere and all the fun and sexy ones are wearing her pants. Thankfully, we know people who can fit in them! I thought I'd ask her a few questions... for those of you who have not had the pleasure, meet my friend Stacey. (Her show is next week and I will definitely be there!)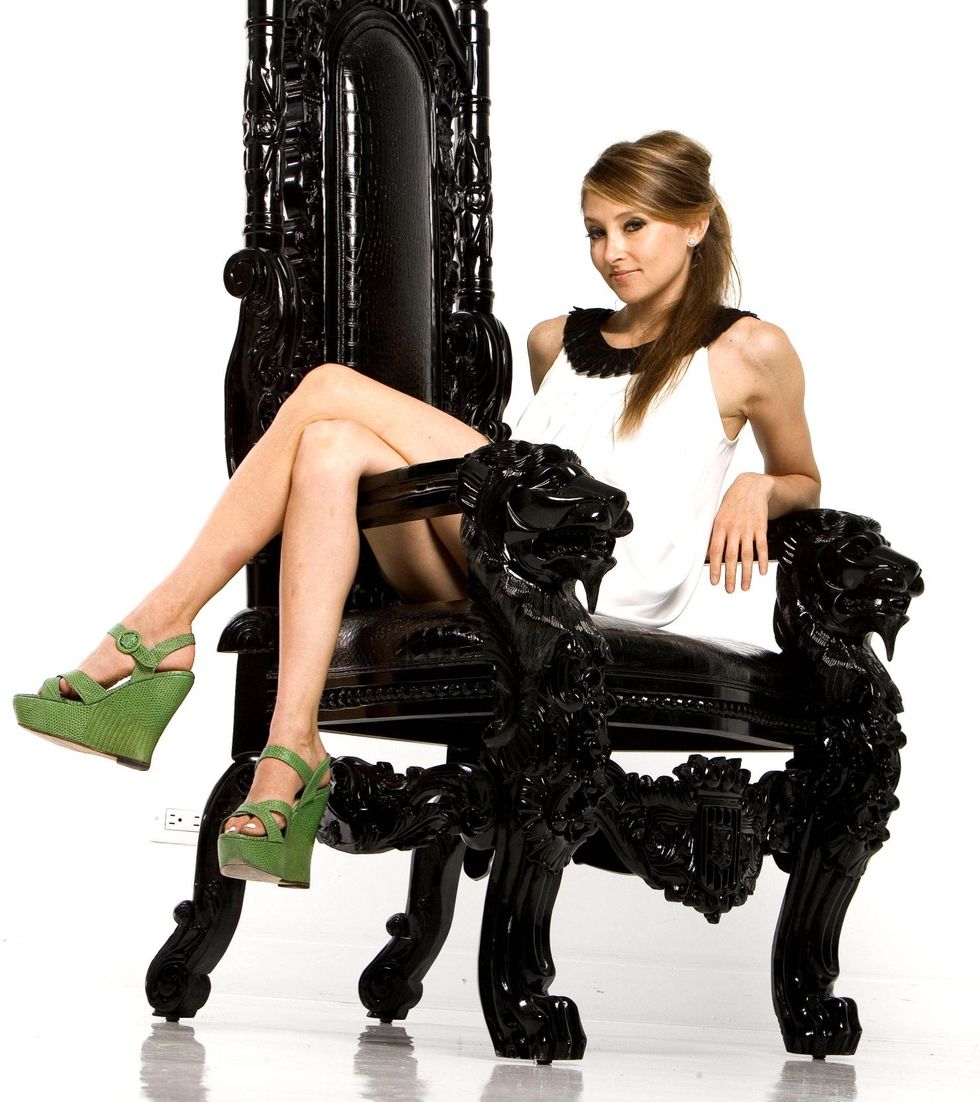 Fabian Basabe: What do you love about and expect from NY this fall?
Stacey Bendet: Pants.

FB: What excites you most about Fashion Week?
SB: New clothes. I promise my answers will get better.

FB: What is your inspiration this season?
SB: Wonderland, my show is "Alice + Olivia in wonderland," a sort of mod take on Wonderland; escapism with an ethereal twist.

FB: What are you doing differently this year and how do you expect it to impact the viewers and fans?
SB: The show this year is a presentation, we are only showing a small selection of the actual line and it is staged more like a theatrical performance than a show.
FB: Are there any specific models you like to hire year after year?
SB: I love Margaret at Marilyn -- her personality shines through in every shot. I also love Caroline d'Amore… She isn't full time modeling anymore but she has great style.
FB: Are there any new faces in your show?
SB: Yes, the beautiful Sadie Kargman, daughter of Jill Kargman. She is three.

FB: Are you expecting any specific guests this year at your show?
SB: Oh yes, my little niece Madden. She's one month old and this will be her first trip to New York. Fabian Basabe is coming. He's gorgeous. I hope he wears one of my men's cashmere hoodies.

FB: Describe what you expect the backstage environment to be before your show.
SB: Fun. I always like it to be fun. The show/performance should have a lighthearted energy to it. I hate when people get all stressed, like the show is the end of the world… It's fashion, it's whimsical and I like the girls to feel good.

FB: If you were not wearing your own designs, who would you wear?
SB: My boyfriend's Adidas sweatpants. Or maybe a great, gold lame, '70s one-piece.

FB: If you were to dress a super hero, who would it be and how would you dress him or her?
SB: Well, I thought I was Wonder Woman for a year or so; I loved those boots and red leotards and wrist bands. But I dunno… could be fun to put Superman in my green layered silk poof dress.
FB: Would you rather be a superhero or villain? And what would your name be?
SB: Superhero; princess pants
FB: If you woke up from sleepwalking and found yourself naked in the middle of Times Square, what one item of clothing or accessory would you wish you had?
SB:My green lizard skin platform shoes

FB: Who is your celebrity crush?
SB: Moby, he's one of my best friends and I think he's brilliant. I don't really have celebrity crushes or crushes on people I don't know, because I usually have crushes on people who inspire me… Moby is a modern day intellectual. He constantly impresses and inspires me…

FB: What are your plans after Fashion Week?
SB: I have to go to Paris for the fabric shows and then I am going to visit my boyfriend Eric in New Mexico where he is making a movie called Hamlet 2 with Steve Coogan.

FB: Would you dress Britney Spears?
SB: Totally
FB: Which designer has the best backstage catering?
SB: Uhhhhhhhhhhhh, no idea.
FB: What song is currently playing on your iPod?
SB: "So Rich So Pretty" by Mickey Avalon

FB: If your collection this season had a theme song, it would be...
SB: "White Rabbit" by Jefferson Airplane

FB: What would the title of your autobiography be?
SB: Princess Pants!
FB: Who would play you in the movie of your life?
SB: Someone who can do a handstand and touch their feet to their nose while wearing a pair of striped bell bottoms.

FB: People always tell me I look like (fill in the blank with a famous person).
SB: Audrey Hepburn when I wear my hair in a big bun on top of my head with my little '60s party dresses.
FB: What is the most common compliment people give you?
SB: Great pants.
FB: What would you most like to accomplish this year?
SB: Opening my Malibu store.

FB: How would you describe your signature look?
SB: Random

FB: Who would you like to challenge to a walk off?
SB: Donna Karan supposedly does a lot of yoga, so maybe a handstand walk off.
FB: What is the first thing you notice when you meet someone?
SB: Their eyes

FB: Describe your most embarrassing hair style.
SB: OMG, totally 7th grade bangs -- the curl-under with hairspray. I think I have successfully hidden or destroyed all evidence though.
FB: What would you name your yacht?
SB: I would never have a yacht.
FB: What do you need more of right now?
SB: Underwear. I just moved apartments and I can't find the box that all of my underwear are in.

FB: What irritates you most in a social situation?
SB: The people who Google you.

FB: What is your ring tone?
SB: Some Zen ding-dong thing. Eric says it has to go.
FB: I would like to be known as the world's greatest _________.
SB: Pant designer? Ashtanga yogi?

FB: What was your most expensive and unnecessary fashion purchase?
SB: I consider all fashion purchases totally necessary!!! Maybe I could have gone without a pair of lime green fur Gucci stilettos. They look so pretty but I don't think I have ever actually worn them for more than three minutes.

FB: What color looks best on you?
SB: Cream or blue. I love green though.

FB: Biggest turn-on... Biggest turn-off...
SB: Men who wear tight pants and men who wear belts with logos on them.

FB:This Halloween, you're going as...
SB: A fairy princess

FB: True or False: You are slightly hung-over right now.
SB: False, I took the redeye in from LA this morning. There was no time for a margarita between airport and office.