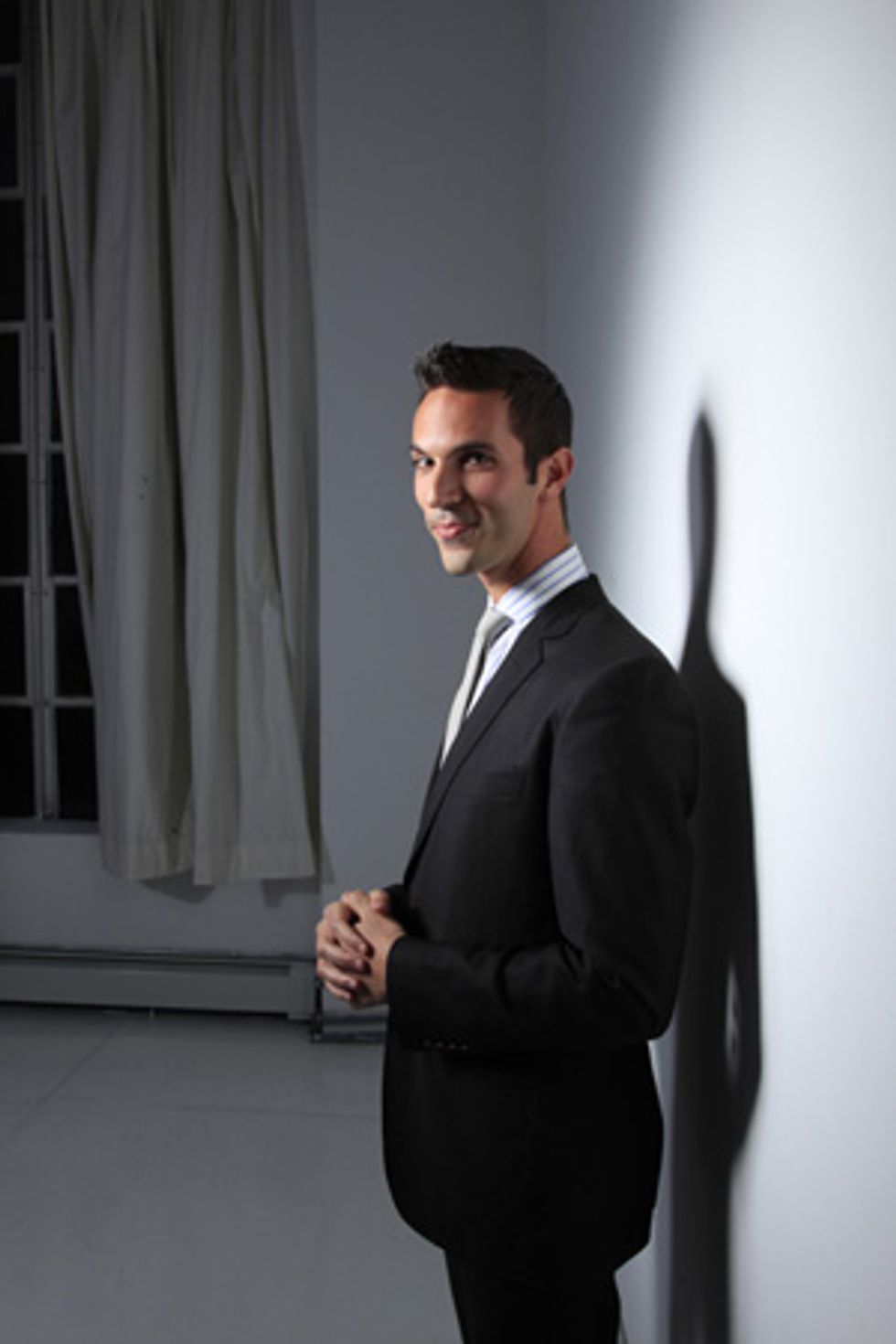 A quick scan of PAPERMAG's Google Analytics shows frequent searches for "Ari Shapiro boyfriend" and "Ari Shapiro husband." Since inquiring minds apparently want to know about a side of Shapiro that has nothing to do with his talented reporting on NPR's Morning Edition, we thought we'd take the low road and give you some cutting room floor quotes about his love life. Kidding aside, Shapiro's relationship with his partner, Mike, also highlights marriage inequality in America. Though Shapiro says he'd love to be legally re-married to Mike (the couple's first marriage was annulled and the second one was purely ceremonial), he'd "have to wade into this political fray" to do so, something his job as a journalist discourages him from doing. Here's an outtake photo of Shaprio and some additional tidbits from his interview with
Whitney Spaner
in our 2010 Beautiful People issue.
How Mike proposed
:
"It wasn't like he got down on one knee and asked me to marry him. It was like 'Hey Ari, they are doing this and we need to go do it.' And then the following August, because that ceremony at San Francisco City Hall was just with three days' notice and it was literally us and a handful of our immediate family and friends, we decided to have a wedding ceremony with extended family and friends at Mike's parents' house.  His family's rabbi from San Francisco and my family's rabbi from Portland performed the ceremony together. It was really great, but that ceremony not legally binding, it was purely a religious and ceremonial event.  Our first wedding at City Hall was annulled when all of the same-sex marriages performed in San Francisco were annulled in 2004."
Why it was annulled
:
"The Supreme Court of California said that Gavin Newsom acted unconstitutionally when he did these weddings..and that all of the 2004 marriages were annulled until the court could decide whether gay marriage is legal. Then the Supreme Court said "OK, gay marriage is legal. From this point on everyone who wants to get married can get married, but all of the 2004 marriages are still annulled." Then Propositoin 8 passed, and because Mike and I didn't get remarried in that window between the Supreme Court decision and Prop 8, we are still not legally married. Even though we've had two ceremonies now."
On not being able to get married
:
"I would love to get married without making a political statement. As a journalist, I prefer not to make political statements...But I have no choice, if I want to get married, I have to wade into this political fray."
On determind friends
:
"Sometimes I jokingly refer to Mike as my ex. After the marriages were annulled, one of my friends called me and said, 'I'm so sorry to hear your marriage was annulled, so can we date now?'"