New York's Spring Art Week is here! The weather has finally come around and it's a great time to get out and enjoy the tons of gallery openings, art fairs, auctions and parties taking place from May 6th to the 16th. Here's what's happening: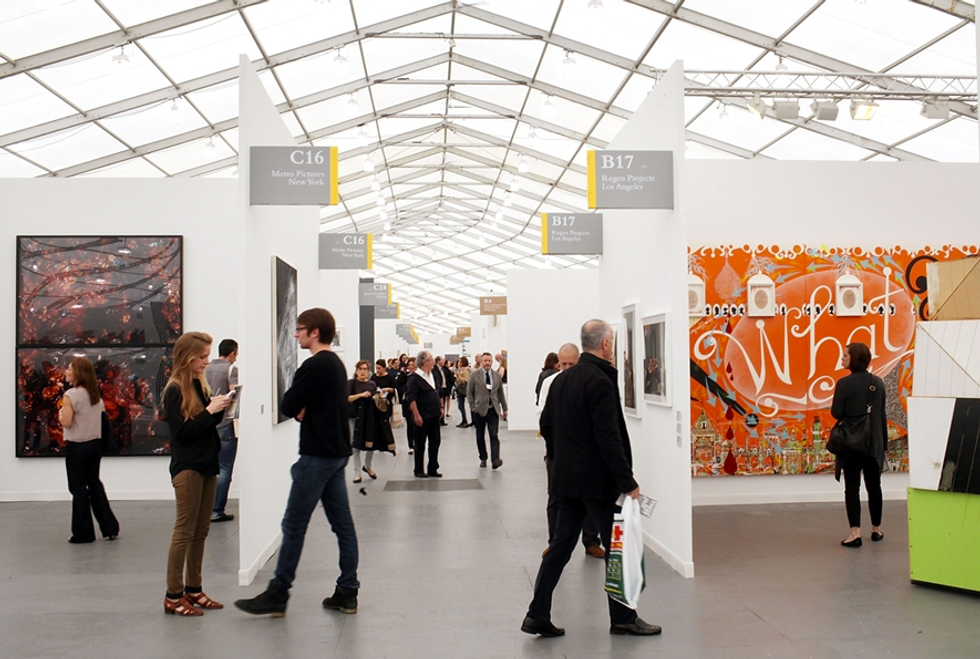 Scene from Frieze 2012
FRIEZE New York 2013
The New York spin-off of FRIEZE returns to Randall's Island from May 10 to 13, with a big "Private View" on Thursday night, May 9. It will be open to the public daily from 11 a.m. to 7 p.m. starting Friday and, for a second year, is taking place in a giant tent designed by Brooklyn architecture firm
SO-IL
. You can get there via ferry from the dock at 34th Street and FDR Drive, by bus from the Guggenheim Museum,
free shuttle from the Joe Fresh store
or you can drive. Admission to the fair is $42 ($26 students). Over 180 worldwide galleries will be exhibiting and there's also lots of side-projects, lectures and a tribute to the early '70s, artist-run SoHo restaurant, FOOD, with artists/chefs doing the cooking and "exploring the relationship between food and art." There's also a big sculpture park with works by Paul McCarthy, Fiona Connor, Saint Clair Cemin, Pae White and more. To buy tickets and to check out all the details regarding getting there and back, go
HERE
.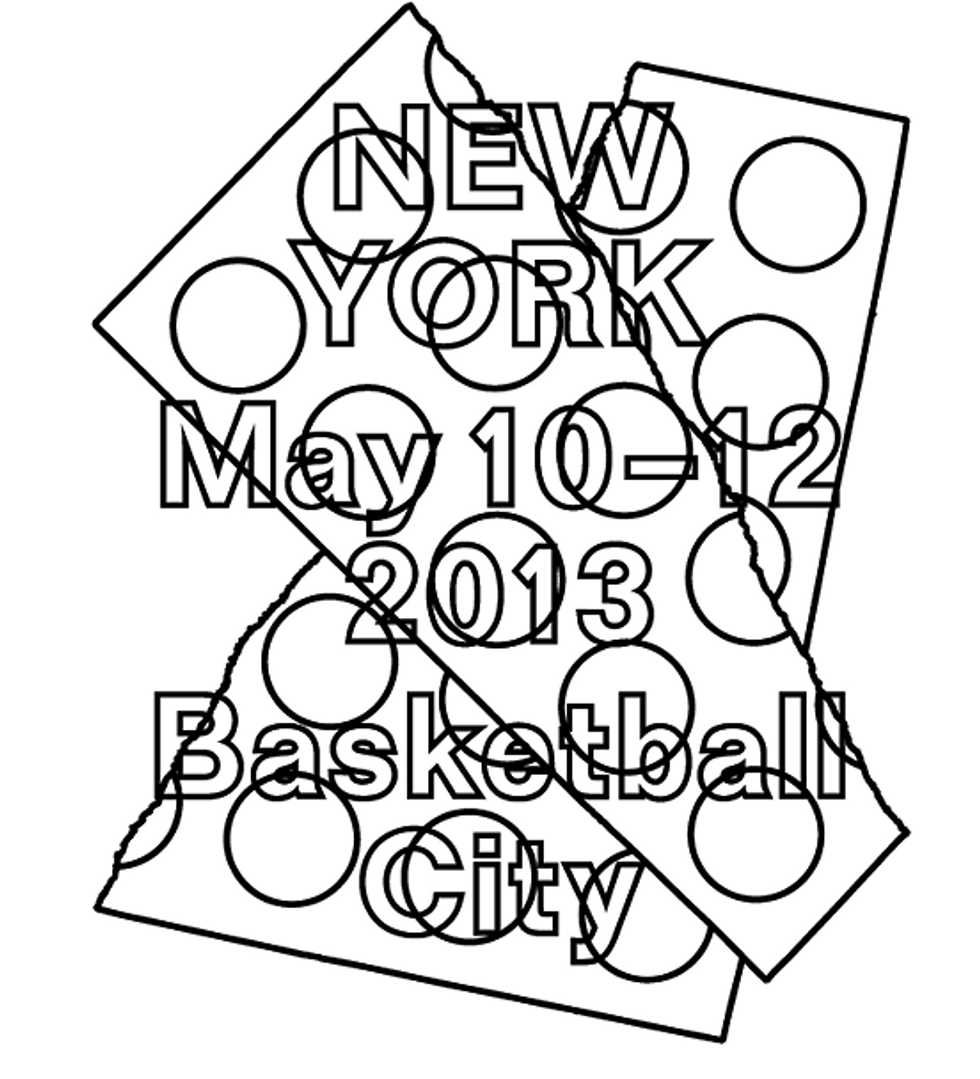 NADA New York
NADA is also back for a second year in NYC, and they're moving the fair over to the East River on Pier 36. Over 70 galleries will take over a space that's normally occupied by Basketball City (299 South Street) and fill it with "new art by rising talents." The opening preview is on Friday, May 10, from 10 a.m. until 2 p.m. and then it's open to the public until 8 p.m. that day and thru Sunday. Admission to this fair is FREE, so be sure to check it out. Go
HERE
for more info.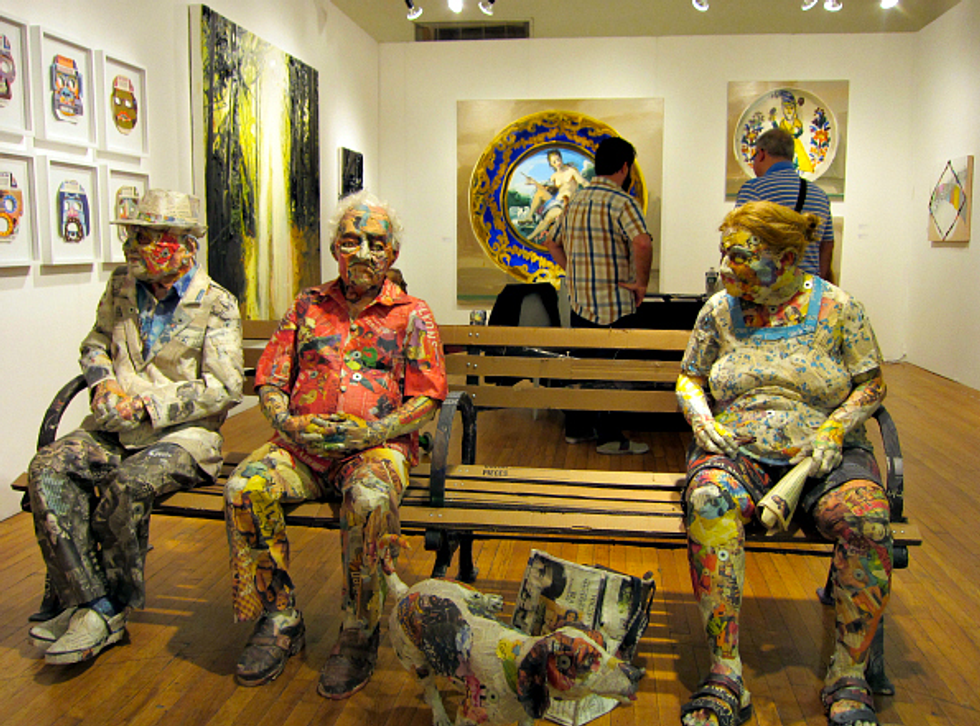 Piece on display at PULSE New York 2012

PULSE New York
PULSE celebrates its eighth anniversary with over 50 galleries, plus their unique "Pulse Projects" program featuring large sculptures, installations and performances. They'll return to The Metropolitan Pavilion (125 West 18th Street) in Chelsea and are open for a VIP brunch on May 9 from 9 a.m. to noon and then open to the public thru Sunday. Tickets are $20 ($15 students). HERE's the details.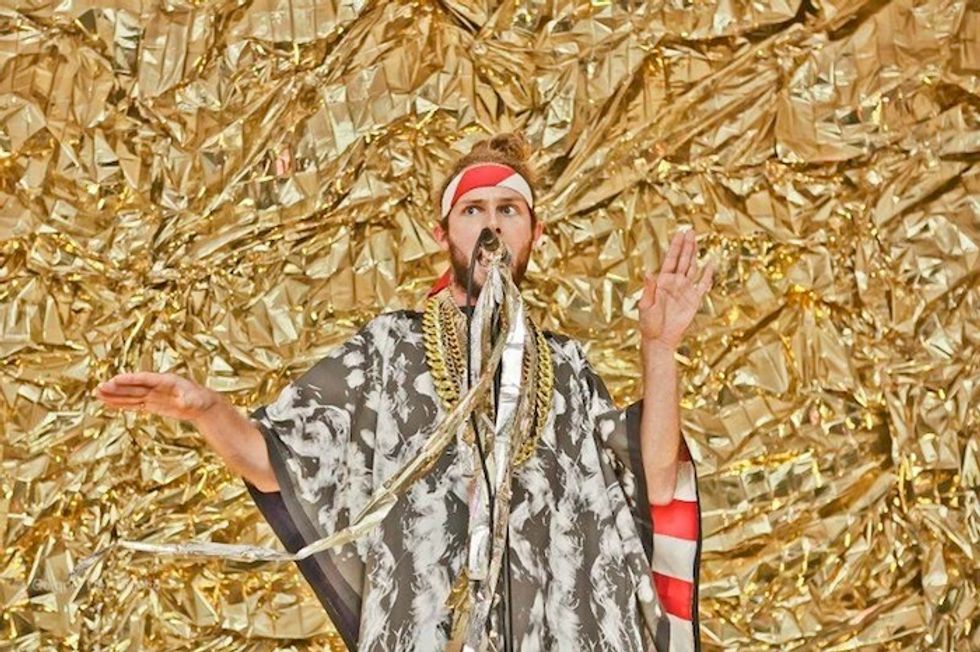 Tyler Matthew Oyer, Gone For Gold Courtesy Cirrus, which will appear at Cutlog

CUTLOG New York
One of the new-fairs-on-the-block, Cutlog, comes from Paris, where it started four years ago. Running from May 9 to 13 in the Clemente Soto Velez Center (107 Suffolk Street) on the Lower East side, the fair features 45 galleries, plus several performances, talks and films. Downtown musician/actor/painter John Lurie will be speaking about his work and about the changes in the LES neighborhood. There's also Free Car Wash presented by The Fantastic Nobodies who will be dressed as members of the Village People. There are two days of VIP and media previews, but Cutlog will be open to the public on May 9 from 5 to 9 p.m., May 10, 11 and 12 from 10 a.m. to 8 p.m. and May 13 from 10 a.m. to 6 p.m. Admission is $15 ($12 students). Go HERE for more info.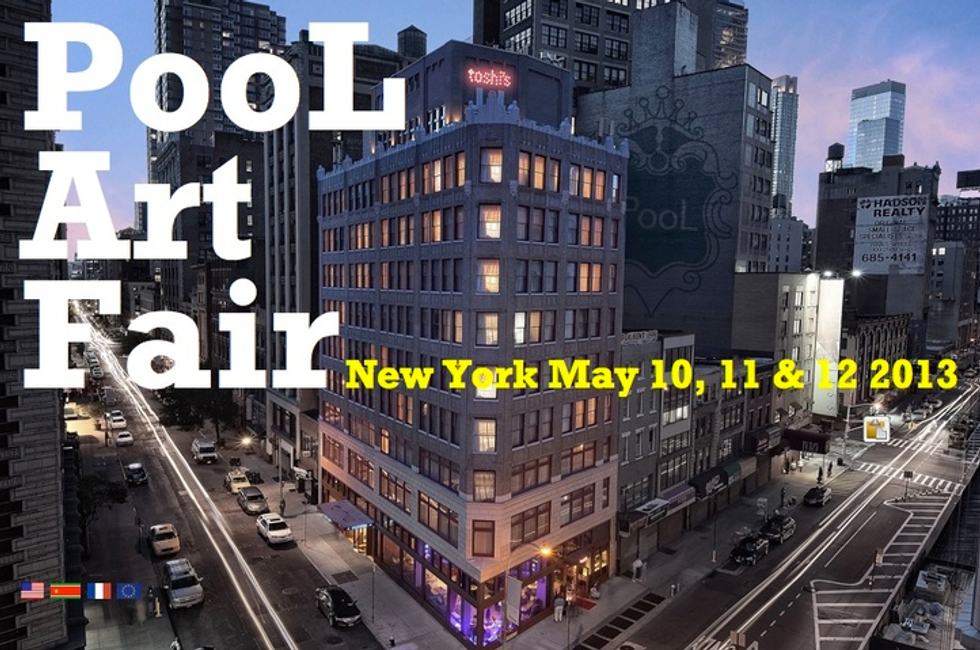 Pool Art Fair New York 2013
This fair started in 2000 with a goal of bringing together artists that aren't represented by big galleries. It will be open for three days, May 10 to 12, from 3 p.m.to 10 p.m. daily in the Flatiron Hotel (9 West 26th Street) and will include curated exhibitions, lectures, special projects and events. There is a suggested donation of $10.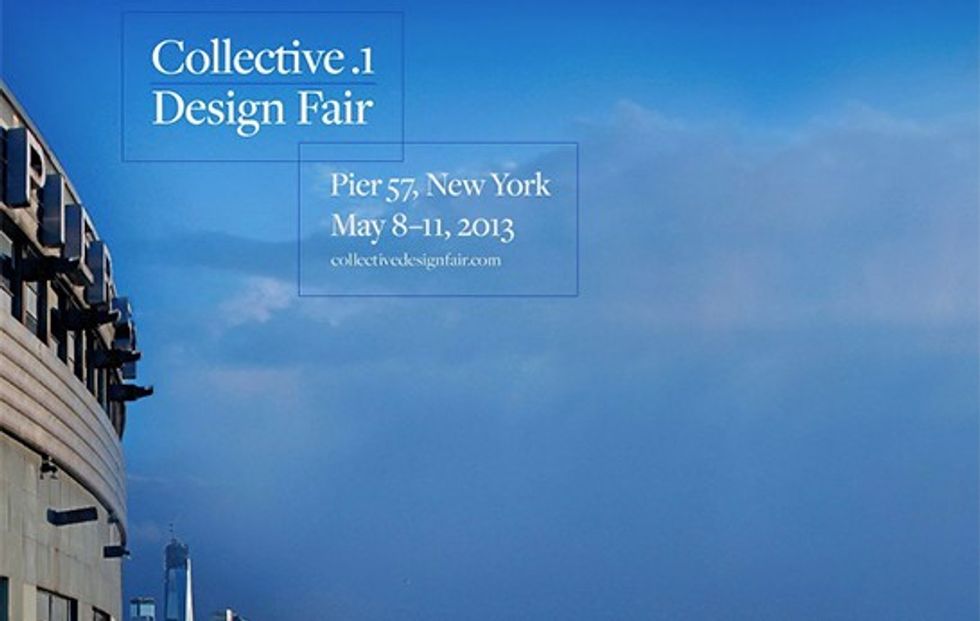 COLLECTIVE.1 Design Fair
Another newbie this year, the Collective.1 Design Fair will focus exclusively on design and will include vintage as well as contemporary works. It was founded by the architect Steven Learner and runs from May 8 to 11 at Pier 57 on the Westside Highway at 15th Street. Tickets are $25 ($15 students). The details are HERE.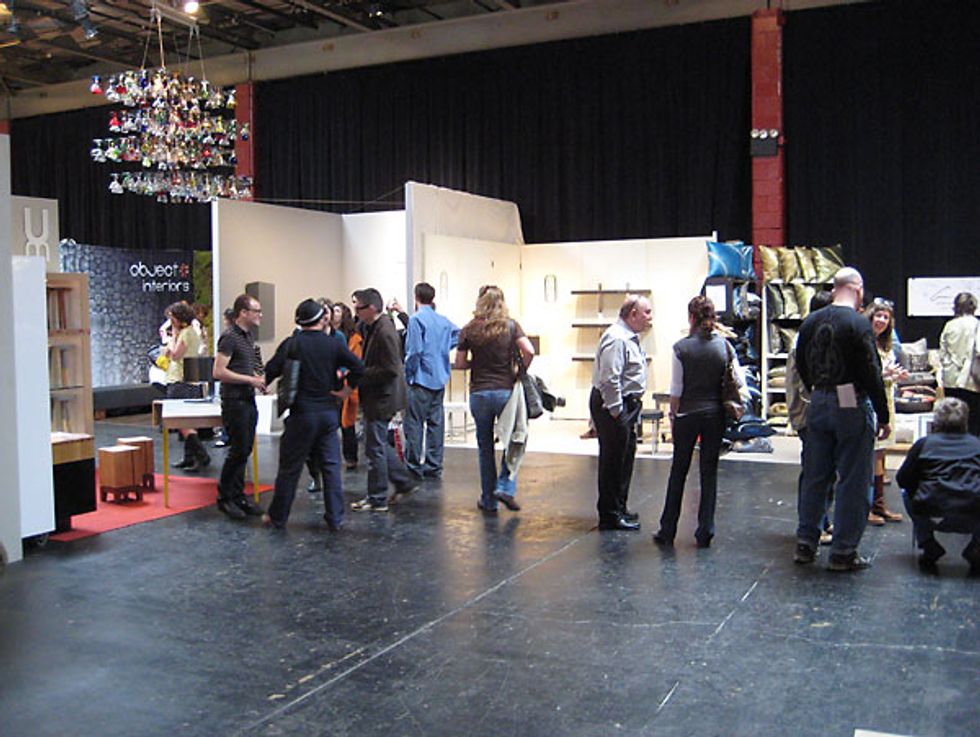 BKLYN Designs
The tenth edition of this showcase for Brooklyn-based designers runs for three days -- May 10 to 12 -- in DUMBO's St. Ann's Warehouse (29 Jay Street, Brooklyn). Over thirty designers will show original, limited-edition pieces and furnishings.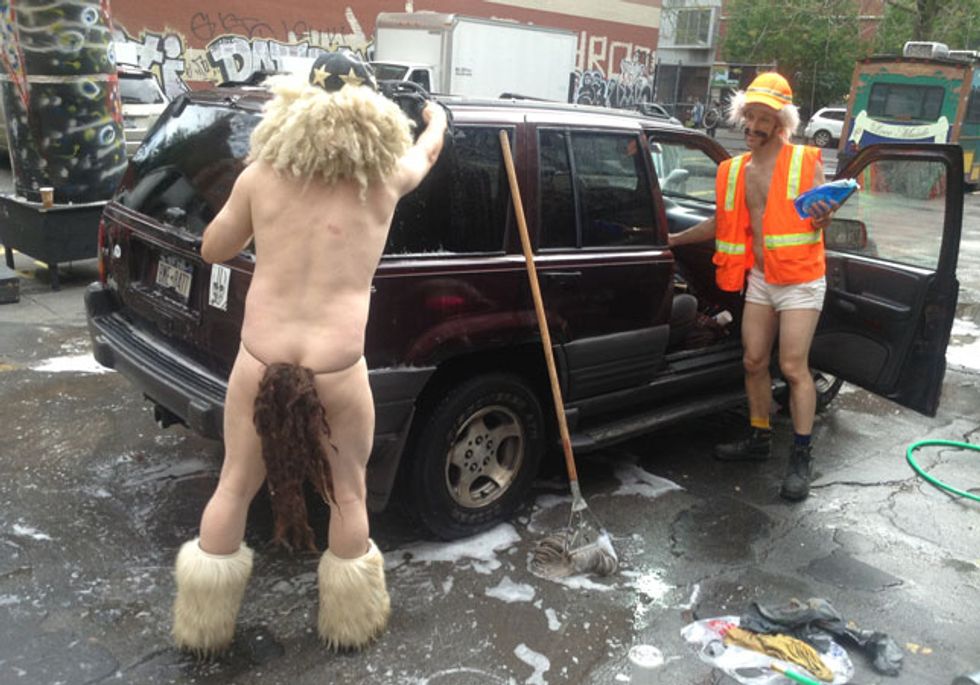 And, of course New York's art galleries are taking full advantage of all the crowds in town for the fairs, and they're opening new shows:


The acclaimed Cuban art collective Los Carpinteros are opening a show of new works called "Irreversible" in three rooms at New York's Sean Kelly Gallery (475 Tenth Avenue). You can check out some of their LEGO constructions, an installation entitled "Tomates" and a video of the reverse performance of a conga band and dancers. The opening reception is May 11 from 6 p.m. to 9 p.m. and the exhibit is up until June 22.
Jose Parla and JR open an exhibit of their recent collab, "The Wrinkles of the City: Havana," on Tuesday, May 7, 6 to 8 p.m. at Bryce Wolkowitz (505 West 24th Street). It's up until July 12.
Gagosian Gallery opens an exhibit of new works by Cecily Brown -- it's her first NYC show since 2008 -- on Tuesday, May 7, 6 p.m. to 8 p.m. at their 980 Madison Avenue space. Also that night, they are opening a show of over 400 photographs from The Lost Album by the late Dennis Hopper on the fifth floor of 980 Madison. On Thursday, May 9, 6 to 8 p.m., Jeff Koons has his first New York show with Gagosian at 555 West 24th Street featuring new paintings and sculptures. And don't forget to check out the current Anselm Kiefer exhibition at the gallery's space at 522 West 21st Street.
Marlborough Chelsea (545 West 25th Street) is opening a big group exhibition called "Endless Bummer II - Still Bummin'" on Saturday, May 11, from 6 to 8 p.m. The show was curated by Drew Heitzler and Jan Tumlir and includes works by Ryan Foerster, Brendan Fowler, Jonah Freeman/Justin Lowe, Christian Marclay and many more. Mr. Heitzler also has his own show called "Comic Books, Inverted Stamps, Paranoid Literature" opening in the gallery on the same night.
Martos Gallery (540 West 29th Street) is hosting an exhibit of fifty "small" works from the collection of Anne Collier and Mathew Higgs called "Why is Everything the Same?". The opening is Tuesday, May 7, 6 to 8 p.m. and the show is up until May 24.
There's a big Bushwick gallery crawl AKA "Bushwick/Ridgewood FRIEZE Night" on Saturday, May 11, so head over there late and don't miss the closing night of Brian Leo's "100 Drones" that includes a "silkscreen print party" from 7 to 11 p.m. at David Kesting Presents (257 Boerum Street between Bushwick and White).
The High Line has an outdoor screening of "Modern Times Forever" by Superflex opening May 7 at the High Line's 14th Street passage. It starts at 7 p.m. daily and runs until May 19th.
UK artist Tracey Emin will be showing an outdoor sculpture called "Roman Standard" in Petrosino Square (Lafayette Street between Spring and Broome) from May 10 to September 8. It's a part of her show that's on view now at Lehmann Maupin.
Roberta Bayley curated a group photo show called "Just Chaos!" that features images of early punk style.  It opens on Thursday, May 9, 6 to 8 p.m. at Bookmarc (400 Bleecker St.) and will be up until May 23rd.  You'll find photos by Bayley, Laura Levine, Janette Beckman, Stephanie Chernikowski, Lee Black Childers, Godlis, Bob Gruen, Marcia Resnick and more.

The latest group show, "Wish Meme," at the Old School (233 Mott Street) in NoLiTa includes over 50 artists spread over the building's three floors and backyard. The works examine "21st Century wish fulfillment in the recession world." There's an opening reception on Wednesday, May 8 from 6 to 8 p.m. and it will be up until May 12th.
The Ed. Varie gallery (618 East 9th Street) is showing new work by three New York-based artists: Tyler Healy, Dean Levin and Evan Robarts. The three are participants in the Artha Project in the Brooklyn Navy Yards and there's also a book -- with photos by Clement Pascal and Johnny Knapp, designed by GG-LL -- that documents the artist's "process and studio environment." The opening is May 10 from 6 to 9 p.m. and it's up until June 2.
The Standard Hotel and the Paul Kasmin Gallery are hosting a book signing for "Kolors" by Kenny Scharf on Monday, May 13th, 5 to 7 p.m. at The Standard Shop (444 West 13th Street).
Peter Makebish curated a show of prints and works on paper from the Richard J. Massey Foundation for Arts and Sciences (601 West 26th Street).
Luxembourg & Dayan (64 East 77th Street) opens an exhibition, "Martial Raysse: 1960 - 1974," on May 11. It's the first U.S. show by the Paris-based artist in four decades and will be on view until July 13.
Leila Heller Gallery (568 West 25th Street) has a 5-day, multi-venue installation by London-based artist Reza Aramesh that starts on May 8, 11 p.m., at Marquee (289 10th Avenue) and winds up on May 12, 9 p.m., at the Bossa Nova Civic Club (1271 Myrtle Avenue, Brooklyn.) The gallery also has a show called "Bass! How Low Can You Go?" curated by Amir Shariat that opens May 8, 6 to 8 p.m., and runs until June 5th in their 25th Street space.
Vito Schnabel presents a group show curated by David Rimanelli called "DSM-V" in the "The Future Moynihan Station" (421 8th Avenue, enter on 31st Street) that will be open this week through Saturday from 11 a.m. to 6 p.m.
Charles Bank Gallery (196 Bowery) has a closing party for Garrett Pruter's "Interiors" multimedia installation on Friday, May 10th, from 6 to 8 p.m.
Flux Factory (39-31 29th Street, Long Island City) hosts their monthly potluck and salon on Thursday, May 9. 8 p.m., with artist presentations, a poetry slam and more. "Please bring drinks or something tasty to share." All the details are HERE.
A show of new works by Seth Price opens on Sunday, May 12, 6 tp 9 p.m. at Reena Spaulings Fine Art (165 East Broadway).

And finally, don't forget the arty-parties. There are too many to mention and several are "invitation only," but here's a few that caught our eye:


There's a big party on Tuesday night in honor of Paola Antonelli, the senior curator for architecture and design at MoMA, that's hosted by Hannah Bronfman, Amani Olu and Larry Ossei-Mensah and sponsored by Beefeater 24 Gin.
Tate Americas Foundation has a live auction, dinner and after party on May 8 that is sponsored by Dior.

Visionaire magazine celebrates their "63 FOREVER" issue on Saturday night with an installation designed by Alexandre de Betak and music by Sebastien Perrin.
EXPO Chicago and Gallery Weekend Chicago are hosting a cocktail party on Friday in SoHo.
Whitewall magazine is hosting a "FRIEZE NY 2013" party on Wednesday, May 8, at Le Baron (32 Mulberry Street). Jeremie Khait is DJing.