Ptolemy I of Egypt built the Library at Alexandria to honor the muses of literature, science, and the arts: SUCH a Carrie. A few millennia on, another protean task of cultural archiving is taking place on Instagram with the self-explanatory account @everyoutfitonsatc—that's Sex and the City for the acronym-challenged. Chelsea Fairless, a New York-based designer and founder of female-trouble.com, along with Lauren Garroni, a writer, director and producer of the fashion short website breathless.com in LA, began the Sex and The City digital encyclopedia a mere month ago and have already garnered 64k followers since. At a rate of more than 1k new followers per day….I couldn't help but wonder…who is on the inside of @ every outfit? And would they even bother with Charlotte's John Smedley twinsets (yes). We caught up with Fairless and Garroni about the genius of Pat Fields, the SATC fanbase, and the show's forever unresolved fashion polemic: Miranda Hobbes.

What is your own history with SATC?
Chelsea Fairless: I was obsessed with it as a teenager. I loved fashion and I wanted to move to New York, so seeing positive portrayals of successful women affirmed my goals at the time. I also smoked a lot of weed so I would just tear through those DVD box sets.
Lauren Garroni: I definitely watched the show during its series run, while still a teen, but my obsession began when I got the DVDs, which I would watch and re-watch. It was the first time I was seeing a female writer portrayed, albeit unrealistically, who loved fashion like I did and was funny. That had a huge impact on me.
What would you say is the guiding principle of @everyoutfitonsatc ?
C: We aim for completeness. The goal is to document every outfit, even the boring Charlotte ones.
L: Every outfit is a picture into the soul. Kidding. There a handful of ' iconic' outfits from the show usually all attributed to Carrie, but Pat Field is such a genius that we felt like each outfit deserved their dues. Even the boring Charlotte ones.
Are you sort of re-watching the show as you do it, or is your working knowledge just that encyclopedic?
C: You can't help but want to revisit the show after starting an account like this. But so many outfits are just unforgettable, Carrie wears some truly crazy shit.
L: Sadly encyclopedic. Although Chelsea and I did jump around and watch a few episodes when we began the account. Part of me wants to a podcast where we re-watch the entire series, out of order, and try to figure out what they'd be wearing today if the show existed.
C: Miranda would have definitely embraced that Céline / Stan Smith lifestyle. And it's kind of tragic that we'll never get to see Carrie in Vetements because those floral dresses and sock booties are made for her.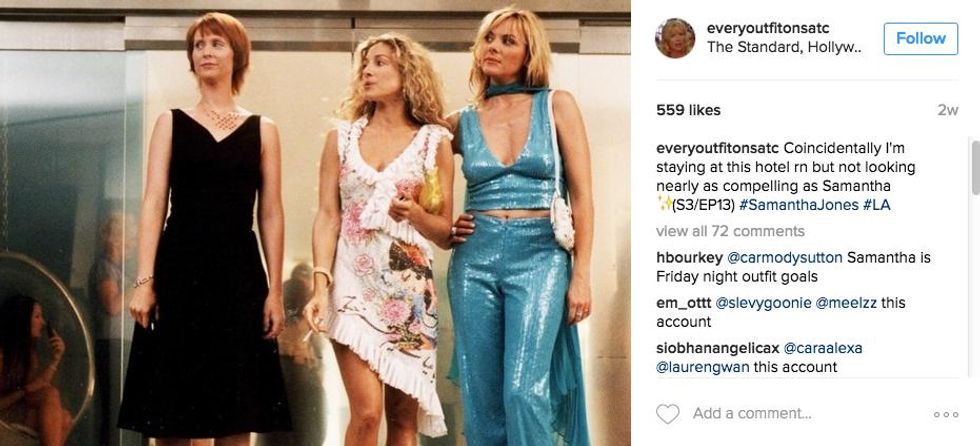 Have you had any reaction from anyone involved with the show or costumes?
C: We haven't, but we do strive for Patricia Field's approval. Some of our commentary is really bitchy but ultimately the account is a tribute to her genius.
L: Yes, our sarcasm is a sign of love. The ultimate would be some form of acknowledgement from the woman who makes our Instagram possible: Patricia Field. A follow from SJP would be chill too.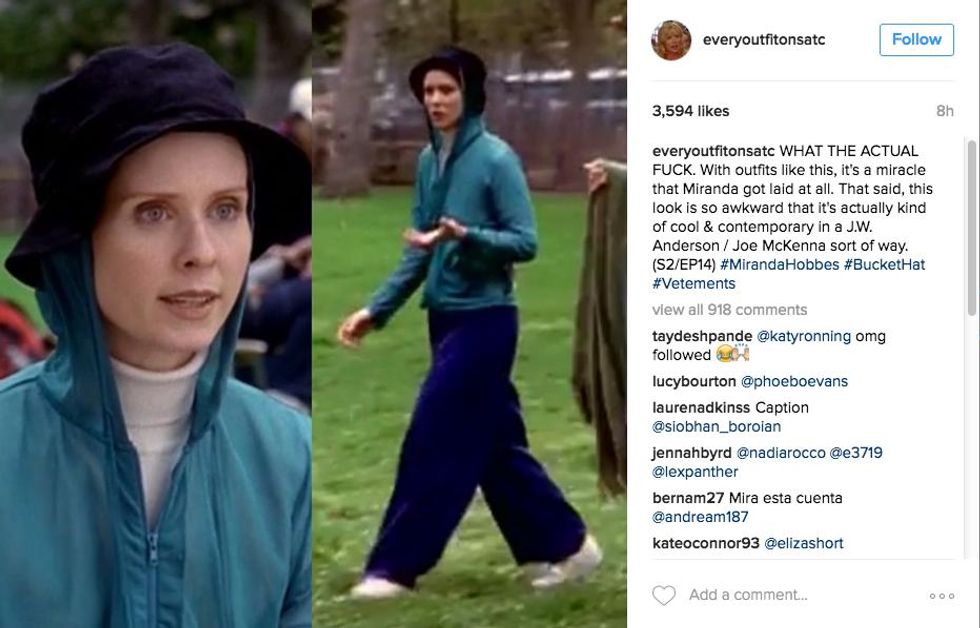 I love the Miranda commentary. What IS it about her that makes everyone have such an opinion?
C: Miranda has a complex fashion persona. One moment she's dressing like a power lesbian and the next moment she's in some MILF-y DVF date night look. It's a lot for the viewer to unpack.
L: I've said on the account that its obvious Pat Field didn't know what to do with Miranda. The character is very incongruous to Field's own style, which leads to many head-scratching fashion moments.
Any reaction to the (very immediate) love for the account?
C: We are so into our fans! Sex and the City fans in general are hardcore. I remember going to see the first SATC movie in the theater on opening day and the majority of the audience had dressed up in Carrie-esque cocktail attire for the occasion. That is true devotion.
L: We are the fans, they are us. Chelsea and I started the account because we thought it would be something SATC fans would enjoy, but the speed of which people have found the account has been astoun