Happy third birthday, super-hot feminist porn!
Swedish-born, Barcelona-based female porn director Erika Lust has been producing work since 2003, but her xconfessions.com "stories" are just in their third year now—xconfessions' third birthday was just days ago, in fact. For these videos, released every two weeks, Lust turns user-submitted fantasies into short adult films.
Lust did not intend to do this kind of work—she was a political science and gender studies major in college—but, as she describes in her March 2014 TED Talk, as a sex-positive feminist who wanted to enjoy pornography, she was stumped. "I wanted to watch some explicit movies—porn!—but I didn't like anything I found," she told PAPER on the phone. "I didn't like the style of it, I didn't like the way they were treating women, but I still had this urge to watch something. So I explored, to see if it was even possible to do something different. So many people said, 'No, this is the way porn is, don't bother. It's just not really for you.' And I thought, 'Why can't it be for me?!'" Lust up and created some adult movies that she actually wants to watch, using sexy but not "porny" actors—there's nary a tramp stamp nor a tanning booth-browned limb in sight—and putting women in the production leadership roles.
"My film crew is ninety percent women, and I think that's important, because we really haven't had the chance to describe sex on screen," says Lust. "There is really a difference when I have a camera person who is a woman, because she's interested in showing female pleasure and in showing sex from her perspective." As for the viewers: Sixty percent are male and 40 percent are female. The lesson: If you build beautiful porn, they will all come. And then they might cum...without needing to see some wide-eyed girl getting a facial.
So let's explore the beauty of sex on camera! Let's rethink porn! And, since kids are going to watch porn eventually anyway, let's give them a version that teaches them to respect and value themselves! This is Lust's attitude towards her work, which is catching on: xconfessions.com has 900,000 visitors a month, and counting.
How did you get into this?
In 2004, I was studying filmmaking, and I had the opportunity to do a short film. When I sat down to think about what I wanted to do, I ended up with an explicit story. So many people doubted it, but I wanted to try it anyway, so I did. I made The Good Girl, and I started to send it to a few festivals, and it got in, and it even won a few prizes. Still, I felt like it didn't reach a lot of people. At that time, the Internet was starting to explode when it came to video material. Before 2004, it was very difficult to show video on the Internet because the streaming wasn't good enough. But at that point, it became possible. So I just started a little blog, and I put up the movie there; it took a few weeks but then, suddenly, I had two million downloads. People started to write to me and ask when I planned on doing more. So, I guess that's when I realized that it wasn't just me, that there were many people out there wanting something different. And it seemed like I found some of the keys to make a difference.
So what are those things? What, exactly, do you do differently?
In mainstream pornography, both men and women are presented in old-fashioned ways. The man is always the muscular, penetrative sex machine, and the woman is this stereotypical bimbo. I want to humanize people, to see that they have different sides and that there are different ways of feeling pleasure and having sex. Also, a lot of the free stuff online has this hostile energy; the men are punish-fucking women, and it's just very sad. I show women experiencing pleasure, and in all kinds of ways. It's joyful and funny, sometimes. Finally, men have a tendency to look at the woman's body and feel that it's the most interesting thing there is to photograph. That's why I mostly have women behind the camera. I want to experience sex from her point of view, and I want a story. I want to understand who my main characters are and why they are getting together, why they desire each other. I don't want to just see the sexual act, I want to know what triggered it.
How did that kind of porn become regular? Acceptable, even?
That's a very good question, because it wasn't at all like that when it started. If you look at porn from the 1960s and the 1970s, you have that kind of narrative story. You have filmmakers behind the movies with actual ideas and with the ambition of doing something beautiful. It got lost on the way, though. I think it started with the video revolution, when anybody could buy a video camera and the men who were managing strip clubs, for example, decided "Let's film the girls." It exploded as an industry and it got less interesting to say something, to make something special. And then, of course, the Internet revolution. But why did it go so aggressive and harder and harder every time? It's hard to answer.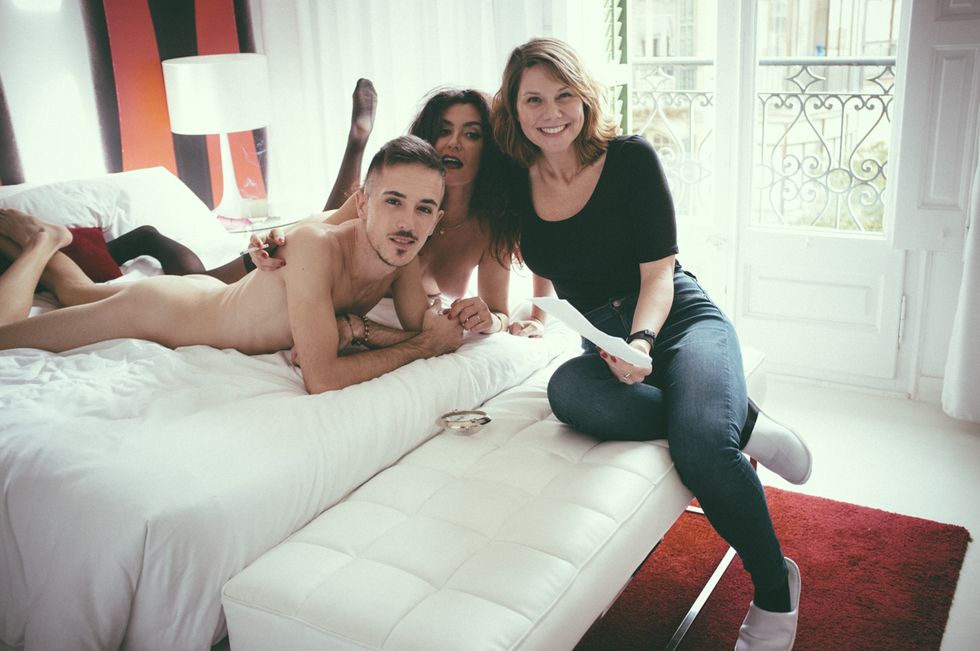 Have you seen a change in the porn industry since you started? Are more directors tackling this issue of making porn less misogynistic?
Yeah, in the last ten years I've seen a movement starting to happen inside the adult industry. The Internet revolution also made it possible for people like me, for independent directors, actors, and actresses, to distribute their own content to people and to find their own audiences. When I started, we were very few female directors talking about even the possibility of feminist pornography, and today there are many more making it. I also see more people like me who are attaching themselves to their work in the industry. Who's the producer? That's one of the things I always tell people is the most important when you're searching for adult material. Go to the website, go to the "About" page, and look for faces and names. Otherwise, how can you trust it? It's not so unlike how we're thinking about our food these days. People want to know where their eggs come from. Are they by hens standing next to each other in a factory where they have no space to move, or are they by hens walking around on a farm? It's the same with porn; more and more people are wanting to check out who's behind it.
What do you think of the term "woman-centric porn"? I understand the necessity for a term that implies the kind of porn that's not the mainstream misogynistic stuff, but I would hope that men are looking for that stuff, too. This isn't porn for women, this is porn for people who aren't assholes.
My films are not actually for women; my audience is sixty percent male. But it's always difficult when it comes to labels, right? What is it? What am I making? Can we just call it porn? Should we call it indie erotica? Should we call it independent adult filmmaking? Is it feminist porn? What would that mean? It's complicated for people because they don't really manage all these terms. You could definitely call it feminist pornography because it could be, by definition: It's made by someone who considers herself or himself to be a feminist, and it is explicit, so it definitely goes into the pornographic category. But it's a very complicated concept for people; most people feel that, in feminism, there's some kind of anti-male idea and that, in pornography, there's some kind of anti-female idea. So that term seems unrealistic or strange to them. When I talk about my films, I call them independent adult films. It's simpler.
You've been quoted as saying "porn is so much more than porn. I think that it's a discourse in masculinity and femininity, and speaks about the gender roles that we play." Can you expand on that?
Pornography has become sex education. When I grew up, I had no computer to check out PornHub in one click. Today, there's so much free pornography available online, and people are learning about sex and gender roles that way. So, if what we are looking at are all movies made by men, and not very different men, you know—they're all heterosexual, middle-aged men who have this common fantasy of the big-breasted blonde girl or the young girl who just turned 18—then that's the vision that we're going to think about. But sexuality is a lot more diverse than that. I want to see different body types, I want to see different ages, I want to see men and different being more fluid with their gender roles, I want to see different combinations and sexualities. And I think it's very important for people to start the discussion about sex in their own private lives. My viewers have reached out to me saying, "Wow, I was never really interested in submission or domination, but I watched this film and I realized that I was very attracted to it!" So having more diversity represented in porn might that help people discover and then open up about their own desires. Maybe they watch it with a partner and then they can start talking about it: "Hey, what did you think about that? Would you like to do something, you know, in that area?"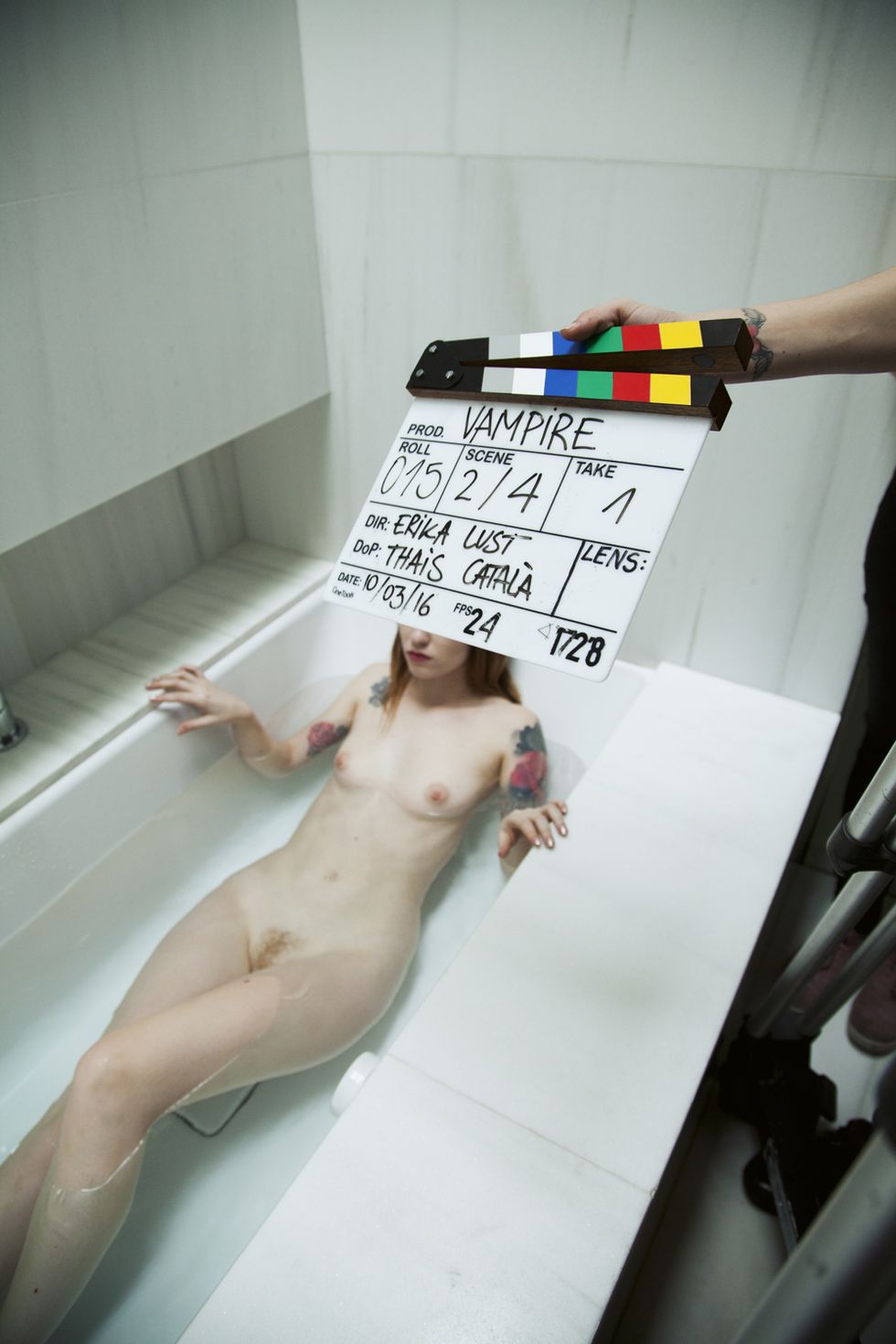 What, in your mind, is a healthy attitude towards sex?
Well, I think it's accepting your own body, first of all. There are so many people with so many body issues out there because our society over-represents one kind of body type—you know, the typical model of a fashion magazine—that has very little to do with normal people. So I think it starts with accepting your own body, with exploring your own body, and finding out what turns you on—what you like, what gives you a good reaction and makes you feel happy—and then it's about learning to share that with other people.
What will you consider success?
There's personal success, and I think I already reached that level. But there is a bigger impact on society that I think is very important. Especially as the mother of two daughters who are getting bigger and bigger every day, I'm seeing that it's more and more necessary to help create a better image of sex. Most material out there is aggressive and negative and shows the completely wrong values, not only when it comes to chauvinism, but also when it comes to racism and homophobia. I would really love to have a positive impact by offering an alternative to those visions.
Splash photo and stills courtesy Erika Lust.