For the month of May, PAPERMAG is celebrating the wide, wonderful, strange world of social media. We'll be highlighting a few of our favorite, follow-worthy folk, from celebrities to artists to comedians to musicians, and reveling in some of the gloriously odd Internet trends that crop up on Twitter, Facebook, Tumblr and more. Join us and discover the accounts you need to be following now.

Los Angeles-based artist Eric Yahnker has dug out and paved his own lane of contemporary art.
His jaw-dropping graphite and colored pencil drawings and other vivid works fuse politics with pop culture, sprinkled with absurdist humor and glimmers of the subconscious.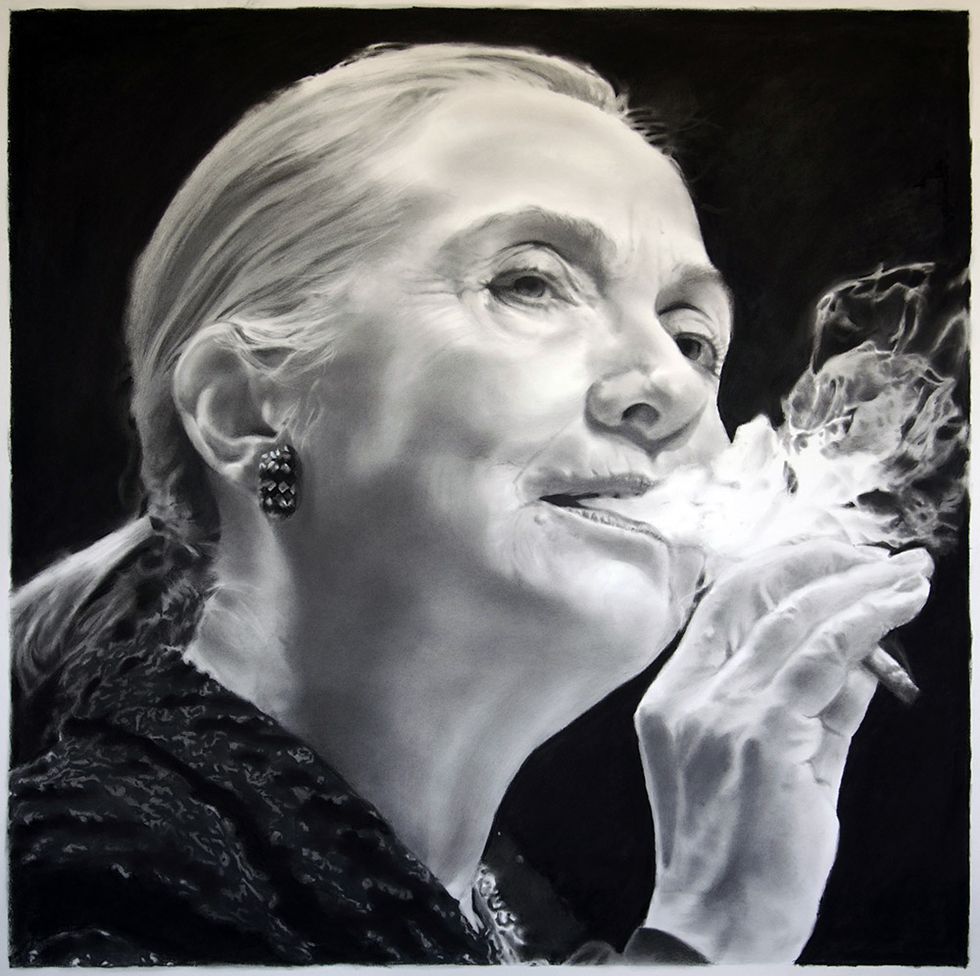 Trillary Clinton, 2015
It's no surprise that Yahnker's sense of humor is so apparent in his work: The artist worked on the storyboards for South Park: Bigger, Longer, and Uncut during his second year at CalArts, and he drew and directed Seinfeld-based animation that featured on DVDs for the last four seasons of the iconic sitcom.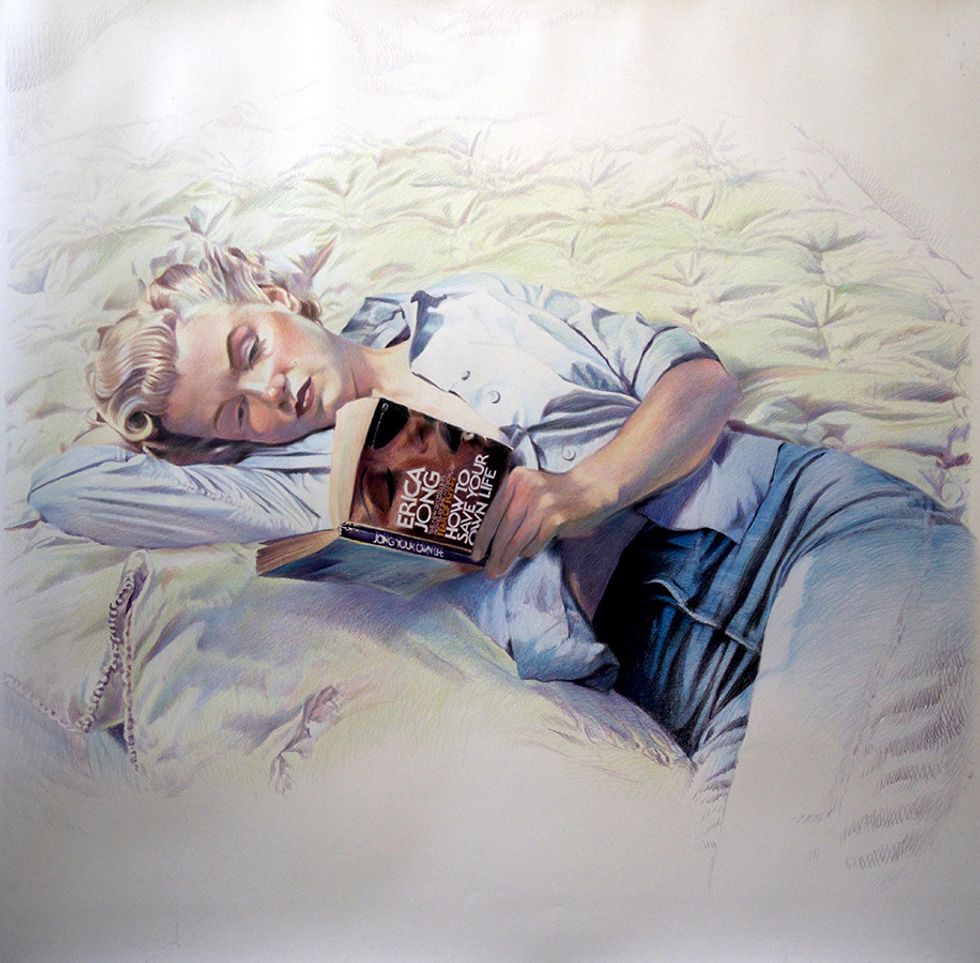 How to Save Your Own Suicide, 2015
Currently, Yahnker's latest exhibit, "Steve Jobs' Day Off," is on display at The Hole, in Manhattan's Lower East Side. It features a mind-melting mixture of eight new paper works, as well as sculpture and installation. We caught up with the artist to discuss his new exhibit, stumbling on art and animation, and sharing his grandpa's sense of humor.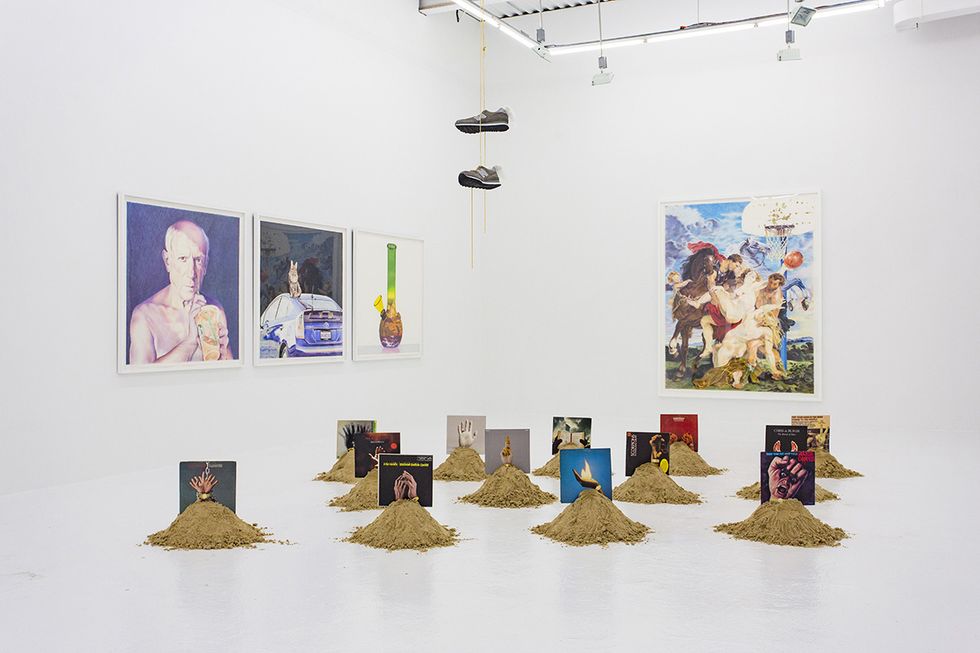 Steve Jobs' Day Off
Your exhibition at The Hole is unbelievable—it truly looks like it's stepping into one pocket of yours (or someone's) psyche. Can you explain the motivation behind this layout? Especially the arrangement of dirt/sand mounds on the floor?
I'm really glad you got that psychoanalytic vibe, because it does contain a lot of personal stew, but "Steve Jobs' Day Off" is meant as a satiric, visual poem about the past, present, and future of masculine/feminine archetypes and American ambition as an uber-conscious millennial population, rapidly shifting toward European-style socialism and gender fluidity/neutrality, comes of voting age. I wanted this show to conceptually ask if this young, energetic class of neoliberal millennials and their zeal for pacifism, equality, and transparency can resist falling into the same traps as their hippie generation parents, come the next series of major national catastrophes or terrorist acts?
The 13 dirt mounds you referenced in my sculpture 'Gold Diggers' serve as both a device to force viewers to circumnavigate the entire space, as well as a conceptual metaphor for history's uncanny ability to continually repeat itself, like fucked up zombies clawing their way up from their graves. I found multiple LP covers featuring hands in various gestures, threaded them with real, non-functioning gold watches, and wedged them in mounds of sand to give the appearance they were punching through the floor's surface.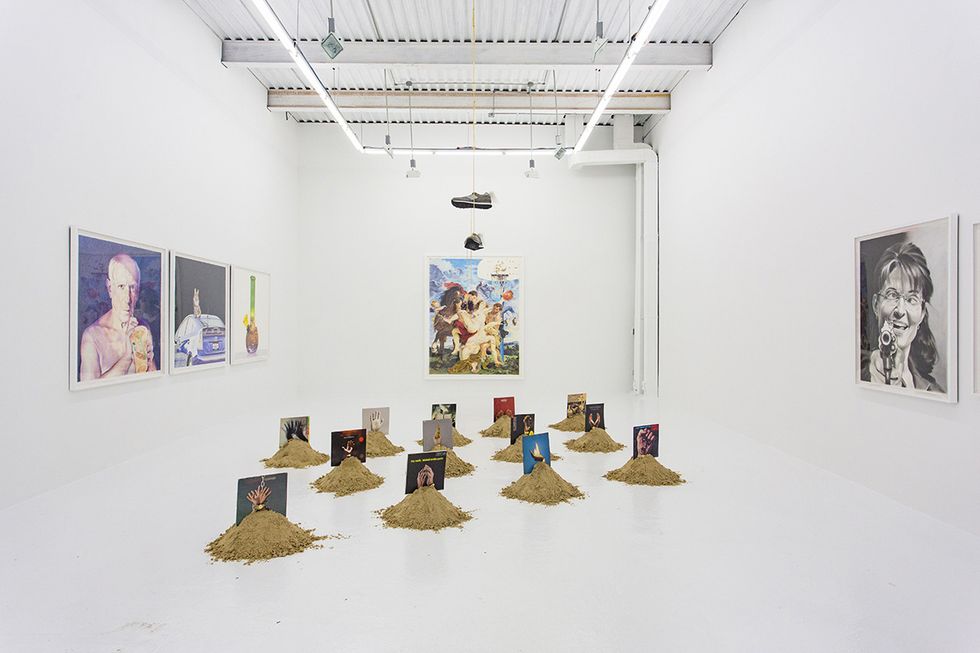 Your art seems to point to pop culture as both our living hell and our savior. Has pop culture always been a huge inspiration to you with your art? What were some early figures that you were drawn to growing up?

If anything, I'm probably a glorified political cartoonist. I originally studied journalism and eventually found my way to animation, where I worked for a decade. I always had political cartooning in the back of my melon as a way to marry these two pursuits, but with the death of print journalism came the death of paid staff political cartoonists, so I ultimately figured out a way to not only keep being a big, smarty-pants jackass bent on wacky ways to visually describe our current sociopolitical zeitgeist, but most importantly, to keep drawing!
Growing up, the pop culture I was most drawn to was 20th century Jewish comedy derived from the vaudeville tradition, such as The Marx Brothers, The Three Stooges, Charlie Chaplin, and later Mel Brooks and Woody Allen, among many others. Essentially, my grandfather's comedians are my comedians. Also developing folds in my shriveled ape brain were witty, stylized cartoonists like Gary Larson and Saul Steinberg, as well as intellectual acid-throwers like Paul Conrad.
What's your favorite piece you've done?
The right answer here is "my next one." But, I do have some works I consider breakthroughs. For instance, after three years of exclusively making labor-intensive sculptures, I finally got back to my natural state of drawing and satire in 2007. I remember making an enormous graphite drawing called "Light Reading," which was my largest work ever at that time. It featured a German actor playing a Comanche Chief from the John Ford epic, The Searchers (1956), that I gave a book to read: Getting Even, by Woody Allen. When my satire is firing on all cylinders, the comedy should be on an infinite loop of intentionally serendipitous revelation. I believe this work does this pretty effectively, and encapsulates what I'm still constantly chasing after.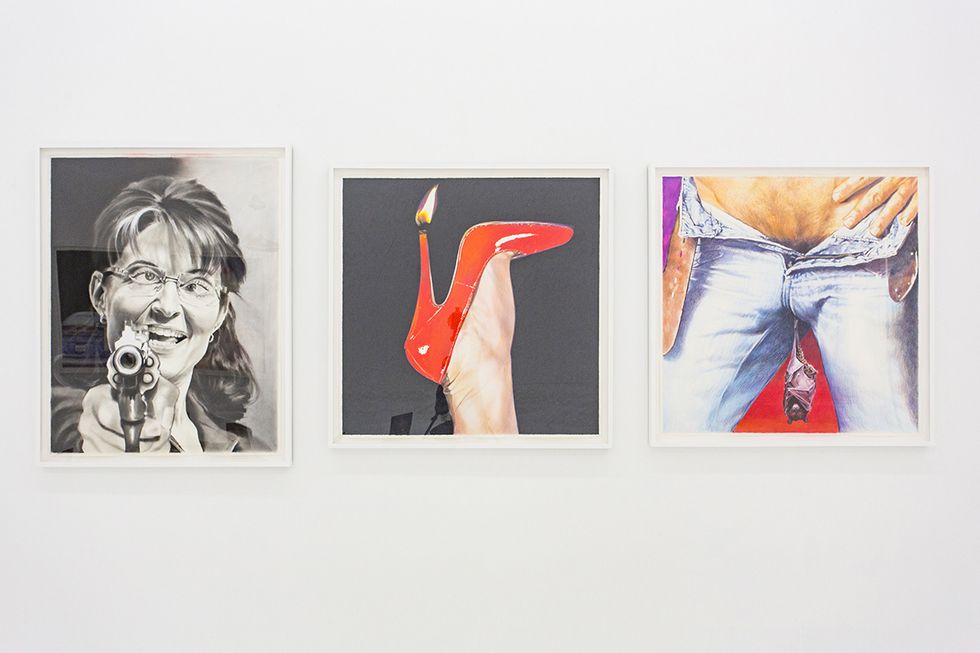 Who are some artists who you looked to in your more formative years as an artist, who are some of your current favorites?

I can honestly tell you that art was never even on my radar growing up. I made doodles on the margins of my homework (if you consider drawings of my teachers blowing each other art), but didn't understand it as a viable career path or even know commercial galleries existed. My first real introduction to art came after I got kicked out of USC Journalism School for majoring in partying, and ended up at a community college where I took an elective life drawing class for shits n' giggles. The teacher, Andy Fagan, told me I should apply to CalArts' Character Animation Program. I did, got in, and the rest is history. Except that I didn't stick with animation. After eventually seeing the writing on the wall that traditional animation was pretty much being replaced by CGI, I decided I needed to scratch a fast-developing itch. I was nearly 29 when I quit animation and started pursuing art. At that time, I remember coming across a book on artist Tom Friedman and being completely enthralled that someone was actually getting away with it. That became a gateway to artists like Mike Kelley, John Baldessari, Ed Ruscha, Claes Oldenburg, Allen Ruppersberg, and Marcel Broodthaers among many, many, many others I admire.
What's the next project you're working on?
The next thing I should be doing is filling my cup. I've always got a million ideas on deck, but 99% are corn-pocked feces, so it's probably advisable to hold off and see if they're still exciting tomorrow. I'm also doing some significant traveling this summer, but it's almost certain I'll take on one more big n' meaty project before the year is through. I'm betting on December.
Who/what are your favorite accounts to follow on social media?

Just my actual real-life friends on Instagram, I guess. I don't really follow too many celebrity accounts, although I do really enjoy getting Facebook updates from Tom Jones, Engelbert Humperdinck, Barry Manilow, and Leo Sayer.
What's your favorite "k-hole" to go into on the Internet when you're bored?

Man, you just made me have to look up 'k-hole.' If I'm reading it correctly, I guess my favorite k-hole on the internet is any doctor/patient, tentacle-erotic, cuckold enema porn, like everyone else.
What's the weirdest thing you've ever seen on the Internet?

I think I'm pretty desensitized at this point. I might still be somewhat affected by that gnarly picture of a woman's areola turned into a hatch nest for some ungodly Amazonian insect.
Actually, maybe the weirdest thing is witnessing how the rules and etiquette of social media have completely migrated into real life. At this point, the online/offline boundary is nearly non-existent. There is no escape!
See "Steve Jobs' Day Off" at The Hole, running through May 22, 2016.
Peep through some of Yahnker's past work below.

You May Also Like
Music
Story by Larisha Paul / Photography by Jamie Heath / Styling by Karen Clarkson