It's been 56 years since the world was introduced to one of music's greatest legends, Sir Elton John. And now, the musician and LGBTQ rights advocate has begun his Farewell Tour—one last wild ride before he finally retires at 70 years old.
He kicked things off at Allentown, Pennsylvania's PPL Center. And, early on, he explains to his beloved audience just why he's saying goodbye to Yellow Brick Road. "I want to thank you from the bottom of my heart for everything you've given to me these past 50 years," he said. "But I have the most beautiful family and I really need to spend more time with them. I know you understand since a lot of you have children of your own. I just want to be there for them and that's why I'm doing this tour. It's to say thank you and say goodbye to touring."
As promised, Sir Elton's last tour ever is the grandest thing he's done to date. According to The Rolling Stone, it's "the most bombastic, elaborate, high-tech arena show he's ever attempted." He performed many of his songs accompanied by videos and animation by artists like photographer David LaChapelle and animator Alan Aldridge. And, of course, as expected the singer's outfits are as colorful as ever. Yes, he brings out every pair of glasses imaginable.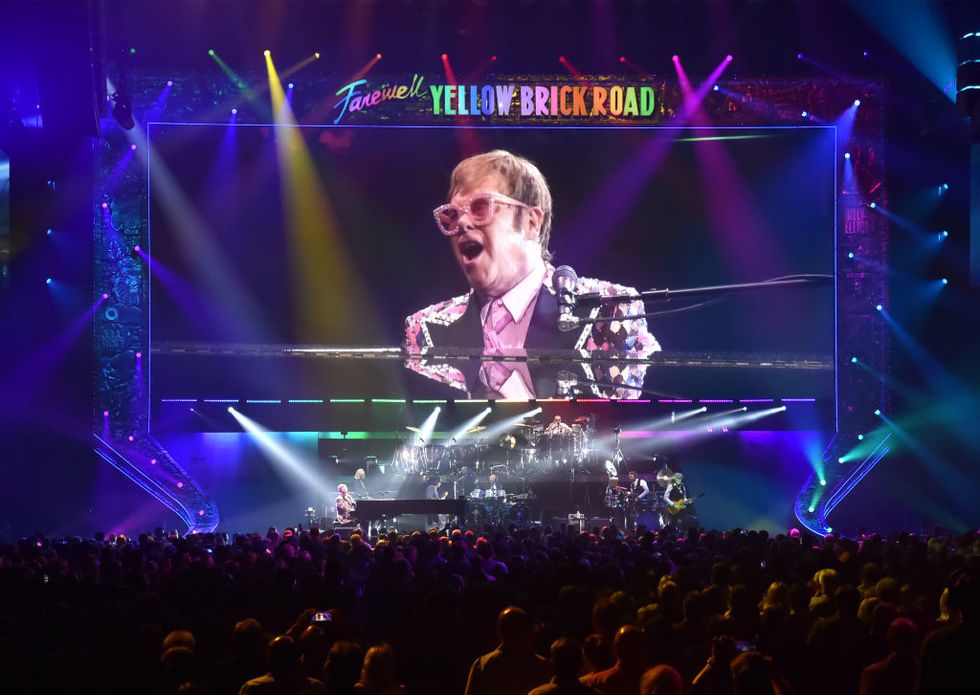 Here's the full tour setlist from the show:
1. "Bennie and the Jets"
2. "All the Girls Love Alice"
3. "I Guess That's Why They Call It the Blues"
4. "Border Song"
5. "Tiny Dancer"
6. "Philadelphia Freedom"
7. "Indian Sunset"
8. "Rocket Man (I Think It's Going to Be a Long, Long Time)"
9. "Take Me to the Pilot"
10. "Someone Saved My Life Tonight"
11. "Levon"
12. "Candle in the Wind"
13. "Funeral for a Friend/Love Lies Bleeding"
14. "Burn Down the Mission"
15. "Believe"
16. "Daniel"
17. "Sad Songs (Say So Much)"
18. "Don't Let the Sun Go Down on Me"
19. "The Bitch Is Back"
20. "I'm Still Standing"
21. "Crocodile Rock"
22. "Saturday Night's Alright for Fighting"
23. "Your Song"
24. "Goodbye Yellow Brick Road"
Elton John began his tour on September 8, 2018, and it ends on September 11, 2019 in Anaheim, California. As of now, all shows through to March 2019 have been sold out.
Sign Up For The Morning PAPER