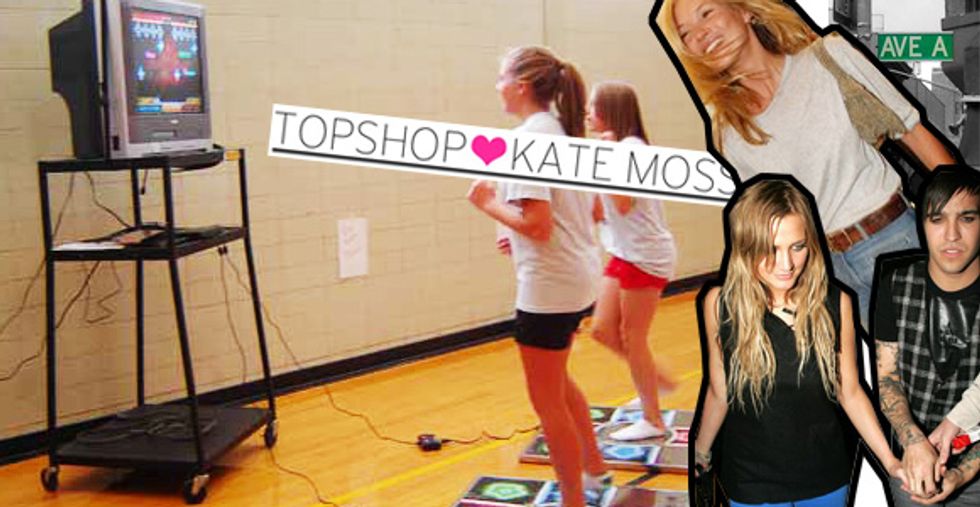 1. It's an exciting time to be English. Kate Moss's Top Shop line debuts tomorrow! According to Reuters, "To try prevent fights among shoppers when the doors open, each person will be able to buy only five items."
2. Apparently, Vanity Fair is running a "yoga spread" with high-profile yogaphiles (Donna Karan, Sting and Trudie Styler, Ali MacGraw, etc.) for their June issue. Doesn't that seem very 1997 to you?
3. Ben Brantley gives new musical Legally Blonde a pretty middling review in the Times today calling it superficial, potentially anti-lesbian and compares watching the show to eating candy. While a cute comparison, he took the candy metaphor and ran with it in a serious way. In the first three grafs alone, he mentions that audience members might want to floss between songs, and dropped M&Ms, Hershey's, empty-calories, Gummi-Bears and "confectionary charms." We get it, it's candy-like. No need to hit us over the head.
4. We've never heard of a SCRAM (Secure Continuous Remote Alcohol Monitoring) bracelet before, but apparently Tracy Morgan has to wear one! A result of a DUI charge and a subsequent probation violation, Morgan will have to wear a SCRAM for the next 90 days that will check his blood alcohol content every 30 minutes. How Orwellian! Now that Alec Baldwin may not return to 30 Rock for a second season, we especially hope that Morgan doesn't mess up and drink, because a 30 Rock without Baldwin and Morgan would be no 30 Rock at all!
5. So long dodgeball, hello Dance Dance Revolution. According to the New York Times, gym teachers across the country are using the Japanese video game Dance Dance Revolution in P.E. classes. The article suggests that "more than 1,500 schools are expected to be using the game by the end of the decade."
6. Tonight's the opening of the Pete Wentz/Gym Class Heroes bar in the East Village… Look out for Wentz's GF Ashlee Simpson on Avenue A.
7. Feist's The Reminder received a whopping score of 8.8 on Pitchfork today. Go, Feist, go!