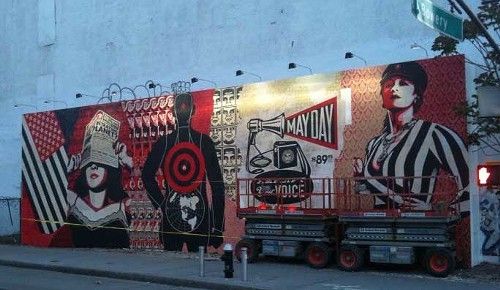 1.
Shepard Fairey
is putting the finishing touches on a gigantic mural at the northwest corner of Houston Street and the Bowery that ties into his upcoming "
Mayday
" exhibit at
Deitch Projects
. Contrary to popular belief the mural did not destroy the
Os Gemeos
piece at the same corner, but has been painted/applied onto a temporary structure surrounding it.
2.
The 10 best Coachella moments
. btw:
MGMT
didn't play "Kids."
3. A Los Angeles real estate investor wants to turn the
Hotel Normandie
(Normandie Avenue at 6th Street)
into America's first pot-friendly hotel
. 
4. Rock on!
Today is Iggy Pop's 62nd birthday
.
5.
The BENT Festival 2010
opens tonight and runs through Sunday with most of this year's activities taking place at 81 Front Street in DUMBO. The annual event features DIY electronics, hardware hacking and circuit bending. Plus, there's a big free party/jam on Sunday night at 8 p.m., held in conjunction with
The Tank
,
Issue Project Room
and
Share NYC
that takes place at 232 3rd Street in Gowanus and includes several of the Bent artists including
LCDD
,
Dr. Rek
,
Stefan Jankus
,
Playboy's Bend
and more.
6.
The International Noise Conference
tour stops in NYC on Saturday night, April 24, at the Silent Barn (915 Wycoff, Queens) with lots of acts (including the
Laundry Room Squelchers
and
Clang Quarter
) performing short sets.
Image via The L Magazine