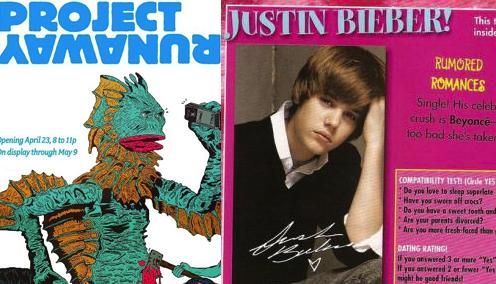 1. Brooklyn's
3rd Ward
(195 Morgan Avenue) is launching the Dutch art collective
Antistrot
's  performance art mash-up "
Project Runaway
" on Friday, April 23, 8 p.m. to 11 p.m. The show is up until May 9 and the opening includes free admission, free Colt 45 and music by
DJ Tanner
. RSVP to gallery@3rdward.com.
2.
Michael Jackson
impersonator
charged with child molestation
.
3.
Miami hotels are still in deep financial doo-doo
. The
Miami Herald
reports
that T
he Sagamore
is about to join the
Gansevoort
and
Shore Club
in foreclosure-related lawsuits.
4.
The history of electronic music in India
.
5.
MGMT
's new album didn't fair as poorly as many expected. Their sophomore album
Congratulations
went straight onto the top album chart at #2.
Uggs-hater
Justin Bieber
stays at number one.
6. A woman was
turned away
from Disneyland, Paris, because she was dressed like a princess.  Security guards made her change clothes because her outfit might "confuse children." (via Telegraph, UK)
7. Have an iPad? Unclear about what the future holds for you? Then you're the perfect candidate for the
ELLE Astrology App for the iPad
.