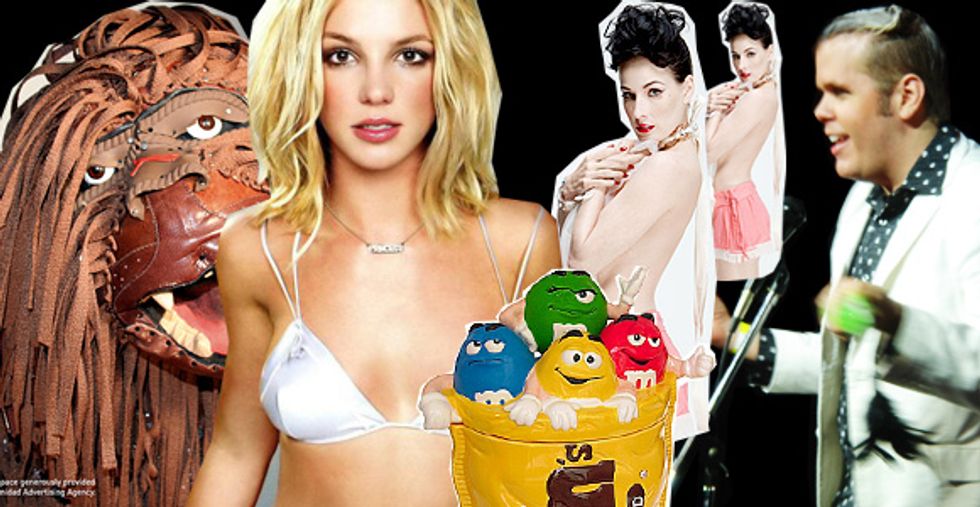 1. PAPER cover girl Dita Von Teese took her clothes off (again) at a benefit for the Museum of Sex last night in New York. The evening was hosted by Perez Hilton (pictured) who entertained the sparse crowd by throwing out neon Pure Romance dildos and introducing his new favorite band Dragonette. The catchy-Canadian act is currently living in London where their eponymous debut album was just released on Mercury Records. Several band members were sporting fresh Ben Sherman gear scored the night before at the store's first anniversary party where they also performed.
2. Must be the shoes! The Chelsea Art Museum (556 W. 22nd St.) is exhibiting a life-sized jungle made entirely from tennis shoes. The installation, sponsored by Puma, is the work of Federico Uribe and will be up until the end of the month. Take the kids.
3. The M+Ms are appearing at Miami club Mansion (1235 Washington Ave., $40, no cell phones or cameras) on Sunday night. Who? It's not the "melt in your mouth" candy but the melted-down bald singer Britney Spears.
4. No more events on July 7th, please, our calendar is full. Not since January 1, 2001, has a date attracted so many numerologists and publicists. Already scheduled for 7/7/7 are several Live Earth benefits as well as the official announcement of the New 7 Wonders of the World.
5. Culture Check: air f*****g and chongas.
6. Song of the day: "Disco Lady" by Johnnie Taylor. Re-awakened from deep in our popper-adled brain by www.musicovery.com somewhere in the calm-positive disco section. Warning: do not look at this site while at work! The psychedelic graphics will attract your boss like moths to a flame.