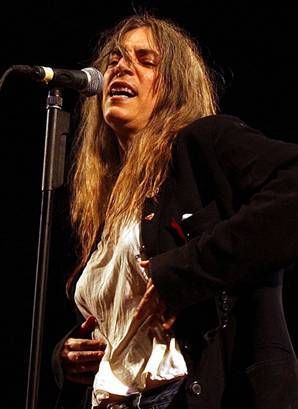 1. Patti Smith is joining the all-star cast celebrating Marc Bolan and T. Rex on Saturday, September 29th in Central Park. The Joe's-Pub -organized event starts at 7 p.m. in the park's Delacorte Theater and also includes a tribute to Scott Walker by David Driver and a rendition of the Carpenters LP "Close to You" by Justin Bond and Scissor Sister Jake Shears.
2. Who didn't kill Biggie? The L.A. Times reports today that it wasn't the LAPD. An incarcerated snitch, Waymond Anderson, had previously claimed their involvement but now says he was lying to cover his ass. Meanwhile, on the East Coast: P. Diddy closed his Manhattan restaurant and claimed men are better perfume judges than women.
3. Reggae and blues recording artist Corey Harris won a "genius grant" of $500,000 from the MacArthur Foundation. Harris has released several albums on both Alligator and Rounder Records and his current release Zion Crossroads is out on Telarc. Ya mon!
4. A recent study by GLAAD (Gay and Lesbian Alliance Against Defamation) found that the number of gay characters on TV is falling on the major networks but rising on cable. For the 2007/8 season, there are seven regularly seen characters on five network shows: Brothers & Sisters, Desperate Housewives, Ugly Betty, The Office and Cashmere Mafia.
5. The folks who brought you the long-running off-Broadway show De La Garda are back with an all new extravaganza called Fuerzabruta. From October 11 to 24 tickets are only $35 and then they rise to $70. It's at the Daryl Roth Theater on 15th Street on the east side of Union Square.
6. The re-configured US Coast Guard lightship The Frying Pan that had been operating for several years as a club/venue was shuttered last summer due to neighborhood construction, but we hear that they have found a new location and will re-open in May at Pier 66 (at 26th Street).