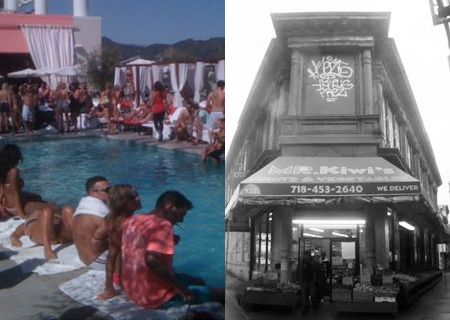 1. What happened at popular Bushwick music venue
Market Hotel
? According to
Todd P
: "For the near future, Market Hotel (1142 Myrtle Avenue) will go dark and scheduled events will be relocated."
2. The
W Hollywood
(6250 Hollywood Blvd.) hotel is re-thinking their rooftop pool no-guests-allowed policy after a writer from travel blog
Gadling
was turned away last week. The hotel told us that hotel guests can use the pool every day except Sunday after 2 p.m. when access may still be denied due to a standing agreement with the hotel's nightclub Drai's.
3. After a six-year delay,
Melissa Auf der Maur
's second solo album, "Out of Our Minds," is finally being released tomorrow, April 6.
4. Fab PAPER fotog
Jeffery Kilmer
is tending bar tonight, April 5, at the White Lodge party at Home Sweet Home (131 Chrystie Street) with music by DJs Crush Dreamer and Aaron Kolfage plus special guest Logan Neitzel from Project Runway.  Free admission.
5.
The Zac Posen for Target collection
will be available to the public for 24 hours in New York City starting at 11 p.m. Thursday, April 15, at 481 8th Avenue at 34th Street.
6. NYC singer/songwriter
Lach
brings his "longest running open stage," The Antihoot, to Webster Hall (125 East 11th Street) every Tuesday and he hosts a "5 acts for 5 bucks" concert series every Wednesday at the same venue.