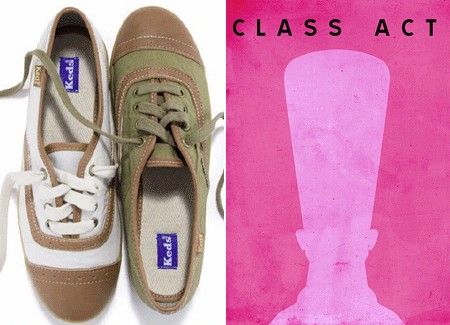 1.
Hipster Runoff
's April Fool's joke was just as good as
College Humor's nefarious plot to take away a little piece of everyone's soul
: Pitchfork give's
MGMT
's new album a 10.0. [
Hipster Runoff
]
2. Theater group
Project: Theater'
s adaption of
Michael Ian Black
's
My Custom Van: And 50 Other Mind-Blowing Essays that Will Blow Your Mind All Over Your Face
debuts tonight at the Drilling Company. We're very curious to see how they tackle the chapter "Why I Used a Day-Glo Magic Marker to Color My Dick Yellow." [
Drilling Company
]
3. More
amazing minimalist movie poster art
. [
Buzzfeed
]
4. How cute are the
Keds
pictured above? They're called "Champion Take Flight" and are based on a design from 1910. They're the first of 10 decades-themed styles in the brand's new
Century Collection
, retail for $50, and will be available at
theoriginalsneaker.com
5.
Brooklyn Flea
announced yesterday that they'll be taking over the food concession at Central Park's Summer Stage with tasty concert snacks from AsiaDog, Blue Marble Ice Cream, Pizza Moto, Red Hook Lobster Pound, and Soler pupusas, and Marlow & Daughters.
6. Choreographer
Kathy Wasik
debuts her performance "Zero" tonight. Wasik, a former math major, will explore the "mathematical concept of zero as a personal, emotional, and sometimes neurotic journey." [
Triskelion Arts
]
7. Dust off those broom handles, folks, it's time for a Stickball Tournament.
Nike Sportswear
's celebrating the urban-adaptation of baseball with an all-day tournament Sunday, complete with a Q&A with the
New York Emperors Stickball League
, music by
Q-Tip
, and street food. First pitch is at 3 p.m. More info
here
.
8. Here's a mesmerizing GIF of a child riding a tortoise, as Mickey would say, just cuz.  [via
birchbio.tumblr.com
]