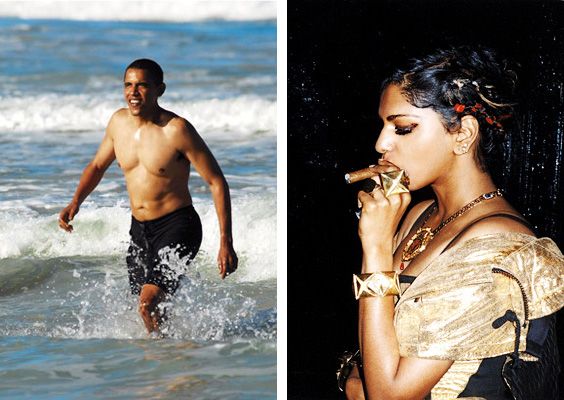 1. Obama means "little beach" in Japanese. And Urban Dictionary defines an "Obama baby" as "a child conceived in celebratory sex" following his victory last Tuesday.
2. Backstage necessities from M.I.A.'s 2008 tour rider: cave-aged Gruyere cheese, Ferrero Roche candy, Milano cookies, AA batteries and "no Pepsi." (via The Smoking Gun)
3. Election minutiae: Voters in Beverly Hills rejected a proposed Waldorf Astoria Hotel by 68 votes.
4. Go here to see how many people in the USA have the same name as you.
5. Brooklyn's Issue Project Room is having a benefit tomorrow night (November 11) at Santa's Party House with Moby, David Linton, Bubblyfish, Chika etc. Tickets are $30.
6. Crystal Castles' Alice Glass tops NME's annual list of "cool" people.