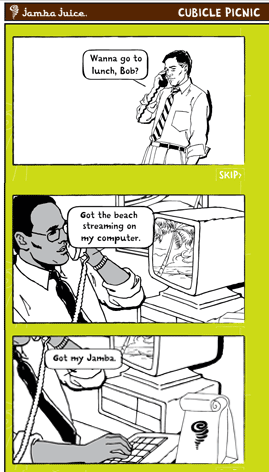 1. Don't stop eulogizing 'til you get enough: the New Yorker's Sasha Frere-Jones is writing a book on Michael Jackson.
2. River Deep, Manson High: Phil Spector ignored Charles Manson's invitations for a jailhouse collaboration. (via The Daily Swarm)
3, 4. Today in plagiarism: Jamba Juice bites David Rees's comic Get Your War On, while OneRepublic's Ryan Tedder sells the same track to Kelly Clarkson and Beyoncé.
5. Duke University has created a free online archive of TV ads from the '50s through the '80s. (via Boing Boing)
6. Help Remedies is designing provocative window displays for Ricky's NYC.