It's been 25 years since an 18 year-old Edward Enninful took the helm at i-D and became the youngest ever fashion director of an international publication and now, on the occasion of his quarter-century anniversary in the industry, the current Fashion and Style Director at W has teamed up with photographer Nick Knight's SHOWStudio and Beats by Dre on a new fashion video. Called The 7 Deadly Sins of Edward Enninful, the film plays on the age-old vices of pride, greed, lust, envy, gluttony, wrath and sloth and stars some of the editor's supermodel friends like Naomi Campbell, Kate Moss, Mariacarla Boscono, Jourdan Dunn, Karen Elson, Anna Ewers, Karlie Kloss, and Lara Stone. The film is a visual feast of every color in the rainbow, with a sumptuous blend of out of this world hair and designs from Maison Margiela Artisanal by John Galliano and Vetements, Givenchy, and Yohji Yamamoto, Giambattista Valli Couture, and more. The soundtrack is just as modern and forward-thinking with The Internet, Jamie XX, and A$AP Ferg providing background tracks. We caught up with Enninful before the film debuted on a Times Square billboard about twenty-five years in the industry, the project, his favorite new designers, and more.
25 years in any industry is an amazing feat. How does it feel to reached this milestone?
I feel like I've just started really. It's been a long time and I've been very lucky. Being able to collaborate with these incredible image makers for my entire career and having great mentors has been amazing. I hope to have another twenty-five years doing what I love.
This project brings together tours de force in each industry: music, film/entertainment, fashion, and beauty. How did the collaboration come about?
About a year and a half ago, I was approached by Beats by Dre. They were interested in collaborating with people in the fashion industry. They told me that they had just taken residency on a billboard in Times Square and I thought it would be a great idea to do something more forward-looking -- something I had never done before. My work has mostly been shown on the pages of a magazine and though that's incredible and I will always continue doing that, I wanted for once to see how it would look on a bigger scale. I'm from England and growing up, Times Square for me as an English person brought together all the cultures of the world. It represented America. I remember standing there at 17 years-old, wishing that something I did would be worthy of a billboard there. And I also wanted to do something with the women who had inspired my career; I wanted to give something back to them. Whether it was Naomi [Campbell], Kate [Moss], Lara [Stone], or Mariacarla [Boscono], these are the women that inspired my work so I wanted to give them a tribute. The idea of the 7 Deadly Sins was influenced by social media. Everyone is so obsessed with it and the digital world, so I wanted to take an ancient concept and apply it to the world we live in today. The digital age has great stuff, but we're also quite numb. Selfies, all of the vanity, trolling, envy: all of those things relate to the digital age.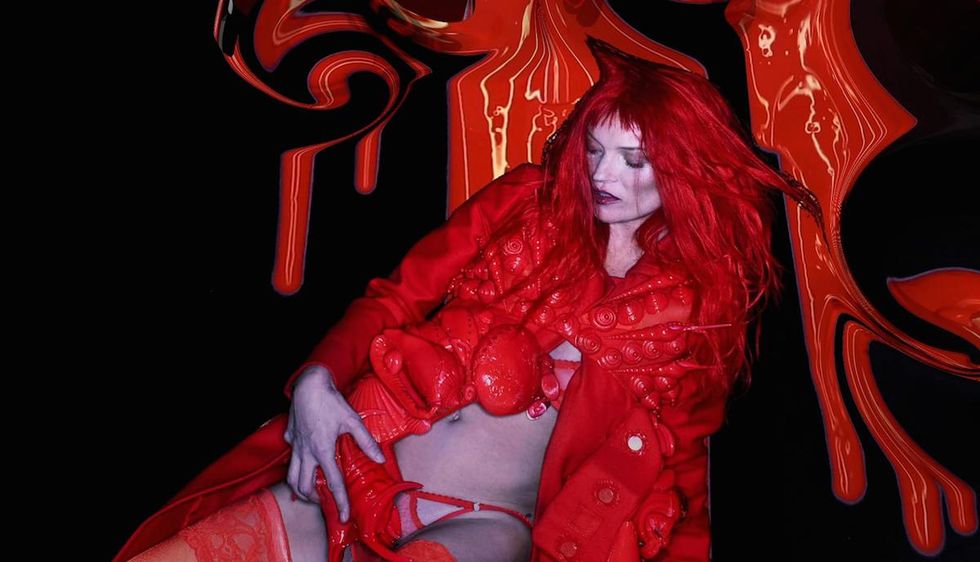 Kate Moss as 'Red Lust' in Beats Presents The Seven Deadly Sins of Edward Enninful, a SHOWstudio film directed by Nick Knight

You got your start at i-D, when you were hired to be the youngest ever fashion director for an international publication at 18. Do you ever think back on your time there in amazement at the amount of responsibility you took on at such a young age?
I just did it. When you're put in a situation, you either sink or swim, so I was determined to swim and swim well. I was a one-man fashion department. I did all the writing and all the styling and it was the best learning experience. When I look back on that time, I realize I wouldn't be where I am today without it. Whether it's my new collaboration with Beats or working with all of these great magazines, i-D gave me the base from a very young age to make mistakes and learn. It's very important to be able to make mistakes and learn from them.
And you've known Nick Knight for a really long time, meeting him when you were both collaborating for the magazine when you were just 16. How has it been to have such a dear friend with you along the way as you've both grown in your careers?
The irony of going into my 25th year and thinking back to when I was scouted on the train by Simon Foxton, who was Nick Knight's stylist at the time. So Nick Knight was the first person I met in fashion. It's been a full circle and it's amazing to see how it all comes around. Throughout the years, we definitely make sure to check in with one another and collaborate. He's always been there for me as a kind of father figure and guiding light. He's done wonders for SHOWStudio and has really embraced the digital age -- I have always admired Nick for that. He was never afraid of the unknown and we had so much fun making this film. We were given carte blanche and freedom. Designers went into their archives and supplied everything we needed -- people I have respected for the past twenty-five years. We really wanted to do something that combined fashion, sound, emotion, and color. And I hope we achieved it.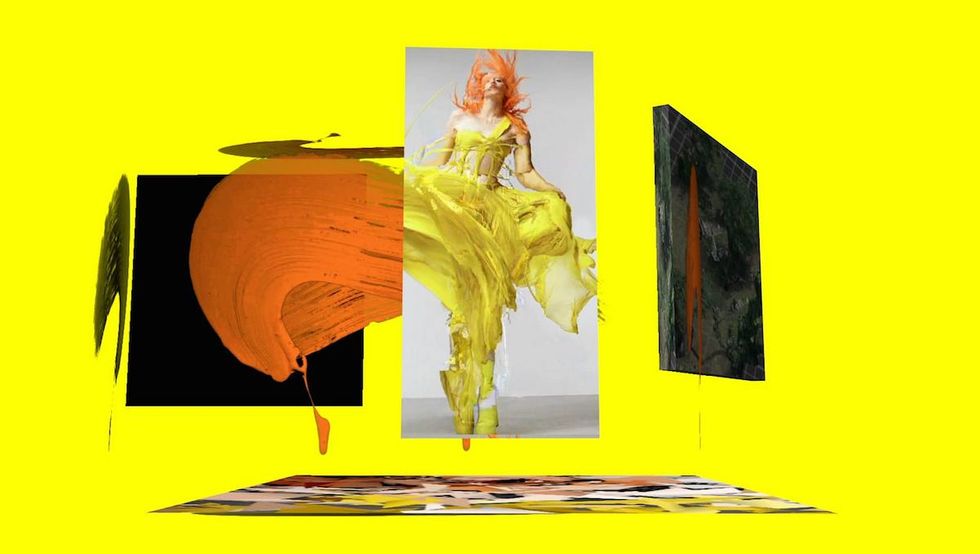 Karen Elson as 'Yellow Wrath' in Beats Presents The Seven Deadly Sins of Edward Enninful, a SHOWstudio film directed by Nick Knight

You've worked with the biggest fashion houses and pretty much every designer on the planet thus far. Are there any new brands that have caught your eye and are doing something cool and different right now?
Absolutely. Vetements -- everyone is talking about Vetements. I also love Faith Connexion: they're doing really great stuff. I also love these kids on Instagram who are doing their own thing without having a lot of money behind them. They're just creating in their little studios and I have so much fun looking at them. They're definitely the next generation. I love Hood By Air and that DIY ethos.
During your time at Italian Vogue you produced both the "Black Issue" and "Belle Vere," which were unlike anything else and so successful for the publication and Condé Nast as a whole. Diversity of complexion, ethnicity, and size are still trudging along in the industry. What are your thoughts on inclusion and diversity at this point?
Our goal should not be to fill one role or point of view in a photoshoot or in a show. We need to go back to education and mentorships, so that the playing field can be evened. That's the way forward for us to create proper diversity. We need to have multiple voices contributing behind the scenes. We've been on the right path for the past couple of years.
Splash photo by David X Prutting/BFA.com

You May Also Like
Break the Internet ®
Photography by Oscar Ouk / Styling by Caitlan Hickey / Hair by Sean Bennett / Makeup by Kento Utsubo