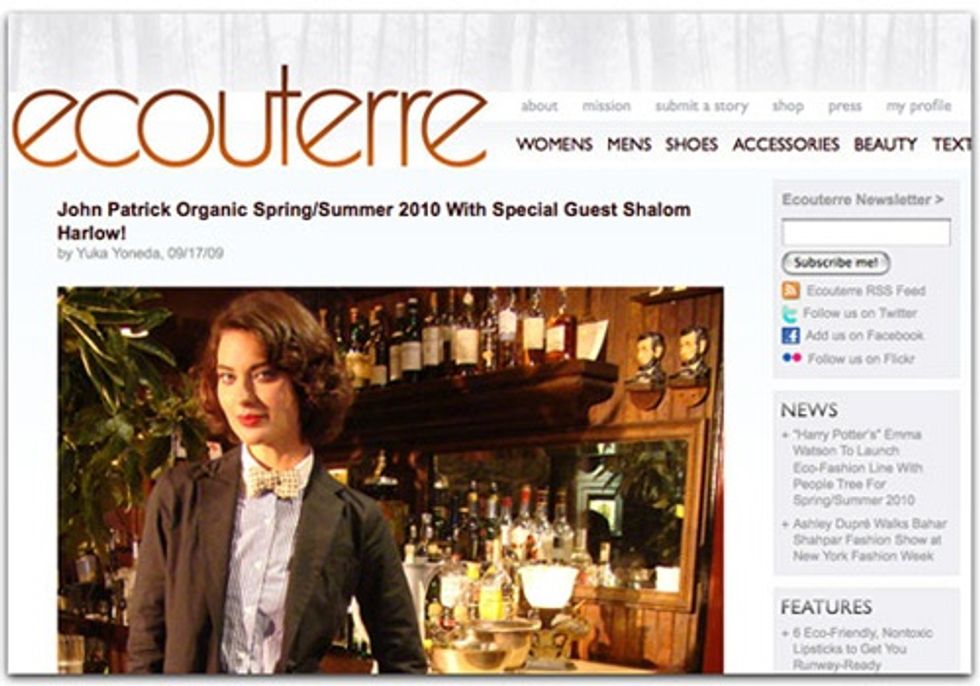 Inhabitat.com editor-in-chief Jill Fehrenbacher says she launched the eco-design website's brand new fashion offshoot, Ecouterre.com for "hardcore fashionistas and hardcore greenies alike to start paying attention to eco-fashion." Trying to fold eco-fashion coverage into Inhabitat also proved difficult—some readers didn't "seem to think that clothing design is worthy of coverage in a design publication"—and Ecouterre.com (which launched yesterday) gives it a place to grow. Fehrenbacher chatted with PAPERMAG via email about how her site will undo green fashion's treehugging stigma, her favorite designers, and doing it yourself.
Do you think there's a stigma about environmentally-conscious clothing despite 'greening' efforts becoming more culturally mainstream?
I think there is still a stigma associated with the word 'green,' unfortunately, when it comes to the fashion industry. Despite all the celebrity endorsements and the progress that the green movement has made, I think a lot of people still think 'Birkenstocks' when they hear the word 'eco' and they don't want their brand to be associated with that. I'm hoping that Ecouterre will help to dissolve this stereotype.
Your site features DIY projects like making belts out of vintage aprons and recreating runway looks on the cheap. Do you think people tend to forget that it's not impossible to make their own clothes?
I think in our hurried, overstressed society the biggest thing most people are wanting for is time. It's easier for most people these days to spend 20 minutes buying something rather than many hours or days making something, which means that people are not as hand-crafty and resourceful as our grandparents' generation. I encourage everyone to try to find the time to sit down and make things occasionally. It's good for the soul!
Who are some of your favorite eco designers?
I'm a big fan of Mika Machida, Loyale, Bahar Shahpar. My new eco-fashion crush is Mr. Larkin -- a line I recently discovered at the GreenShows during New York Fashion week. I am completely enamored with Mr. Larkin because it's a line that is totally innovative and original with really interesting shapes and fabrics. Somehow it also manages to be very wearable and flattering -- a rare combination. The designer, Casey Larkin, hand-dyes all of her fabrics (including textiles like peace silk and milk-fiber) with natural plant-based materials like berries, twigs, and leaves.
Where would you like eco-fashion be in a few years?
I look forward to a day when there is no 'eco-fashion'; when environmental and social responsibility is such a given for every designer, that all clothing is produced in a way that is cruelty-free, and socially and environmentally responsible. Then we will have achieved our aim. I hope this is something we'll see within a few years!