Manhattan's Whitney Museum of American Art hasn't hosted a fashion-related exhibition since 1997. Two decades later, the institution has opened its ground-floor John R. Eckel, Jr. Gallery to Eckhaus Latta: Possessed, a three-part installation by fashion designers and 2018 LVMH Prize finalists Mike Eckhaus and Zoe Latta. On view through October 8, the duo's first solo exhibition comments on desire, consumption, and surveillance in the consumer experience by displaying exclusive Eckhaus Latta designs alongside artwork. Unlike other exhibitions at the Whitney, this one encourages visitors to touch, try on, even buy pieces from the show.
With Raf Simons' homage to American art at Calvin Klein dominating the New York scene, Mike and Zoe seem an unlikely choice for Whitney's first fashion-focused show in 21 years. Considering the show is a part of the museum's emerging artists series, the Rhode Island School of Design graduates are a natural choice. By fusing fashion, performance, music, literature, and film in their practice, the duo has placed its 7-year-old brand at the crossroads of fashion and contemporary art. As opposed to focusing on concrete references from subcultures, time periods, or design disciplines, the designers allow human experience and tactility to guide their collections. This resulting range of versatile pieces has attracted Eckhaus Latta an array of admirers from top editors to young guns; it's even set the scene for budding labels to thrive, including Vaquera and Gauntlett Cheng. Consequently, Mike and Zoe's influence and wide-spread appeal are unparalleled in American fashion.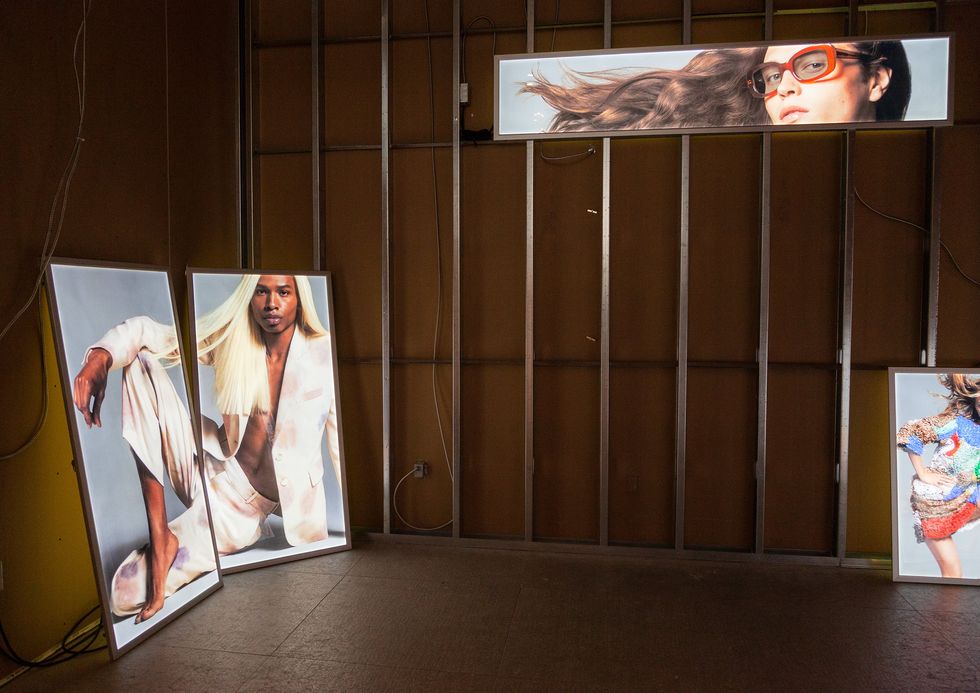 The show opens with an assemblage of photographs depicting models posing glamorously in Eckhaus Latta. The display of light boxes illustrates fashion marketing's undeniable impact on the desire for clothes. While these images are composed like a luxury ad campaign, Eckhaus Latta's collections are typically presented on non-models in radical imagery that eschews industry norms. The brand's NSFW spring 2017 ad campaign featured real couples in various states of undress, having sex, while their spring 2018 denim collection was photographed on models wearing clown makeup. Despite rejecting the conventional fashion tropes industry insiders regard as aesthetic ideals, Mike and Zoe have conjured quite the fanbase. Case in point, the brand's custom merchandise for the show almost sold out on opening night.
Related | Eckhaus Latta's Conservative Cool
Stocked in the heart of the exhibition — a fully functional retail space complete with a staff, mirrors, and a changing area — a range of one-off and limited run clothes and accessories reflect the brand's longstanding focus on materiality over high-fashion affectations. Inexpensive glass craft-store beads are strung together for a fringe effect on trousers and recycled strands of colorful plastic are woven into skirts. In keeping with their collaborative approach, the pair displays these texturally-rich pieces on and around fixtures, furniture, and art by a dozen creatives in their community including Brooklyn-based artist Susan Cianciolo and Ms. Latta's father, designer Jay Latta. While this intermingling of fashion and art blurs the line of demarcation between the disciplines, it also highlights the fashion system's comfort with commerce and art community's contentious relationship with it.
Commercial art galleries like those in Manhattan's Chelsea neighborhood are big business, but it's frowned upon for museums to sell artwork. Pieces on loan must be returned to their owners and works from museums' private collections have historically been deemed too precious for sale. As the works in Eckhaus Latta: Possessed were made especially for the show and aren't a part of the Whitney's permanent collection, their makers, presumably, could have marked these pieces for sale to create an entirely shoppable experience. Instead, ready-to-wear and accessories are made purchasable while the art remains unattainable.
"Does the status of 'for sale' or 'not for sale' confer a value judgement? Are the store fixtures art because they're not for sale? Is being in a gallery what makes them art?"
"The exploration of the grey areas in art and commerce... is very much what's at the heart of this exhibition," the show's co-curator and the Whitney's head of product development Lauri London Freedman says. This difference in commercial availability raises a bevy of questions not only for show goers, but also for Freedman. "Does the status of 'for sale' or 'not for sale' confer a value judgement?" she inquires. "Are the store fixtures art because they're not for sale? Is being in a gallery what makes them art?" If this quagmire wasn't complex enough to navigate, Mike and Zoe introduce the notion of surveillance in the third part of their show.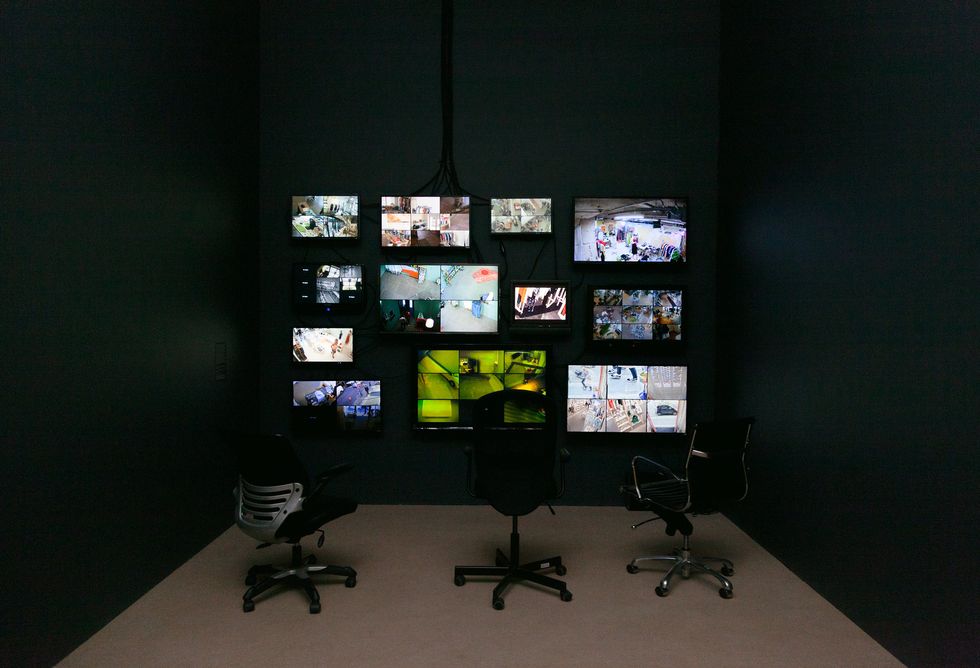 In the exhibition's closing portion, a dozen wall-mounted monitors display a livestream of the preceding retail space and surveillance footage from Eckhaus Latta's L.A. store and the brand's stockists from Galeries Lafayette in Paris to Maryam Nasir Zadeh in New York. Ostensibly regular mirrors embedded into the walls are revealed as semitransparent, turning visitors into voyeurs in the final space. Together, these elements call attention to the intimate nature of shopping. Not only are customers dressing and undressing in a public space, being watched by security, and revealing their sizes to store staff, they're also being recorded by CCTV cameras.
To exit the space, visitors must backtrack through the installation. That second lap around prompts even more tricky questions. To what extent does advertising control one's taste? Can fashion and art ever truly be equals? Is being monitored a fair price for the consumer experience? Although these queries won't be answered on the spot — or possibly even in a lifetime — pose them once and they'll likely linger forever. In that sense, Eckhaus Latta's complex consumer experiment does, as its title suggests, truly "possess" its audience.
Photography: Thomas McCarty
Sign Up For The Morning PAPER