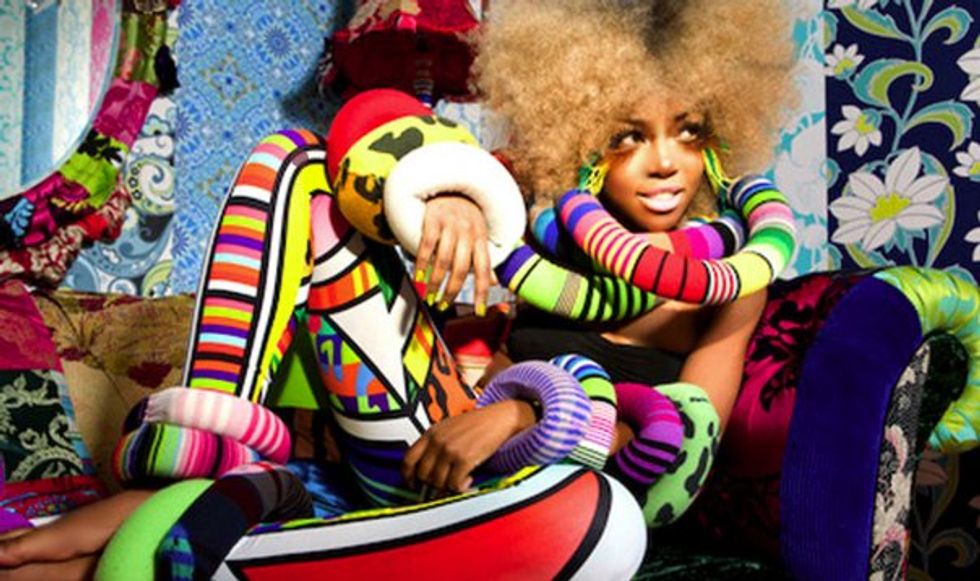 British electro-pop sensation
Ebony Bones
is known for her outrageous fashion sense, kick ass onstage antics, and most importantly, her DIY approach to music. She both wrote and produced her acclaimed debut album
Bone of My Bones
, which is set for an American release this spring. The music is anything but typical, with complex and infectious beats, high energy vocals, and kooky lyrics to boot. In the new year she embarked on her first major US tour (ten dates in all), to get us ready for what's sure to be a hit release. Check out her second New York show at
Southpaw
in Brooklyn tonight, and in a year you'll be able to say you saw her way back when.  
On a rare break from her hectic schedule, Ebony Bones took a stroll down Venice Beach and talked to PAPERMAG via phone about her career thus far, what we can expect next, and why leotards are out.    
For those who aren't already listeners, tell me a little about your music and how you got started.  
Well, I'm a producer, a writer, a musician, a daughter and a Londoner. I got started making music over boredom of the perpetuating stuff I heard on the radio. And I decided, hey, surely it can't be that hard! So I started making a few little beats. And low-and-behold... the Internet got ahold of them and now I'm bringing it here to the United States.  
Who are some of your main influences?
I really love female artists like Patti Smith and Joni Mitchell, Chaka Khan. Just people who kind of redefined femininity in music in their own way, without having to run around. Cyndi Lauper, Annie Lennox, they weren't about, "Hey, check out my fanny and my boobs, aren't they great?" So, I'm a little bit bored of the leotard thing.   

So you got your start playing Yasmin McHugh on Brit soap Family Affairs. How did you make the leap from acting to music?
Well I started off not in television, but in theater, and I was actually doing Shakespeare for awhile. At the time, I was the youngest actress to perform at the Globe Theater. So that was wonderful starting off doing that, particularly because I'd never done it before. And from there on, I went into the TV show. I was 15 years old, it was amazing. But I got to the point where I got really bored of that. I didn't really want to play a bimbo in a mini skirt anymore. I felt that creatively I want to express myself a little bit more, and be able to conduct my own art, as opposed to having to go from a script concocted from script writers.  
You are on you're first major US tour. What's that been like?
I did a sort of mini tour, five, six dates last summer. But this is the first back to back tour. We are going hard core...This is the first time I've got all eight band members flown over from the UK, so I've got a small little village on stage with me. We are actually here because I'm shooting a video for [my single] "Warrior." And I was like, "hey, we are gonna be here, might as well do some dates as well." I'm really excited about the video. I've got Kanye West's director
Simon Henwood
directing it.  
What's been your favorite stop so far?
I love playing in New York, I really do. Mercury Lounge was so much fun. Lady Kier from Deee-lite turned up, Fab 5 Freddy, and a few others. It's just been really good. We played this cool little venue in L.A. this week called La Theater, and I kind of shat myself when I saw Karen O in corner.  
So what can we look forward to at your Brooklyn show?
Whistles, horns, possibly puke.  
Sounds amazing. Your style is pretty fierce. Where can a girl pick up some clothes like the ones you have?
Outside any charity store. Dig deep in the bags, you'll find some goodies. A lot of the clothes I wear are second hand or customized. You know, I'm not really that big on fashion, I'm more interested in style. I think fashion is kind of just what's in what's out; style is about ones personality, which can never really go out of fashion, ironically.  
What else can we expect from you in 2010?
I'm really looking forward to getting the album out. I was at the Grammys a couple of days ago, and it was the most boring thing I've ever experienced. It was kind of motivating actually, because I feel like there's no collective of individuals that will be presenting some exciting work this year, this decade. Not even just myself -- in art, in fashion. Because people are fucking bored. Like the faces I saw that the Grammys... And they want something new, they want something fresh, not a perpetuation of the past.  And when people are bored they do something about it.
CLICK HERE FOR PAPERMAG'S COMPLETE DOWN-LOW FASHION WEEK FALL 2010 COVERAGE. >>