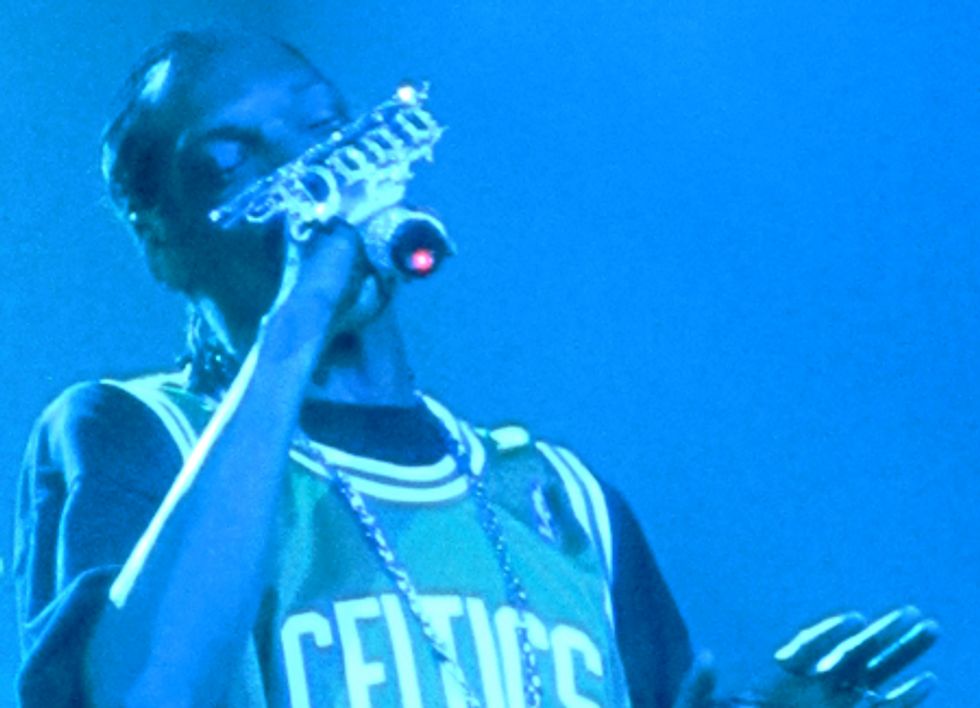 "Who the hell does he think he is? A Black Panther?" An enraged young woman stormed out of The Fillmore at Irving Plaza last night, up in arms over the time it was taking for
Snoop Dogg
to take the stage. "He can keep his $60!" It was 12:20 a.m. when said infuriated former fan exited in a frustrated huff, reminding those standing outside that doors were at 9 p.m. Thankfully, I arrived to the show late, but had I been suffering through whatever tired opener was hired, I too would have been pretty pissed.
But good things come to those who wait and soon after the woman stormed out, Snoop miraculously appeared on stage amidst marijuana mayhem. Happy four-twenty! Four-twenty-one, rather. 
Holding a tricked-out mic, a bejeweled monstrosity with a large "Snoop Dogg" emblem attached, the Doggfather further reminded us of his, by now, household name. As if his songs weren't memorable enough. While his quips were predictable and his live execution a bit sloppy, to see the master of rap in such an intimate setting was pretty spectacular. Snoop could fill MSG. Or at the very least Terminal 5 or Webster. So why Irving? Maybe the bigger the crowd, the bigger the riot when you show up hours late to take the stage?
Poor manners aside, Snoop brought the swagger, the famous Snoop sneer and a crew of hilarious hype men (no Don "Magic" Juan in his green hat, though) to his hour-long performance. This included a lot of old ditties, be they Snoop originals ("Gin and Juice," "Lodi Dodi," "Who Am I? (What's My Name)?") or covers of tracks by his late peers
Tupac
and
Biggie
. Snoop also paid homage to artists like
Akon
,
House of Pain
,
Puff Daddy
(before he became
P. Diddy
),
Mase
(before he found Jesus) and
Fifty Cent
. But despite all the throwbacks, Snoop also made damn sure he promoted his recently released tenth album,
Malice N Wonderland
, a guest-heavy (
Jay-Z
,
Soulja
Boy
,
Kid Cudi, The Dream
, etc.), eight-track disc with a sound not terribly reminiscent of much of his previous work -- think auto-tune ("Pronto") and violins ("House Shoes"). Despite being an old Dogg, he's a wise one, who has clearly begun picking up new tricks.  
At nearly 2 a.m. Snoop imparted a few words of wisdom (which obviously included smoking weed every day) and bounced. This dude doesn't do encores. Snoop Dogg is still a Snoop Godd. Fo shizzle.