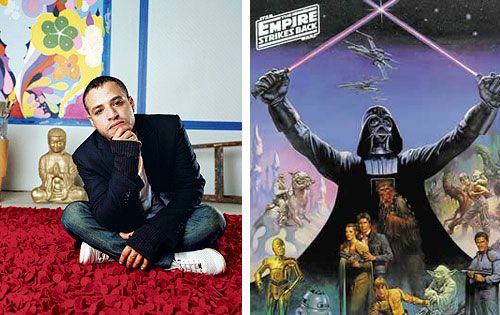 1. Cool Chicago artist
DZINE
opens his latest exhibit, "Voodoo," tomorrow night, November 4, 6 to 8 p.m., at Leo Koenig Inc. Projekte (541 West 23rd Street). We love this guy and if you haven't seen his work, be sure to stop by before the show closes December 4.
2.
Christies
in London is holding their annual "Popular Culture: Film and Entertainment" auction on November 25. Some highlights: A
Darth Vader
costume made for the
Empire Strikes Back
, a piece of the
HAL 9000
computer used in
2001: A Space Odyssey
and a set of seven
Marilyn Monroe
photos shot behind-the-scenes during the filming of
The Misfits
. (via
Art Daily
)
3.
Michael Jackson
's three children and his mother are appearing on
The Oprah Winfrey Show
on Monday, November 8. Album sales must be slipping.
4.
Ke$ha
's
new single "We R Who We R" went straight onto the pop chart this week at #1, only the 17th song in history to start at the top.

5. Sunday night, November 7, is looking good at Le Bain (848 Washington Street) with great old-school (Arthur Baker) and new-school (Busy P) DJs plus a "surprise guest from London."

6. What not to ask a
transsexual
.