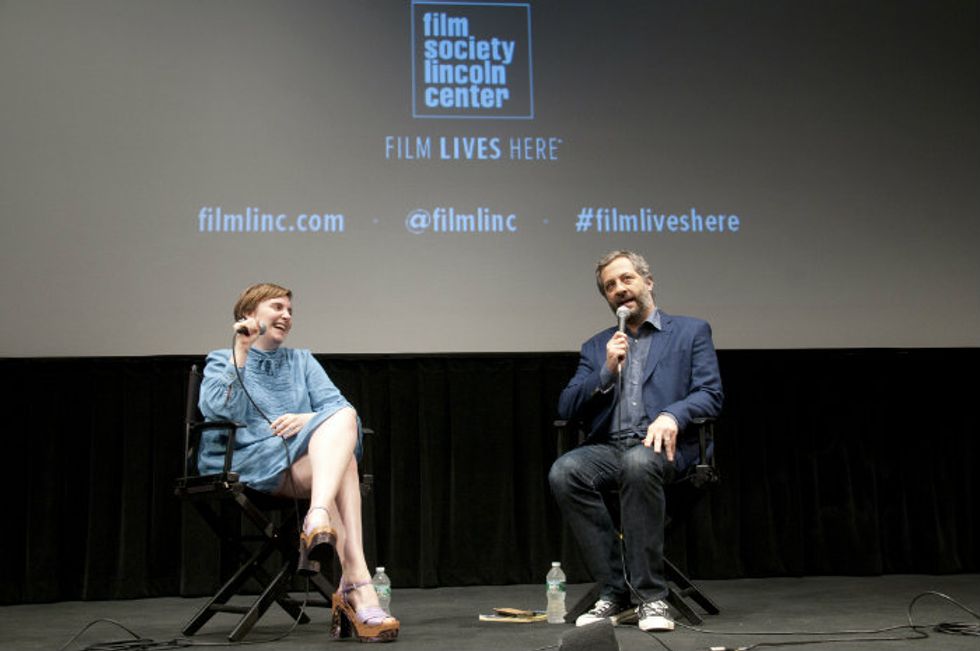 (photo via Julie Cunnah/Film Society of Lincoln Center)
Last night, Judd Apatow and Lena Dunham had a conversation about Apatow's work and comedy in general for the Film Society of Lincoln Center. It went pretty much the way you would expect (for good or ill) -- a lot of jokes, not too much discussion of the specifics of production, and a decent number of references to bodily functions. But the most striking thing was a general sense of paranoia.
In the past few months, comedians have increasingly expressed reservations about the current climate of "PC" criticism, in which -- according to the comics -- a single off-color joke can ruin an entire career. Much of the discussion included asides to people recording the event, suggesting in a humorous-but-not-really way that this was a possibility. And the specter of what could happen to some comedy critical darlings lingered in, not just the obvious discussion of Apatow's distaste for Bill Cosby, but also in a conversation about
Trainwreck
, a movie directed by
certified controversial comedian Amy Schumer
. When audience questions turned to diversity -- a subject that both Apatow and Dunham have surely been asked about in nearly every interview they've done in the last few months -- Dunham gave a concise, thoughtful, but also seemingly rehearsed answer.
The changing role of criticism is certainly a fascinating topic -- particularly in comedy, and in standup, which is frequently a work in progress by definition -- and while resisting oppression should always, always take first priority, the uneasy defensiveness in comedians is notable, at the very least. Is it because the recognition of how frequently comedy punches down is unsettling? Is it because having the massive eye trained on the entertainment industry now possesses the slightest semblance of a fist? These are maybe aggressive takes -- at the very least, the fact that artists feel creatively stifled is worth considering.  
Especially because one of the more interesting moments of this week was the suggestion that criticism cold actually stimulate creativity. In a discussion of Katherine Heigl's
distaste for
Knocked Up
, Apatow noted that the film's aggression in the relationship between Heigl and Seth Rogen's characters (which contributed to the actress' displeasure) had been prompted, in part, by
a review of The 40-Year-Old Virgin
written by
The New Yorker
's David Denby. The suggestion that Catherine Keener's character in the earlier movie was "trouble
"
(and accordingly an interesting an engaging character),
Apatow implied, led him to explore more aggression between men and women in relationships.
I'll be honest -- I would have rather listened to Dunham and Apatow just shoot the shit, because that's what you look for comedians to do. Really, it would have been awesome (if also a little troubling) if they had just been able to do something like spend half an hour talking about the Minions. But Apatow's story hinted at a potential future where everything, criticism and comedy both, are better. Even the suggestion of ways in which large-scale critical, intellectual feedback can help make artists better is a welcome sign today, and the sort of anecdote that will hopefully fill up future conversations.
You May Also Like