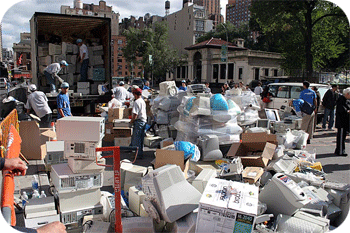 What you gon' do with all that junk?
All that junk inside your trunk?
We'll tell you what you can do with all that junk inside your trunk. This Sunday (April 22) you can get your spring cleaning on and get rid of all your old, unwanted and unsightly electronics (computers, monitors, printers, scanners, keyboards, mice, TVs & cell phones) and clothes from around the house in Union Square. Just walk over to North Plaza (southeast corner of 17th St. and Broadway) and be prepared to dump like it's going out of style! I personally think it's a rad program and I applaud the Department of Sanitation for organizing it! Click here for more lo-down on the dumping party.