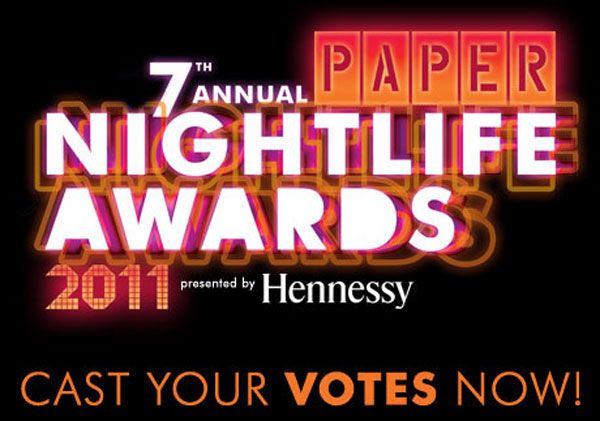 Get excited, PAPER's Nightlife Awards are next Tuesday, September 27th! In the meantime, be sure to add your two cents by
voting
for categories including Best Nightlife Photographer and Best Door Person in our
People's Choice portion
. Votes will be accepted until next Monday, September 26th.
The full list of nominees is included below and was decided by PAPER staff.
Winners for both People's Choice and PAPER-chosen categories will be named at the awards ceremony. And the nominees are...
BEST NEW PARTY
Friends at Westway
On Top at Le Bain
Monday Night Moves at the Jane
Spencer's Gifs at Santos Party House
Ghe20 G0th1k
CHERYL
DJ Huggy Bear Saturdays at the Ace Hotel
Bedlam Saturdays
BEST NEW BAR/LOUNGE
*
Madame Wong's
Mister H at Mondrian SoHo
Saint Vitus Bar
Bedlam
The Lambs Club
The Drink
PH-D at the Dream Downtown
BEST HOTEL WITH A NIGHTLIFE SCENE
Dream Downtown
Mondrian SoHo
The Jane
The Standard, New York
Ace Hotel
The Maritime Hotel
SoHo Grand Hotel
BEST MUSEUM WITH A PARTY SCENE
MoMA PS1
Whitney Museum of Art
American Museum of Natural History
New Museum
The Solomon R. Guggenheim Museum
Brooklyn Museum
BEST DJ
Brendan Fallis
Nancy Whang
Venus X
Josh Madden
Chelsea Leyland
Japanster
Franco V
Jonjon Battles
Roctakon

BEST GAY NIGHT
Gekko at Library Bar
Hot Rabbit Fridays at Heathers
Vandam Sundays at Greenhouse
Clubber Down Disco at the Chelsea Hotel
Sugarland Saturdays
Summer Camp at the Cabanas at the Maritime Hotel
Spank Loft Parties
BEST RESTAURANT WITH A NIGHTLIFE SCENE

Miss Lily's
Red Rooster
Saturdays Surf NYC
Roberta's
The Dutch
Tiny's
BEST DESIGNER WITH A NIGHTLIFE INFLUENCE

Nicola Formichetti
Chris Benz
Pamela Love
Olivier Theyskens
Asher Levine
Alexander Wang
Deer Dana
Alexa Chung for Madewell
BEST BARTENDER

Sam Ross, Milk & Honey
Kenta Goto, Pegu Club
Joaquin Simo, Death + Company
Brad Farran, Clover Club
Dushan Zaric, Employees Only
Aisha Sharpe, Contemporary Cocktails INC.
Leo Robitschek, Eleven Madison Park
BEST NEW CLUB
**
Westway
Riff Raff's
Studio XXI
District 36
285 Kent Ave.

PEOPLE'S CHOICE NOMINEES. CAST YOUR VOTES HERE!

BEST PROMOTER

Seva Granik
PopGun
MeanRed
Joe Ahearn
Josh Wood
Justin Carter and Eamon Harkin (Mister Sat. Night)
Susanne Bartsch
Fornabaio Voss
Todd Pendu
Michael Cohen
Fernando Tormena
BEST NIGHTLIFE TWEETER
Matt Kays
Greg K
Mike Nouveau
Gayletter
Sky Ferreira Steven Rojas
Becka Diamond
Hanuk
Sophia Lamar
Lyz Olko and Josh Conner from Obesity and Speed
Kristin Gallegos
Derek Blasberg
BEST NIGHT TO GO OUT
Monday
Tuesday
Wednesday
Thursday
Friday
Saturday
Sunday
BEST CLUB SONG
"Barbra Streisand" by Duck Sauce
"Edge of Glory" by Lady Gaga
"Last Friday Night (T.G.I.F.)" by Katy Perry
"Party Anthem" by LMFAO
"Till the World Ends" (remix) by Britney Spears, featuring Ke$ha and Nicki Minaj
"S&M" by Rihanna
"Rolling In The Deep" by Adele
"Dystopia (The Earth Is On Fire)" by YACHT
BEST DOOR PERSON
Ian Bradley at Le Bain
Vance Brooking at Madame Wong's
Nicollette Santos at The Jane
Lyz Olko at Westway
Michelle Salem at Bedlam

BEST NIGHTLIFE PHOTOGRAPHER
Rebecca Smeyne
Zac Sebastian
KirillWasHere
Patrick McMullan Company (PMC)
Billy Farrell Agency (BFA)
Cobrasnake
Hannah Thomson
Nicky Digital
Quentin Belt

*This category includes roving and pop-up bars/lounges

**This category includes venues