It's been a busy few weeks for one of the coolest bands in LA, Dreamers. The self-proclaimed 'cosmic rock' band, which formed in Brooklyn before decamping to the West Coast, is comprised of Nick Wold (lead vocals/guitar), Jacob Wick (background vocals/drums), and Nelson (bass/synthesizer), and just released a new EP, You Are Here, and a new video, "Drugs." Amidst these new releases and before the guys head out on tour, we had the chance to catch up with them and hear about life on the road, technology and music and what makes them stand out from other bands.
When did you decide you wanted to make music your career?
Jacob Wick: I grew up in a very musical home. My dad is a drummer. My mother plays piano and sings. I would go into the garage and start banging away on the drums, and before that my parents used to bring out pots and pans in the kitchen and I used to bang on those. I had this old synth -- my parents used to be in a band -- and their keyboardist left this amazing synthesizer -- a Roland Juno-60 -- and never came back for it. I was five at the time, but it's this really sought-after keyboard now and I still have it. I have sounds I programmed on that thing when I was like eight or nine. They are still on there and I still use them today in the recording studio. As I grew up, my parents were very positive supporting me with music. I think they realized early on that that was my passion and everything I wanted to do. I don't think I've stopped playing for longer than this past year.
Nelson: The first time I really played in front of an audience, I knew that it wasn't going to be a hobby. That was probably between eighth and ninth grade. I had an experience where I played for an audience and it went really well, and it was super exciting, and I just felt euphoric. I just knew that I was hooked, and I've stayed obsessed with music ever since then, and completely a fiend for performing.
Nick Wold: Probably around the age seventeen or eighteen. I was in a really serious high school jazz band and I remember just doing a lot of soul searching, and deciding at on point that I was fully going to commit to that.
Tell me a little bit about Dreamers, what separates you from other bands?
JW: Our determination in doing what we love and believing that we should just chase after it 100%.
N: It's funny. I think what separates us from other bands, is the thing that connects us to other bands. I think our ethos as a band is different and unique. The band started in Brooklyn. Nick had been in another band called Motive and they had broken up, but he was still writing a lot. He was living in the rehearsal space in Brooklyn, this huge warehouse building, he was just writing all the time. That's how the band started. We didn't know what to call ourselves yet -- we went to Virginia and we recorded an EP. We decided on that trip to be called Dreamers, because we had this idea of being really inclusive. We liked the idea that it was grandiose. That was the genesis of us. Meeting in Brooklyn, and then recording in the mountains of Virginia, and going on hikes and getting a little weird.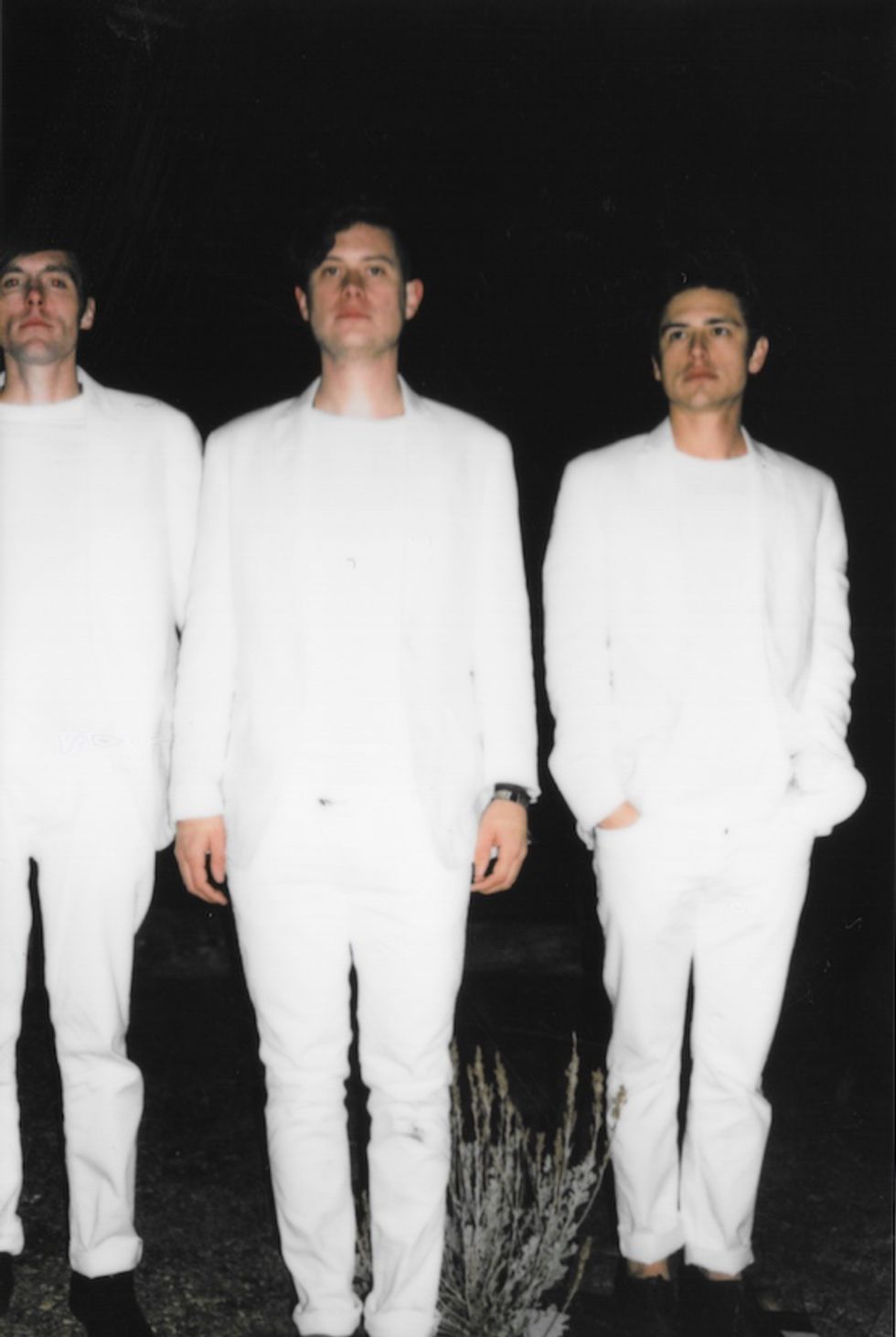 "Drugs" is partly inspired by our obsession with technology -- what is your stance on the role technology plays in the music industry these days with Spotify/Soundcloud etc… as opposed to buying CDs/records?
JW: I think any change is really hard. Growing up listening to CDs and having that being the norm and then switching completely… at first it was hard to get used to that, but now all I use is Spotify and Soundcloud. I've discovered a lot of new music on it at a rate that's been faster than any other way. I think YouTube is also a great place for music. I think it's just going to continue to get better as we figure things out. I think it's a good thing. It's headed in the right direction.
N: It's really funny that "Drugs" is a little bit of a critique of being absorbed in our social media and our phones all the time because we are so into social media. We had all these responses where people were like 'I'm having a phone crisis' and we are all in the same group. Online has been instrumental for us. Especially when we were independent it was really through grass-roots efforts online and getting people that liked the music to help us. We embrace that stuff. I love how available music is online. It's kind of incredible. But I still have an attachment to vinyl. I like the idea of having something in your hands. I'm going to be really excited when we put our record out on vinyl so I can give it to my mother.
NW: I don't take a moral stance on it -- I think it's the inevitable wave of the future that music [changes], too. I've always downloaded music. I think it's okay when people download our music. I love anything that gets our music out there. Personally, I love to listen to vinyls. I'm really glad that that's popular right now. It's really special to have a physical copy. There is something irreplaceable about having something that you hold and keep. It changes that way you listen.
Give us a glimpse into a day of your life when you're on tour.
JW: We just got back from Canada, and while we were there we had to do one of the craziest drives in my life, and I've done a lot of driving. I've driven all over the US. It's winter right now so a ten-hour drive usually in the winter turns into a fifteen hour drive… it's dark, snowy and you can't see the lanes in the road. It's just white and ice. Once the sun goes down and you get up in the mountains, it starts snowing, ice forms on the roads, and I've done a lot of driving, but I'm not seasoned in snow conditions. It was definitely kind of crazy on tour for me, and I've been doing this for eight years.
N: A tour day usually involves us driving a lot. Usually getting to the city the night before or that day. Then you go right to the venue, you load your gear in and you wait for your opportunity to sound check. That's the slow part. Then we play a show and it's incredible and we meet a lot of people. That's super exciting. Then after you've waited at a venue all day then at like two in the morning you're super amped up because you've had a good show and you've met a lot of people and then you don't want to sleep. If you don't have to leave right in the morning we will go out. A lot of times we have to get on the road right away, which is sad. Because there are a lot of cities we play that we adore.
NW: SEX, DRUGS, ROCK N' ROLL! Not really. I feel like most of the bands that we know are doing well these days are super professional. Tours are really exhausting because we will have an acoustic performance during the day, and then a show at night, and then we'll drive overnight to the next city and we're carrying our own gear. So we're usually pretty beat…
What else can we look forward to this year from you guys?
NW: You can look forward to our debut album, which has been a long time coming for us.
What's something fans would be surprised to hear about each of you guys?
JW: I have this thing called synesthesia. Basically, I see color when I hear music. Sometimes it's simply a shade or hue of one color, but depending on the song it can be more complex. It can be so prevalent that it will influence the production of a song I'm working on.
N: I love Cyndi Lauper. "Girls Just Wanna Have Fun" is my jam. Pure joy and I'm not ashamed of it! I put that shit on in the van when I really need a morale boost. Works every time.
NW: I grew up playing saxophone.
You May Also Like