Long running actor Daniel Booth is best known as Sweetie, the drag creation who's wickedly funny, inspiring, and tons of fun. I talked to Daniel about his career as the sweet and sanctified queen who's been a staple on the bar, club and theater scenes since 1990.

Hi, darling. Where the hell are you from?
Outside of Detroit. It was very much like what Long Island is to NYC. I grew up in car country. Everybody worked for the automobile plant, and my dad was in upper management for that. I grew up very suburban. It was an armpit. There was nothing glamorous. It was like a mall town.
When did you blossom as a young gay?
I moved to New York when I was 19. I did not have my first gay experience till I was 24, when I was on the road doing a national tour of a play. The next year, when I came off the road, I became Sweetie. So when I came out, I came out big time.
Why did it take so long for you to experience gayness?
I think I was very shut down. Even though I'd grown up my whole life in theater, had been around gays, and started going to gay bars in Detroit when I was 15, I was always so terrified of it myself. I was very, very afraid of what being gay meant and what it would mean to my family and to my friends. I'd always dated and had sex with girls successfully. I lost my virginity to a girl when I was 12 and I had sex with women my entire young adult life. I was always attracted to guys, but felt for a long time that you were attracted to both men and women, but you're supposed to be with women, so that's what you do. Until I was finally with a guy, and this was the missing piece of the puzzle.
And how was Sweetie born?
I came back to New York after being on the road for a year and a half. I lived at 52nd and Second, right around the corner from Rounds hustler bar for about four months. I was living in this incredible apartment with somebody I really didn't know. I came home one night and he said we had three days to leave or the marshals were going to lock us out. He said, "I was diagnosed with full blown AIDS three months ago. I've been spending all the rent money on coke." I had to get out in three days, literally. I retreated back to mom and dad's house in Michigan for three months. That whole thing about how you can never go home again. Even though it was nice, New York had become my home. I had met [drag performer] Faux Pas at South Dakota, a bar in Gramercy. We had become peripheral friends and stayed in contact on the phone. She had a roommate situation open up on the Lower East Side and invited me to move in with her. I jumped at the opportunity. I moved in the beginning of October 1990 and we had started plotting that we were going to do drag together. We went out for Halloween to a Susanne Bartsch party. My original drag name was Cousin Gert Munson, Lesbian Authoress. My look was a cross between Fran Lebowitz and Oscar Wilde -- this ridiculous look. And we got bit by it. Pas had been going to [the East Village hangout] Pyramid and she found Channel 69 [Linda Simpson's weekly drag party]. She said, "You've got to come see this." I had always considered myself a serious actor in a lot of ways, and drag was kind of lowbrow to me. I loved watching it, but never thought I'd do it seriously, until I found out they were making money doing it, you know what I mean? So Pas and I cleared all the furniture out of my bedroom one night and came up with a routine and started haranguing Linda to use us in Channel 69. She put us in a show. We were supposed to do five minutes, but ended up doing a 17 minute thing with fireworks. I was this fat girl who used to do cartwheels in heels, and that always made people happy. When I finally became Sweetie, I'd gone through a ton of names. Tootsie McTavish…These retarded, awful names, just to make people say them. When I got in a cab and the driver would try to come on to me and say, "What's your name?", I'd always give him the most horrific names, like Shirley, and make him call me that. They don't know these are out-of-date American names. I got Sweetie from that Jane Campion movie Sweetie. I'd fallen in love with that character. Of course five years later AbFab came out with "Sweetie, darling…: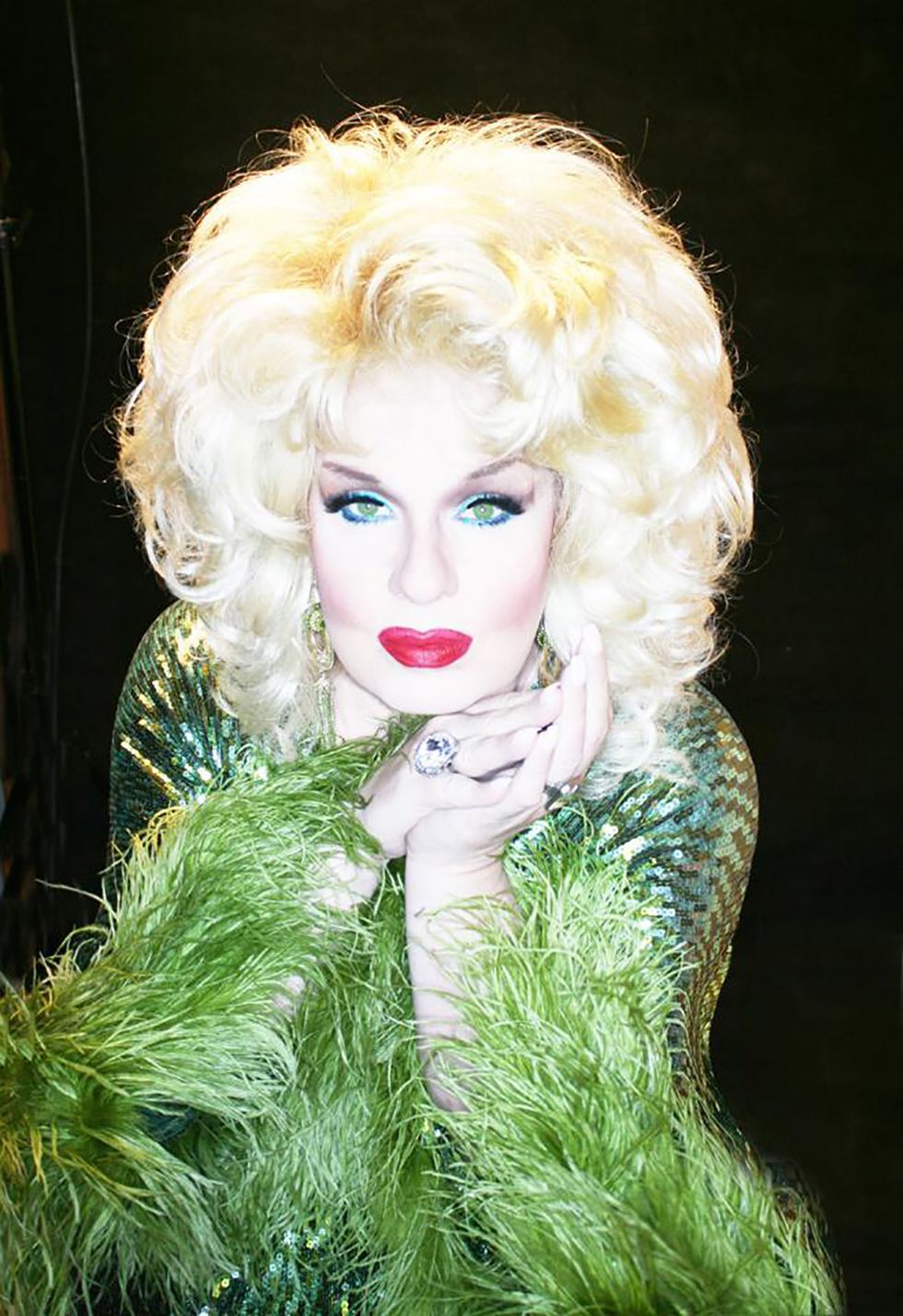 Photography by Michael Wakefield
Your drag is funny, but generally positive.
I definitely have a dark sense of humor onstage. Very sick. But I think people know it always comes from a good place. There are some queens that are just really nasty, and I think my wit has a good bite to it, but I never think of it as mean spirited.
How about your lipsyncs? They're very loving and positive, too.
Some of them are. I definitely like a lot of angst. I even consider myself in drag to be kind of a method actress. I feel comfortable saying I'm probably the best lipsyncer out there, whatever that means. I really study the breadth of the phrase. I look at it as a theater piece from the beginning to the end. Things people like to see me do are Dolly Parton's "Light of a Clear Blue Morning," Bette Midler's "I Shall Be Released"…these anthemy things. But I like the crazy, wild "Lucy in the Sky With Diamonds" by Natalie Cole. And I love that Nina Simone song "Be My Husband," but I do it by Dianne Reeves.
Does Daniel Booth ever miss Sweetie when he's not in drag?
I always thought to myself when I was in my 20s that I don't want to be doing drag in my 40s, and then my 40s came around and it was a very busy time for me. I'm 50 now and always see Sweetie as a part of a picture. I definitely need a drag fix. I don't perform as much as I used to because I can't do the whole gay bar thing. It's changed dramatically. So I've moved into burlesque and standup comedy and special events. But I don't think I could really be Daniel without a little bit of Sweetie in my life every now and again. When I was young, I definitely got lost in Sweetie. Sweetie was the juice. She got to do all the doors, she got you drinks, she got you drugs, she got you laid, she got you to travel. That was great, but Sweetie took over my life for a while and the breaks were very good for me. At this age, I have a really good relationship with drag.
What are your favorite bars or clubs Sweetie played at?
My best memories come from the Pyramid, Boy Bar, Jackie 60 or Mother, a party I did called Queen Bee (which started off at Mother, then the Cock), and Cheez Whiz, which I did at Parkside Lounge, and the party Daniel Nardicio and I did called High Life Low Life at the Slide. What Cheez Whiz and High Life afforded me was to provide a platform to all my idols, people who working weren't a lot. Shirley Q. Liquor, she got blind blind blind blind drunk. She was supposed to do two shows and got so drunk she didn't want to do the late show. We had to confiscate her luggage until she'd go onstage and do the second show.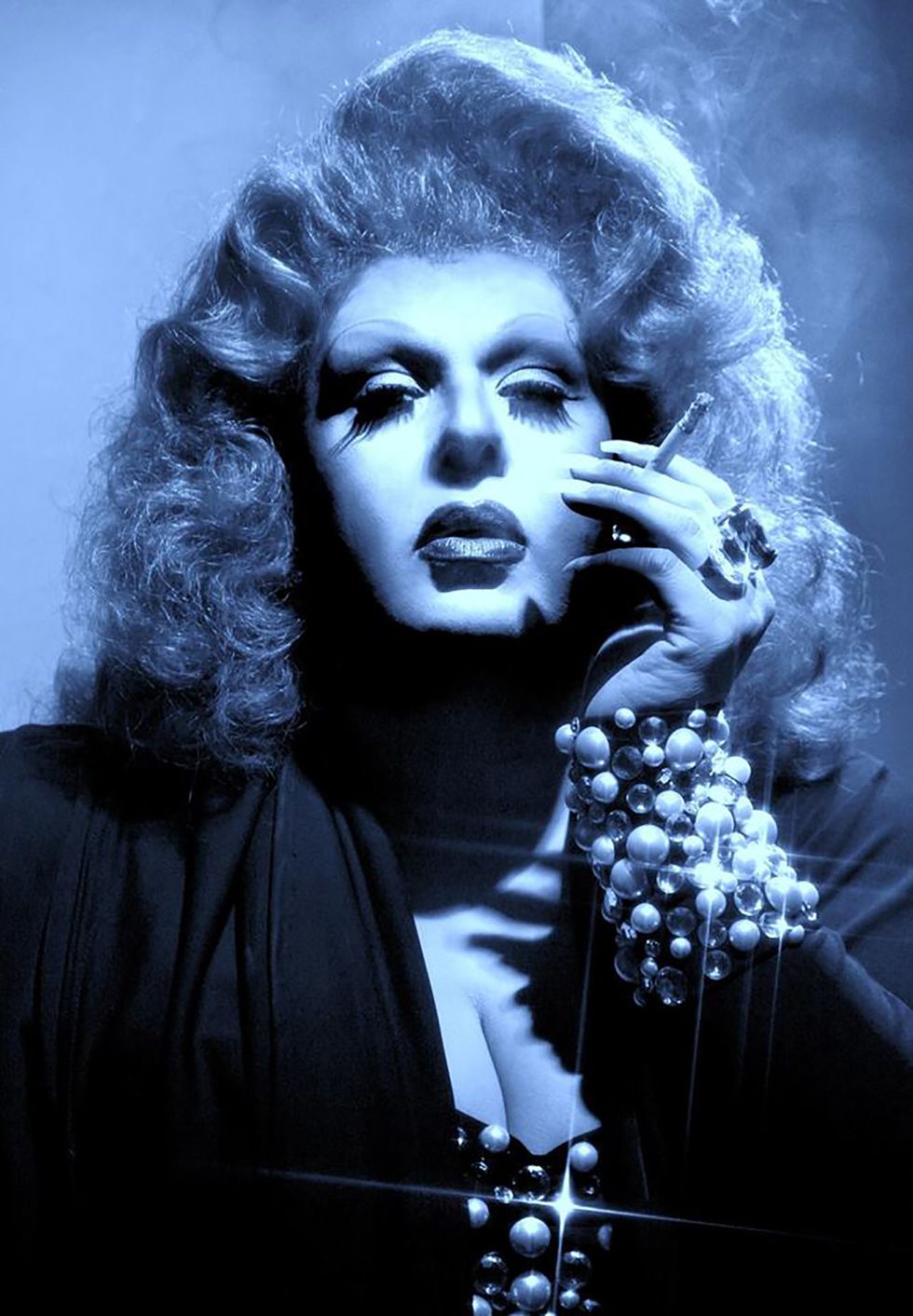 Photography by Aaron Cobbett
Who are your idols in the drag world?

My favorite drag queen is Tabboo! Tabboo! is everything that I am not and vice versa. We're two different animals onstage, but there's something so incredibly joyous about her. She has complete liberation onstage and she's not afraid. If I do a lipsync, I do it backwards and forwards. But she doesn't give a shit if she knows the song or not. It's all about creating art in the moment. Her looks are so genius. And she's always been such a good queen to me. I don't think there's anyone more talented than Lady Bunny. I mean that sincerely. She was someone I'd watch when I started going to Pyramid and she reminded me so much of the girls I'd watch growing up in the Midwest. I enjoyed her lipsyncs and her comedy is so incredibly smart and rotten. One of my favorite queens is also Linda Simpson. If she hadn't given me a platform, I wouldn't have had the career I was afforded. She dragged me on board when drag was really exploding. Linda's like a queen's queen, Iike some people are a man's man. She's a good girl and a good friend. I admire what she did with My Comrade magazine. I think she has a community spirit that a lot of queens don't possess. Someone I'd love to work with is Charles Busch. It would be a dream come true. The first downtown play I ever saw in NYC was Vampire Lesbians of Sodom with him and Julie Halston. It was incredible.
You've been going through a health challenge and your medical team comes to see you and they cheer.
They come and support me a lot. A whole slew of them were at Night of 1000 Stevies. I want to give some kind of shout out to my team at Memorial Sloan Kettering, which is where I go to my treatment. I could never ask for better care. They thought I was going to be around for three and a half months and here it is, two and a half years. That speaks volumes to the kind of care I've gotten, and the fact that I'm doing well and am out there performing and doing what I love is really cool. I'm actually thinner now than what I've ever ever been in my adult life. I was 216 pounds in seventh grade. I just reached 219 pounds at 50, which for me is the lightest I've ever been in my adult life. Over the last six years, my waist went from 56 to 36.
Where did you used to get clothes that fit?
There's always a fat girls or boys store. I'd go to Rochester Big & Tall. In Michigan, they're all in like jazzies and oxygen tanks and they just keep eating. I was recently in South Carolina, and my sister-in-law owns a nightclub, and all these morbidly obese, 500-pound women come in in their electric scooters. They sit in the scooters till a song comes on that they really like. They get out of the scooters and dance with each other till they're soaking from sweat. Then they go back in the scooters and form a circle outside and smoke cigarettes.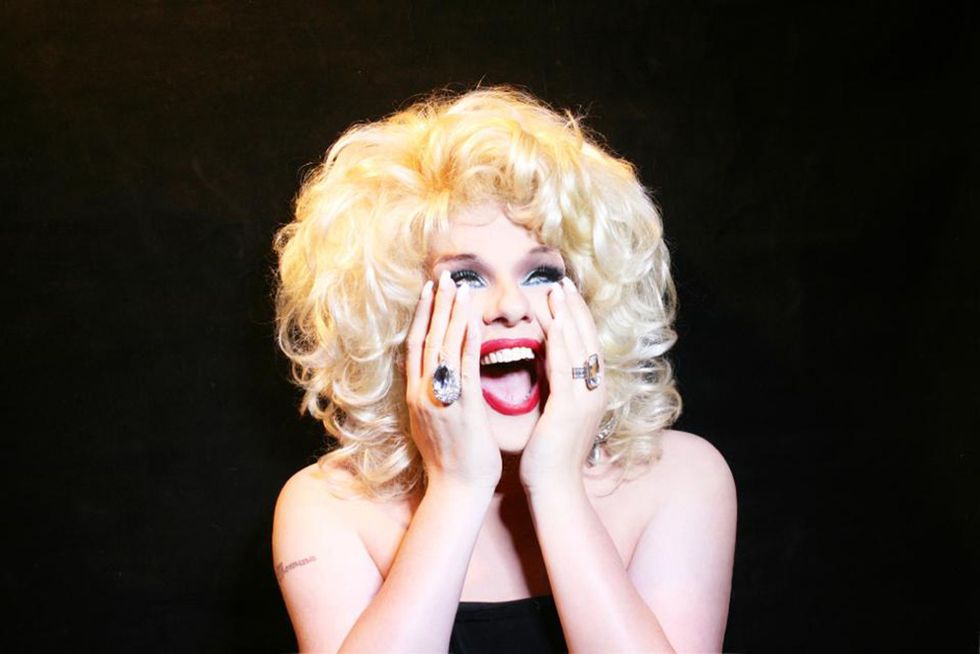 Photography by Michael Wakefield
Is it true you're in a relationship?
I am in a relationship that we've taken a break from. As we speak, he's taking me to see Dolly Parton next Saturday. He's never really left. We just started really, really quick. We met each other and fell in love. He had asked me out on about three different occasions via Facebook. I thought he was some kind of weird star fucker or drag hanger-on or whatever. I had told him no on a couple of occasions. In December, he hit me up again. I said, "What are you about? How do you even know who I am?" He had actually seen me on Project Runway when they made clothes for me. He saw me both as Daniel and as Sweetie, and he got that I was really great. He was in a relationship for 18 years and a couple of years ago, his partner passed away, and a year ago he started asking me out and it took a year for me to say yes. He took me to see The Danish Girl. For a drag queen, he's like the magical unicorn -- he's a gay guy who's self actualized as a gay guy, but he loves and adores drag and femme guys. He's the perfect date. It doesn't matter if you're Donny or Marie, he treats you the absolute same.
What are your thoughts on the gay dating scene today?
I actually never imagined that I'd be dating at this stage of the game. I've always said onstage that I was fat, femme, and over 40. Basically, I was cancer to the gay community. As an added little bonus I actually GET cancer. I thought, "OMG, I might as well bang my head on the floor. I'm never gonna find anyone to date," and then this guy fell into my life. I do think there's more options now with this whole bear movement. I'm meeting a lot of younger guys who are not that bothered by age and stuff like that. I think we're being a little kinder on ourselves as queers. Twenty years ago, there was this image you had to live up to or you were never gonna get laid. You were relegated to lurking in the shadows. It's opened up a lot.
You May Also Like