While we love our Downton Abbey stars both in and out of costume, we were excited (and a little grossed out, but, hey, we're not mad at Mad Men's Banana Republic line) that executive producer revealed yesterday that the Downton Abbey creators will be launching a lifestyle collection including "fashion, apparel and homeware and furniture to wallpapers, beauty products and stationary." While it's probably just as amazing/dorky to send your mom a card on Crawley stationary, we're most interested in the fashion. Between the ladies (and gents) rocking different hair styles, changing cuckoo hats and coordinating different monochrome outfits for three seasons, there's a lot of style inspiration to choose from. We thought we'd make their job a little easier by picking out our favorite Downton outfits of all time -- and praying that they're made and sold at a store near us.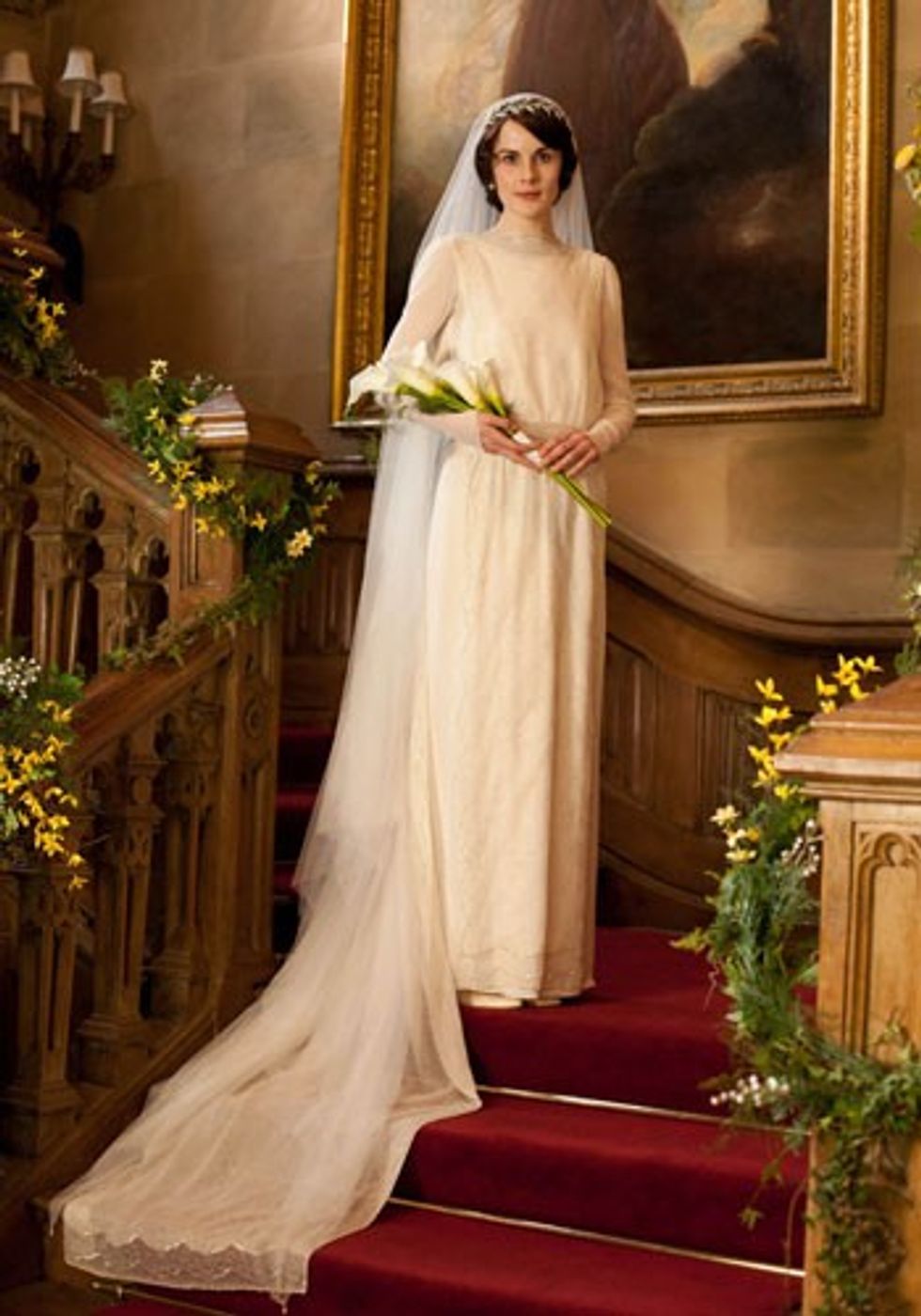 If Downton really wants to break into the bridal market, they would do well to include Lady Mary's wedding gown in their collection -- although maybe sans the twenty foot long veil and the deeply doomed relationship.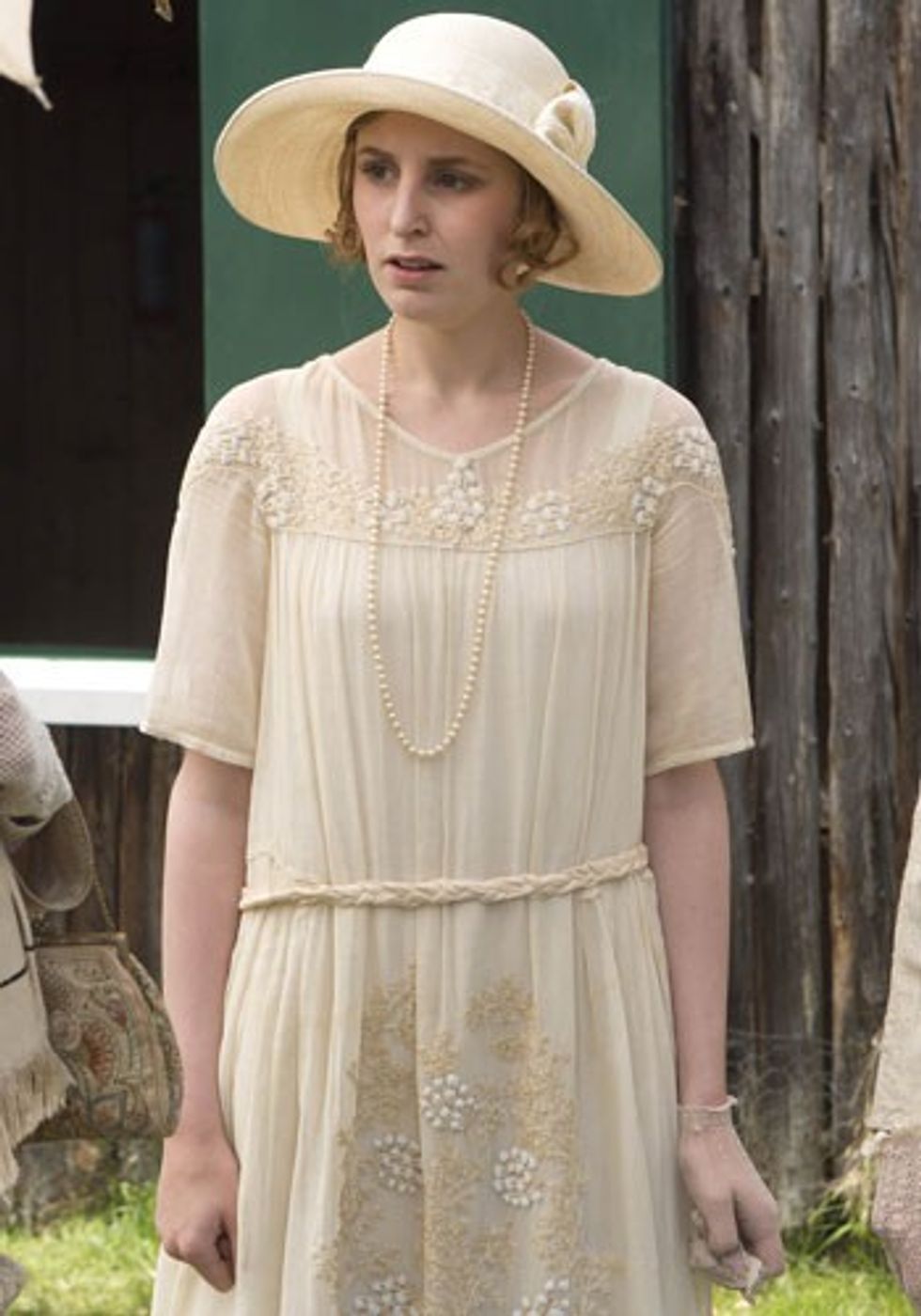 We also love Lady Edith's beautiful cream dress from the same episode. If it were a tad more structured it would be very Valentino and maybe one of our favorite looks from the series so far, but, you know, a beautifully fitting dress would entail something going right for Lady Edith. Lady Edith is the embodiment of a sad trombone sound effect.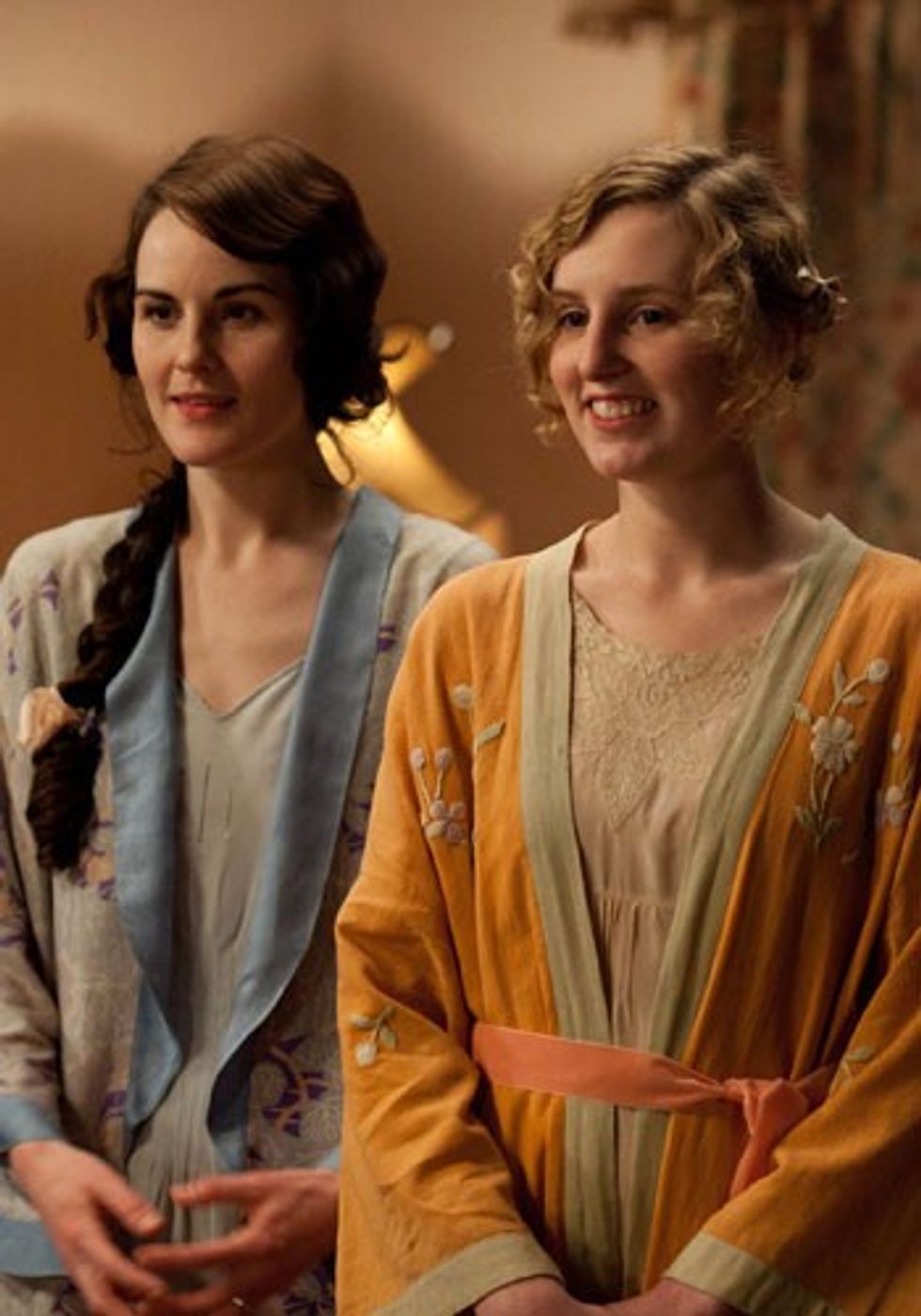 We love a good dressing gown and these robes look perfect for lounging around the apartment watching
Downton
on a spring day, rolling your eyes with an 'ugh, STFU' think balloon over your head every time Cousin Isobel comes on screen. Dibs on the orange one.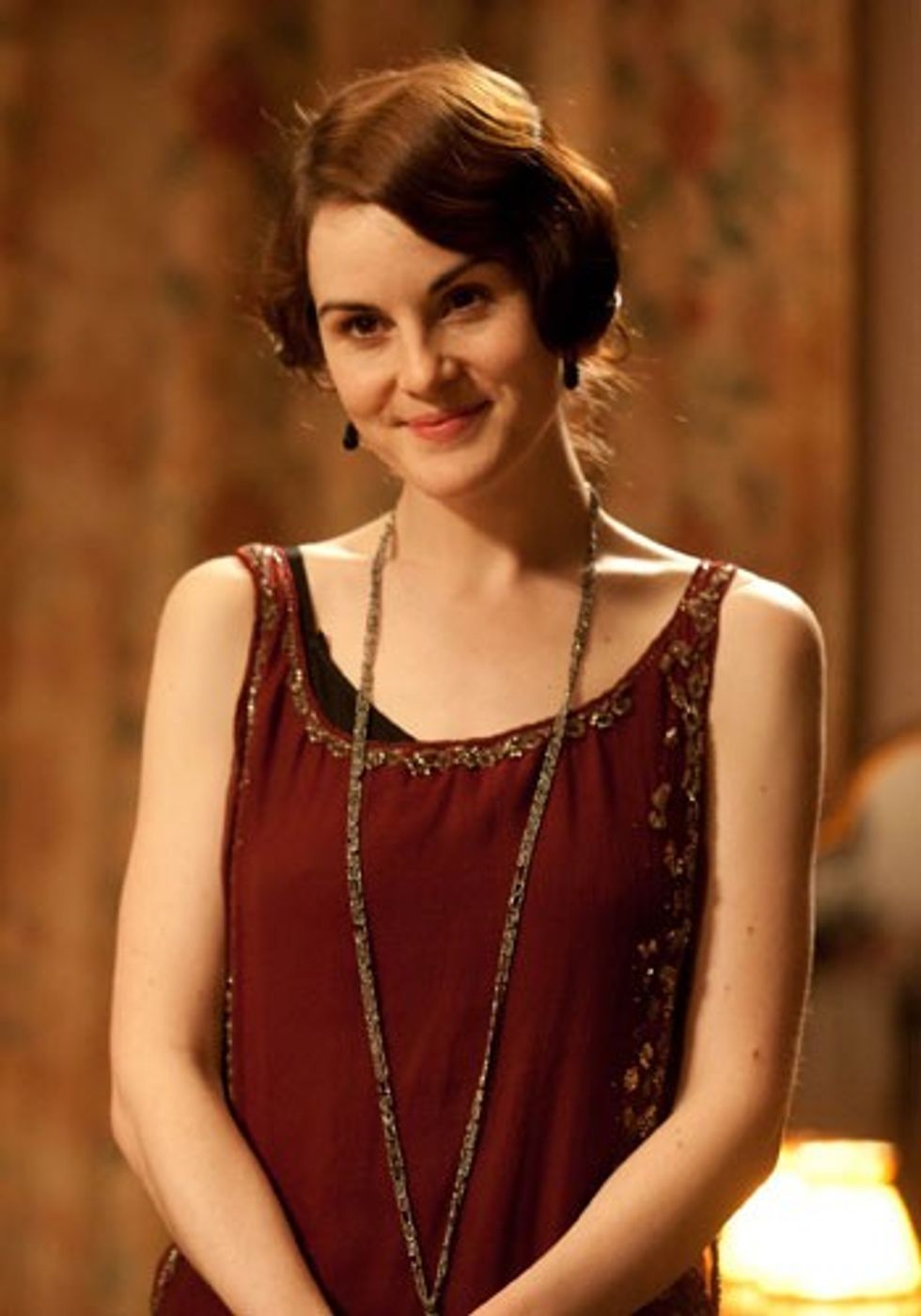 We'd want to shop this look because it seems like an easy evening option, both to wear and to make -- a wine-colored dress with beaded edges and a long chain necklace. Just kidding, we could never make a beautiful beaded dress. At best, we could maybe drape a red shower curtain around ourselves with some sequins and bits of Wrigley's gum wrapper glue-sticked on, then call it a day.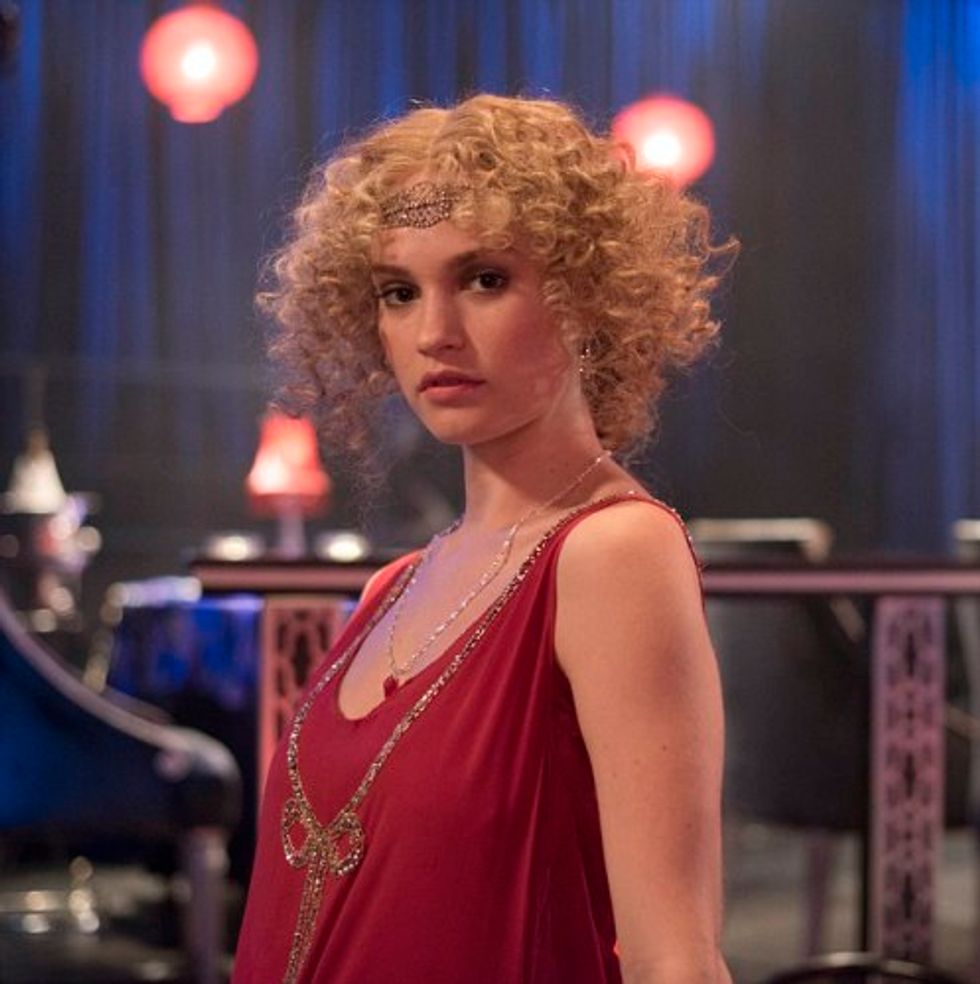 In a similar vein, Cousin Rose's bow dress is reminds us of those appliquéd Lanvin tees crossed with
Thakoon
's dragonfly dresses and has a nice flapper twist to it. Poor decisions sold separately.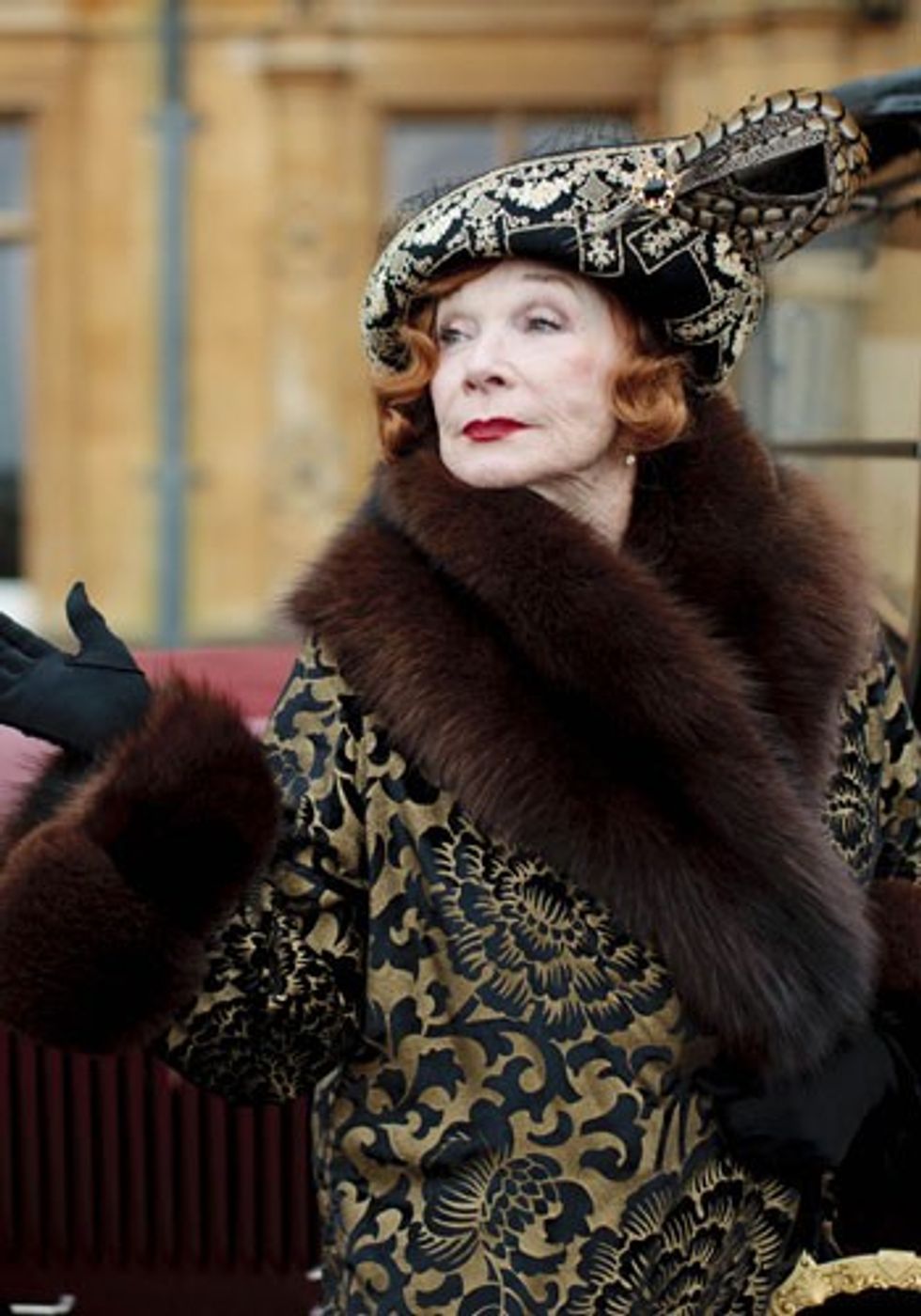 Yeah, we'd wear Martha Levinson's crazy hat.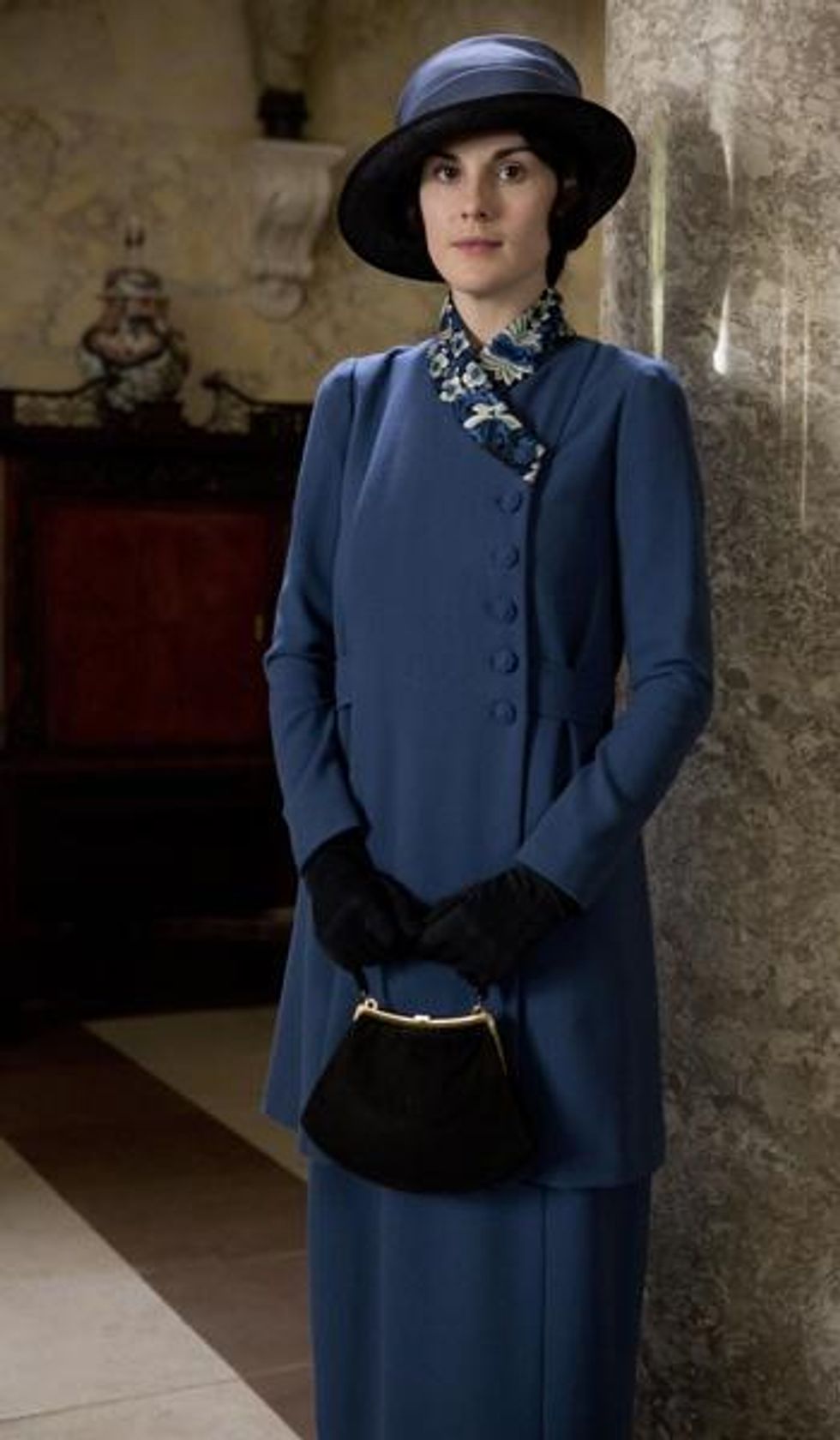 And Lady Mary's hat.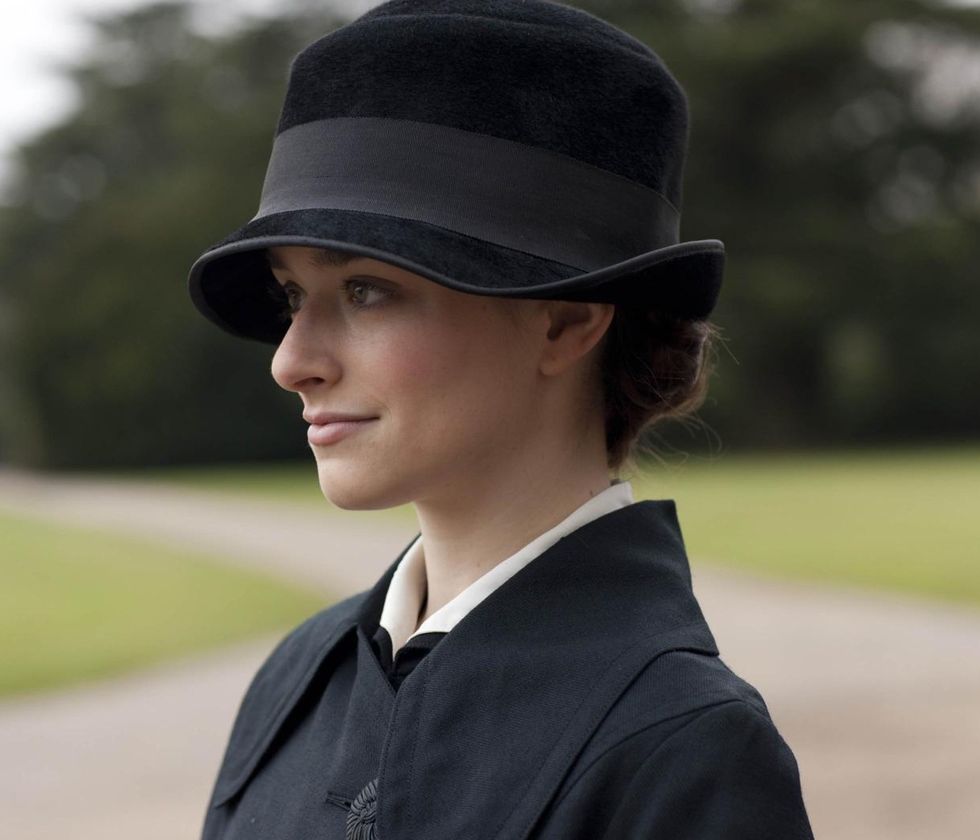 And Miss Reed's black upturned cloche.
P.S. Who is this person, again?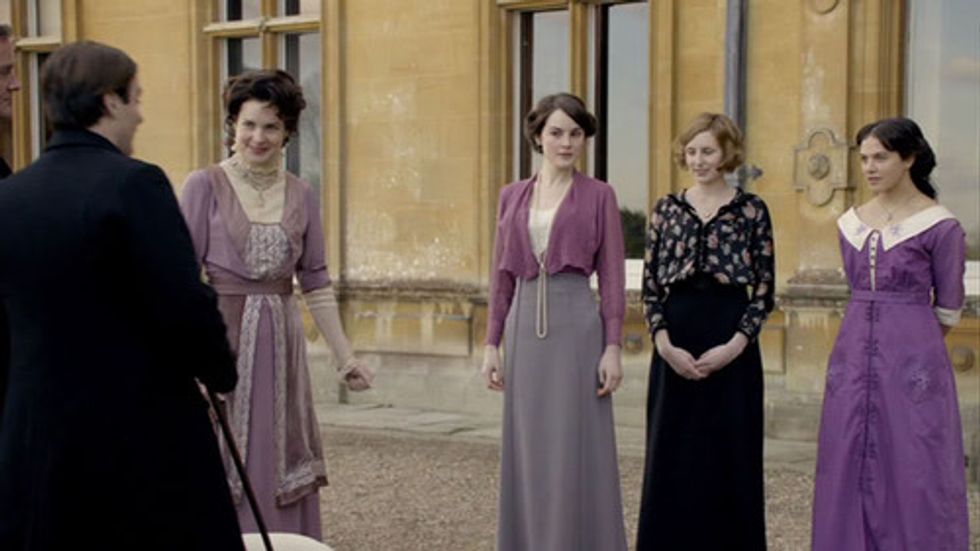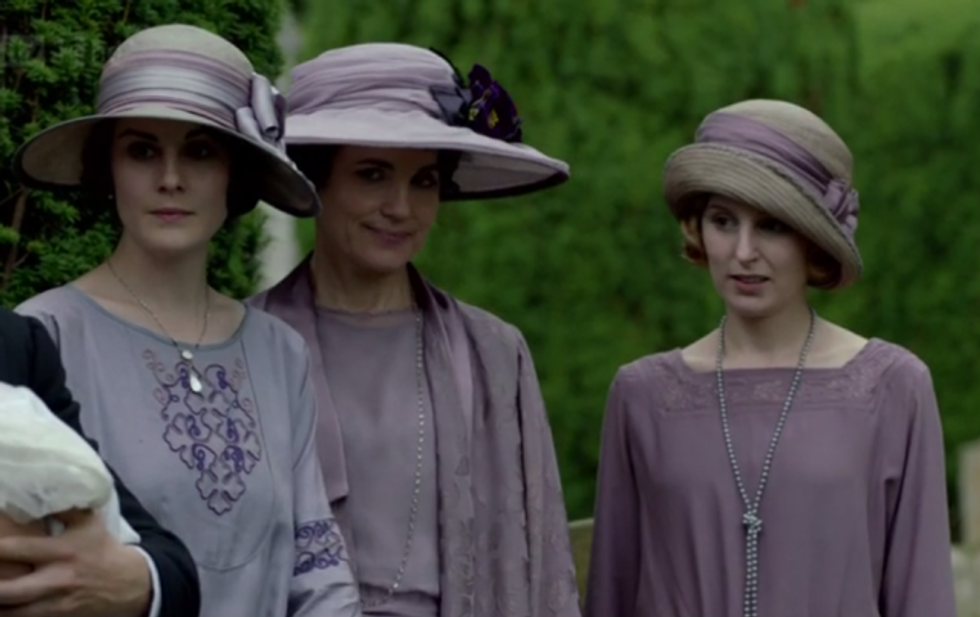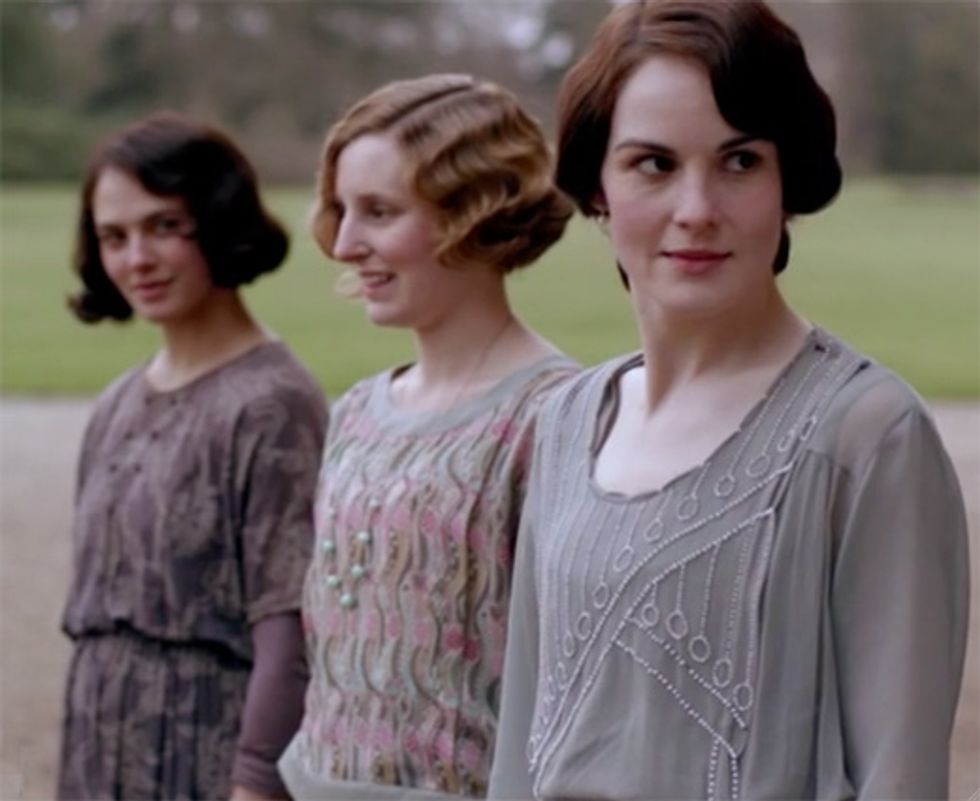 They could also do a lavender label à la Vera Wang. (Except, you know, everything would actually be lavender.)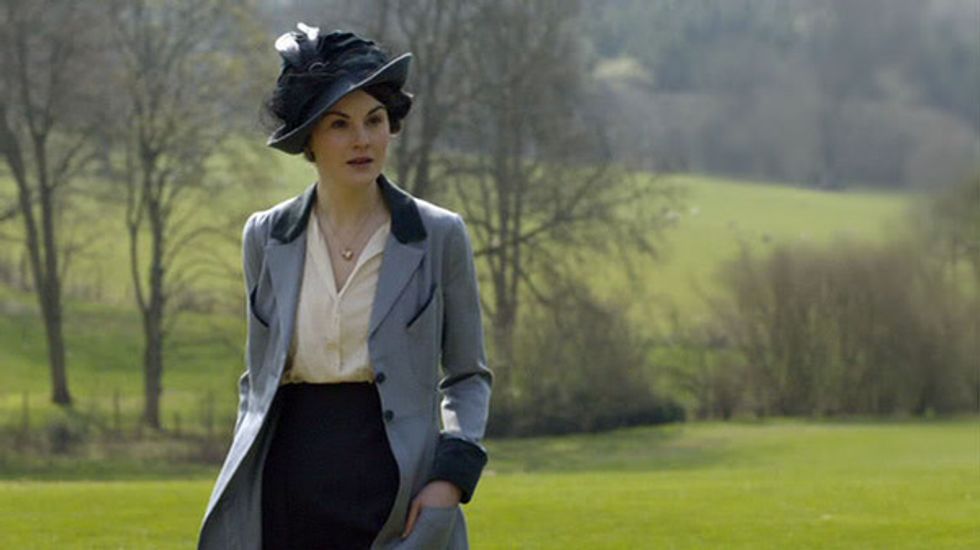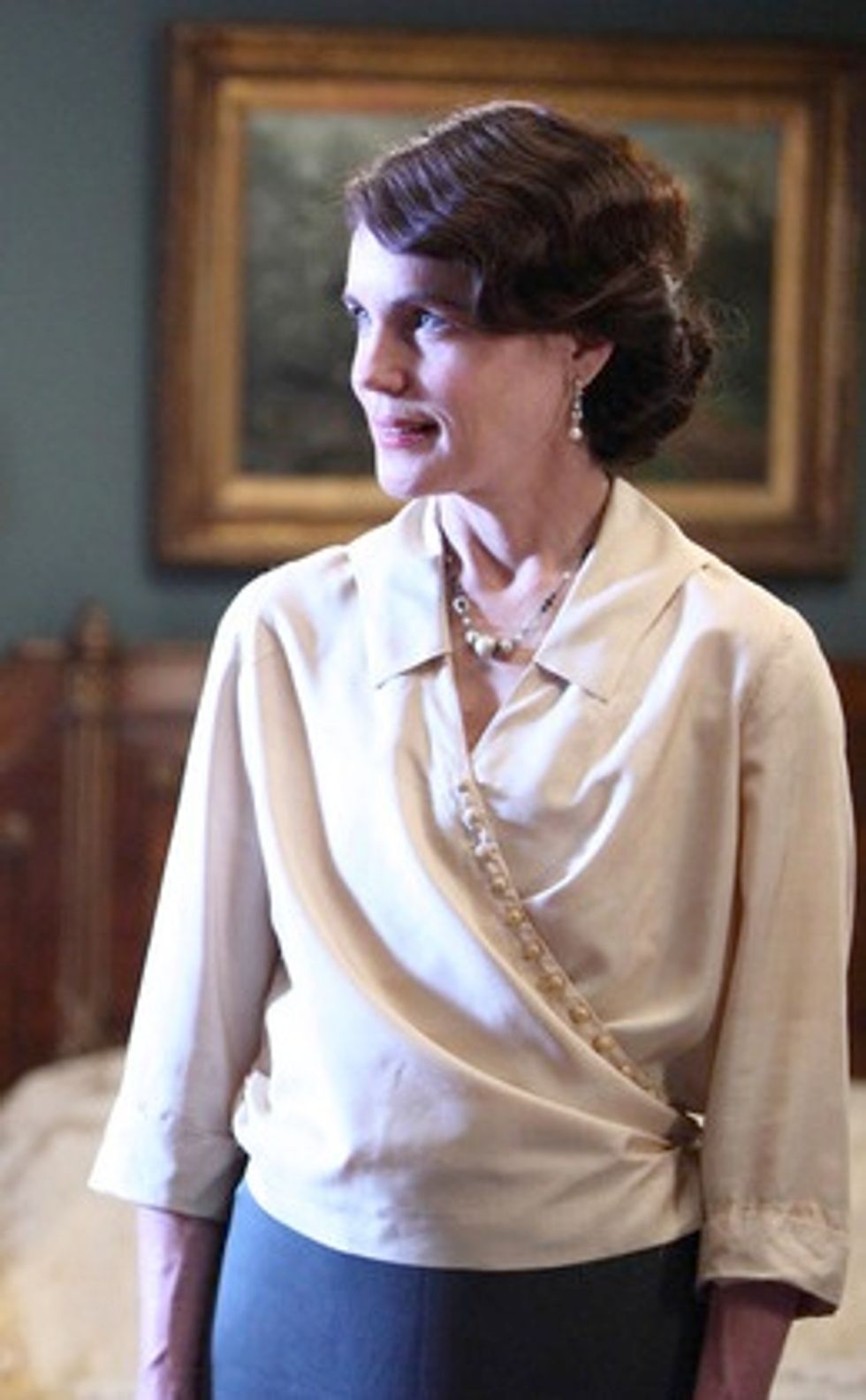 If
Downton
did business casual, Countess Cora's and Lady Mary's blue daytime outfits would be
the
look.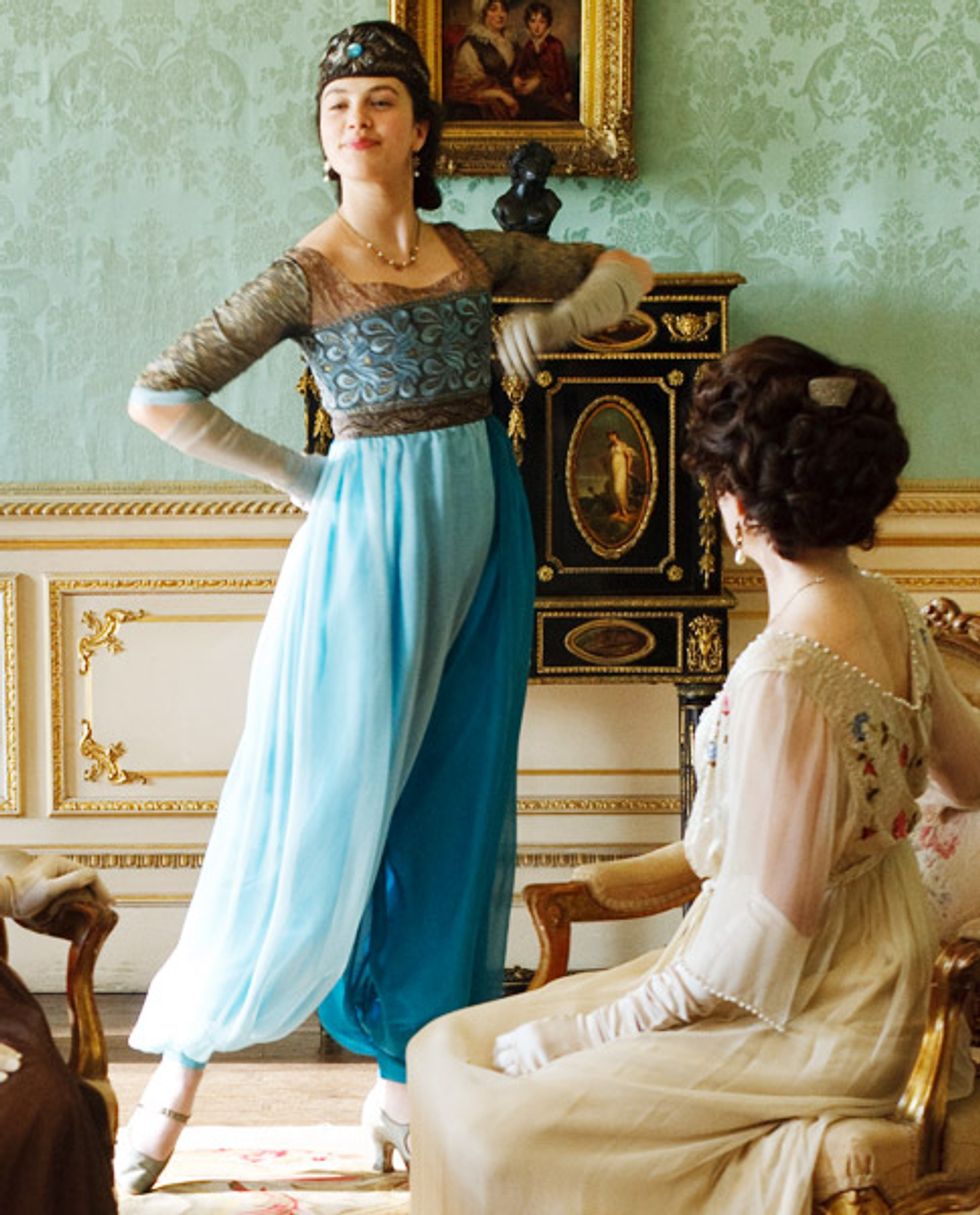 You could make an argument for selling a version of Sybil's two-toned, high-wasted harem pants. We're not sure we would make it, but still. To each his own.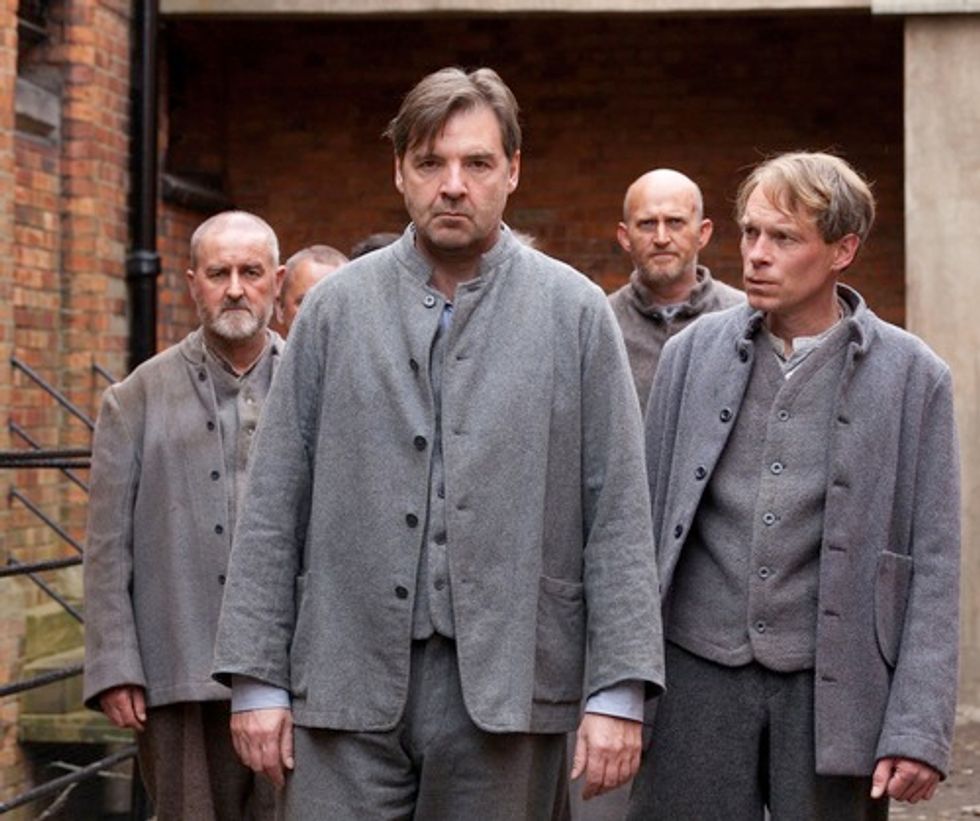 And for the menfolk: Mr. Bates' prison outfit or A/W '13
Damir Doma
? Either way, make it and we'll buy it.