It's not uncommon for a former Disney star to successfully navigate pop stardom on their own terms as an adult, but Dove Cameron has spent the last year determined to take the artistic reins back with a vengeance. After coming to prominence on Disney Channel show Liv and Maddie and releasing music of her own as far back as 2019, Cameron made the decision to remove her prior solo output from streaming and pivot to something that felt more true to her — a set of bolder, biting singles clued into the current pop music landscape.
In February 2022, the multi-hyphenate released the first of these singles: the dark, alt-pop-influenced swing of "Boyfriend," which put a boastful (and unabashedly queer spin) on a tale of fatal attraction. Following the track's success — it's been certified platinum and has accumulated over 1 billion global streams — she shared singles "Breakfast," "Bad Idea" and a gender-flipped cover of Edwyn Collins' 1994 hit "A Girl Like You," retitled "Girl Like Me," all of which will appear on her debut solo album Celestial Bodies (which she estimates will be finished and out in the world by "late fall").
Now, she's sharing the video for the album's fifth single, "We Go Down Together," a pulsing torch ballad and duet with Khalid. While it exists in the same sonic universe as other recent material, it unveils a more emotional side of the new Dove Cameron, serving as an eerie ode to a battle-tested love. The accompanying video sees Cameron and Khalid performing on a spare, monochromatic set, leaving Cameron's pale blue gown as the one burst of color against their otherwise muted backdrop. It's a shadowy, striking visual companion to the actress and singer's most vulnerable release yet.
To mark the video's release, PAPER caught up with Cameron to chat about the creative process behind the song and video, dealing with imposter syndrome and what people can expect from her forthcoming full-length debut.
Take us through the creative process of "We Go Down Together" as a song. It feels like a departure from what we've heard from you before, like we're seeing a more emotional facet of you as an artist. How did the collaboration with Khalid come about?
The song was written by my collaborators, Connor [McDonough] and Riley [McDonough], who I work with quite a lot and who I have a bunch of stuff coming out with soon. As we were beginning to work on my album together, they played this for me and they were like, "We've had this for ages and we really want to hear your voice on it." They were singing on the recording I heard, so I was like, "It sounds beautiful as it is! It's so stunning, I would never want to take this from you." We just did it on a whim one night, and it was so obvious that we were having a magical experience recording the song.
We were imagining who we would want the male vocalist to be, and Khalid was obviously the first person to come to mind. We were so lucky, because we sent it to Khalid's team and he felt the same way. There's something about this song to me that feels so otherworldly. It sounds dramatic, but when I listen to it and close my eyes, I feel like I'm tumbling off the face of the earth with the love of my life. It's so rich, and almost spooky and eerie. So, I was really excited to get our boy Khalid, who's a really wonderful guy, and I was really lucky that Connor and Riley gave me the song. It feels like such a big moment for me, because I've never released a ballad.
After that magical recording process, what were the conversations like surrounding the video? What was it like coming up with a concept that complemented the specific atmosphere of the song?
We knew that we wanted a video that was just going to be all about the visuals. I'm really big on doing narrative videos, as people probably have come to see. I try to make short films that last three minutes because I think that's really fun. I love getting a story across, but for this one, it just felt like we wanted to focus on the emotion of the song. We wanted to focus on creating a haunting atmosphere where you could feel the dissonance between all of these clashing elements. It's definitely got this postmodern thing where it feels like you're on another planet. It's definitely a strange combination of elements that our director Audrey just came to us with. She had this idea of sand falling from the sky and making it feel near-apocalyptic, like this "last night ever" kind of romance. I think she was really able to bring that off-putting element out while maintaining the beauty of it. It's really dreamy and I think it fits the song and the narrative perfectly.
Do you think you're attracted to things that have that dissonant quality when you're creating?
This is gonna sound funny, but as someone who's like, a highly traumatized human [
laughs
]... I think that everything that I respond to has to feel like we're making something emotionally resonant in secret, small ways. Anything that is too straightforward in its execution just doesn't really bump me in any way that sticks with me. As much as possible, we should be communicating emotionally with each other. Otherwise, what's the point in making music or movies or anything? It's not like anybody's doing cartwheels in the video, and we're not, you know, rewriting the Declaration of Independence, it's not complex [
laughs
]. But I wanted there to be space, because the story of the song is actually more complex than a normal love song.
There are these lyrics, like, "Sometimes we fly, sometimes we fall/ Sometimes I feel like we're nothing at all." How I hear that is that the love that these two people share is so intense that it's all-consuming. Sometimes, that's not always a positive thing in a relationship. A lot of people have been there, to the point where it almost knocks your life off course. It's asking, Is love so multifaceted that it can't be contained? I've definitely experienced all kinds of different loves, and some of them have brought me great joy and some of them have brought great complexity. Some of them have brought my issues to the surface, and some of them have done all three. I definitely think we were able to show that in this music video because of the simpler concept. There was a lot more pain in the eyes that we were able to exhibit, which is really important to me, because if you're not showing that human experience, even in small ways, then it's just a fucking music video, you know?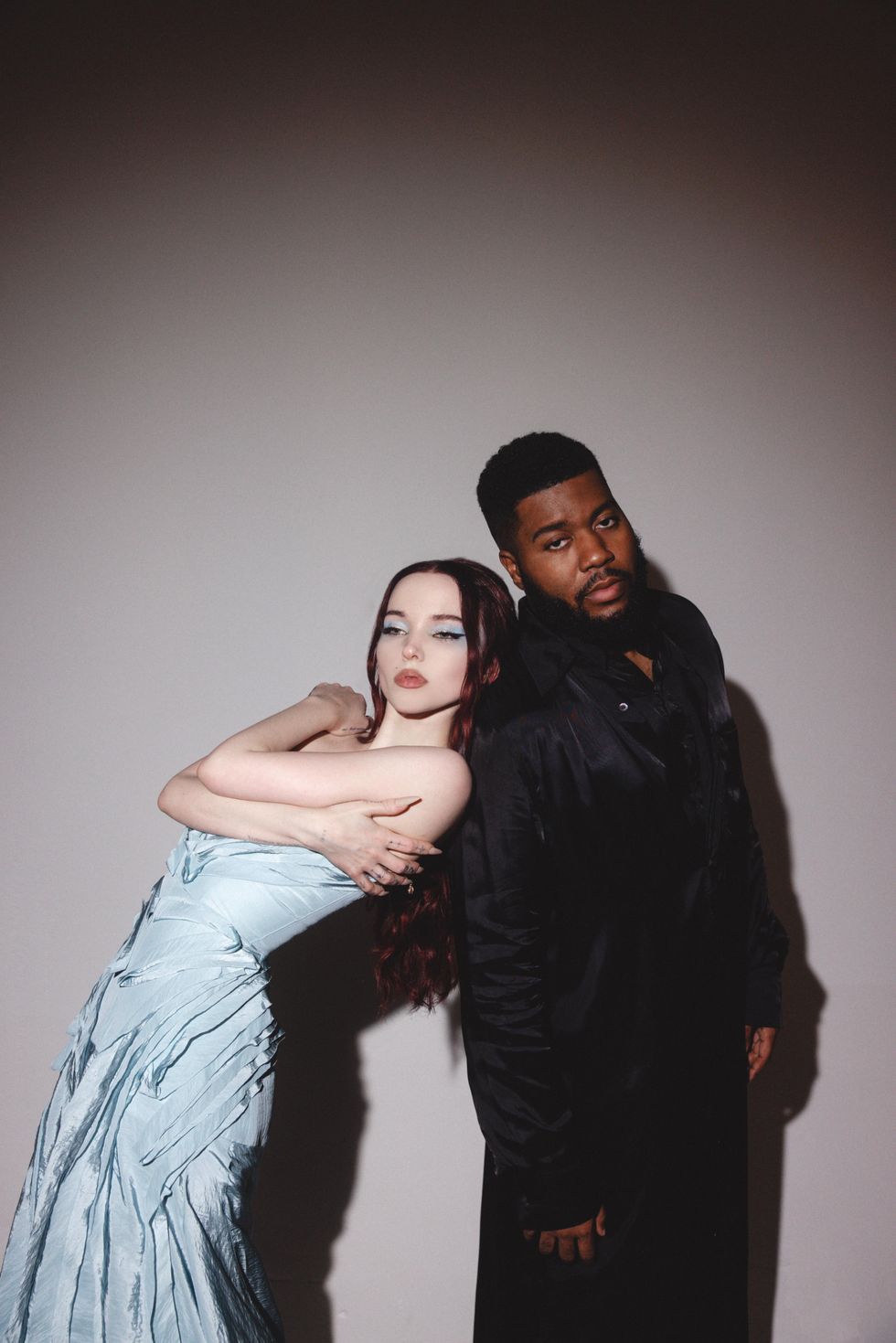 Do you feel like your experience as an actor plays into expressing those emotions in your videos? Does that skill set transfer from one medium to the other?
I've never actually thought of it as linearly as this, but the songs do fit into my own story, so the line between acting and purely existing and emoting as the character that is
me
is pretty blurred. We are telling a story, but I'm not pretending to relate to these lyrics as a character. I really
am
relating to these lyrics because, often, they're my words. It's a funny thing that I think about a lot. It's like, what's the line between a musical artist who's telling their own story and allowing people to see that experience played emotionally for them on camera, and then an actor who is able to play the role of the music artist for the music video? It's kind of both. Luckily, I'm so naturally an actor that it feels like the same thing for me.
Has your comfort level changed over time in terms of how vulnerable you're willing to get in your work?
Yeah, definitely. For years, I had a high level of imposter syndrome. What a lot of people don't know about impostor syndrome is it can have absolutely nothing to do with your actual career, and it has more to do with your identity and your experience of your own life. I read about this a lot, and a lot of people with complex PTSD have an inherent, ridiculous amount of imposter syndrome. Obviously, it can exist for a multitude of reasons, but that's been something that has plagued my life to no end. I can intellectually understand and dismantle those feelings every day, but my brain is always on a setting that says,
You don't know what you're doing. One day, everybody's gonna find out that you're a full-blown freak and everything's gonna burn to the ground.
But, I definitely feel that since "Boyfriend," because it wasn't premeditated and I couldn't have reverse-engineered the kind of success that record had, it's been good for me to realize, Oh, this thing was completely out of your control. That was actually a huge stroke of luck, because it helped me with just like a piece of evidence that maybe I actually can write music. Maybe it's only me who's telling me that I can't do it. So now, I've definitely gotten out of my own way, which is nice, because at the end of the day, we're all doing what we're doing for some form of self-actualization and to feel more connected to people around us. That's really what this music has been doing for me and that's really exciting.
Now that you're in the middle of writing and recording the album, what about it do you think will surprise people about it when they finally hear it?
Well, I definitely still have a romance with big sound. "Boyfriend" was a great first hit for me to have, because it gave me permission to do singer-songwriter stuff. It gave me permission to do romantic music, sexy music, big sound, pop, jazz or even slightly dubstep-influenced stuff. It kind of touched on so many genres that there aren't too many things that I could follow it up with where people would be like, "What the fuck is that?" [laughs] It didn't pigeonhole me. You can definitely still expect that kind of sound from me, but maybe less than you would think. I think the thing that's going to surprise people most is that a lot of what I've been working on has been influenced by Daft Punk, Justice and a lot of French pop artists. I wouldn't say that the album's going to lean that electronic, because that would be misleading, but I would say there going to be more of that French funk with this huge sound and distorted horns and all that.
Then, on the other hand, there's going to be this very hard left turn into, genuinely, my first time ever talking about like my trauma, my mental health, my depression, my anxiety, my eating disorder... I'm going to be openly speaking about things that in the past I've been afraid to speak about. People think that trauma is something that you talk about in therapy, and then you go to sleep and you maybe have a nightmare, but the rest of it is fairly normal, and that's just not true. Trauma permeates absolutely everything. It's in every small decision. I didn't give myself permission to talk about that because I was like, Who am I to talk about this? I live such an incredible life now and I'm living my dreams. But if I don't talk about it, there's 70% of me that people just don't have access to. My label has been really supportive and has been like, "You gotta learn to put this shit down and trust people with it and give it to the audience because it's who you are. Until you do that, you won't feel honest as an artist." I think that's really true, so some of the tracks will be very dark and honest, and for people who don't know me, that will probably seem like a big departure.
I'm grateful that everyone has been so generous with me in this big second half of my career where I'm constantly just trying to play catch-up. [Laughs] I'm learning fast and I'm trying to sort of get to the juiciest part of myself as a human. I want to be able to develop the craft of putting myself into the music as honestly as possible and I've had to really retrain myself to not apologize for speaking about my life experience. It's been like learning how to walk in heels backwards or ride a bike up a hill. [Laughs] I'm really, really grateful that everybody has been so kind to me about it all, and right now, I'm excited for everybody to hear this song and see the video.
Photography by Ashley Osborn