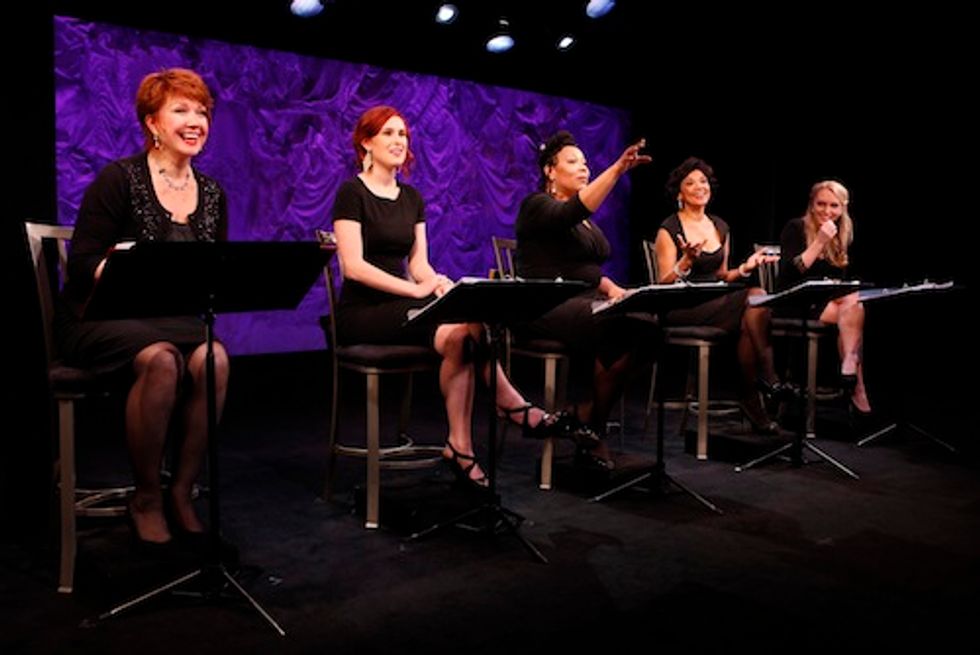 Photo: Donna McKechnie (far left) in
Love, Loss & What I Wore
. Photography by Carol Rosegg
New York City theater goers have gotten a special treat this month with the return of Tony winning actress/dancer
Donna McKechnie
to the New York stage. McKechnie is starring through April 24th in the long-running play
Love, Loss and What I Wore
at the Westside Theater. We caught up with the original
A Chorus Line
cast member to see how it feels to be back on stage, her thoughts on the revivals of some of her classic shows and what else she's got cooking.
So, tell me about Love, Loss and What I Wore
I had no idea it
was so far reaching. I had read about it earlier and then I went to see it and was so delighted and charmed by it. I love the writing, and the way they produced it. When I first came back to New York in 1990, from being all over, I landed at the Westside Theater, so this is a return for me.
Was that
Cut the Ribbons
with Barbara Feldon and Georgia Engel?  I didn't see it and now I regret that desperately
.
Right. I love those women and these women as well and I kind of know the space. The audiences are there because they really want to be there. The word of mouth has been tremendous. It's so personal. We have five different actresses on stage and every actress has chemistry. It's kind of amazing.
You're an old school triple-threat; you act, you sing, you dance...
I don't sweat as much as I used to! (laughs)
Do you hesitate to do something that's just acting?
No, no, I long for it.. I've certainly done more musicals than plays, but I love it. It's where my acting chops come in. I can really get into the material, because of course you know even if there's great text for musicals, the real dramatic elements come together in music. And so, as an actress you still have to go to those deep places, but you have to lift it off the stage and with acting you just have to do it a different way. But you express yourself without the music, without the songs, but you can find other hues, you know. And to me that's quite wonderful. When I'm in musicals I want to act, and really get into it, and when I'm in plays I miss the music.
Are you working on anything musical?
I'm starting this wonderful project with John Doyle for Williamstown this summer called T
en Cents a Dance
. They said 'Do you play any musical instruments?' and I said 'I don't know, well, let's see... maracas, violin...' and they asked if I would be adverse to learning the sax and I said, 'Absolutely not!'
There was a sax solo in your number "You Can Drive a Person Crazy" (from Company).

Well right, no -- that number I sing. (laughs)
Tell me about your one-woman cabaret show My Musical Comedy Life which you've been traveling the world with.
I'm working now with Richard Jay Alexander who's also been working with Donnie and Marie. I like to try out different things, and I discover things on the road. I take things to a different place, some work, some don't, but the ones that work I bring back. It's wonderful to be able to be that flexible.
So
Ten Cents a Dance
, which you mentioned, will that have a lot of dance in it?
I don't know, it's brand new. I'm so thrilled about this! I'm spoiled in a way because early in my career I originated roles. It's a gift to be invited up to Williamstown for two months to develop a piece that John Doyle has beautifully constructed with the text of Rodgers and Hart. It's very exciting. It's new and he's quite a wonderful director, and so we're going to have fun.
That sounds amazing. Do you keep up with your dancing?
Yes, oh god (laughs) I do, I have a trainer. I'm actually looking for a good ballet bar. One of the reasons I did my show, initially, years ago, was to keep dancing. And as the years go by I'm dancing less and less and less in my show, but I'm dancing more just for my own well-being.
I know you've struggled with rheumatoid arthritis.
Well, that's why I did the book, of course, yeah, that's no more. I have no issues with that. It's amazing. But I had to educate myself about what to eat, and what to think about: to take out the negative elements and criticism. We're our own worst enemy sometimes. That was a big change in my life and that implemented the cure as much as the diet.
What songs are in your cabaret show? What's your classic number?
There's cor  material I developed with Chris Durang and Thommie Walsh in the nineties. I developed a couple other shows and kept the best material. And I rearranged it with Richard's help. I do
A Chorus Line
, of course.  I love telling stories, and this time around we were going to bring a new song, one that was cut out of
Follies
.  I do a song from Rodgers and Hammerstein's
Statefair
. I like to introduce new writers too so I do Francesca Blumenthal and I do Ann Hampton Callaway.
All of your signature shows semi-recently have been re-staged: Promises Promises, How to Succeed in Business and A Chorus Line. Do you usually go see them? Can you enjoy them when you're not in them?
t's hard for me. Every time I see a show I want to be up there (laughs). It's hard for me to see anything. I'm just such a ham. It was hard seeing
A Chorus Line
. I could not be objective and I loved the talent. It was fantastic, the dancers were great, but I kept seeing my friends up there. The ones that are here and not here. I kept seeing the ghosts.
Are there any roles that you still ong to play? You've played so many great roles in so many great shows
.
Well I'd love to do
Ballroom.
I don't know if that's going to be possible, but I'll do it somewhere. I've always wanted to do
South Pacific
, but I can't do that. I'm too old for that. But other than that, I did a wonderful tour of
Annie Get Your Gun
. It was great. I did
Gypsy
. I've done some great roles. Of all the great roles written for women in musical theater, I mean, I really feel like I've got my teeth in quite a good number.