When Philadelphia native-turned-New Yorker DonChristian Jones released his new album, Where There's Smoke, early July, there was an explosion of news around the country's immigration crisis, and people were becoming more willing to examine America's genocidal history. Not long after that, Sacha Baron Cohen was "punking" the nation's most problematic Republicans by getting them to say exactly what they believed. And just this week, we've learned of the hate-motivated murder of Nia Wilson by a white supremacist. But, as Donald Glover reminded us, This is America. Enter Jones, a 28-year-old who sees the ways of the world and makes genre-defying hip-hop that affirms his place in it and uplifts the voices of people who are often marginalized.
For his music, Jones draws from his own life story and the intersectional lived experiences of Black, queer, and trans people, inspired by bossa nova, jazz and artists ranging from Aphex Twin to Animal Collective. Jones' latest LP is about emotional intimacy, but it also shows that he's a powerful example of what effective LGBTQ allyship can look like — highlighting the voices of trans women like artists Chae Buttuh and Ms. Boogie, rather than shouting over or sidelining. Also an adept visual artist with a painting degree from Wesleyan University, who has shown and performed in esteemed NYC spaces like The Whitney Museum, MoMA Ps1, and Webster Hall, Jones takes a hands-on approach to his work as an activist. Most recently, he worked with youth inmates at Rikers Island to paint a series of murals. (You can find one such recent mural, below).
Read on as the multidisciplinary artist shares insight with PAPER about his new album's world-weary musings, why Pose is revolutionary television, Azealia Banks' musical ingenuity, and the beauty of working with kids.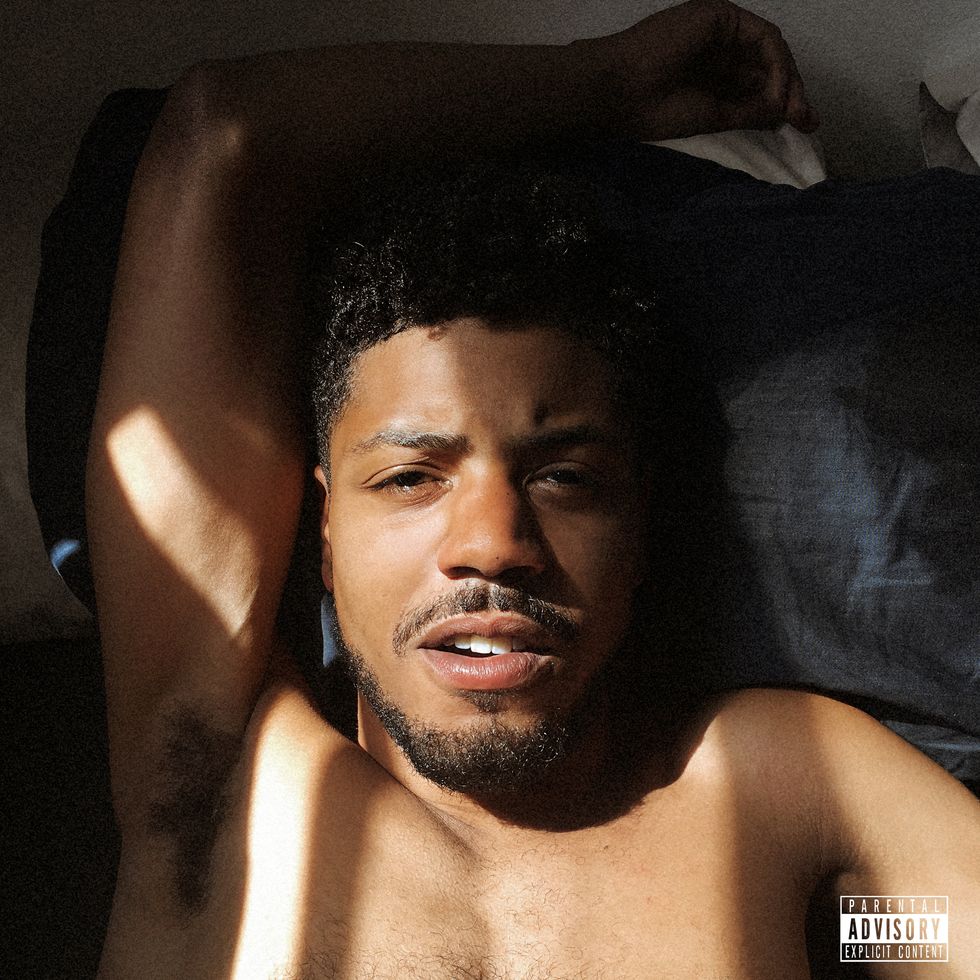 Your new album Where There's Smoke is great, congratulations. I noticed you did a collaboration with Ms. Boogie ("Been Sleep") and Chae Buttuh ("Black Quaker").
Oh my god, [they're] so underrated.
Right? So how did that come about?
Chae is another friend I met virtually through the Internet. I think we met on Soundcloud a few years ago and we just cultivated a relationship and had mutual friends like BbyMutha and LSDXOXO at the time. In her coming to [New York], we became friends IRL and we'd been sending music to one other, actually, we've been collaborating for a minute but nothing had seen the light of day. So, I just knew I needed her on this record because her voice is so important.
Related | Chae Buttuh's New Video Proves Trans Is Sexy
It's super important to highlight and uplift trans women of color whenever possible.
Oh yeah, and you know, brown and black women are just scapegoats of the world in my mind. So to be a trans woman of color is just like... it's immensely important for them to have a platform to tell their own story cause only they can do it.
I've also noticed how you use social media to tell the truth about things, like your July 4th post.
Yeah, it was probably one of my visual rants, I just woke up or something.
Well I, being a person of color and being queer, think that it's always important to use such platforms to shine light on our truths and the many ways we might be oppressed and dispel certain myths. So I appreciate that you use your platform to do those kinds of things.
I just don't know how else I would use it, to be honest. So much of what I see on the Internet just feels so superfluous, which is also the nature of American culture — the state of American culture. So, sometimes I just feel like I have to be generous enough and bold enough to say what's on my heart and on my mind. Otherwise, I'm not really doing my community a service.
Related | 13 American Cultural Leaders on What July 4th Means to Them
I have guesses, but when you were writing and recording Where There's Smoke, what were you trying to get across?
My understanding of the record changed overtime as I changed, 'cause you know, I was making it over the course of two and a half years so I see it in a new light now. I think when I was making a lot of it, I was in the thick of substance abuse and depression, and I was in a vacuum. So now, I'm able to see that, more than anything, it was about me trying to get things off my chest. I'm not sure who else it was for besides myself, but if anyone else can take something from it or get into it then that is so amazing.
On your Instagram, you wrote this about this album: "I had to lose myself to find myself." Is that describing what you're talking about now?
Sure, I think in just navigating New York and moving here after school, I ended up losing myself. I did. And then, you know, I intentionally set out to rediscover myself in the past couple of years. It's been really hard work but, I can say I've felt better than when I was a kid. I haven't really felt this way since then.
Related | Introducing Ms. Boogie, Formerly Known as Jay Boogie
What do you think was the biggest shift for you?
I think I had to find my own personal rock bottom, as so many of us do, and for me that was my physical health. What I had been trying to mask from myself, and everyone around me, became unmask-able on a physical level.
Do you mind me asking if you are sober now?
Yeah, I would say it's still a journey that I feel is never going to end, and I can't say I haven't had missteps, but I am really working hard.
Good luck with that, too. Recovery is about progress, not perfection, right? I also read that you made this album while you were doing some work with kids on Rikers Island. Your song with Chae Buttuh touches on this, but what can you tell me about the work you were doing there?
I've been working there off and on for three years now. I've done five murals there with the youth inmates. Over time, my experiences there have colored my whole vision and outlook on the world. It's safe to say that that's, for me, the reason why I make the work I make.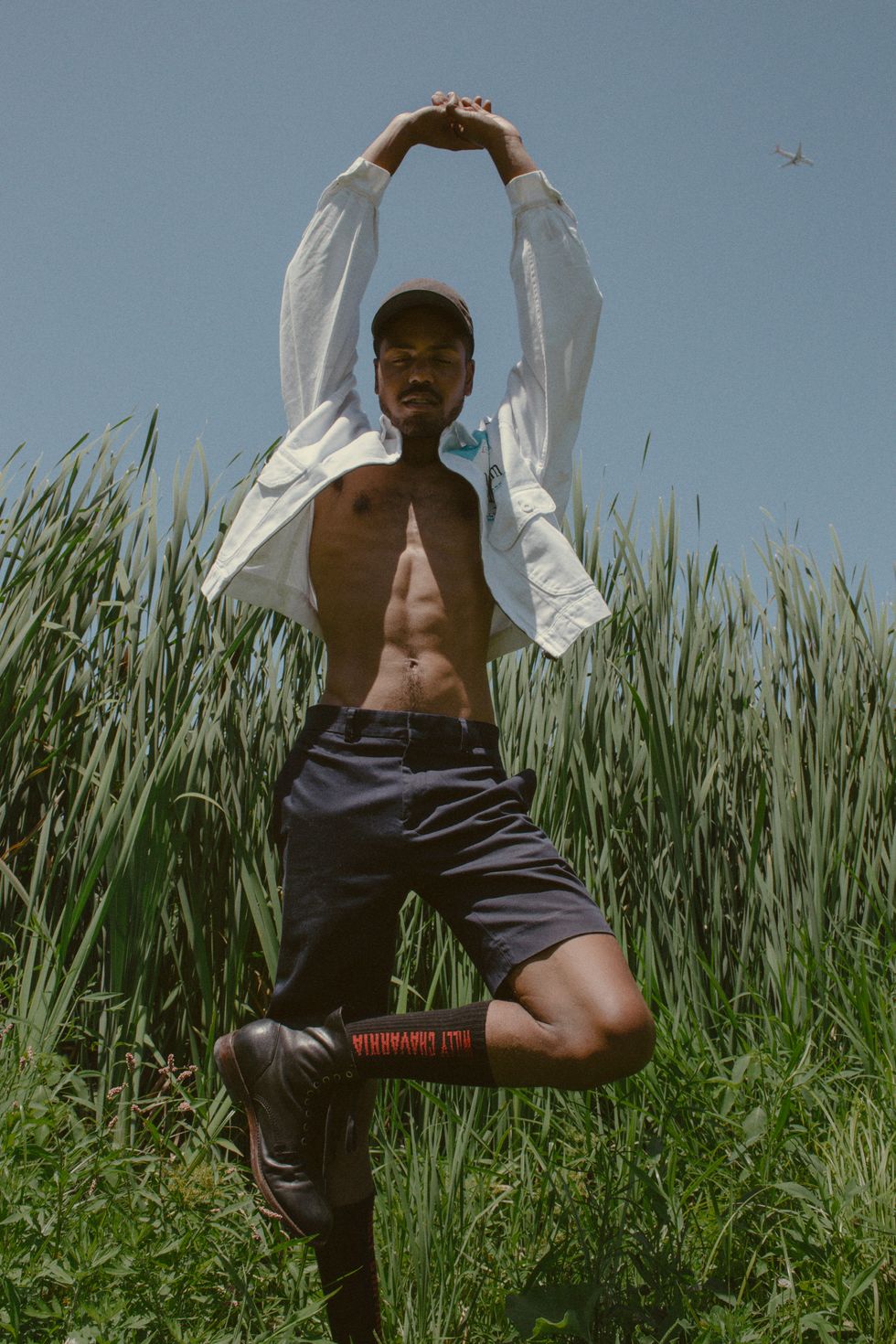 "People in jail really do become like an invisible population. They have no voice and the conditions at Rikers, I can say, are worse than people can imagine."
How did you get involved with working over there?
Well, painting murals was my first job that I got here in the city, so I've been doing community-based murals often. I work and partner with an org called Groundswell, so I've been in schools, community centers, REC centers, probation offices, and they ended up sending me to jail [Laughs].
What's something you've learned about the conditions at Rikers, or what the youth inmates have to go through? I think we know a little now from Jay-Z's Kalief Browder documentary, and have a better idea of things that happen behind the scenes with kids who were even wrongly incarcerated. But what did you see?
I would say that it's worse than what we know and what we perceive and what I think we know. It's a lot worse. People in jail really do become like an invisible population. They have no voice and the conditions at Rikers, I can say, are worse than people can imagine. So many of the people there are not supposed to be there. I don't think anyone is supposed to be in a place like that, and to think that so many thousands of them are kids — 16, 17 year olds — that are a product of the system and have been in and out of court systems since they were like 12. In my mind, it's like a microcosm of everything that's wrong with America, and it speaks to prison as industry and mass incarceration. It almost encapsulates and defines it. Rikers itself does.
It's the very embodiment of what we've been talking about.
The very embodiment. It's not in the south, it's not privatized, or on the outskirts or periphery of our society. It's in the heart of New York City. All of these jobs and different economies are tied to it and we're all implicated in it as a problem but, you know, we pay for it. Our taxes go to fund, what is, in my mind, an internment camp.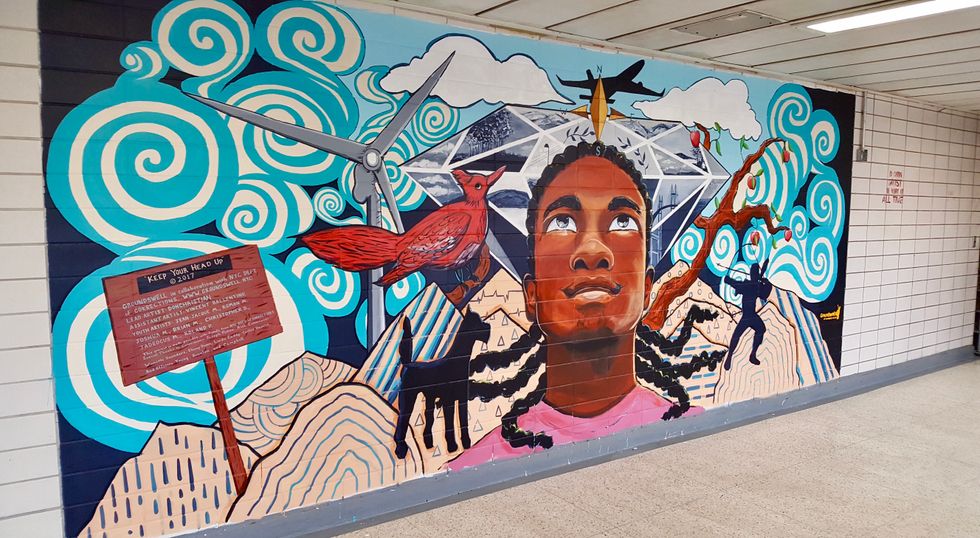 "Keep Your Head Up" by DonChristian, a mural at Rikers Island
I know many people who would agree with that assessment. How long ago did you move to New York?
I'm from Philly, I went to school in Connecticut for four years, I studied abroad in Rome, and then, after I graduated, I moved to New York. I was in Harlem for three years and now I've been in Brooklyn for three years.
How old are you?
I am 28.
Oh wow, okay so I don't know if you believe in any of this, but you're in your Return of Saturn period.
Yeah, I know! [Laughs]
So a lot of big questions are probably coming to the surface right now.
Oh, absolutely. I mean, I've only been tapping into that kind of stuff recently but, it's all feeling very real to me. It's just the realizations made, and just the understanding of the world from a more existential place.
What are you learning about being in New York that's maybe great, or maybe, not so great as an artist. As a person?
Personally, I spent my whole life wishing and wanting to live here as so many artists do. It's afforded me so many opportunities and friendships that have become almost familial relationships. I can't say that I would have been able to make any of the work I've done without New York, and I love it immensely. Also though, I've come to realize that it's not... for me. I think, in the long run, I'm meant to be in nature. That's what is really starting to drive my passion for living: the beauty of nature.
"I think, in the long run, I'm meant to be in nature. That's what is really starting to drive my passion for living: the beauty of nature."
What else keeps you optimistic?
Kids. Youth culture, teenagers, they are actually what keeps me going. I've been teaching over the years, as well. I've been freelancing at a high school. I work with a lot of LGBTQ youth and, more than anything, they keep me going. They have this resilience, artistry, and athleticism, in the face of everything shitty that's happening, and I see them achieving the most incredible feats. The KiKi ballroom scene is one of the most exciting spaces I've ever had the privilege of experiencing and I really think that the queer brown youth of New York City give way to global popular culture. They're the ones that are creating the movement, the style, the dance, the language that then goes on to be commodified and popularized by the mainstream. Shows like Pose and My House on VICE have been so exciting to see.
Related | Talking 'Pose' with Mother Mj Rodriguez
Anything that's the first of its kind isn't going to be perfect, but in my mind I think Pose is perfect because the fact that it even exists on TV screens in American households is incredible.
Just what it represents, symbolically more than anything, it does a great job of telling real stories because they're coming from the real stories of the cast and the writers and the producers from what I can see. I'm very much new to my access and experience with ballroom so I really cant speak to the authenticity, but I know that for a lot of my friends who are immersed in that world, they love it too.
"I really think that the queer brown youth of New York City give way to global popular culture."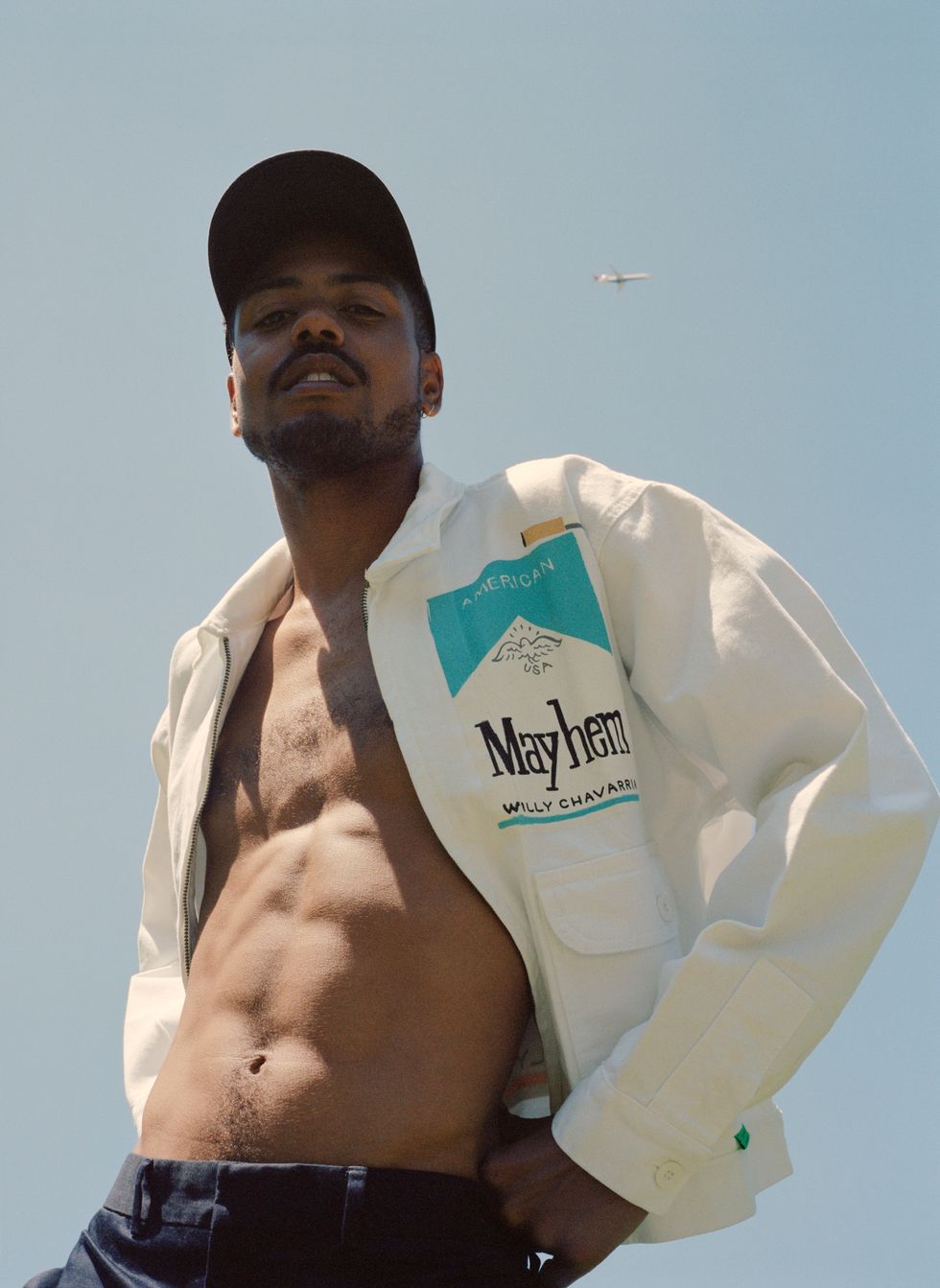 I know that your uncle was R&B singer Teddy Pendergrass. Did you grow up singing with him?

Yeah he was. [Laughs] I mean, I just grew up in my house, and I've never had any formal training, but I guess I was always around music. I mean, I was in the chorus in his Christmas album. That was about the extent of my singing with him, but just being in his household with my aunt all the time infused a lot of soul music and R&B in me.
When did you start writing?
I started writing music in college. I never really thought about it or gave it a fair shot until school. I was always painting.
What pushed you to want to do music?
I was just surrounded by really amazing artist and musicians at the time who were living in this house called the Eclectic Society of Wesleyan, and it was just a really challenging space. It was a mansion full of musicians, we were booking shows and so it was just all around. I was making beats and raps with my friends and after that I put it on my first mixtape.
Related | Janet Mock on Why FX's 'Pose' Is 'Deeply Revolutionary'
As far as the new album goes, do you have any favorite songs ?
I really like "O.T." and "Bet." They mean a lot to me. I also think that they're the best beats I've ever made.
I love how you blend rapping and singing. It reminds me, in the best way, of Azealia Banks, who is similarly versatile.
She's one of my favorite musicians of all time. She's a musical genius.
What do you enjoy most about her work?
I just like her musical references and knowledge. She's so thoughtful and intentional, you can't deny that her ear, her voice, her cadence, her flow — it's pioneering. Her Christmas song, "Icy Colors Change," is constantly on repeat in my house.
Stream DonChristian's Where There's Smoke, below.
Photography: Becky McNeel
Sign Up for the Morning PAPER