Update 8/11 10:30 am: There is a new crowdfunding page to help pay for Stafford's legal fees and fight his unlawful incarceration, as it's just been revealed that he was held for 571 days without trial. Speaking in a new video interview with the Charleston-based media group, Black Collective, Stafford shares his story and sets the record straight alongside his lawyer, Marvin Pendarvis.
"There are a number of reports that there was in excess of $100,000 that was raised toward his bond. Those reports are inaccurate," Pendarvis said. "There were only $379 that were placed into his commissary at the time he was released on Friday."
Pendarvis also added that stability is currently an issue for Stafford.
"Unfortunately, he's homeless," Pendarvis said. "We've been able to set him up with some temporary housing and we're working on trying to find something that's more long-term but when he got out and when he was released, he had nowhere to go."
You can donate to Stafford's legal fund here.
Update 8/5 10:20 pm:The State reports that Dwayne Stafford was released from Sheriff Al Cannon Detention Center at 8:27 p.m. Friday night, posting his bond of $50,000. Stafford was serving time for strong army robbery.
Yesterday, Dylann Roof -- a white man charged with murdering nine black parishioners in cold blood earlier last year -- was reportedly beat up by Dwayne Stafford, a fellow inmate at the Sheriff Al Cannon Detention Center in Charleston, SC. In the past 24 hours, Stafford has emerged as a hero to some online. And, as the Internet pointed out, you can donate money to Stafford's commissary fund via an activist organization called Taking A Stand Against Discrimination.
You can donate to the man who beat up Dylann Roof here: https://t.co/z83yXu1v7z
— Keegan Stephan (@KeeganNYC) August 5, 2016
It's unclear, however, whether the site, run by McDaniel Supply Company, is allowed to take more than one deposit at a time. This is the message you receive when you try to donate.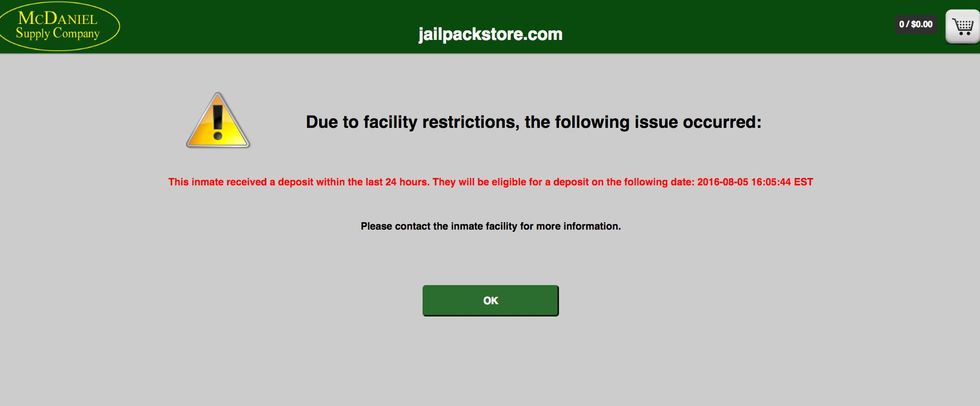 We reached out to McDaniel Supply, who said they are not allowed to share details about the prisoner account funds.
However, people are also contributing to Stafford's commissary donations via phone with JPay.
Dylann Roof was assaulted by an inmate named Dwayne Stafford. Put some money in his commissary for a job well done. pic.twitter.com/5j0VxUMsVN
— Shane Morris (@IamShaneMorris) August 4, 2016


We have reached out to the Sheriff Al Cannon Detention Center about Stafford's donations and will update with more information shortly.