The RNC has come and gone--a noxious, opaque cloud of fear and nonsense, hanging in a tropospheric purgatory above Cleveland for the rest of time.
Last night's convention finale--the most anticipated of the four night event--saw Trump himself, as well as his prized orchid/oldest daughter, Ivanka, take the stage to wow the teeming crowds.
Ivanka, introducing her father, was gracious and articulate, as she laid out a vision of her father's would-be administration that, ironically, sounded a lot like Hillary Clinton's platform on gender equality, child care, the wage gap, and overall women's rights.
As soon as her father took center stage, quickly undid any sliver of redemption his daughter had hinted at with a 75 minute, screaming tirade that doubled down on his extremist views, confirming that he's a hot-headed demagogue who will say whatever it takes to rile an impressionable crowd.
Among many appalling statements, perhaps the most cringeworthy of them all was when he claimed he would do whatever it takes to protect the "LGBTQ" community (a phrase he literally had trouble saying with his mouth).
The very fact that he's running with Mike Pence--a staunch anti-LGBT crusader, who has devoted much of his time as Indiana's governor to defunding HIV/AIDS research and testing centers to allocate funding for conversion therapy, a practice that has repeatedly rebuked by medical experts as literal torture--discounts any "protection" he promises LGBT people.

Especially with the GOP's official platform on "American values," which emphasizes the mission to essentially dismantle gay marriage.
He also eulogized the "wonderful" people who perished in the Orlando shooting.
Never mind that almost all of the 49 victims were Latinx and immigrants--the very people Trump spent a large portion of his speech vilifying as murderers crawling across the border to slaughter your family.
Cool!
His plan to stop these "monsters" from the south remains, quite literally, to build a fucking wall around our Mexican border.
He's serious.
Really.
But how will Ivanka continue to design her affordable and "imported" lewks if there's a Donald Wall around America?!

Giiiirl.
His endurance performance art hate-speech truly peaked when he thanked the Evangelical Christian community for all their support, even though he said, "I may not deserve it." Aw, shucks, Don!
Anyway! Trump already out-eww'd himself before he even started: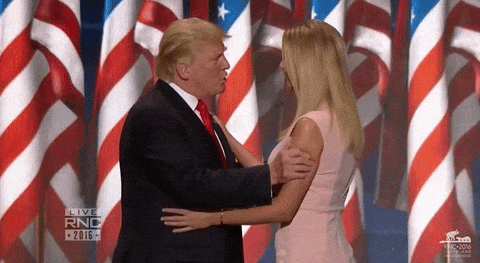 -_-
**lights cigarette, stares out at window**
Please, please register to vote.