It's been 25 years since Dolly Parton has done an extensive tour. In June, that'll all change as she embarks on her Pure & Simple tour across North America. In addition to her live dates, the country legend will release not one, but two albums this year. With her upcoming shows, you can expect corny jokes, family talk, lots of love and playing her favorites—Parton lives to appease her fans. She'll release a live album, which is also the title of her tour called Pure & Simple along with Dolly's Biggest Hits, which is pretty self-explanatory.

Parton filled us in on the details of her upcoming album, tour and her hopes for the future at a press conference today.
It's been a couple of decades since you've done a big tour. Why now?
We've done a few shows here and there now and then. There's a lot of buzz going on with the Coat of Many Colors in Europe, and it got a lot of attention over here. A lot of the promoters and fans said, "why don't you do it here?" It just seemed to be a good time to do it here. We're going to be touring between June through the middle of December. We'll of course be doing the old favorites, but I have a new Pure & Simple CD out and I'll be doing some things from that. We've got some of everything.
For those who haven't seen you in concert? What can we look forward to?
The name of the show is called Pure & Simple. We have a new CD—it's all love songs—and of course we'll be doing our standards. We have a CD and a best of Dolly's Greatest Hits that will be coming out to coincide with the tour. Of course with the tour and the new record we'll be doing the favorites onstage: "Jolene," "I Will Always Love You," "Islands in the Stream" and "9 to 5". We'll be doing the gospel thing and having our corny jokes. I'll tell a lot of stories as we go. We have a folk song section we'll do. As far as the band, it's just the four of us on stage: Richard Dennison, Tom Rutledge and Ken Wells. We just kind of swap all different instruments. It's scaled down. We don't have a bunch of loud music or videos going on in the background. It's pretty much just us.
You have such a huge catalog of songs. How do you go about choosing your music?
You always have to do the things your fans demand. A lot of those songs will be on Dolly's Greatest Hits. I think people expect me to do the home songs like "Coat of Many Colors." I think people expect a lot of gospel stuff. It's hard to know what to pick with the dynamics for the show, but I work real hard to know what to pick to get the dynamics that you need for the show.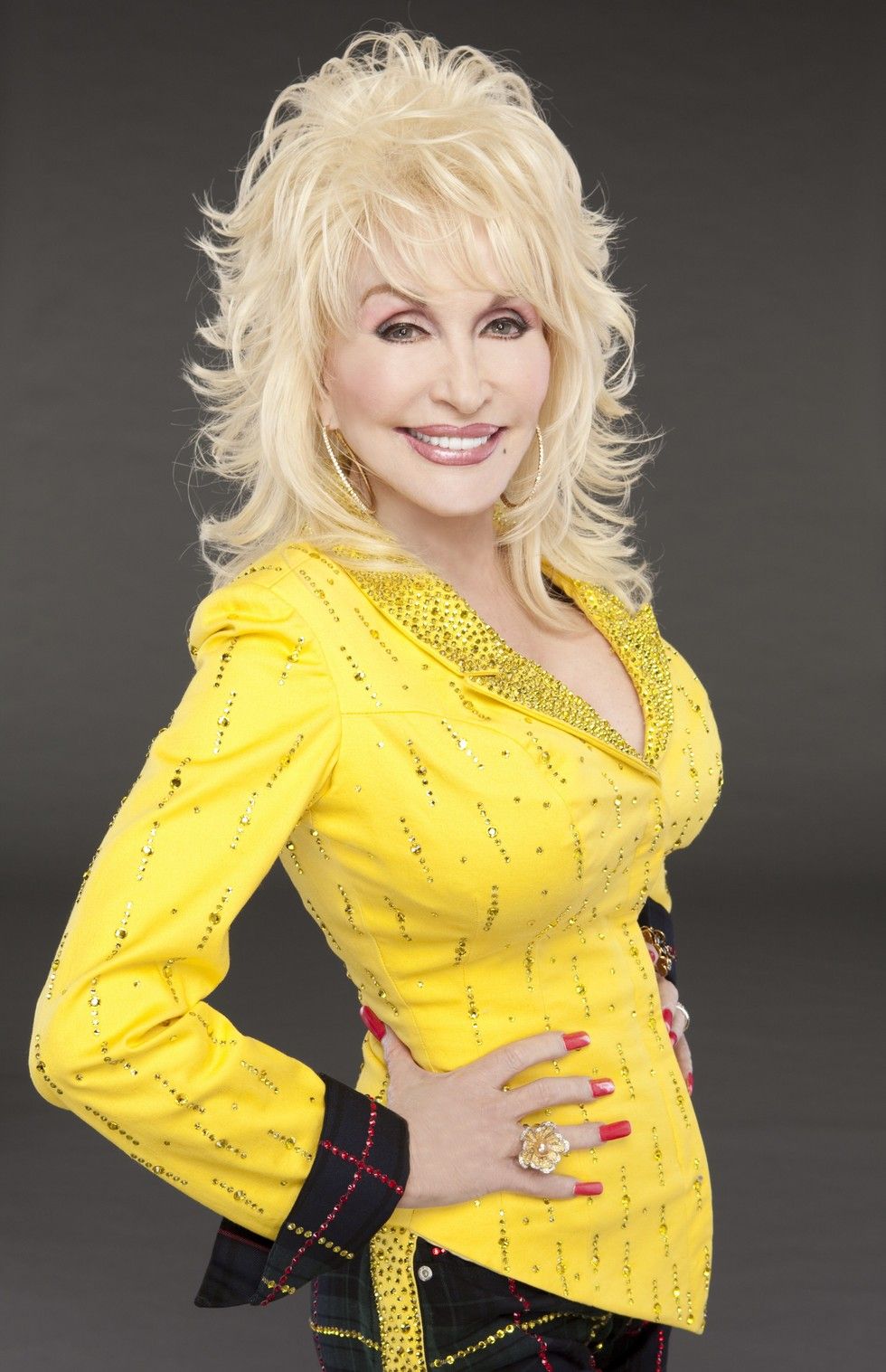 Photo: Webster PR
You're reaching a new generation of fans after performing with Katy Perry at the ACMs. Will we see guest musicians like Katy Perry or Taylor Swift joining you on tour?
Not that I know of...but if they should show up, I bet you I wouldn't refuse them. They've got a lot of fans. I really appreciate what they do, but we don't have any of that planned.
What new songs will you be playing on tour?
The title song I like a lot—I'm going to open the shows with it. It's called "Pure & Simple." There's another one called "I'm Standing Outside Your Door." We'll also perform this new song, "I Will Never Not Love You." It's a sweet song with an up tempo. Of course we'll do those classics that everyone expects to hear, and I expect to do.
You said how you're going to tell stories on tour. What are your favorite traditions for tour?
I always talk about [the song] "Coat of Many Colors" and my mom. Now that the Coat of Many Colors movie did so well, I also wrote a song called "Mama" that I'll probably sing before I start talking about the home section [of the show]. I'll be talking about my grandpa and how I was brought up, which means a lot to me. I'll be doing my gospel segment from the fact that I grew up in my grandpa's church.
There's the HB2 bill going around and some artists have been canceling their shows. Will you cancel any tour dates?
I do not to intend to cancel any of my shows. I think I'd serve better from the stage. Everyone knows that I have an open and generous heart, and I think all people should be treated with respect. I don't like to be caught up with controversial issues. I can address whatever my thoughts are from the stage in that format.
The country community is mourning Merle Haggard. What are your thoughts on losing him?
First of all, he was a wonderful dear friend. We used to work on packing shows. I used to do some dates with Merle. I always wanted to do a duet with Merle. We used to ride on each other's buses. It was heartbreaking when we lost him, but his music, like Hank Williams's, will live on forever.
What's on your bucket list?
I've got buckets on both sides. I do someday hope to see my life story on Broadway as a musical. I'd love to have a cosmetic line. As far as a bucket list, I think I do pretty much what I want—just takes a lot of time sometimes.
What's your secret to staying young?
Good doctor, good lighting, good makeup and a good attitude.