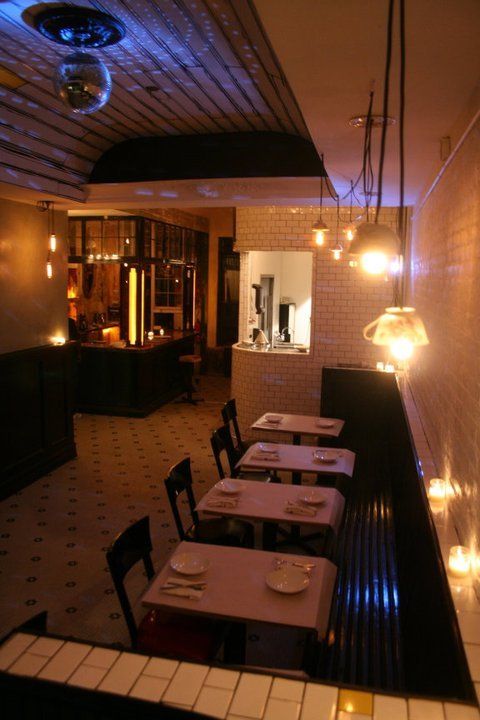 In the past year, bars and restaurants have proliferated in the formerly desolate Bedford-Stuyvesant. Though brimming with Caribbean kitchens and greasy spoons, the brownstone-lined Brooklyn neighborhood has long wanted for more fresh food and entrepreneurial ventures.
Do or Dine
, a restaurant with a charming air of ramshackle chic, is one of these pioneers, proclaiming on
Facebook
, "We got tired of stumbling home drunk and eating bodega food and crown fried chicken." A brightly colored yellow and green awning marked 'B's' (remnants of the previous establishment) may trick some wanderers into assuming the space is just another fried chicken joint, but a peek inside reveals weirdly rotating red disco lights and a pueblo-style tiled kitchen jutting out into the dining room. Service is friendly though nonchalant and the space has a feeling of DIY impermanence like an amicable cooperative effort. The menu stands as Do or Dine's mission statement to the world: quirky, silly and inventively un-serious. The Et Tu Brute ($10) is a full heart of grilled romaine skewered a bit awkwardly with a steak knife. An oversized plate of perfectly charred shishito peppers ($7) came with dabs of pastel-colored salts including hickory and yuzu. Sea bass, also laced with yuzu, was impeccably cooked and cleverly christened "A Fish and Some Chips" ($16). Dessert presents a smattering of high-and-lowbrow options: "A Snickers bar, locally sourced from the bodega," and a
controversially received foie gras doughnut
($11)  made in collaboration with Bed-Stuy donut company,
Dough
. Also brilliant, though a bit bewildering, were reimagined chips and salsa consisting of corn chip praline embedded within sour cream ice cream alongside lime sorbet, which exactly encapsulates what Do or Dine is after.
Do or Dine
1108 Bedford Ave.
Bedford-Stuyvesant, Brooklyn
(718) 684-2290