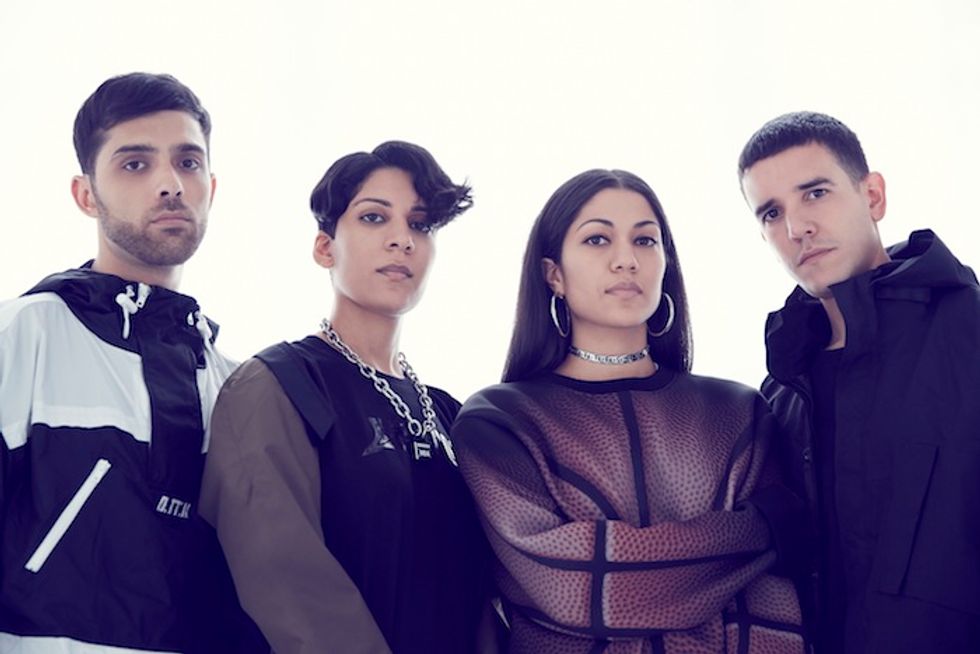 Future Brown. L-R: J-Cush, Fatima Al Qadiri, Asma Maroof and Daniel Pineda. (Photo by Benjamin Alexander Huseby)
Like their name, Future Brown's music is hard to define. If you want to try, you might start by pointing to their dark, multi-layered productions, a mix of club-meets-grime-meets-hip-hop that provides a lush backdrop for artists like Maluca, Tink and 3D Na'Tee to sing and rap over. It's a project rooted in fusion, one that blends the disparate sounds and interests of its four members, solo artist
Fatima Al Qadiri
, J-Cush of the label Lit City Trax, and Asma Maroof and Daniel Pineda of the electronic duo Nguzunguzu, and which they describe as a union of "many moving parts." They're also, incidentally, some of the best-dressed producers in the biz. Ahead of the release of their self-titled debut album on February 2
3
(Warp Records), we chatted with the foursome about their name, their new album and why they're not big on jeans.
How did you four come together as a group?
J-Cush:
We all pretty much met through music in New York. We were going to and playing parties together and realized there were a lot of mutual interests, and we were showing each other a lot of different stuff we weren't aware of. We just became close friends, and then a few years later we decided that we wanted to start working together.
Were there any difficulties in switching from individual projects over to a group setting?

J-Cush:
We were all in different places more or less. So making the time to be in the same studio...
Fatima Al Qadiri:
Yeah, scheduling is quite daunting just to figure out where to perform. We're all performers, so we're all trying to find the best place to meet and work -- I guess that's the hardest part. But the amazing part is just how quickly things can get done with four people working together. For the most part, we wrote the entirety of the instrumentals for this record in a month. 
How did you decide which vocalists to work with on the new album?

Daniel Pineda:
We
made a long list of people we were fans of, and then as we were working we got more ideas about who we wanted to work with, or what tracks would be good for different people. We just kind of kept the conversation going and then reached out to people and let it grow organically from there.
You've described your name, Future Brown, as stemming from the concept of something artificial that doesn't exist in nature. What does that mean in terms of your sound?
Al Qadiri:
I think it mostly has to do with not labeling something or not defining something, because "future brown" is a color that can't be defined, you know? So I think that's the closest analogy to our music -- that it's not going to be placed in a certain box.
J-Cush:
You can try and talk about what it is or what Future Brown is, but it's never going to come out right.
Al Qadiri:
Yeah. It's not something that's easily definable. And we don't want it to be defined either.
You guys have done a show at MoMA's PS1 and you've worked with the Pérez Art Museum in Miami. Are you influenced at all by what's happened in the art world?J-Cush:
There's some crossover, but our music is happening independently of the art world. We're getting brought into the art world as a project to explore with visual and musical themes.
Al Qadiri:
Yeah, I think our artistic collaborators are primarily DIS Magazine and Hood By Air...Our album cover was designed by DIS. We've worked with them from the inception -- both our inception and their inception. 
J-Cush:
They're good friends. They've been valuable to bounce ideas off of, to create this aesthetic for us and our mutual ideas. They're a group of forward thinkers who are really just screwing with the whole formula and doing things their way. We love them. They're amazing people and really just brilliant minds, so it's exciting to work with them.  

What about the fashion world? I often see photos of you wearing labels like Hood By Air or Telfar. How important is fashion to you guys and does style have any influence over your music or vice versa?
Al Qadiri:
I don't know. I feel like the designers of those labels are our old friends, you know? We're just fans of sportswear and have been for a long time.
Pineda:
But fashion goes hand in hand with music. I don't dwell on it personally, like whether my fashion relates to the music I'm making --
Al Qadiri:
Yeah, I don't think any of us really think about that...
J-Cush:
I think we all prefer comfort and are all slowly forgetting how to wear stuff with waistbands. I can't remember the last time I put on a pair of jeans...
Al Qadiri:
I haven't worn jeans for years.
J-Cush:
Asma has sweatpants that are printed jeans. We're finding solutions to the denim discomfort.
Al Qadiri:
Yeah, I guess that's our style.
Pineda:
I just bought a pair of jeans.
Al Qadiri:
Oh, you did?
J-Cush:
Well, yeah, Daniel's like super good with the denim. He knows how to wear denim. He rocks his shit comfy.
Pineda:
You can hear that in my sound. The denim that you hear.
J-Cush:
Yeah it's hard, tough, and crunchy.
Future Brown
comes out via Warp on February 23.
You May Also Like