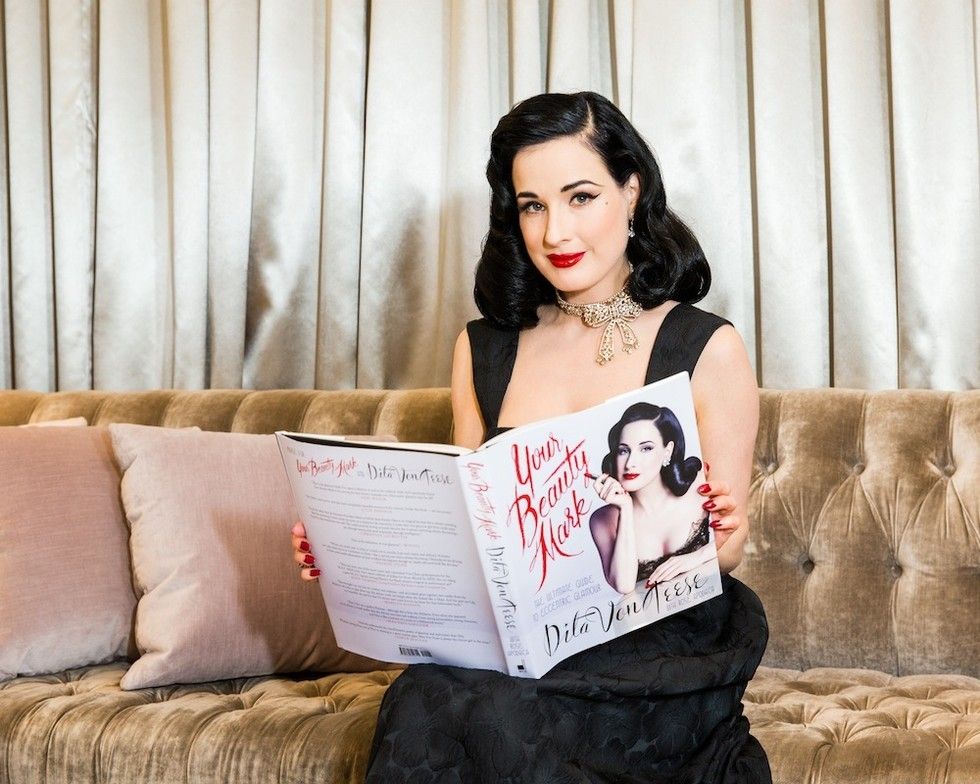 Photo by Benjamin Lozovsky/BFA.com

Dita Von Teese transformed herself from a Midwestern blonde with freckles to a noir femme fatale and is ready to give advice to others in search of a beauty transformation, both big and small. On the phone from her Los Feliz mansion, the 43-year-old burlesque dancer, actress, author and entrepreneur (she has her own line of sunglasses and a lingerie collection) is giggling as she spills the details of her Your Beauty Mark, a tell-all beauty bible written in collaboration with writer/editor/designer and longtime Paper friend, Rose Apodaca and out Dec. 1. The 400-page illustrated guide covers hair and makeup looks, as well as nutrition and exercise tips, which Teese defines as "enhancing your individual gifts to realize your own beauty mark."
Filled with tons of racy photo shoots, as well as drawings by illustrator Adele Mildred, the tell-all book dishes on dying your pubes green, trimming your nipple hair, the best kind of bath salts and what she learned about bras working retail in a lingerie store. Von Teese also explains how to get a glamorous makeup look quickly (even if you're running out the door), the magic of foundation powder, and when to add rouge to your nipples. While most books on the beauty market urge women to stay natural, she turns that rule upside down. "I think this is a book for people who dare to be different, who aren't necessarily trying to fit in, and that like to embrace glamour," she says. Her previous books include a historical guide to burlesque and a picture book on stripping and the burlesque dancer's fashion bona fides include walking the Jean Paul Gaultier runway and teaming up with MAC on a lipstick color, which will be out December 9th. We had the chance to chat with the woman who wore a purple dress to her wedding and wears red lips with black liner to hear her thoughts on dealing with haters, staying pale and how it all started with the Golden Age of Hollywood.
How did you arrive at this rule-breaking beauty bible? It's very different from your other books.
Oh yes, it is. It evolved into a totally different book than what I intended to make. I started writing a book with Rose Apodaca five years ago and it evolved into a better book than it would have been earlier. I've also evolved as a person.
What did you want the book to be like?
I wanted it to be autobiographical and to be filled with inspiration from modern and historical beauty icons. And different perspectives on beauty! Not just my own. I talked to other people who have a different point of view and had them tell their stories. I wanted to look at different professions related to glamour, the unusual and the exquisite. It's about people who create -- it's not about natural beauty.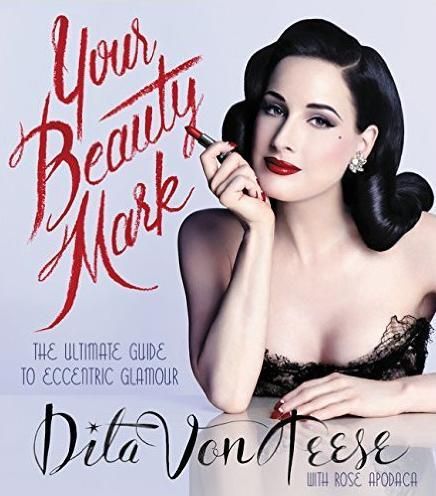 It seems there needs to be a rule-breaking beauty bible that goes against "the natural look" that so many women obey without questioning.
There are a lot of beauty books who tell you to do a natural look or tell you what not to do -- they tell you how to look pretty or younger. Not everyone wants to look like a teenager or like everyone else. There are other references and my book is about that.
Where did this interest in beauty start for you?
When I was a little girl, I was obsessed with Hollywood glamour. I wanted to be like those ladies. I've never lost that obsession. Sometimes when people see me without makeup, they say I look so much younger. I always wanted to be a woman and a lady, not a girl. Natural beauty is held in high esteem but what's more interesting is people who turn themselves into birds of paradise.
One of the fabulous old ladies in the book you interview is 84-year-old model Carmen Dell'Orefice, why did you choose her?
I love great ladies who have incredible pearls of wisdom and experience, those who tell it like it is. They don't have anyone they want to impress -- they don't care anymore. Carmen is a goddess, beautiful and inspiring. Her section in the book is one of my favorites. She offers insight on the topic of cosmetic surgery.
Is the book mainly about balls-bearing honesty, then?
I think so. But it's hard to get to that point where you can be that way. When you're younger, you're concerned what people think. Slowly but surely, you can make your way up in confidence and not be influenced by what people think and their opinions. I love being around women like that!
You tell the reader that choosing your own "beauty mark" is not always choosing your most obvious feature. Can you talk more about that advice?
Yes. In the book, some people were ridiculed for having things that weren't the norm. It's about celebrating what makes you different. It can be anything. For me, when I was young, I thought I should get a tan because I was blonde and in California. But I was so pale. Then I went to the extreme and let my skin be as pale as it wants to be and made that my thing. It worked!
Do you feel more accepted now?
It has become easier, for sure. There are still things I get made fun of. I don't mind it -- I look at it as a compliment when I see where it's coming from. It's great they have a low opinion of what I do or they don't understand it or think it's weird.
Where did "eccentric glamour" come from?
Simon Doonan coined the phrase "eccentric glamour" -- he wrote a book called Eccentric Glamour: Creating An Insanely More Fabulous You. I was in the book and fell in love with eccentric glamour. I'm inspired by him. I hope it will become a common phrase!
Your waistline is 24 inches, is there a trick with corsets?
I do still have a 24" waistline [laughs]. I do a lot of Pilates. Mr. Pearl, the corset-maker, told me I am lucky to have a pliable waistline. I'm made for them. A corset can be beautiful on any shape; I'm not quick to endorse them because it's not a substitute for eating well and exercise, but it can be an extra for what it does for your posture and silhouette. It's like wearing high heels -- it's discipline. It's not the easiest thing, but it changes your body shape for the time being.
What moments are highlights in your journey to individuality?
It's baby steps, really. From my first tube of red lipstick to the time I had courage to dye my hair black for the first time -- it has really been 25 years of evolution. It felt good when there was a point in my career where people started using my name to describe a certain look, whether it's a hairstyle or makeup. That makes me feel like I did something.
Get a copy of Dita Von Teese's Your Beauty Mark here.