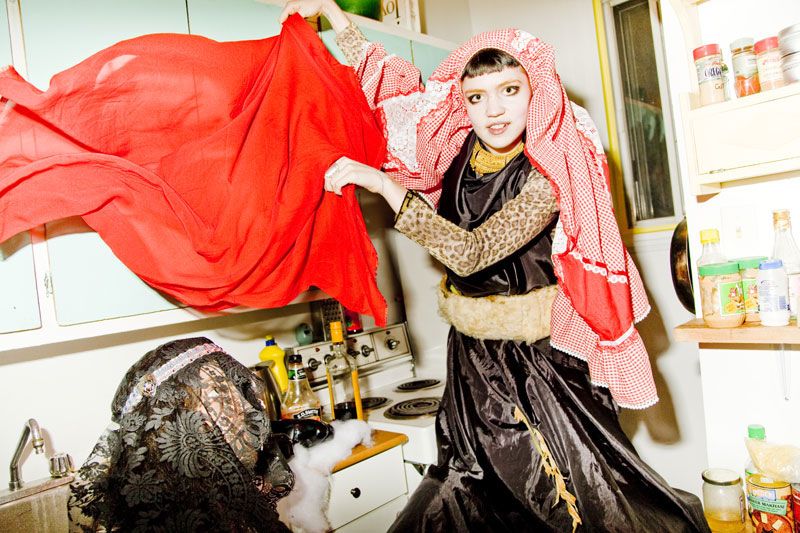 What's there to say about
Grimes
? Born in Vancouver and raised in Montreal, 22-year-old
Claire Boucher
makes sample-heavy, psychedelic and addictive glo-fi in the same vein as one-woman bands like Lauren Halo and Sleep ∞ Over. Already acclaimed thanks to her ethereal
Geidi Primes
EP, as well as her recently released 12"
Darkbloom
(a collab with comrade and fellow Canuck
d'Eon
) and a recent tour with the musically like-minded
Lykke Li
, the think-pop princess is on her way to becoming an indie phenom. Want more proof? We had a chance to chat with Grimes recently (as she preps for her show tomorrow at
PS1
's Warm Up party) about her gear, her style and her start. Check it out!  
What did you listen to growing up, and how has that changed over time?
I listened to a lot of stupid, neo-goth shit. Marilyn Manson, NIN -- [well, they're] actually still a sick band. But growing up, I've gotten a lot more into beauty in music. I used to only listen to music if it was intense and angry, and I've been slowly moving away from that. 
Did you have a job before you were a full-time musician?
I've had many jobs, but the most recent one I had before I quit was inking comic books. 
How do you go about picking a team for your music videos?
Well, I always work with John Londono as director of photography because he's crazy and amazing -- the best in Montreal -- and I trust him completely.  As for people, I usually just put the word out to my friends and take whoever shows up.
You work with a lot of technology in your music -- when did that start, and was it something you learned on your own?
It started when my friend Alex Cowan (of Blue Hawaii) showed me how to use GarageBand. That was a couple years ago now, but I've become a bit more fluent since, and I don't need somebody to show me everything anymore. 
What's your writing process?
I always work in extremes; so it's going to be black or white, never grey. I'm always the happiest when I'm the most depressed...or something. I feel like that translates. But I tend to just write when I feel like I need to--I pretty much use it as therapy, as cheesy as that sounds.
Who do you hope to work with in the coming years?
God, so many people.  I would love to work with Holy Other, Clams Casino, Shabazz Palaces or Pictureplane. I want to work with a lot of filmmakers too. 
What do you want your music to do for its listener?
Well, I have my ideas of what it's best for. I mean, I just want somebody to feel something when they hear it, and to maybe be able to remove themselves from its cultural relevance or something. Just hear it as something moving and extremely emotional.
Grimes plays Warm Up tomorrow at PS1, 22-25 Jackson Ave., Long Island City, Queens, with the Juan Maclean, Blood Orange, Solange, Pictureplane and Ford & Lopatin. $15. 2 p.m.
Photo: Sada Ha