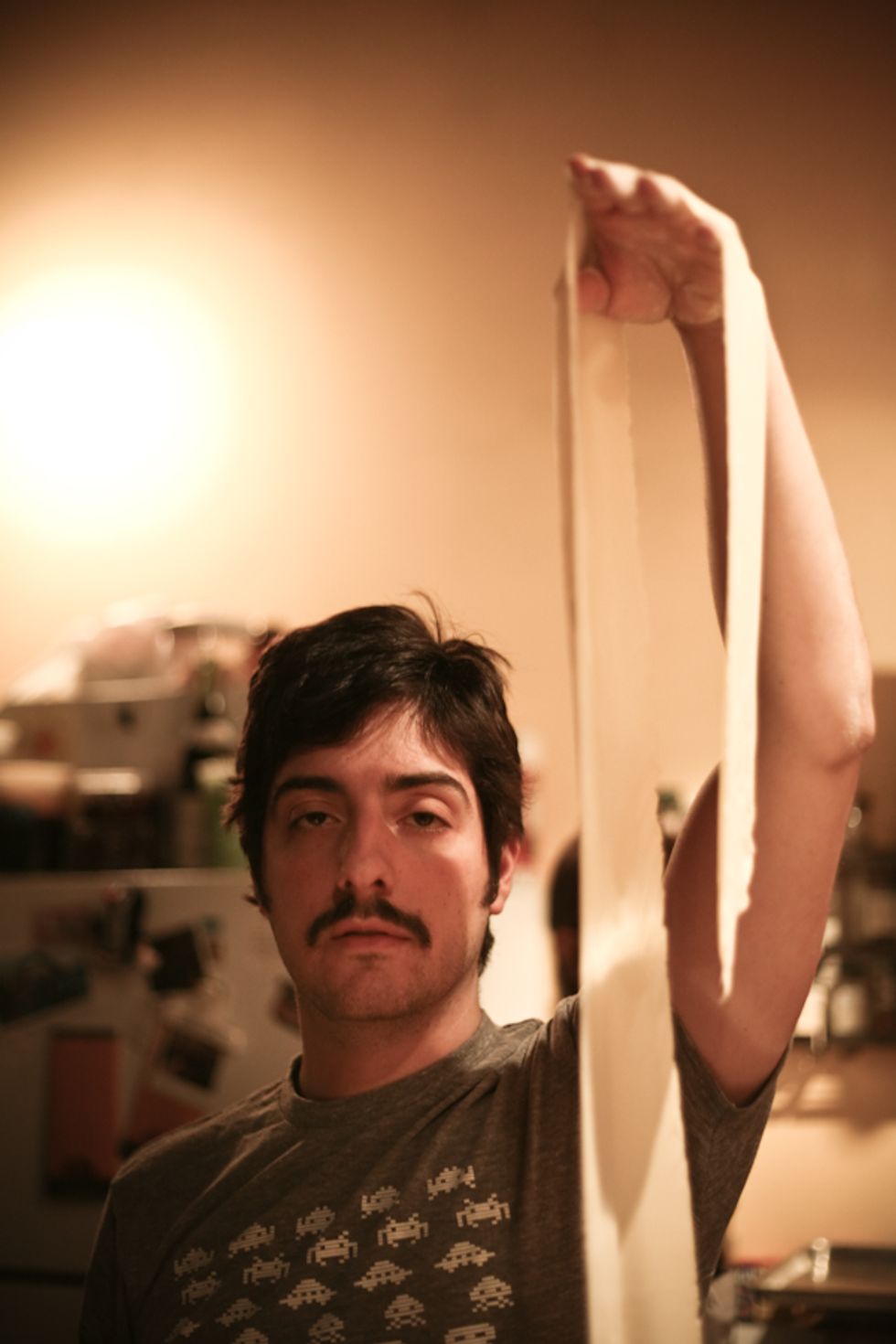 Michael Cirino
, of the Brooklyn-based underground dinner party group
A Razor, A Shiny Knife
says every kitchen should have a sharp knife and sharpening stones. He also believes everyone should own a vacuum chamber. His cost $4700. It's a tall order, Cirino realizes, but a "wildly useful" tool that's essential to the ambitious, re-invented, deconstructed food he and ARASK make. This weekend, they're contributing to the
Storefront for Art and Architecture
's exhibit "
Landscapes of Quarantine
" -- in which 18 artists examine quarantine as it relates to space, design and architecture -- with
the Quarantine Banquets
, two six-course dinners that will incorporate themes of disease, infection, and disinfection. Cirino says that guests might need to re-assess their ideas of culinary aesthetics before RSVPing. 
"People eat with their eyes, especially in America," Cirino says. "We did a dinner series in London last year called the Black Banquets, where all the food we served was void of color. One of the major focuses of that was not to create unappetizing food, but to create food that didn't look like food you were used to. When you got the plate set in front of you, it looked gorgeous, but it didn't look recognizable or like anything that would instinctively make you say 'I can eat this.'"
ARASK, who offer cooking tutorials and demonstrations before everyone sits down to eat, also bring a theatric flair to every event -- Cirino is still debating whether waiters at the event will wear white painter's suits from Home Depot for "a little lab look." Here, he gives PAPERMAG a  run-down of what to expect from the Quarantine's Banquet's first three courses.
Course one: Steelhead trout roe, juniper, citrus, Angelica, licorice
"Without giving too much away, the first dish is a gelée that is set into a petri dish. It replicates an infection. We're creating this sort of decomposed gin where the sweetness of the cucumber flavor, juniper berry, citrus, and Angelica will all be blended with saltiness of the trout roe. It's going to be topped with what looks like mold. When you eat it, you'll think 'This is a disease that I'm ingesting,' But it's going to have the flavoring of a glass of gin with a little caviar in it. The accompanying citrus cocktail is going to be served in test tubes."

Course two: hirame, tonshi, so-su, yasai
"This will basically be sashimi topped with cured pork fat that's lightly flamed with a torch and melted over the white fish -- we haven't decided if it's going to be halibut, escolar or fluke -- and then quick-seared to the fish so that it melts and becomes like butter. We're going to smoke the fish to order with cherry wood. When you get the dish, the smoke will be encompassing the food. The idea there was that back in the 1700 or 1800s, they used smoke to dis-infect mail as it traveled around the British empire. The first course is your infection, the second course is your disinfection."

Course three: 24-day-dry-aged rib steak, potatoes, spinach, blue cheese, tomatoes, lettuces, bacon
 This course is the exact kind of thing you'd expect to get at a steak house, with our own spin on mashed potatoes and creamed spinach. But the drying process is where we'll give a different interpretation of quarantine. We'll bring the dry-aged beef onto the site and butcher it there, so that people can see what it looks like before it's presented for service. It looks disgusting. It's been dried for 24 days, until it gets a certain consistency. Kind of like the same process as Parmesan cheese. Or cured ham. That aging period, that period of seclusion in a very specific temperature and humidity. is what makes the food as good as it's supposed to be. It's what makes Parmesan better than other cheese, this beef better than other beef."

The Quarantine Banquets are April 10th and 11th. Tickets are $152 and must be purchased three hours before the event.