Zachary Cole Smith is running about thirty minutes late. He's jetting off to Australia tomorrow for work and needed to finish a few last-minute errands before meeting me at Williamsburg's Roebling Tea Room. When he gets to the restaurant, he perches by the window, seeming to appreciate a few quiet moments sipping tea and discussing the successes –- and setbacks –- of his band DIIV. Last Friday saw the release of their sophomore album Is the Is Are, a title fans and critics have trouble wrapping their minds around, a reaction not too dissimilar from the one everyone had back in 2013 when Smith and his girlfriend, Sky Ferreira, were arrested in upstate New York for drug possession (Smith was found with heroin and Ferreira had ecstasy), after having gotten pulled over for a series of "vehicle traffic infractions," according to the police report. When we sit down to discuss the new album, Smith wastes no time pretending I don't know about the incident two and a half years ago.
"After we got arrested, a lot of people thought oh, he's just a flash in the pan -- he's no talent, blah blah blah," he says. "It was really important for me to make something of substance because I wanted to prove myself, you know? I didn't want to spend my life as a footnote, like, 'The guy who got arrested with Sky Ferreira.'" He goes on to speak of the pressure that came with making a sophomore album, something he felt not only due to the unfair amount of bad press he's received, but also because of the success of his first album, 2012's Oshin. "The number of bands that had a successful first record and then had an even more successful second record, like indie, kinda buzzy bands like us…you can count them on one hand."
After the server checks on our table, Smith mentions how much he loves the restaurant, and especially their kale dish. He's been a vegan for ten years and loves to cook, a skill he picked up as a young child. Born in New York, he grew up in Connecticut with a single mother who worked in retail, six days a week, ten hours a day. "She just had no time to cook, and every day when she got home, it would already be like seven, and school started so early…. so I learned to cook really young." The 31 year-old speaks of his mother with such affection and warmth, that it's hard to picture him as the "bad boy," the media has so forcefully made him out to be. The way he talks about his new album, music in general, and of course Ferreira, are equally warm.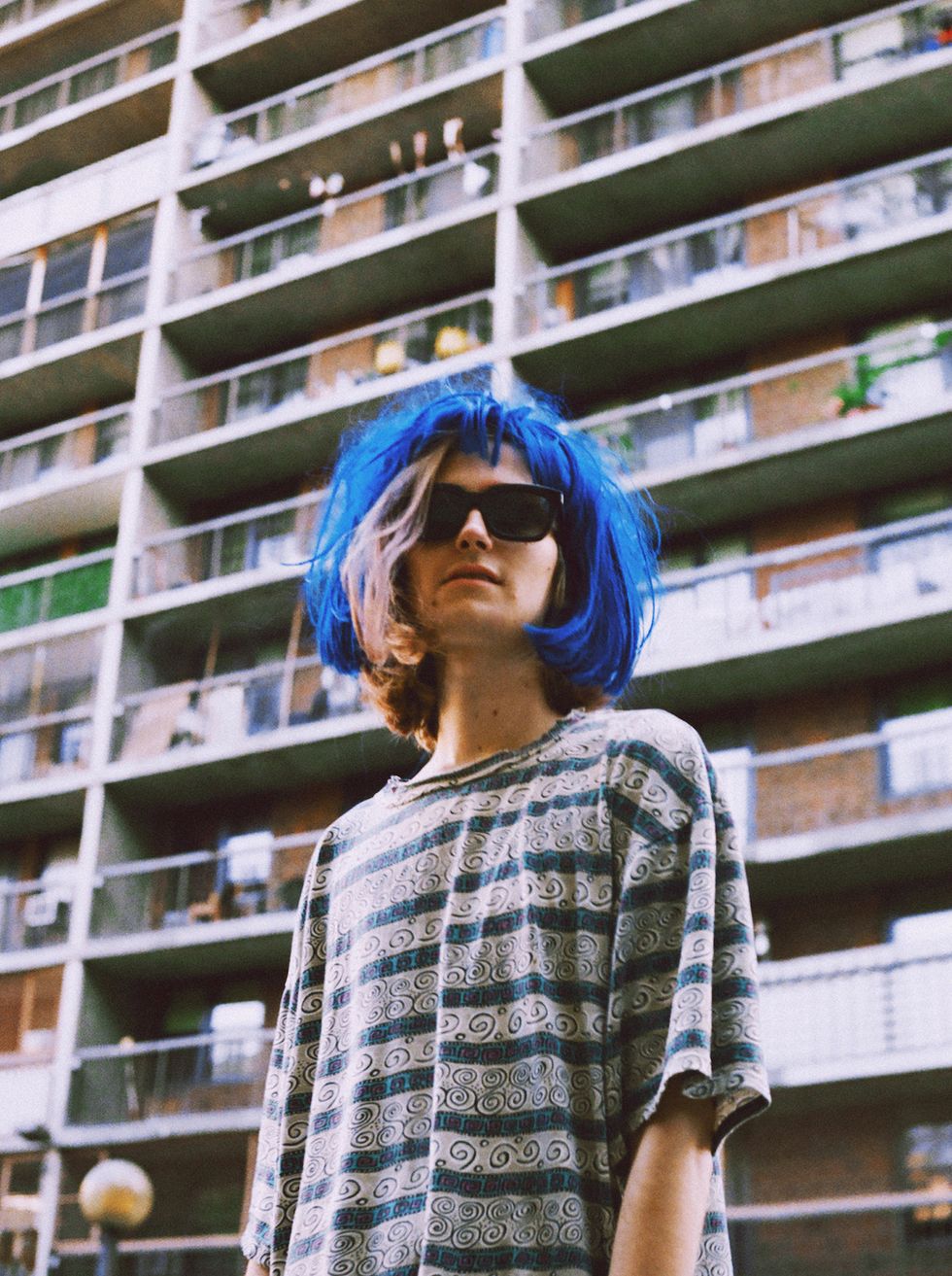 The couple lives down the street from where we're meeting, although they have plans to move soon. "It's just too expensive and we can't afford it at all," Smith explains, refreshingly realistic about the amount of money that actually follows his level of fame. He and Ferreira moved into the apartment together site unseen -- they'd actually been in Paris when they hired a woman to apartment hunt for them. "I just wanted something where I can work, crash, and that's it. And like, keep my stuff, which I don't even have that much of." For a guy who's played muse for fashion designers like Hedi Slimane (he modeled in Slimane's Saint Laurent Fall 2013 campaign) and posed for Terry Richardson, Smith's detachment from material wealth is surprising, but nevertheless seems authentic.
Authenticity remains a staple throughout the conversation. When discussing album track "Blue Boredom," which features Ferreira on vocals, Smith explains, "I told her exactly what to sing, but she gave it her own inflection and this really sexy quality to the song." He chooses his words carefully and lovingly while speaking about his counterpart. "Her voice has this super…authoritative quality. There's something that's not domineering, not assertive, but forceful. She's a woman with a strong voice." Despite having met when they collaborated on a song a few years back, a song that never did (and likely never will) see the light of day, this is the first time in years the two have worked together in any official sense. "We would mess around with stuff but it just seemed like our writing processes were too similar to each other. We both can come up with these nuggets of melody lines, and then fleshing them out for both of us is the hard part."
While he speaks about music -- which, on the album, consists of subdued, layered guitar runs, full-bodied (and sometimes unintelligible) vocals, and gentle percussion -- Smith plays with his tea filter, boyishly testing its ability to stick to the frozen window. It's a moment indicative of his playful nature and innate curiosity, qualities that are useful as a musician but harmful for an addict. He seems to have achieved a healthy perspective on his demons, however, and the changes he's made to his lifestyle appear to suit him and his art. "I felt like there's such a paradox of…when you're really far gone on drugs, you can be feeling pretty good," he says. "All your needs are taken care of. You're maybe blissed out and just kind of oblivious. The irony of it is that getting better and recovering is one of the most painful experiences you can go through."
His stint in rehab, along with his artistic perfectionism, led to a time that the band's Wiki page refers to as "a lengthy and troubled gestation period." The stretch was formative for Smith. "When I was in rehab, I was reading Michael Azerrad's book Come as You Are, and I was thinking a lot about Kurt Cobain right before he died." Actually, Smith thinks about Cobain quite often -- the band's name comes from a Nirvana song, and their Instagram is filled with images of the deceased icon. He and Ferreira are often compared to Cobain and Courtney Love, which they don't seem to shy away from.
"Cobain jumped over the fence and escaped rehab. It's so sad because you know, you can just check yourself out, but he was so ashamed and so embarrassed that he felt he needed to escape. To me, that really showed the tragic human side of the experience, and right before his death, too. It just showed a person with no options and no support system." He continues, "Seeing the human side of that, I really empathized with this person who the media said so much shit about."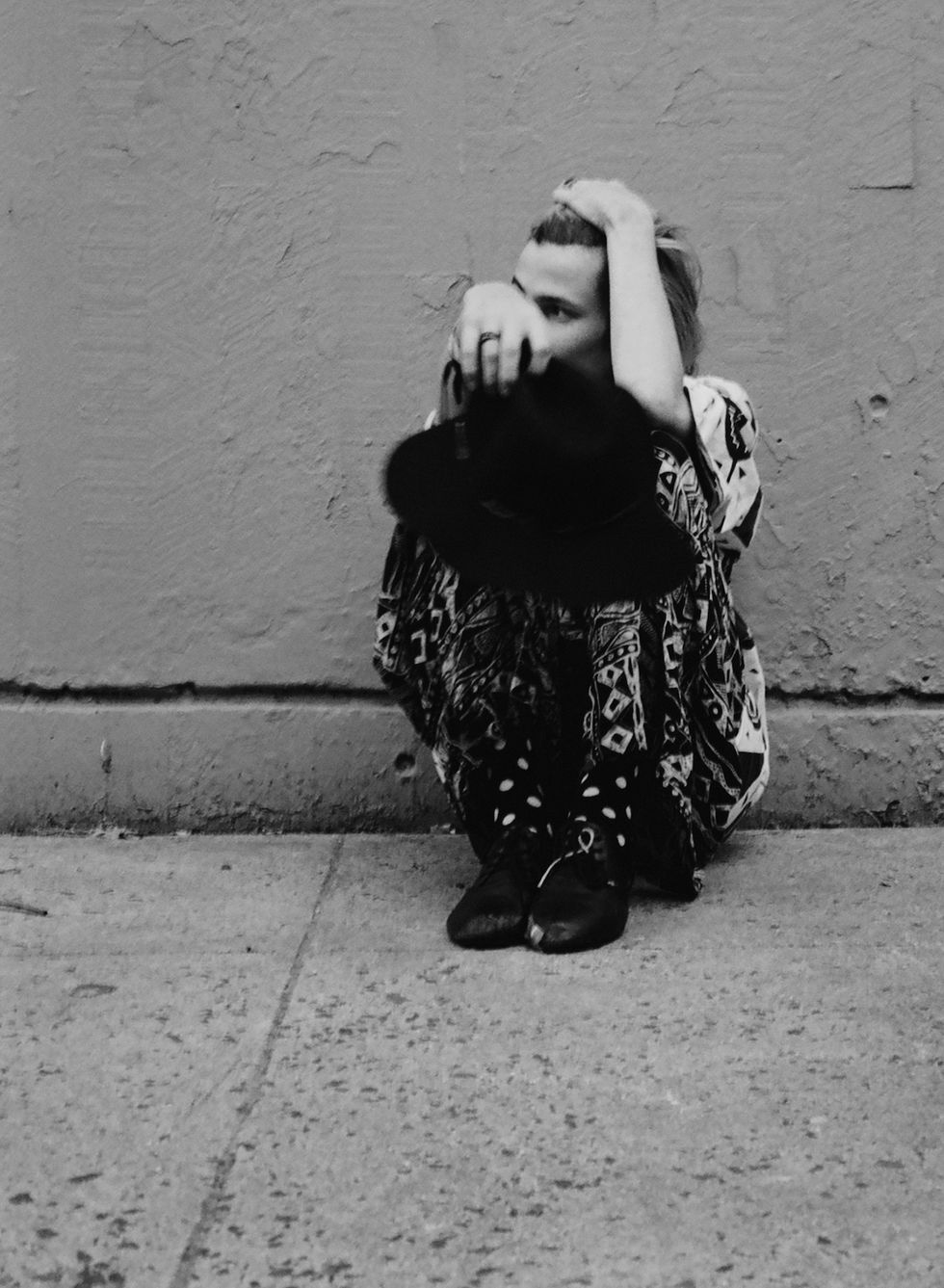 Cobain isn't the only artist to which Cole pays homage. When discussing an article that stated that the band has produced more trouble than music, I remind Cole of the 250 or so unreleased demos he's created in the past two years. "I'm not like Elliot Smith, where somebody's going to discover a tape reel with thirty fully fleshed-out songs," he explains. "There are just 250 minute-long scraps of guitars, bass, vocals and drum parts." He talks about Smith's album From a Basement On The Hill. "He'd really been to the way bottom, and the imagery and a lot of the lyrics on that record are unfathomably intense."
Is the Is Are also carries a great deal of intensity. "The lyrics are extremely plain, extremely straightforward, and anything that you wanted to know about, you can probably hear me talk about. I wanted to empower myself by trying to own our arrest and make it something that I could work off of." With that said, he wants people to hear the music, and fears scaring anyone off by carrying too dark of an undertone. "The whole record isn't some crazy drug narrative, even though in a way I wanted it to be that," he explains. "I wanted it to be a record that people could see as a cautionary tale. If I can take the glamour out of drugs and music just a little bit, then I think it's doing something important."
Listening to Is the Is Are, there's a wonderful evolution from Oshin -- the lyrics are more poignant and much clearer, perhaps due to the singer's newfound, clearer focus. At the same time, DIIV maintains their knack for serene, lo-fi rock that makes their sound distinct from the overabundance of noisy garage bands also hailing from Brooklyn. Listeners will hear the calm, tea-sipping Smith rather than the notorious "bad boy" the media has created. As it's time to leave, Smith makes sure to add a few more final thoughts about his evolution. "I'm a really sensitive person," he says. "I feel my emotions really strongly, and putting that in a record that people can relate to and empathize with is ultimately my intention." He takes a moment to ponder his last thought, half-heartedly calling an Uber to his next destination. "All I want to tell people is I'm a person, just like you. The only difference between you and me are the choices that we made. There's nothing else."
All photos by Zachary Chick

Get a copy of Is the Is Are HERE