In our 'Girl Crush' series, women with mutual admiration for one another get together for conversations that offer illuminating looks into what it's like to be a woman right now.
When Diane von Furstenberg designed her wrap dress in 1974, fashion was never the same again. You could make a similar statement about Leandra Medine, who launched her blog, Man Repeller, in 2010 and helped usher in a new way to analyze, synthesize and report on fashion. Whether it was creating a breezy, day-to-night jersey dress or writing hilarious meditations on wearing sweaters as scarves, both of these women are pioneers when it comes to making fashion accessible, honest and fun. The two sat down together to discuss fearlessness, vulnerability, and the importance of spending time alone.
When did you first meet?
Leandra Medine: Diane and I met in September when Man Repeller was filming an episode of her for the Chatroom, which is an interview video [series] with iconic women, or women who are on the brink of iconism, talking about what makes being a woman so incredible.
Diane Von Furstenberg: When I met Leandra, I already knew who she was, but I didn't know much about her. The first time we met, the minute I sat down and I was across from her, she looked very stylish, but what impressed me the most about her was that she had absolutely no makeup. That is clearly a statement on its own. She reminded me of me when I was young. I assumed [she had] the same kind of education and she was just a nice Jewish girl, so I related very much to her.
What's interesting about her generation [and age] is that for me, my most important years were the years between 20-29. By the time I was 24, I was married with two children, moved to America and started a business. By the time I was 28, I was separated, on the cover of Newsweek, and at the peak of my success. They were the beginning and everything after that was a repeat. We are many years apart, but everything these days is about the Millennials and I identify with that generation. I was doing social media before there was social media.
When I was a young girl, I didn't know what I wanted to do, but I did know the kind of woman I wanted to be. I wanted to be independent, not take any money from anybody and somehow have a man's life in a woman's body. It wasn't about getting married, it was about being in control. I ended up getting married, but that's because I was pregnant. When you're at the beginning of your life, you have all these doors and you don't know which is going to be your door. My door ended up being fashion, and then I had this huge success with this tiny little dress that was nothing. It didn't look like anything that was around. It started as a t-shirt, and then it was wrapped up, then became a wrap dress and then that became unbelievable. Because of that success, I was gaining confidence. I was sharing my own thing until that dress became the thing.
My salesmen pushed me and so I was traveling all around America in a tiny little dress and high heels, going to these cities and I had no idea where they were. I used myself because I had to, or else I would have gotten stereotyped -- "who is this European princess selling an expensive little dress?" -- they would have put me in a box. I felt, "I can't let them decide who I am, I have to do it myself." By doing it myself, I used myself to express what I felt and I created a brand. This generation and the generation of social media is that. Everybody has a voice and everybody can create a brand. But forget about the brand, it's about being able to express yourself. If you do it authentically and you do it honestly, people will realize that. What I like about social media and its response is that authenticity works, even for Donald Trump, who is authentic to himself. I practiced that early on, as a defense really.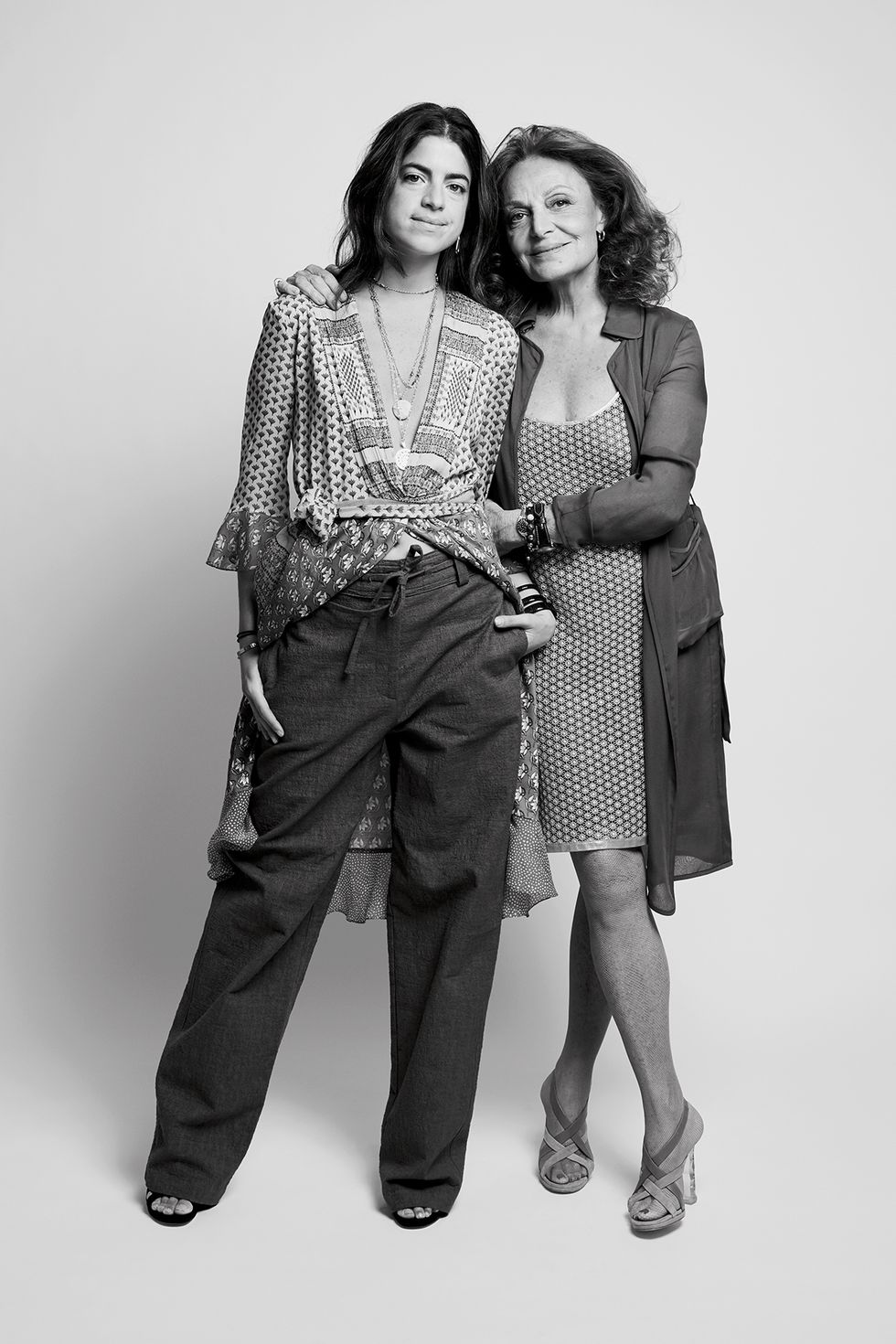 Photo by Kate Owen

Medine: It's so interesting that you're sharing this anecdote about how this little dress gave you confidence. For anyone with success, there's a euphemism for the dress in the equation. My version of the wrap dress is my opinion. Putting my opinion out there, and seeing validation gives me confidence. To feel like my opinion was helping people through something became a huge source of pride and confidence for me.
When we met, I remember it was an extremely overwhelming day for me. It was two days before Fashion Week and I had promised to style my friend's Fashion Week presentation and my plate was just so full. I was really stressed out and coming here became this respite for my day. To come to DVF and to watch this well-oiled machine operating so seamlessly was so inspiring. Once we sat down to chat, I felt particularly vulnerable, and I try to maintain a certain level of vulnerability in conversations, that's something that I hold very dearly.
Furstenberg: Don't call it vulnerability -- call it intimacy.
Medine: The vulnerability is more authenticity. Let it all hang out there. So within the first five minutes after we sat down, I just started to feel so stimulated, because I felt so understood by someone who, to me, feels like a proof of concept. If you work hard, you're honest, you trust your gut and you believe in yourself , which is the big one --
Furstenberg: I have to interrupt. I'm 69 years old and some days I wake up and I feel like a total loser.
Medine: Still?
Furstenberg: Yes. It's healthy, because unless you feel like a loser you won't go anywhere.
Medine: I was on the phone with my mother, as I was walking in, and the last thing I said to her on the phone was, "I don't know mom, I just feel like such a loser."
Furstenberg: What did your mom say?
Medine: She feels really sorry; she starts crying when she hears me speak like this.
Furstenberg: Really?
Medine: Yeah, because she looks at me and she says, "I'm so proud that you're my daughter because of what you've built and because of the way that people talk about you, and I just can't stand the way you talk about yourself."
Furstenberg: But that's normal.
Medine: And then she said, "Don't tell this to your husband, because that's offensive to him because he chose you."
Furstenberg: That's a good point.
Medine: It's so helpful to hear that all the time. Someone who is as powerful and has done as much [as you have] can wake up and feel that way also.
Furstenberg: I had breakfast with Anna Wintour and I said, "Do you ever feel like a loser?" and she said, "All the time."
How do you overcome those feelings?
Furstenberg: There is only one trick to have, which is to know that the most important relationship in life is the one you have with yourself. Once you have that, any other relationship is a plus and not the best. You can never be needy.
Medine: It really is true. I find that I'm so mean to myself sometimes.
Furstenberg: But that's fine, because you still like yourself.
Medine: That's the thing, sometimes I get lost. It's one thing to call yourself a loser and get out of bed, plow through it and keep going. And many days I can do that and those are the important days, those are the days that incite change. But when you let the negativity perpetuate itself, you're not doing anything but violating the relationship you have with yourself. If you don't love yourself the most, nobody will.
Furstenberg: That's right. You don't have to like everything. The point is you have to be able to smile at your shadow, wink in the mirror and say, "Hi, I'm here." It's so important.
How do you feel about being alone? It can be such a valuable time but, especially for women, there can be a sense that you ought to be around friends or significant others, surrounded by people, because it's those people that can help you feel your sense of worth. But to your points, it's so important to make sure that you know that you're worthy on your own.
Furstenberg: All the solution is you. You need strength? It's in you. You have the strength. The strength that we have is unbelievable. My mother survived Auschwitz when she was 22, and she weighed 49 pounds. She always said, "God saved me so I could give you life, and when I gave you life you brought my life back. You're my torch of freedom." That's what was put in my hands -- the flag of freedom, so it explains a lot of why I am like that.
Medine: Now that you ask, when I'm left by myself and I have some time to be alone, that's the time I have to recuperate and re-validate how I am feeling about myself. That's always when I feel like I'm being given an opportunity to really start to love myself again -- it's a really special time. I think that women think they're afraid to be alone, but they're conflating fear with discomfort. Dealing with that discomfort is so important.
Furstenberg: I have never met a woman who is not strong -- they don't exist; the strength is very often hidden. Whether because of a husband, a religion, a brother, or themselves, they don't want to show it, but then when a tragedy comes, the woman's strength comes out always. Bring your strength out before the tragedy.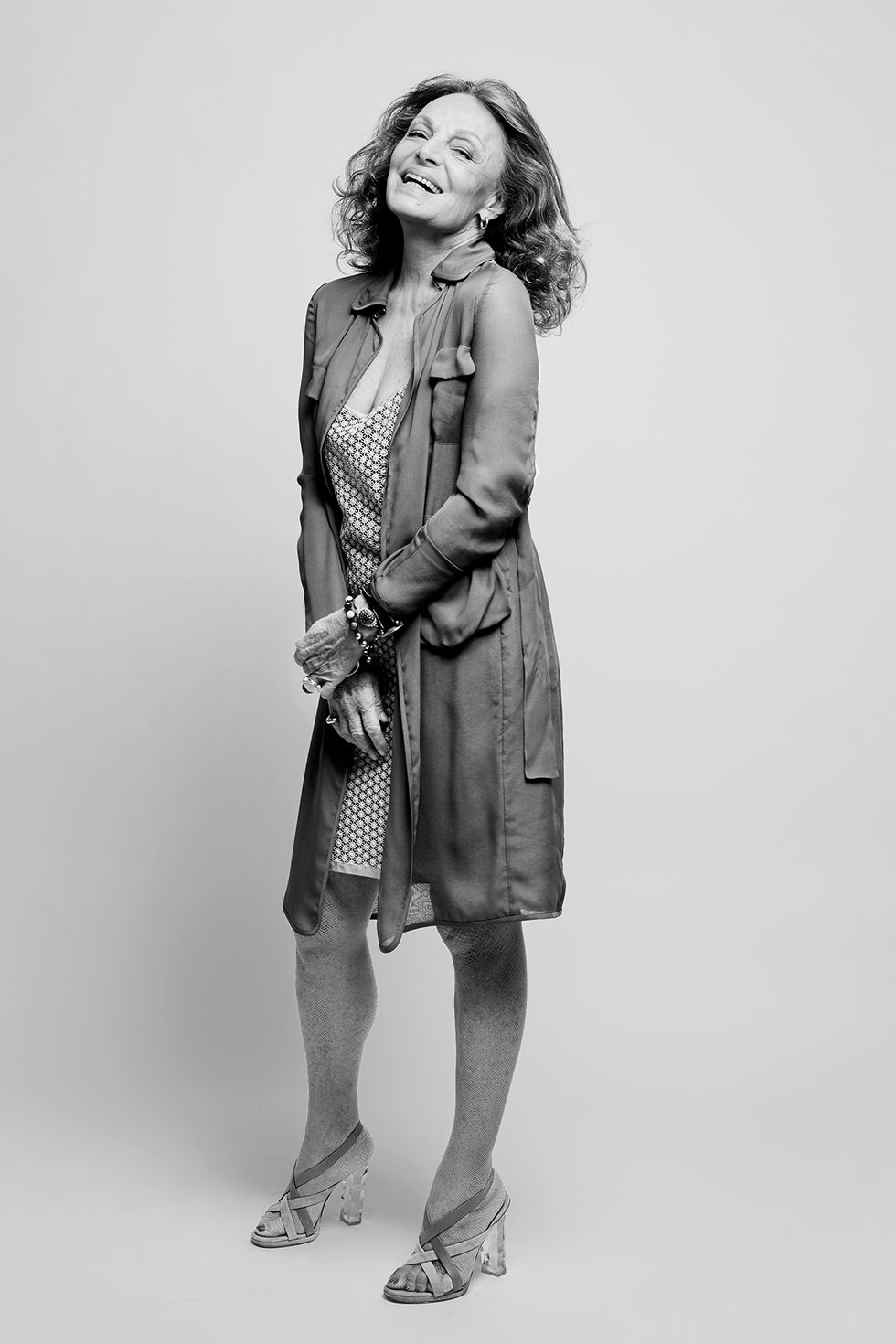 Photo by Kate Owen

Let's talk about the role fashion can play in helping women regain a sense of confidence, or remind them of their strength.
Medine: When you get dressed in the morning you're making a choice about what you're going to say without using words. If you're not thinking about it and just putting on whatever, that's still a choice. One of the reasons designers are so special for me is because what they're doing is imparting their ideas on the rest of us, and giving us an opportunity to wear them, and say whether or not we agree with the ideas or disagree with the ideas, or take the ideas and form our own opinions with them. I find fashion necessary to survive, it's my way of connecting with the world.
Furstenberg: Yet, if you don't know who Leandra is and you met her, you would think that she's the person least interested in fashion. Why? She wears fashion in a very individual and effortless way. It looks like she doesn't care at all. It's what I tried to say with the idea that she wore no makeup. I just thought that was so refreshing, and it was such a statement. I never thought fashion was that important, to tell you the truth. It is definitely the way you express yourself. I think my brand is -- or what I want it to be -- the friend in the closet. You wake up in the morning, your eyes are swollen, you have your period, and you're like, "Oh god, what do I wear, where am I going?" First thing you do is you think where you're going. According to where you're going, I think the first thing you decide are the shoes. The shoes have a lot to do with the attitude. If you're going out at night with a man, you will wear high-heels; if you go out with the girls or alone, you wear boots. How do you want to project yourself? If you're going in for a job interview, going in for a raise, you know you need the strength, like red [clothing] or whatever it is.
What were some of the best pieces of advice each of you received when you were starting your careers?
Medine: I remember about three years ago, a very successful building owner told me that I should "get out and have lunch with someone new everyday." I was like, "What terrible advice, I'm writing all day." Then I realized, in order to be able to write with perspective and to write authentically, you need to have communication with other people. I take that advice to heart now, but it took me a minute. It's really funny when advice seems really off at first and then it becomes the most crucial.
Furstenberg: The best advice was from my mother -- "fear is not an option." I was never allowed to be afraid.
Medine: That's very important advice, but it's very hard to internalize it if you're someone who has experienced fear, fear of rejection, fear of doing something wrong.
Furstenberg: Fear of rejection is ridiculous.
Medine: More and more people are experiencing or acting upon their fears. We're living through such a sanitary time right now where opinions are being scrubbed clean of what makes them controversial, because nobody wants to offend anyone else. In fashion, it feels like we are in the era of mediocrity, nobody is pushing themselves hard enough and far enough. The ideas are good enough, but they're not exploding from across the room. The numbers are higher than they have ever been and the industry is bigger than it has ever been and so there might be a little complacency there. From an editorial perspective, I'm like, "Give me a fad, make me roar. Give me something to talk about for longer than the next 200 words."
What do you think is driving the fear?
Medine: I think there's a profound lack of tolerance for a diverse offering of opinion. Nobody wants to say the wrong thing so as a result of that, they're self-censoring in a capacity that doesn't deserve to be self-censored. I'm not saying go become the next Donald Trump, I'm not saying shout racist things. But if you're the kind of person who's going to wake up every morning and ask yourself, "How is the world going to change because I lived in it?" you also have to be the kind of person who is fear-intolerant.
Furstenberg: Fearlessness is different than not feeling fear. Also, generosity is super important, and tolerance. It's all freedom really. Freedom is everything. To have freedom is the right to speak.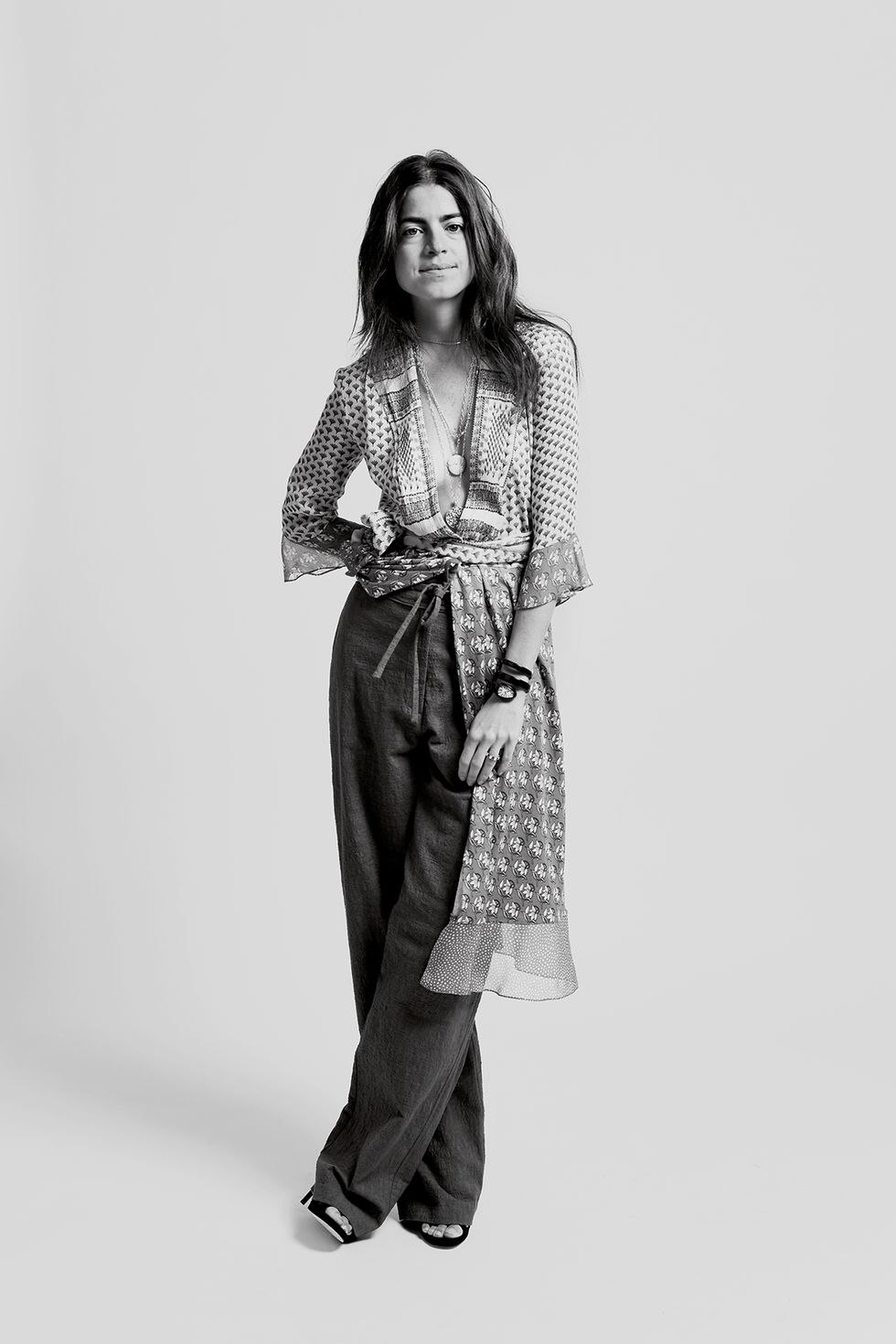 Photo by Kate Owen

What do you think needs to happen in fashion for people to get over their fears?
Medine: I think the CFDA (Council of Fashion Designers of America) is starting something; they just retained Boston Consulting Group to start recalibrating what Fashion Week is and what it's going to look like.
Furstenberg: Fashion used to be that designers work and then they have all the magazines and the buyers go see the collections and it was all very discreet and then later [the public] would be told about everything. Then social media came and everyone sees everything, so suddenly the consumers are completely confused, so that's what we need to address. You have to think about the way we live now: everything is being told [to consumers] right away, and that is the change. Instant gratification, instant information, instant everything…. We have to say, well I can't work that way. Maybe you can't do it all at once.
The last few years have seen a resurgence in women being more vocal about feminism. What role, if any, do you think the fashion industry has played in this?
Medine: The way that I see fashion playing into the larger narrative of feminism is that it's an industry for women, run by women, about women --
Furstenberg: And it gets rich on women.
Medine: Yes. It's also the entry point for a lot of women that lets you identify with a state of mind, a topic, and a movement that might seem a little alienating or polarizing. Specifically with the advent of fashion blogging, the fact that it could actually become an industry, whether you are someone who was in pursuit of intellectual stimulation or just someone who believes you have an opinion in clothing that deserved to be heard, a lot of young women, particularly girls, started these mini-media empires. It's incredibly empowering, for the younger generation to say, "All I need to do that is a cell phone and a dream."
Furstenberg: So many people try, only a few succeed.
Medine: You need a little bit of that naïveté to go into it. I also feel like this generation of fashion has broken feminism down into simple parts that every woman can identify with. For someone to still be a little afraid to say, "I'm kind of a feminist," my response is always like, "hold on, do you believe that men and women deserve equal rights?" and they're always like, "of course," and so I reassure them, "you don't have to feel timid."
Furstenberg: I am a feminist, with as many m's as you can say. Where does a brand like DVF work in a generation like yours?
Medine: How do you mean?
Furstenberg: Where is it right, where is it not right? I'm asking.
Medine: I think it fits in quite seamlessly within the lives of modern girls or women -- I wish there was a word between girl and woman.
Furstenberg: I never wanted to be a girl, even when I was 20. When I came to America, there were all these women who would say, "I have to go to the little girl's room," and that would make me say, "I want to throw up." I don't understand people who don't want to grow up.
Medine: I never gave much thought to what people called me. In my head the box has never really existed, you could call me what you want. But back to your question -- the women of today are very multifaceted, it isn't just wake up in the morning, have your day, end your day. It's wake up in the morning, take your kid to school, then go to work, then go to a meeting, then you have a date at night, so you need reliable clothes that will take you through the trajectory of that day. It's not just one thing anymore.
Is there one question you'd like to ask the other?
Medine: Diane if you were in my shoes, what would you do next?
Furstenberg: If I were in your position, I would continue what I'm doing and I would continue to question myself. But I wish somebody gave me this advice: do a business plan. I never did one because I'm super creative and I fake it till I make it but you should make a business plan.
Medine: This actually makes me feel so confident, because you have been able to grow this into such a huge business.
Furstenberg: Trust me, do a business plan. I don't have a question for you, but instead my wish for you is to realize that stress is toxic and you have to throw it out. It doesn't help at all to stress, and so do yoga -- I do Tai Chi -- meditate, do something. Every time you stress, think of me and just say, "Throw stress down the toilet."
Medine: I think the best advice you've inadvertently given me is that you really have to love yourself, and you can't exist if you don't.
Furstenberg: When you say, "love yourself" it sounds a little narcissistic, but like yourself. You have to be your best friend.
Medine: You have to respect yourself.
Furstenberg: In order to be your best friend, you have to have time for yourself, which goes back to being alone, silence, solitude all of those things. Being alone is not being lonely.
Photography by Kate Owen
Hair and Makeup by Mari Shten using NARS Cosmetics

Diane wears a DVF Alvera dress, $498.00 at DVF.com; a DVF Blaine top. $448.00 at DVF.com; and DVF Ibiza heels, $348.00 at DVF.com. Leandra wears a DVF Nieves Wrap Dress, $598.00 at DVF.com; DVF Lundy trousers, available in similar styles at DVF.com; and a DVF Pyramid adjustable necklace, $148.00 at DVF.com.

More from our 'Girl Crush' series:
You May Also Like