Desiree Rogers is the CEO of Fashion Fair, a cosmetic line for women of color and a division of Johnson Publishing Company, the Chicago-based publisher behind such iconic magazines as Ebony and Jet. She also serves as chair of Choose Chicago, a marketing organization launched by current Mayor Rahm Emanuel that promotes tourism to the city. Previously, Rogers worked in the White House as the first Social Secretary of the Obama Administration and was the president of Peoples Gas and North Shore Gas.
Can you point to one moment (or one person) who really launched your career?
1990 -- Governor Jim Edgar appointed me to be the director of the Illinois Lottery, a $1.5 billion agency. I was the youngest cabinet member. I remember him saying, "Try to look a little older, won't ya?"
Did you/do you have a mentor?
I have had multiple mentors over the years and continue to count on numerous friends and family to help me navigate life. My earliest mentors were my parents and grandparents.
What motivates you to succeed?
As I look at my life, I become increasingly motivated by what I can do for others. With success comes a responsibility to help others.
What do you do to relax or clear your head?
I just recently went fly fishing. I love to immerse myself in new adventures -- new cities, learning new sports, etc. A nice hot bath always clears my head between adventures.
When did you first think you were successful?
Success is a constant work in progress. It's a continuous evolution.
What has been your biggest career obstacle?
I like to create environments for change that allow people to do their best work. This can often be challenging, since not everyone likes change.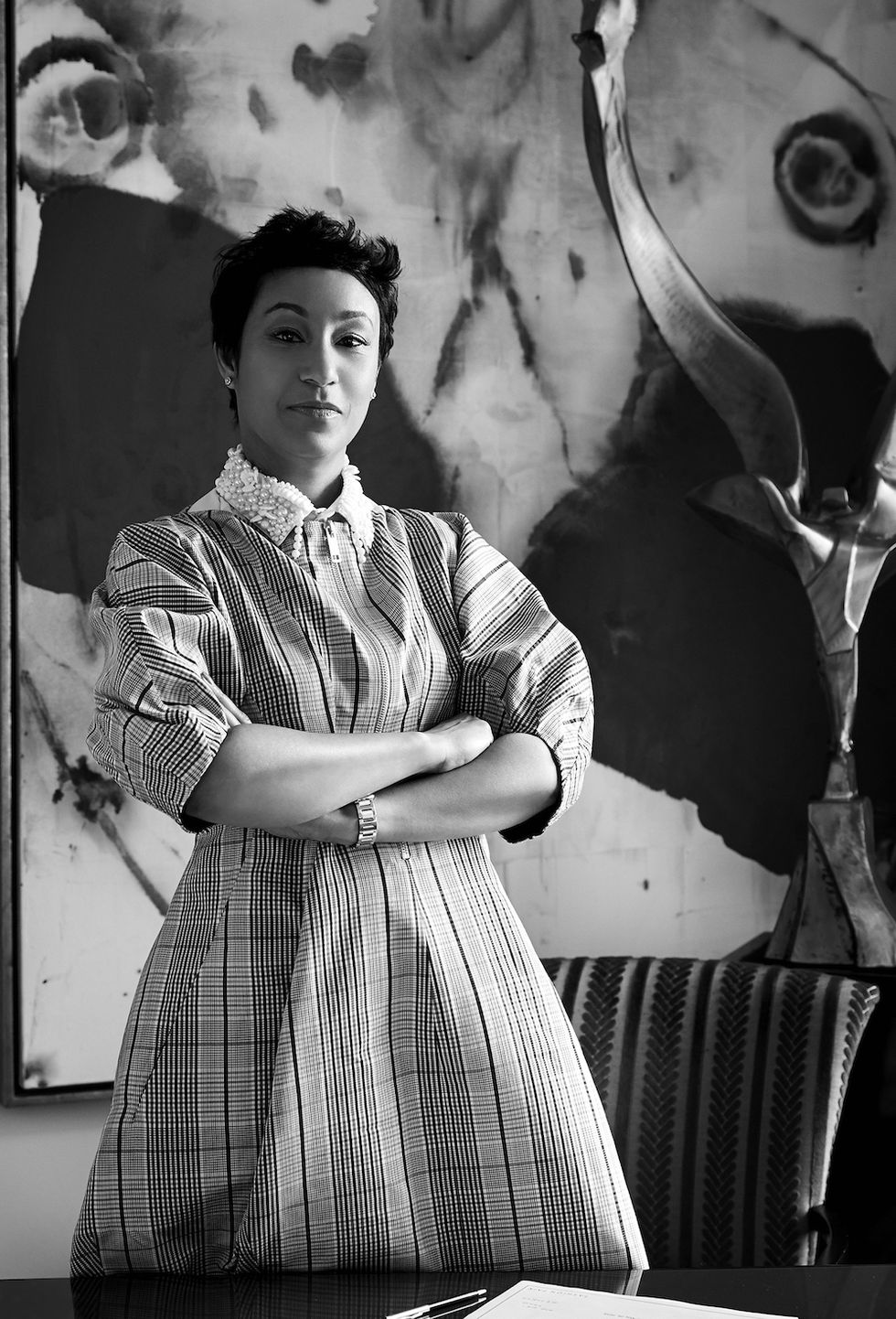 What is the first thing you do when you wake up? Can you describe your morning routine before you begin work?

Each day starts with thinking about what needs to be done that day. I catch up on the news -- CNN and CBS This Morning -- as well as do a quick check on social media, focusing on fashion and beauty sites.
What was your first paid job?
Bloomingdale's -- cosmetic counter.
What were you like as a child?
Curious, adventurous, particular and serious.
Is there anything you regret?
I don't have many regrets since I am convinced that living in the rearview mirror does not allow one to live life to its fullest. I often think that it would have been useful to do a JD/MBA. I completed an MBA program. I do try really hard not to make the same mistakes twice.
What are you proudest of?
I believe that my ex-husband John and I have jointly raised an exceptional daughter, Victoria. Victoria works at Kickstarter in NYC in the art world. We are very proud of her.
Since becoming CEO of Johnson Publishing Company, what have been the projects or achievements you're proudest of? Were there any unexpected challenges that you wish you could have anticipated?
I am extremely proud of the work that has been done at JPC. It has been increasingly difficult to manage a print magazine in the changing publishing industry. After five years of work, the magazine has about 10 million readers (including 33 percent millennials), a robust digital platform and an opportunity to continue to build the events platform -- I created the Ebony Power 100 event three years ago, where the 100 most powerful African-Americans are celebrated -- as well as create multiple brand extensions with an award-winning team. The publishing environment continues to be challenging, as advertisers move to digital and continue to question the benefits of Black media.
What do you consider to be your biggest failure, and what did you learn from it?
I have not always been able to convince gifted employees that I have great opportunities for them as I build various businesses. Sometime they can't see the future that I see. I've been involved in a lot of businesses that were transitional businesses, whether at the Lottery -- there was a lot of competition against the lottery, with riverboats or horse racing or whatever at that time -- or elsewhere, and I've been involved with two businesses that are really mature and take a lot of hand-holding to get them to the next level. [A challenge has been] holding on longer term to gifted employees who can make an impact in the future but who might not be patient enough to see it. You get good talent, but we can't hold onto them for whatever reason, because the growth is too small or they decide the work is too hard. A lot of my work has been turnaround. It's very hard -- it's not something you can snap your fingers [and do]. Start the growth, re-direct, re-brand. It's a lot easier to start something from scratch than to re-tool it. The work is tedious and hard. That's been a lot of the kind of work I've done -- changing things, looking at them in different ways. You have to transform the folks who are there and convince the new people to look at the vision and opportunities.
In your role as chair of Choose Chicago, how has your view of the city changed (or not changed) as you've become more attuned to the way it's perceived by visitors? What role (if any) do you think the city itself has played in your particular career trajectory and achievements?
I have gotten to see firsthand the dedication of Mayor Rahm Emanuel to the city. Tourism produces a huge number of jobs as well as generating over $900 million in revenue. In the last couple of months, I have had the privilege of working on major events with the NFL Draft and the James Beard Foundation. Chicago is now one of the three cities with over 50 million visitors. We had a record year last year with over 52 million visitors.
As we have navigated some of the national press on Chicago, I have definitely become more of an advocate for change as well as working to ensure that I can personally help in any way that I can. I support the transition work that is being done by the Mayor and his team. It is certainly not easy running a major city in America today, but he has taken courageous steps to create change and set the fundamental framework for progress. You have to be aware of the issues and take as progressive a stance as you can to be part of the solution.
Desiree wears a dress by Céline

You May Also Like
America
Zoom photo direction by Full Tac
Beauty
Photography by Silvia Draz / Styling by Craig Hemming and Caitlin Forbes