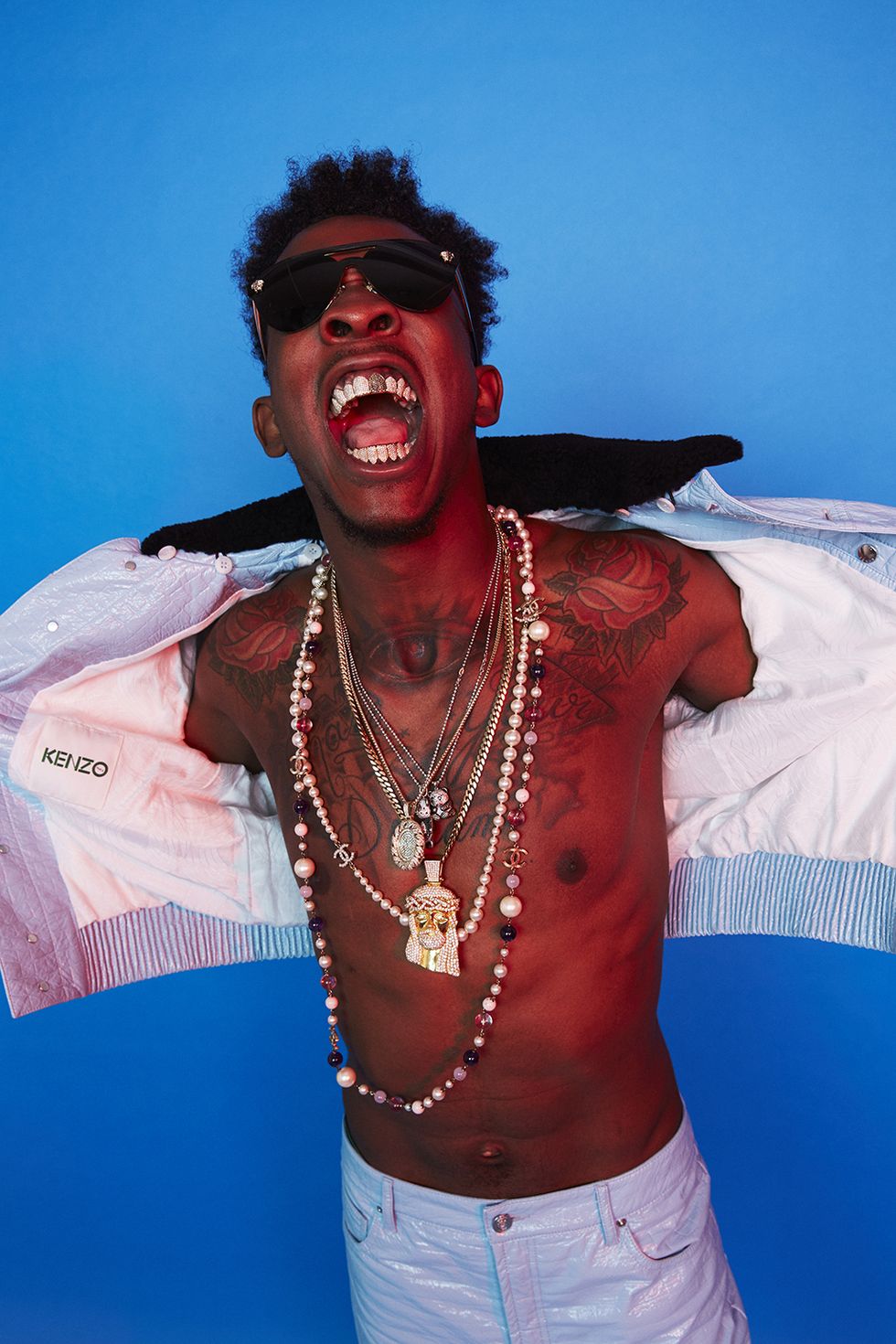 Desiigner wears a suit by Kenzo, jewelry by Chanel and sunglasses by Versace

No song this year has owned the summer quite like "Panda," the debut hit from emerging hip-hop artist Desiigner. The 19-year-old Bed-Stuy, Brooklyn-raised musician recorded the song in late 2015, after getting the idea for the track during a game of Grand Theft Auto V (he thought the white BMW X6, with its black accents, "looked like a panda"). His career took off not long after when he was discovered by Kanye West, who sampled "Panda" in his "Pt. 2" from The Life of Pablo, which he debuted during the much buzzed-about Yeezy fashion show-cum-listening party at Madison Square Garden back in February. West signed Desiigner to his label G.O.O.D Music, and he served as one of the creative directors for the "Panda" video, in which he also made a cameo.
Desiigner's latest song, "Timmy Turner," which began as a viral freestyle he spat as part of a video for XXL's star-making "Freshmen Class" issue, shows the artist's range. He sings on the track, and the lyrics take on a melodic quality, weaving in and out of the music with a woozy, slurred pronunciation submerged beneath bass-heavy production. These stylistic effects bring to mind (some have said bring too much to mind) Future, but Desiigner's early success and greater ambitions have effectively quelled these comparisons and criticisms for now. Though he has yet to announce a release date for his full-length album, The Life of Desiigner, he is enthusiastic about continuing to push the boundaries of his art, and his ultimate goal is to produce interesting and compelling music. He's also eager to keep proving his doubters wrong. Below, the artist, who has an extra spring in his step these days after weapon and drug charges were dropped following a misunderstanding over an incident that occurred last week, talks about being more than a rapper, achieving his dreams and what he hopes fans get from music.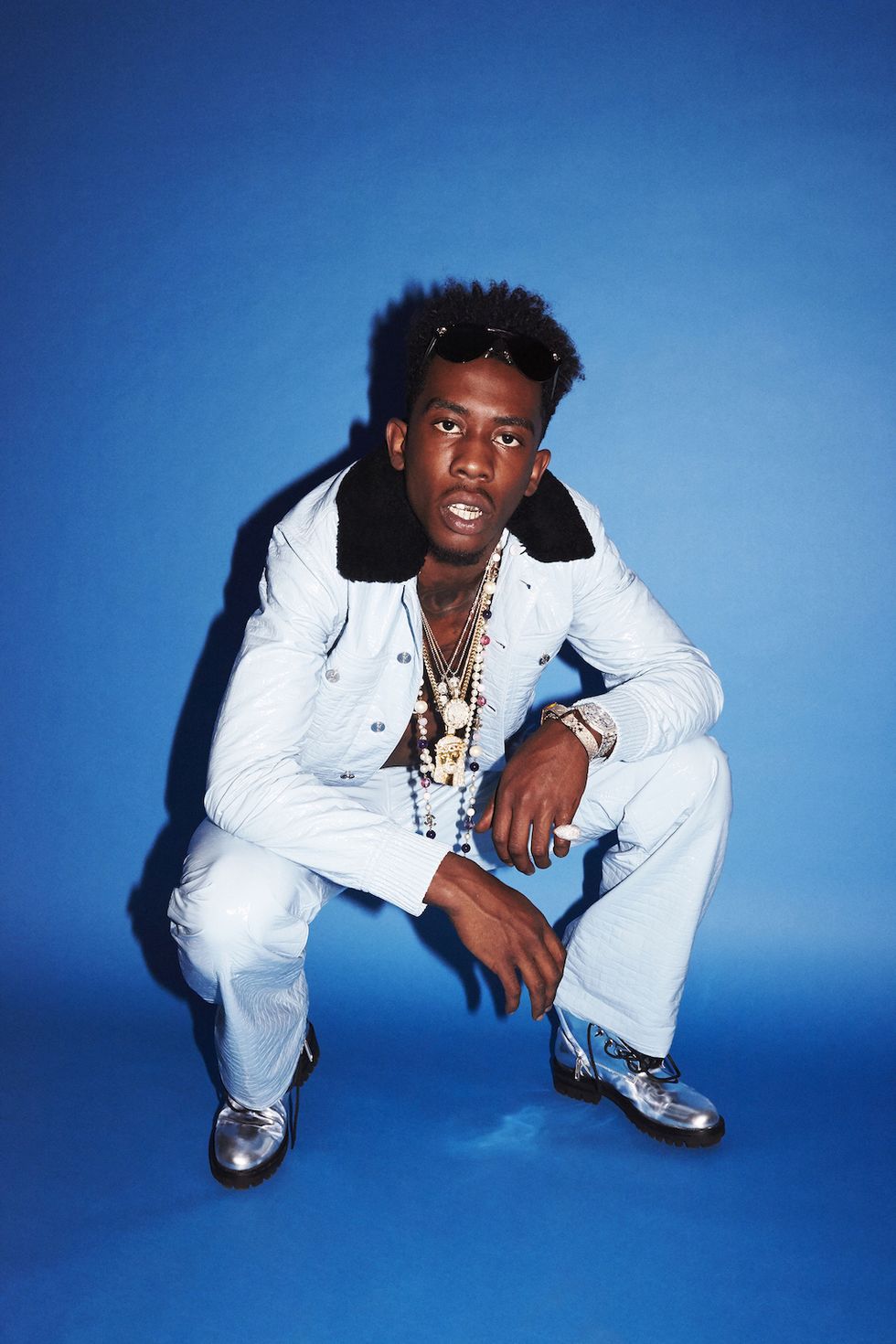 In this and splash photo Desiigner wears a suit by Kenzo, jewelry by Chanel and sunglasses by Versace
"Panda" was such a breakout hit and now you're mixing things up with "Timmy Turner," a track that has you singing on it. When you've been so successful with a specific sound, does it feel risky to try something new?
Nah. This is always what I've been doing. I used to sing to the girls "Happy Birthday," like that was me. [And] I try new things all the time. There's gonna be plenty more trap, more cinematic shit. It's gonna be crazy. Like the way I deliver this music is gonna be crazy for y'all.
At 19 years old, how do you maintain creative control when you're working with a team that's all been in the game longer than you?
I always grew up around older people. I was straight from the block. So coming out that lifestyle and coming out that hood, it matured me. Then I got in this lifestyle, it matured me even faster...Being around older [people] is a learning experience for both sides of the table. I can teach you something, even though I'm 19, you can learn something.
Have people generally been supportive, or have you had to deal with criticism?
When I do see hatred, or [someone is] not on the same attitude I got, I just move away. I shouldn't be around them. [So] I just stay to myself most of the time. And the people I do work with, it's a great team. We work there, [we're] creative. I'm comfortable with your ideas If I'm working with you. You should be comfortable with mine. That's just how I work, you feel me?
Do you think of yourself as a rapper primarily, or a musician?
[I'm] definitely definitely not a rapper. I don't promote myself as just a rapper. I'm a full, all around artist. I'm nowhere near just a rapper. So I always look at that, and I take that seriously.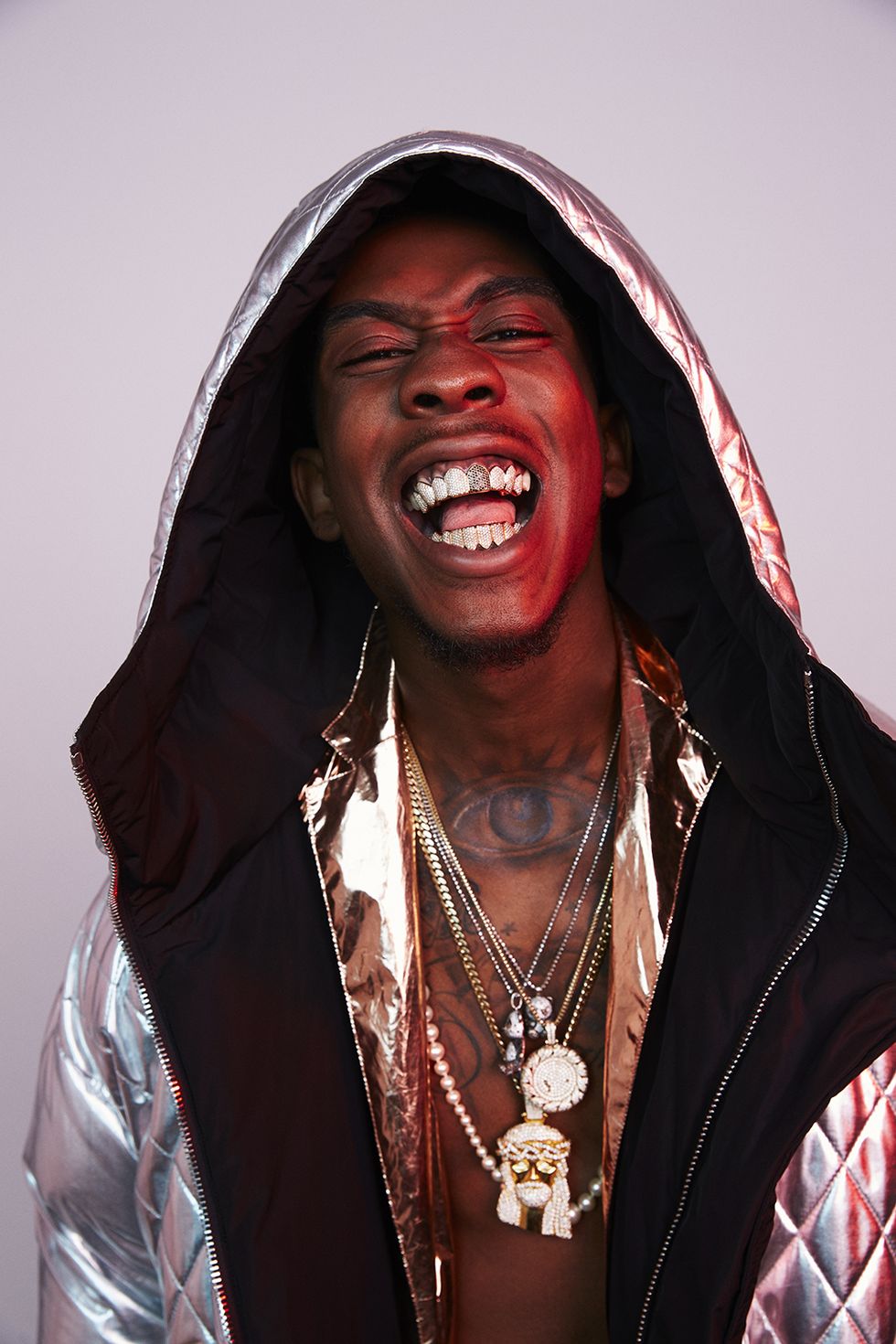 Desiigner wears a jacket (inner) by Calvin Klein, a jacket (outer) by DSquared2
Do you think people perceive you the way that you want them to -- as an artist, rather than just a rapper?
Yeah, they know what time it is. When I step on stage, if you didn't [know before], you know what time it is when I get played. If you bumpin', you grindin', you doing something to it. I always give that funk and give that energy and that spark with my music. If it's not hype, it's giving that soul. I give that soul. I just give it all, I give it to 'em man.
What do you want people to take away from the art that you're putting out?
Feelings, emotions, inspirations. I wanna give you that bullshit, I wanna give you that love. I just want you to feel me. Like period. Feel Desiigner.

You blew up quickly, does that change your relationship with your art? What's changed most since you found success?
The difference between now and then? I got the studio. That's what's different. Like [before] I used to ask my mom for 20 dollars just to get in the studio. It was just like little stuff like that. I was just motivated to get in the studio, like all the time. I wasn't so big on school. I didn't want to be in school too much, because I [saw] my dream in the studio.
What advice do you have for other rising artists that may not have access to studios or other resources?
If you need the resources, the only way to get 'em is getting up and going to get em. I'm not gonna promote nobody that's gonna be sitting on their behind saying they want it. It's like, if you're thirsty, you're not gonna sit there and keep your throat dry, you're gonna go find some water. Same way with the resources to being successful. If you want to be successful don't sit on your behind. Use God's dreams to dream and make them come true. I don't sleep. I live, dream getting rich. And what I mean by getting rich, it's not getting rich by money, it's getting rich with success.
Grooming by Emily Amick
Stylist Assistant: Cathleen Peters