Sandy Liang, NYC native and downtown cool girl extraordinaire, started her eponymous ready-to-wear label straight out of Parsons only two years ago. Today, her indulgently voluminous, dreamy-colored furs are slung across the backs of street style snapped off-duty models and fellow lower Manhattan idols. Primarily known for her outerwear, Sandy's most recent collection, her inaugural Resort '17 collection, has exposed a different, yet equally magnificent side of her world.
Born and bred in Queens, Liang grew up alongside her dad's Lower East Side staple, Congee Village, attending Stuyvesant High School in lower Manhattan. Subsequently, Sandy knows exactly who's buying what she's selling--which, by the way, is not limited to clothes. Staying true to why she's in the game in the first place, the young designer emphasizes the importance of selling style and attitude over clothing, while constantly reminding herself "to just have fun." We caught up with her to discuss the post-grad launch into her own label, a few girl crushes, and what to expect for her New York Fashion Week show this Sunday at The Standard Hotel.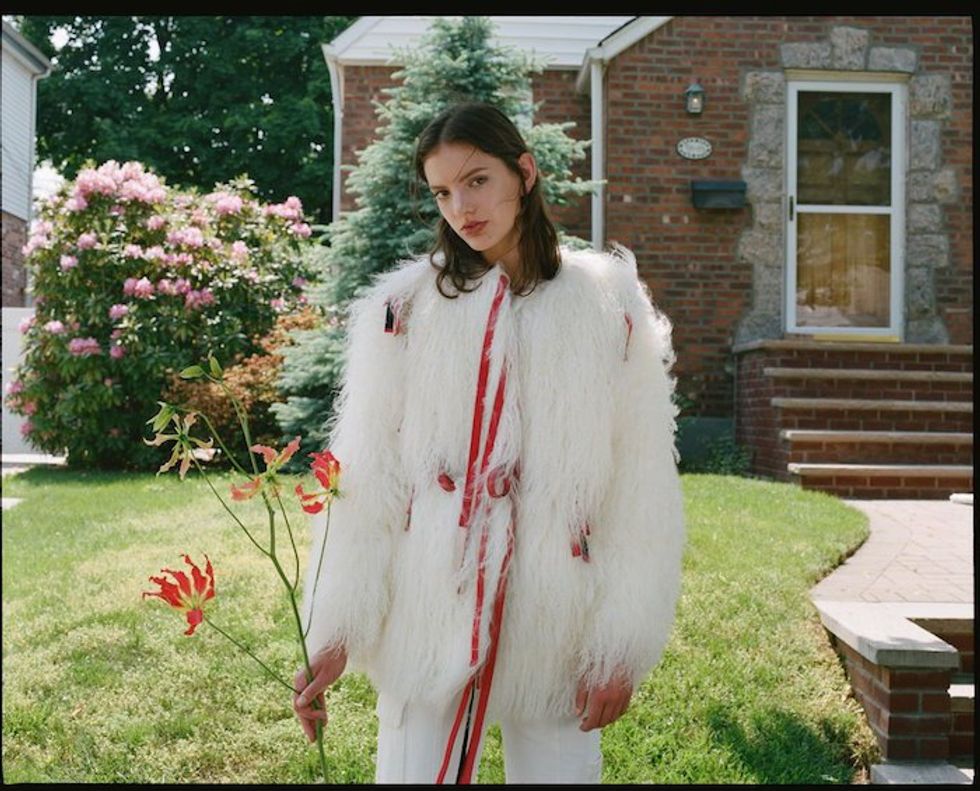 Who is Sandy Liang?

I make clothes. And I try to do it in a way where I am happy and have fun and I don't take it too seriously. I went to RISD with the intention of studying architecture and I ended up transferring to Parsons for fashion. Architecture was the practical thing that my parents wanted me to do and I've always been interested in it. But then I think when I went to Providence, I was like, okay, I really need to give myself a chance to do what I've always wanted to do. And at the time you're so young and naive and you just do it.
So you've always wanted to pursue design? Where did that interest come from?
I've always loved drawing and I remember whenever the award shows would come on TV, I would always draw dresses and sit in front of the TV and sketch. It's just always fascinated me. I've had a lot of hobbies and different interests growing up, but that was the one constant thing I never got sick of, so I knew there was something there.
I think it also came from the fact that my mom would never let me buy clothes. She saw fashion, or even just new Gap jeans that weren't on sale as an unnecessary luxury and materialistic. She just extremely discouraged that in our household. I think because of that I saw, not fashion, but just clothing as this awesome, unattainable thing. And it wasn't even about money, my mom just perceived it as shameful to care about how you look. So that made it more interesting for me.
Did you have any training with design or sewing before entering Parsons?
No, I would just free draw. But drawing does take you really far, because that's how you make your ideas tangible. Interning definitely helped so much in terms of understanding the industry and just knowing what I wanted. I don't think people realize what being a fashion designer really means, because at the end of the day I wear so many hats. It's not just drawing and draping fabrics on a mannequin all day.
What was the beginning like? Did you have any fears or expectations going into it?

No, not at all. Because if I knew what I was in for, I probably wouldn't have ended up pursuing it. A lot of people think since I just threw myself into it after college and that I had these connections in the industry and manufacturing, but I really didn't know anyone. It was all from the energy and optimism from graduating when you still think everything is possible. It's ephemeral and doesn't stay forever, so I latched onto it and ran. I was passionate and I had a vision. The hardest part was really communicating that with people who could potentially help me.
My dad is my role model and he knows that this has been my passion since I was little; so he has taken it more seriously. He knew I needed to make a business plan, so I looked to him for a lot of help, because he also started his own business.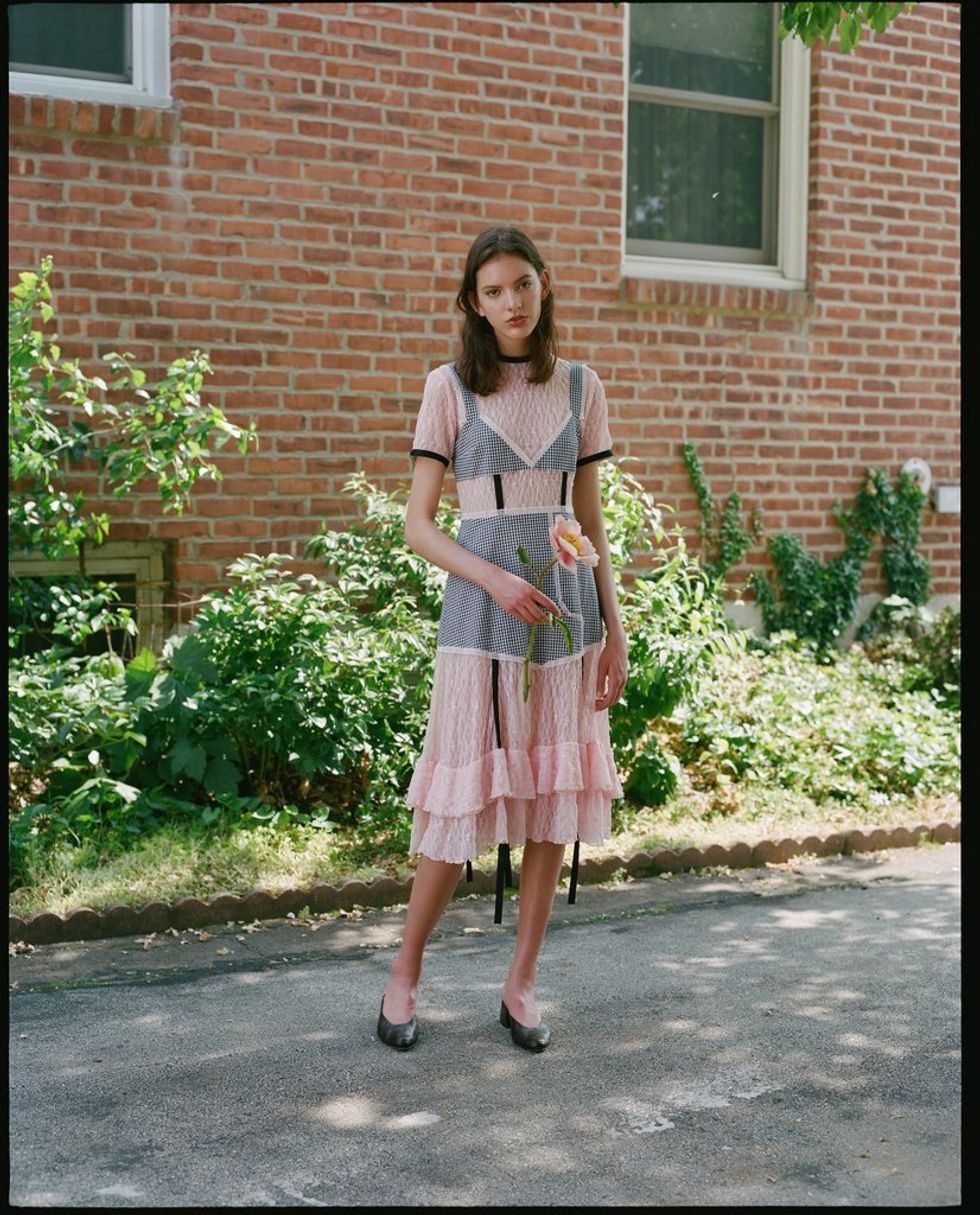 A look from Sandy Liang's Resort '16 Collection
If you could dress any celebrity for an event, who would it be and for what event?
It'd be Sofia Coppola. For anything. For life. I'd dress her for just walking down the street, but to be honest I'm not really into the celebrity culture. I do have a few girl crushes though... Sofia Coppola, Daria Werbowy obviously, and Ina Garten.
The Lower East Side has been a huge part of the brand's identity, so what about the neighborhood do you find most appealing?
To be honest, I don't find it that inspiring anymore. I feel like everyone and their mom has honed in on this neighborhood, which is a huge turn off for me. It's like too cool. What I used to like about it was that it was still up and coming, and having the juxtaposition of old and new; when stuff was still happening. Now there are bars everywhere and a fashion shoot on every corner. But also, my grandma used to live on Rivington Street and my dad opened Congee Village in the LES back in 1996, when there was no Asian population down here. He foresaw the neighborhood's change and I've totally seen it transform, both in good ways and bad.
Some favorite designers and NYC boutiques at the moment?
I have no idea... I don't even shop anymore unless I'm in Paris and I get a tax back refund, ugh. Can we do favorite restaurants instead? Whole Foods, Congee Village (duh), Lovely Day, Dimes Deli, Taste of Northern China (It is fucking amazing you must try), Siggy's, and Uncle Boon's!
Can you talk a little bit about your mood boards? Is there a particular one for each collection?
So these boards are sort of just images that I refer to and that I just like. They're not really particular to collection. I'm supposed to be collecting images for our Spring/Summer '17 mood board, but I don't really work like that. I don't like how this industry tells you to make mood boards just so that people can interview you and then go backstage and look at your images. I think it's kind of dumb and that's not how I work and just because I'm doing this doesn't mean I have to do that. The brand isn't about doing things a certain way, it's just about making things that I want to wear and that my friends I want to wear. It's more about style than fashion. An attitude. It's more about the girl than about what she's wearing.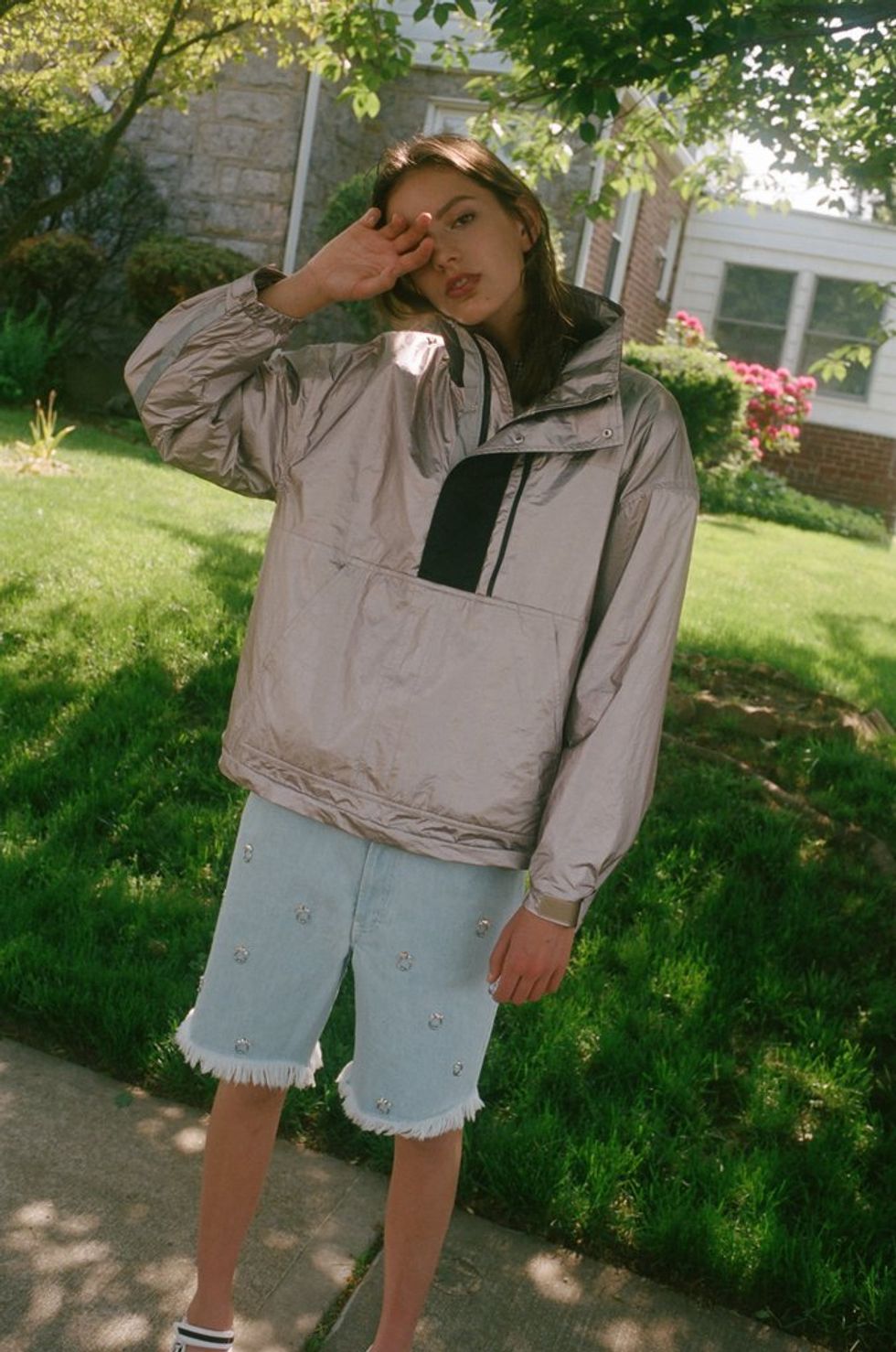 Ina Garten and Drake are clearly big inspirations, as you have pieces named after them. How do you usually name your pieces?
I just love Ina and I don't even really know how to cook. It's really just organic. It's less about inspiring the design and more about the character and attitude. For example, the Drizzy is just something Drake would wear but it's designed with pink tweed, you know? When I name the pieces, they all usually have a theme. Like our most recent collection was named after cars; other than that usually boys or other things. The Peter jacket is named after my dad!
Being pretty much the HBIC to all parts of your business, what is the most rewarding part? Why do you do what you do?
The most rewarding part is definitely getting our samples back and seeing my work and ideas in tangible forms. It's amazing to be able to create these things, because I shop a lot and especially now can't find anything in the market that interests me so it's rewarding to be able to see that and be able to do something about it.
So it's pretty much you and Michelle Kim running the business. But who is she?
She is literally my other half. I'm a Gemini and she just completes me. It's to the point where I rely on her. Every decision has to go through her. She's so important to me and really just keeps me grounded. There are so many times where I wanted to design the most over-the-top coat and she has to bring me back to reality. We're a great balance and work well together.
Can you discuss your most recent Resort '17 collection?
A lot of the inspiration came from the fact that it was my first pre-collection and so I didn't have to deal with the usual stresses of organizing a presentation with models, etc. It was truly a more easygoing process and because of that I was able to kind of let loose and have a bit more fun. I was less concerned about having a "full" collection and more into the idea of just having a fun little project where I could try new things out. We decided to shoot in Bayside, Queens because every collection is obviously super personal and it just seemed like the right time. I also thought it would be awesome to have the somewhat mundane suburban backdrop to the whimsical and child-fairy-doll like dresses. Also, Bayside is such a huge part of who I am. I lived there until junior year of high school. It seemed totally right to have the collection shot there.

What can we expect from your upcoming SS17 collection?
I have no idea. I design piece by piece so it all sort of comes together at the very end. I would say it's safe to expect some sort of continuation from the previous FW16 and Resort 17 collection in that I'm designing with the same mindset - I'm essentially making clothes for myself and my friends. It's about what I'm currently into and also where I live, what I see, basically, everything is super personal.