In the past year and a half, DeRay Mckesson has arguably become the face of the viral #BlackLivesMatter movement, thanks, in part, to his Twitter feed, one of the most reliable sources of information during the Ferguson protests full of Mckesson's insightful commentary and sharp observational skills. Since #BLM began, Mckesson has gone on to run for mayor of Baltimore (he ultimately lost in the Democratic primaries to State Senator Catherine Pugh, but his ideas and activism have left an indelible imprint on the election and the city) and take a leadership role in Campaign Zero, a policy platform that aims to completely eliminate police brutality from our society. This week Mckesson was appointed the interim head of Baltimore's office of human capital within the city's education department.
Who are your professional idols? Do you have a mentor?
I am inspired by Diane Nash, Bayard Rustin and James Baldwin. Mentor would probably be Henry Louis Gates Jr.
Did you have any particular experiences growing up that you think played a direct role in your activism?
Organizing, at its root, is about acknowledging a problem or an issue and planning, with others, to solve the problem or address the issue in ways that will lead to positive outcomes for those impacted. At an early age, I understood the issues of addiction and recovery because both of my parents were once addicted to drugs and I grew up in communities of recovery. I began organizing in Baltimore as a teenager and worked with youth-led community organizations, too -- these experiences taught me that young people could make meaningful changes within their own communities. I was also in student government for much of my school career, and in these roles I learned about the roles that systems and structures play in people's lives. I'm grateful for all of these experiences.
How did your role as an organizer become intertwined with the beginnings of Black Lives Matter?
I began organizing as a teenager in Baltimore in 1999 and spent much of my career in education prior to being involved as an activist in the movement. The death of Mike Brown changed my life and pushed me to shift my work from primarily being related to education to focusing on police violence and criminal justice. It was in protest that I shifted my focus from education to issues of police violence and criminal justice, rooted in the understanding that our kids have to be alive to learn, and I said that I'd dedicate my skills to ensuring that that was possible for as many people in our communities as possible.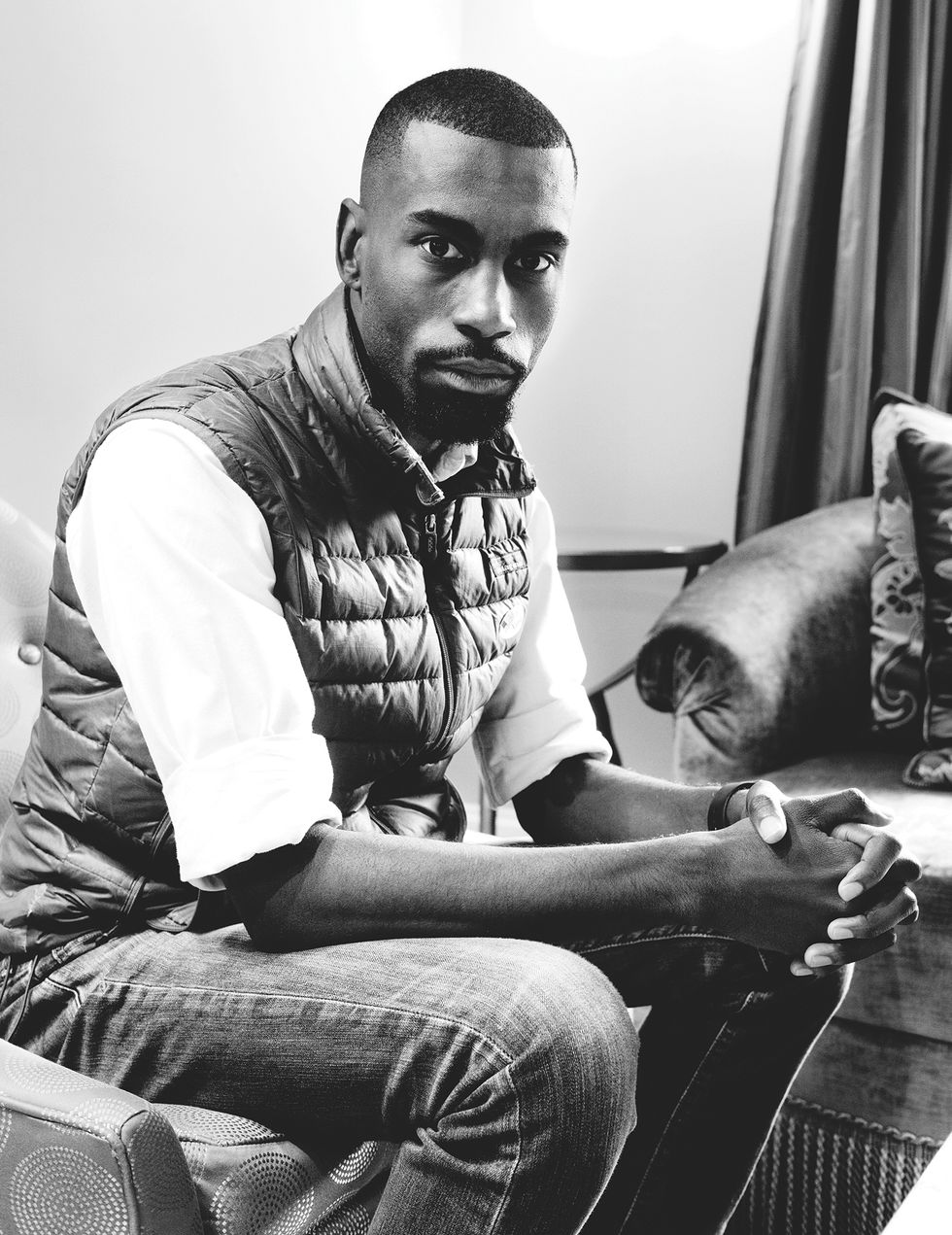 You've tweeted before in response to articles that made it sound like you were just tweeting from the sidelines at Ferguson rather than participating in the protests. Do you want to say anything to set the record straight?

Using Twitter, we organized and mobilized in new ways -- ways that have since been replicated all across the country. I, along with many, used my body in protest to confront a system that is killing people, and I, along with many, used social media to organize and mobilize others. There is a tendency to devalue the role that social media has played in the movement, primarily by people who were not present in Ferguson to see how pivotal it was for us in organizing and mobilizing others, or by people who privilege offline-only modes of organizing, as this has been their work for years. Technology has both opened new avenues of organizing and accelerated the pace of impact of these ways of organizing. It is easy and expected for people to criticize social media, as it disrupts so many of the traditional hierarchies found in the organizing community.
When do you think you stopped caring about the mean things people said? Or stopped caring about the people who say you have "ulterior motives"?

Many people benefit from the status quo -- both those who built and sustain the systems and structures that we work to change or dismantle and, surprisingly, some of the people that claim they stand alongside us in this work. In all, I know that these people have a vested interest in silencing activists and organizers so that the status quo remains intact. The hateful things that people say and the death threats are meant to silence us, and I will not be afraid to do this work, and I will not be silenced. On the other hand, I also know that our thoughtful critics make us better.
In terms of the pure haters, though, how many people do you think you have blocked on Twitter?
19,000.
Was there ever a particular moment when you were actually worried for your safety?
I receive death threats frequently, and once, in Baltimore, while at the screening for the Panthers documentary [The Black Panthers: Vanguard of the Revolution], I received a death threat that led to the movie theater being evacuated and closed at 1 pm while we were in the middle of watching the film. I am not afraid, but the people that are around me are often afraid that these types of instances may increase. And I know that it's irrational, but my blue vest makes me feel safe.
Has anyone reached out with a story that's really stuck with you? In a way where you're like, "Wow, this is why what I'm doing matters."
Connecting with people is at the heart of the work. In running for mayor, I knocked [on] doors all across the city, and that was the best part of the campaign, speaking with people at their doorsteps about their vision for the city. In terms of the movement, I speak with people every day who share stories of how they began to identify as activists, how this work has transformed them, how they maintain their hope in the midst of slow progress. And I've gotten to meet so many incredible people across the city and across the world because of the conversations about race and justice that are now happening. It seems like whenever there's a tough moment, a conversation happens that puts the importance of this work back into perspective.
How do you turn off your brain to relax? Do you look at dumb stuff on the Internet?
This is going to sound really lame, but when I can't sleep, I like to look at gear blogs. It's really weird -- like TechCrunch stuff, product reviews and stuff. I like seeing what's new in technology; that's what I keep up on.
Let's talk a little bit about the election. Are you glad you ran, in terms of visibility?
I was born and raised in Baltimore and have spent the majority of my career in Baltimore. I ran to offer a vision and plan for how to make Baltimore better. In the final 30 days of the campaign, we touched approximately 20,000 doors, made approximately 20,000 phone calls and mailed to 40,000 homes. In the process, I met many people who have a vision for what a better city can be, and I, and others, will continue organizing in the city and across the country, even though the primary election has passed. There's much work left to be done.

You May Also Like
America
Story by Bianca Gracie / Photography by Joshua Kissi / Styling by Alexander-Julian / Hair by Ursula Stephen / Makeup by Mario Dedivanovic