Detroit rapper and Internet wunderkind Dej Loaf rose to dizzying heights off a series of mixtapes, earning a nod from Drake just a year after breaking onto the scene in 2013. Loaf (born Deja Trimble) has more recently been laying low, spending the past year out of the public eye while crafting her debut album, Liberated, which she hopes will cement her as one of the top female rappers in a generation. With the project slated for release early next year, Dej Loaf is finally stepping out of the shadows.
How has the road been?
I like seeing the people. It's always personal with me. I wrote these songs because I like it, so it's funny to see when everybody else loves it. City to city, state to state. I'm wowed when they know the words.
You often get asked about "Try Me," which was a huge track. I know you got that Drake shout-out on "Try Me." Is it frustrating to be pinned to one record?
It's just about putting the work in and proving them wrong. I don't think that's what happened to me. I still haven't put out my first album yet. I can't wait to show them. I think we're going to try to get it out. Today was really supposed to be a day where I had to meet and seal the deal.
Are you feeling the pressure?
Yes. I think it's been a year and a half since people have seen me. I took that time off and I was working. You don't know how they're going to react. It's definitely pressure, though. I just want to be who they saw me as, but also have them understand my growth in the music. That's what I focused on this go-round.
Related | A Boogie Wit Da Hoodie is Putting NYC Back on the Rap Map
Describe to me that growth.
Going through different changes. I would say I was a girl then.
You feel like a woman now?
Yeah. I feel like I'm still growing into that. I'm still a kid sometimes, but for the most part I've grown a lot mentally. It just comes with age, right?
What's the difference between a girl and a woman to you?
I watch what I say now, more so than back then when I was a little reckless. I watch what I say but I still say what I need to say. I'm still telling the same story, in a way. I feel like they don't know the full story. They're still on "Try Me." I've grown a lot from that. I can't really explain exactly what.
Do you think your fans have grown with you?
I think there's a gap right now, just the connection with my fans. That's why there's this pressure with the album, because I don't know if they're ready. Just because they're not expecting it…at the same time, I feel like I always have these peekaboo moments where you'll see me and then you don't. I don't think they know it's really serious. I just want to fill that gap. If I'm still able to fill that gap, I'm going to fill it. It's really about content and having different stuff out there for them to see.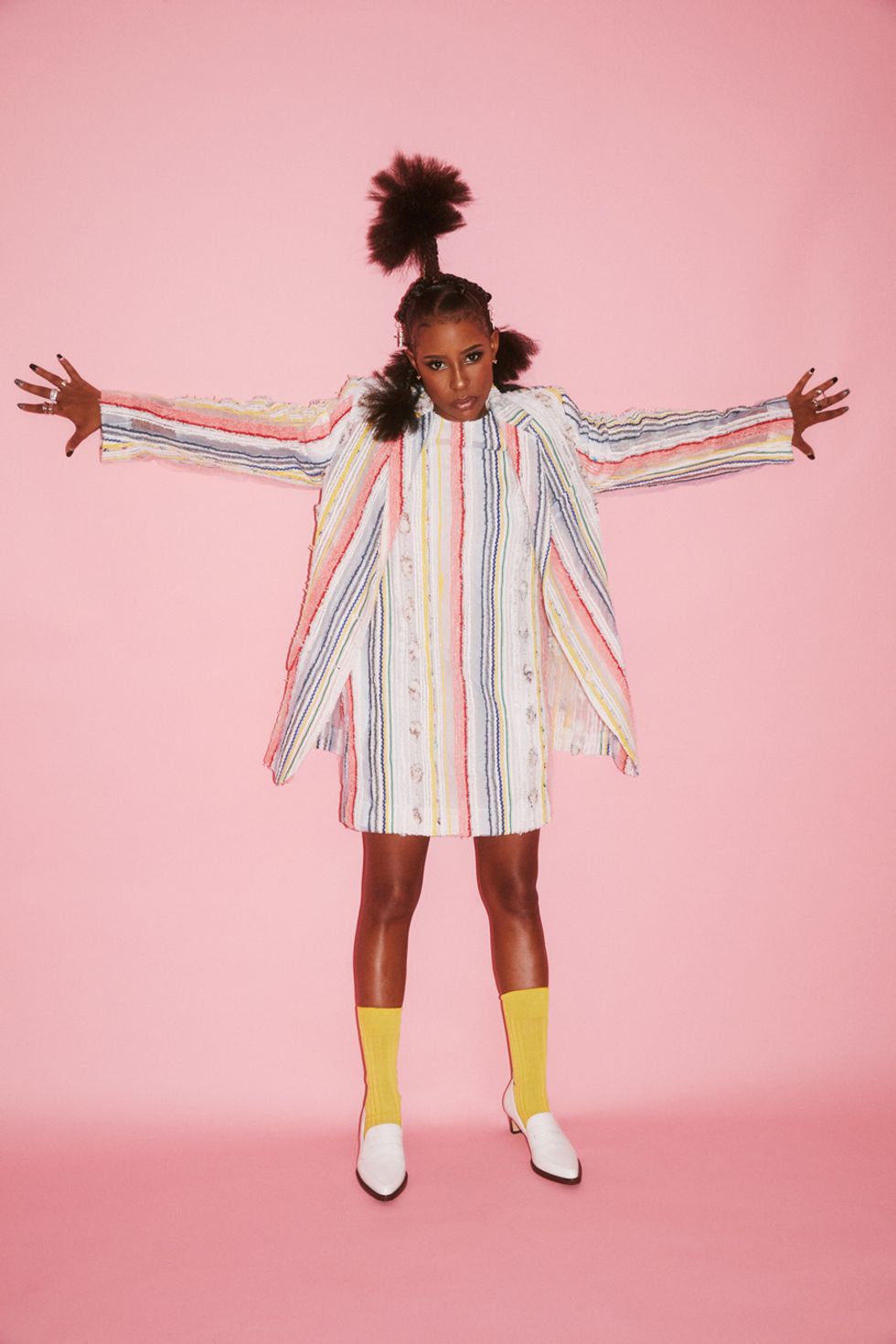 How has it been coping with people who have been so invested in your life, with the fame and everything that has come with your music? Also, how do you separate yourself from those moments and not get wrapped up?
Now I've gotten better. This is a part of the gig, this is a part of what goes on. Me knowing what I need to do to be great, I'm going to do it regardless. The press, the interviews, the fame part, I've always been pretty much quiet and to myself. It's like me writing in my diary and sharing it with the world on this level.
You always say that you were really shy growing up.
Yeah, now I have a bunch of people watching me so I have to show up. I can't just be that girl who I was before. You don't really have time to think about those type of things.
Your story is amazing, you took the Internet, capitalized on it — you're entirely self-made. What were the early days like, when you were on SoundCloud checking the response? When did you realize you could make something of this?
That was just one of those moments even when I put "Try Me" up there. That was me just stepping out and saying, I know who I want to be and I know what I have to do. No one's going to do that for me. That was the start of me just stepping out. From that moment, I've just been carrying that attitude and doing everything I need to do in order to get where I need to be. Not kissing ass and stuff like that.
I think that can be a trap for some people. Trying to get in with other artists rather than make their own way.
I like that you said self-made. I didn't come in with a cosign. I came in with a few people from back home. Just learning, growing and knowing how to do everything.
With that model, putting your stuff out on the Internet and social media, you leave yourself exposed. How have you had to work your way around that? Have you developed a thicker skin?
That's where the gap comes from... I felt closed off. People knew me from the Internet. I used all of my social media and I was very active, but now I'm more private. So it definitely took a toll on me. Just the Internet period. I was dealing with trying to create an album and all the other stuff that comes with it.
Was there a moment where you felt like you needed to chill out or tone it down?
It wasn't really me. I feel like it was just personal things going on in my life that kind of made me draw back. I had to fire a few people, stuff like that. I was in the process of switching my team. You work so hard and put your trust in people, then they do you so dirty.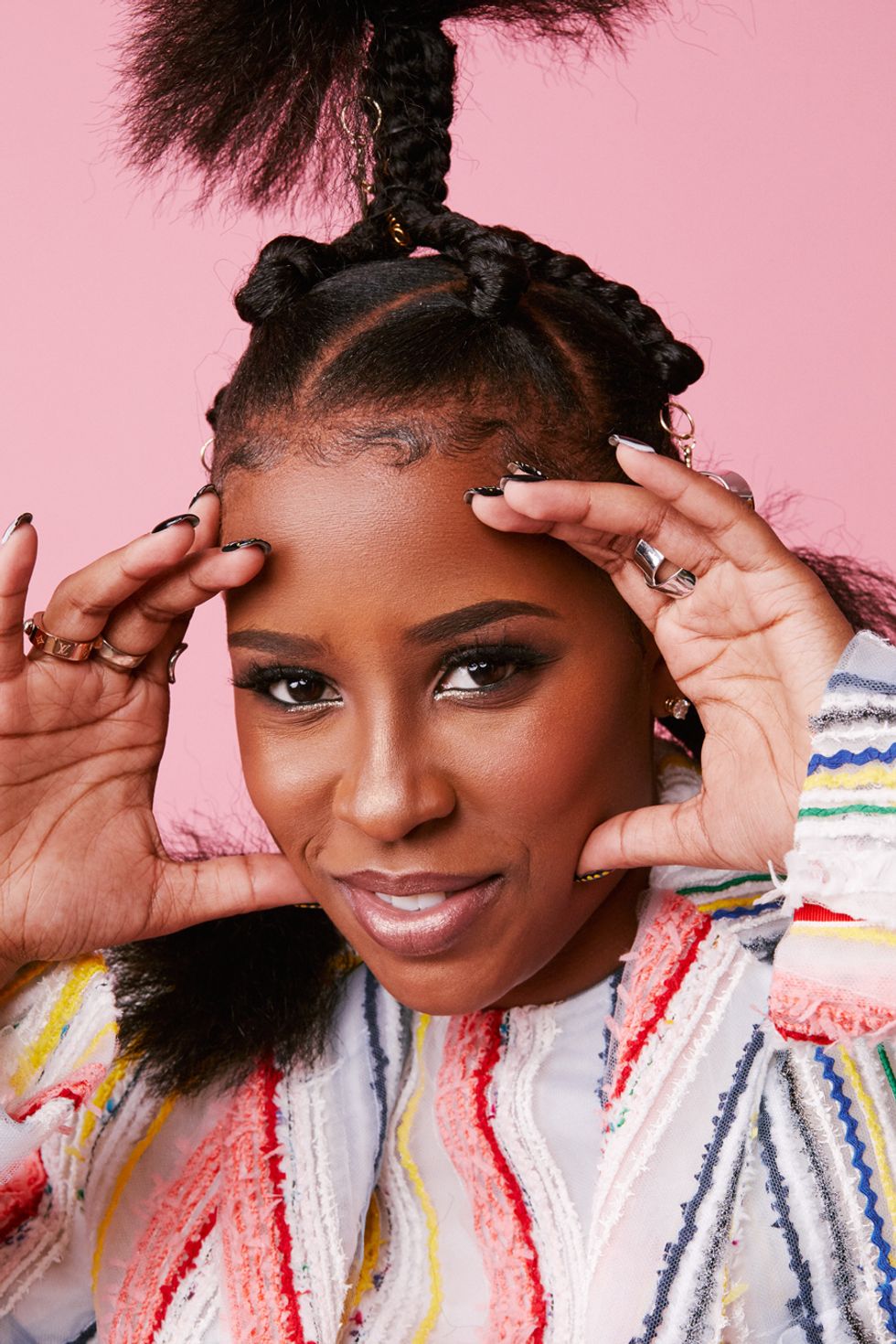 In the sense where they're trying to steer you in the wrong direction?

Like stealing. I think it's personal for me because I'm just not used to people doing shit like that. It just made me draw back and think to myself that I need to get me together. Let me keep my eyes open. I can't have people stealing from me, that's part of becoming a woman. I had to be on top of my business. It's wasn't fun anymore, and I didn't want to be on the Internet because I had to handle the other stuff over here and I had to create my album. At that time I really strayed away from social media.
Similarly, when you stepped out with Durk, people were coming out of the woodwork saying this is for publicity.
He's always been my friend so we never were really in a relationship. It's just funny with the stories that they make up. It's like, wow, I've been in this relationship longer than I have known. I just let people say and do what they want, but that part doesn't bother me.
Do you ever feel the need to respond? Shut something down?
I'm not into it that. I'm not the clap back girl. I don't have nothing to prove. Sometimes you might want to clear that up, but I feel like people are going to make their own assumptions.
Right, it's like, do you leave it and let it settle or do you come in hot?
I think now the Internet is so watered down. Every day it's something different going on in the world. One day people care and the next day they don't. I always think, why should I respond to that when they're not going to care tomorrow? It's just going to add more fuel to the fire. Sometimes I'd rather just leave it where it's at.
You have a real talent for depicting the millennial experience in your music. Do you now feel a responsibility to reflect the times and speak politically?
All I can tell the people in my music is how I feel. I'm not trying to steer them in my direction and tell them to think how I think. I'm not really into politics. That doesn't exist to me, so I don't even share that with them. I don't care about Trump, I just live in my own world. Like I said, I do watch what I say. I don't tell them to do ignorant shit. I motivate them. It's motivational music.
Motivating towards what?
Your goals and your dreams. Like I said, I talk a lot about being shy, but that's a serious thing where it held me back a lot as a kid. It's kids our age that get held back. At 22, I wasn't doing interviews and I couldn't imagine sitting and talking to…well, yeah, I kind of was... but I could have been so much further if I was like that at seven years old. It comes from the household and how you were raised, too. I just try to encourage them to get out and live their dreams.
Do you think there will come a time where you feel like you will have to look at the world at large and say, "Maybe I have to insert this into my music?"
It depends on how I feel about it. If I feel like it's dope enough to speak on in music I'll do it, but I try not to get involved in all of that because I don't know the answers. Everybody's trying to be political, and I'd rather leave it to the people who is into it. I'm not into it.
Also, by seven years old you experienced deep personal tragedy. If you'd been that outspoken little girl, you wouldn't be the same Dej now.
Definitely. It feels good to be here and know how far I've come. I'm still shocked that I perform. I'm still shocked that I'm going out on stage. Who knew? I didn't think these days would come.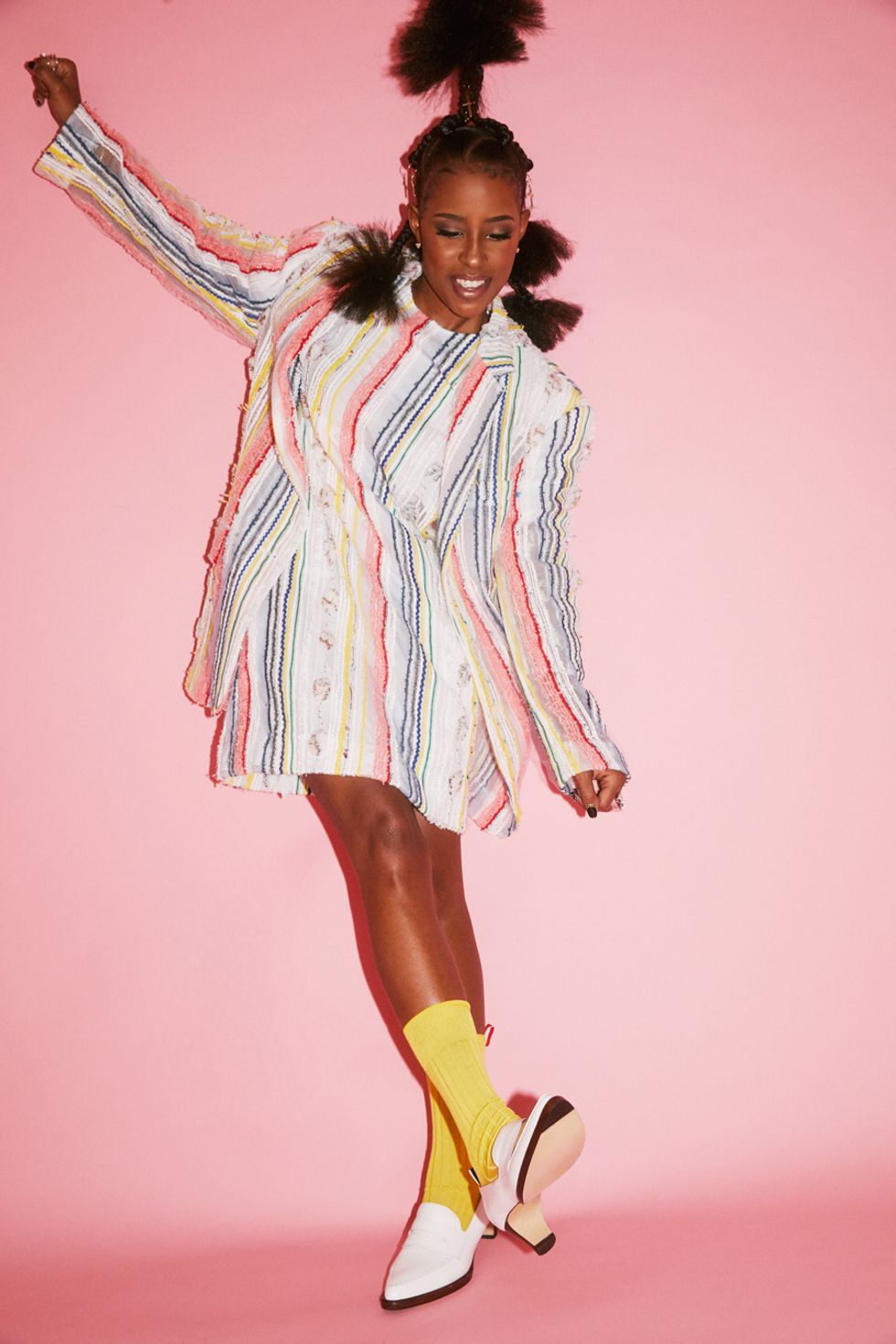 Who do you look at right now as an industry leader?
I don't want to make a song that someone has made because it's their record. I like how Drake is universal. He's a businessman, his music is timeless, he's still young. I mean, Nicki, obviously.
It's amazing because in the early days, Nicki fought so hard for the radio play. Now, looking at how Cardi has broken through, it feels like times are changing.
Yeah, it's open. I was just telling them the other day how female rap is so open now that we have to let go of the questions we ask to female rappers. They always ask, "Yo, so how do you feel about it being a male-dominated industry?" Those questions shouldn't even exist anymore. I feel like it's open and there's women out here really working. Women are ruling shit right now.
But at the same time, I feel like men are always going to come in and say, "We had that first."
But it's so open. Men listen to my music. It's been like that. You've had a lot of female rappers who guys listen to their music, but the culture has changed since ten, twenty years ago. I think it's just open right now though, so there's no excuses, is what I'm saying.
Has anyone ever treated you like you didn't belong?
Not really. People rock with me, man. I think when you talk about the corporate part of things, I don't feel like I've been turned away for anything. I don't know if it was behind my back, but I haven't experienced it yet. That's why I feel like it's changing. You have to work hard as women and stop crying about being women.
You don't think that we're still in that period?
I guess it's an individual thing. It's about who you are as a woman or guy, but I'm not going to let people talk down to me. I get how it was, but I don't think that it's still like that is what I'm saying. It's the same as you can't have a female president, the world doesn't want to see it.
You're saying we can't have a female president?
We can't, right? They don't want to see that happen. I think that music is just different. Female rap is open. It's just an open lane and I see it.
Do you feel competitive now that there's an open lane?
Not me. Not all competition, I'm all eyes and ears. If I like it, I like it. If I don't, I don't. If we should collab, then let's do it. I'm open and I'm all for sticking together.
Who would you like to collab with? In general, but let's throw in some female rappers.
I don't like to say names because I don't even know if they would want to work with me. I would like to work with Raphael Saadiq, I want to do more records with [Rick] Ross, Drake. I want to work with a lot of people, man.
When it comes to working with Rick Ross, or Chris Brown or XXXTentacion, artists who have been publicly reproached and/or have criminal charges, do you consider their history? Do you ever think how that might affect you as an artist?
You have to think about that stuff. It's a part of your brand; if you have anything around your brand, it's like your baby and you want to protect it. I haven't had that situation, but I could see why you would have to think about it.
What do you want from this debut album? What would you love to hear someone say about it?
Just tell me it's timeless. Tell me I took enough time out on my album and it really paid off. I want it to sound like I've worked on it for as long as I've worked on it. Not rushed, because I could have done that so many times. I have tons of music from 2015 that I haven't released. Tell me that the album is timeless and be honest about it.
What if this record turns out to be a Take Care or a Good Kid, m.A.A.d City — are you ready for that?
Definitely not. If it does, then that's where we go.
Top, Skirt, Shoes & Socks: Thom Browne, Jewelry: Jennifer Fisher
Styling: Eric McNeal
Makeup: Lisa Caprio
Sign Up For The Morning PAPER
Nightlife
Story by Zach Shucklin / Photography by The Cobra Snake (Sponsored by Cuervo Tradicional Cristalino)
Nightlife
Photography by Ricardo Gomes / Interview by Nile Rodgers / Story by Patrik Sandberg / Styling by Eyob Yohannes / Hair by Andy LeCompte / Makeup by Wendi Miyake
Fashion
Creative direction by Jess Cuevas / Art direction by Sakura Bready / Photography by Drew Escriva