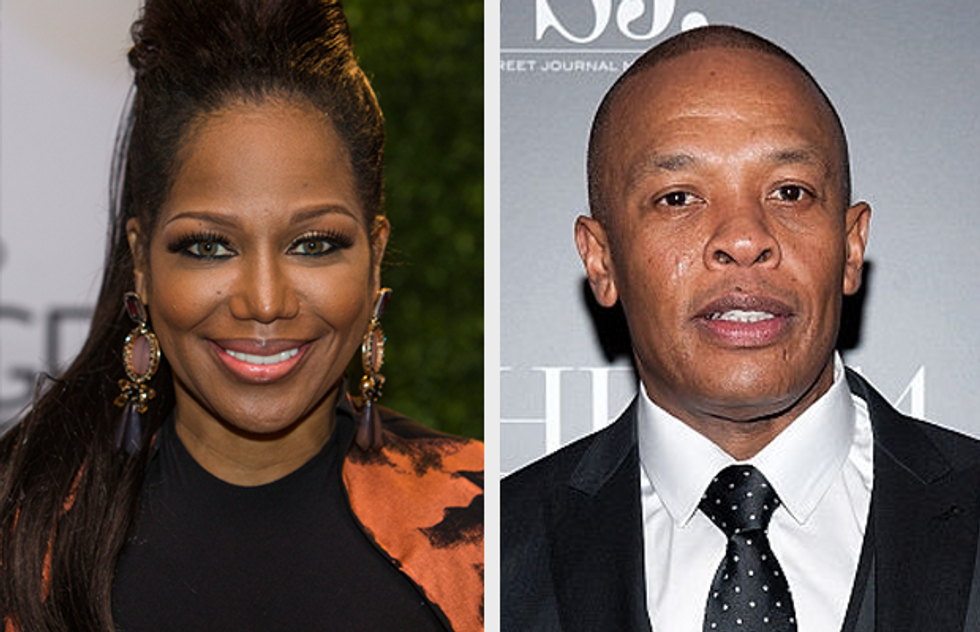 [UPDATE 08/20/15, 12:00 p.m.:
According to
The LA Times
, there was a scene depicting Dre's beating of Dee Barnes in the initial draft of the movie screenplay.]
Recently 90's R&B songstress and star of
R&B Divas: Los Angeles
Michel'le spoke with VladTV about her relationship with her abusive ex-fiancee Dr. Dre, who's back in the spotlight with his N.W.A. biopic
Straight Outta Compton.
And today Dee Barnes, the journalist who Dre infamously "threw through a door" (read: repeatedly attacked) in 1991, wrote a
Gawker piece
about the chilling levels of abuse that are blatantly ignored by the Dre-produced biopic -- how the entire film skips by without a single mention of the way he physically harmed two women.
And she has a point -- because while Michel'le said in her VladTV interview that she was "really happy" to not be a part of Straight Outta Compton, as it is "[Ice] Cube's version of his life" and "my part probably has no value to what they want to talk about" -- the fact that these instances of abuse were completely ignored is irresponsible and immature, to say the least. 
All this also comes right on the heels of Ice Cube and Dre's controversial 
Rolling Stone interview
 where Dre acknowledges some grave transgressions in his past, but dances around anything meaningful by saying: "I made some fucking horrible mistakes in my life...I would say all the allegations aren't true -- some of them are. Those are some of the things that I would like to take back. It was really fucked up. But I paid for those mistakes, and there's no way in hell that I will ever make another mistake like that again." 
Which is disappointing and sobering reminder that history is often rewritten by the victors, especially when you watch Michel'le's interview in which she describes herself as "just a quiet girlfriend who got beat up and told to sit down and shut up." After all, this all comes after the Breakfast Club interview from earlier this year where she recounted some of the abuse, saying at one point that, "When he gave me my very first black eye, we laid in the bed and he cried, I was crying...but he said 'I'm really sorry'" -- though he never actually stopped hitting her, and apparently broke her nose and cracked ribs in the process.
I guess it was apt for Barnes to say in her Gawker piece that, "The truth is too ugly for a general audience."
[
h/t
LAist
]