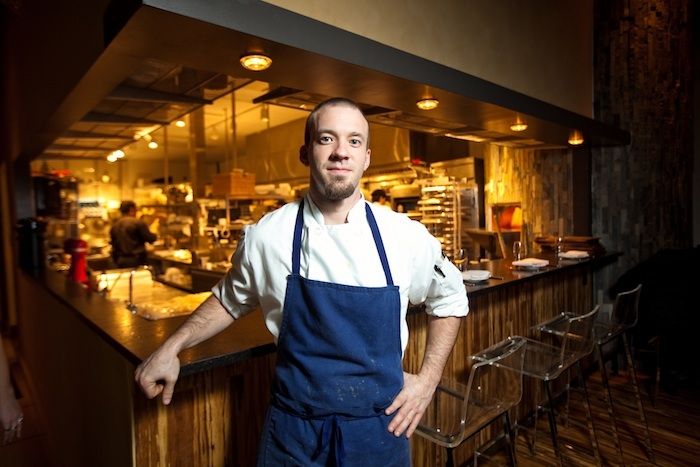 Each week in our Chefs Off Duty series, we talk to some of our favorite chefs and industry folk around the country to find out their secret late-night spots where they like to grab a bite and a pint when their kitchens are finally closed. Next up: Kyle Bailey, the chef behind Washington DC's noted beer-centric bistro Birch & Barley and, along with his wife, pastry chef Tiffany MacIsaac, the co-owner of the insanely tasty-sounding GBD (that'd be Golden.Brown.Delicious) a fried chicken-and-doughnuts joint in Dupont Circle.


Where do you like to go eat when your own restaurant closes?
There's a place called Amsterdam Falafelshop [that I like]. It's in Adams Morgan and it's really small. It's a pretty standard [design], done up to look like Amsterdam. The food's amazing. I think the last time I went in there, they were playing Dr. Dre's
The Chronic
in its entirety. You know what I mean -- [it's like] "Shit, that's exactly what I want. I want a giant falafel with all the fixings." They've got all these crazy pickles and awesome sauces. Hot things. Cooling things. Killer fries. And Coca-Cola, man. It's really, really great.
How did you hear about this place?

It was after a super late night of drinking and just kind of stumbled upon it three years ago. It was next to this pizza place called Jumbo Slice.
That's like an institution in DC, right? The jumbo slice?
Yeah. But I lived in New York for eight years so pizza for me is really special. I love pizza. I haven't found an awesome pizza place in [DC] and I felt like Jumbo Slice is also one of those spots that I didn't like very much. But right next door is this falafel spot that's so great, man! It's kind of seedy. It's the kind of thing you don't see in New York as much anymore -- there's a real sense of danger. It's like, "Oh man, what could happen here?"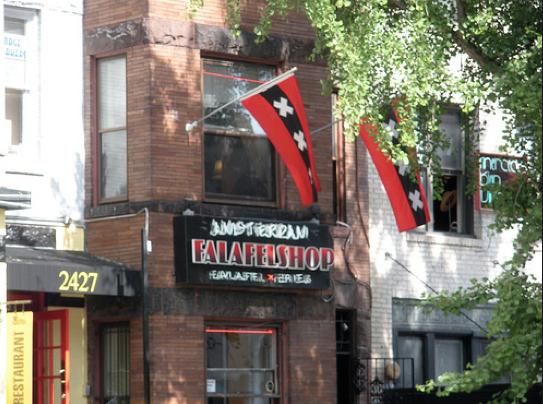 Amsterdam Falafel
Besides falafel and fries, is there anything else on their menu that's really good?
You can tell they have limited equipment and limited space but they make use of every inch. It's a tight menu. They have good mayonnaises.
Any fun stories from nights spent there?
There's a sense of danger and you're there super late night in Adams Morgan and you don't know what's gonna happen. The way that people drive is completely insane here. You see street fights every once in a while but every time I go to this place, I see somebody from the [food] industry and they're tuned up just like me, just kind of stumbling down the street. Sometimes I park myself in front of one of the windows and just watch these dudes come in -- these scumbag cooks and servers coming out for falafel.
Amsterdam Falafelshop, 2425 18th St NW, Washington DC; Sun-Mon, 11am-midnight; Tue-Wed, 11am-2:30am; Thu, 11am-3am; Fri-Sat, 11am-4am